10
min read
Of all the terrains where viticulture is possible, I find the mountains to be the most fascinating. In their exposed faces, you can visualize the entirety of geologic time: a rusty swath of exposed hillside from volcanism; a layered cake of chalky cliffs from the seabed that covered it all up; and a buzzsaw cut from a glacier, forming a valley. The mountains hide nothing, and from my experience, neither do the wines.
In the case of Trentodoc — an Italian appellation devoted to traditional-method sparkling wines — the mountains have forged a singular identity. Despite relying on the same method and grapes as Champagne, the wines are actually quite different in character — don't let anyone tell you that Trentodoc is Italy's answer to Champagne, for that viewpoint is far too simplistic. (And if they compare it to Prosecco, send them here).
The pleasures of Trentodoc are more crisp and immediate than Champagne — or even its Italian cousin, Franciacorta. Furthermore, the influence of lees and oak in the cellar seem to be pacified by the strong alpine character of the juice.
In short, Trentodoc wines are brisk like the alpine wind that touches the vines.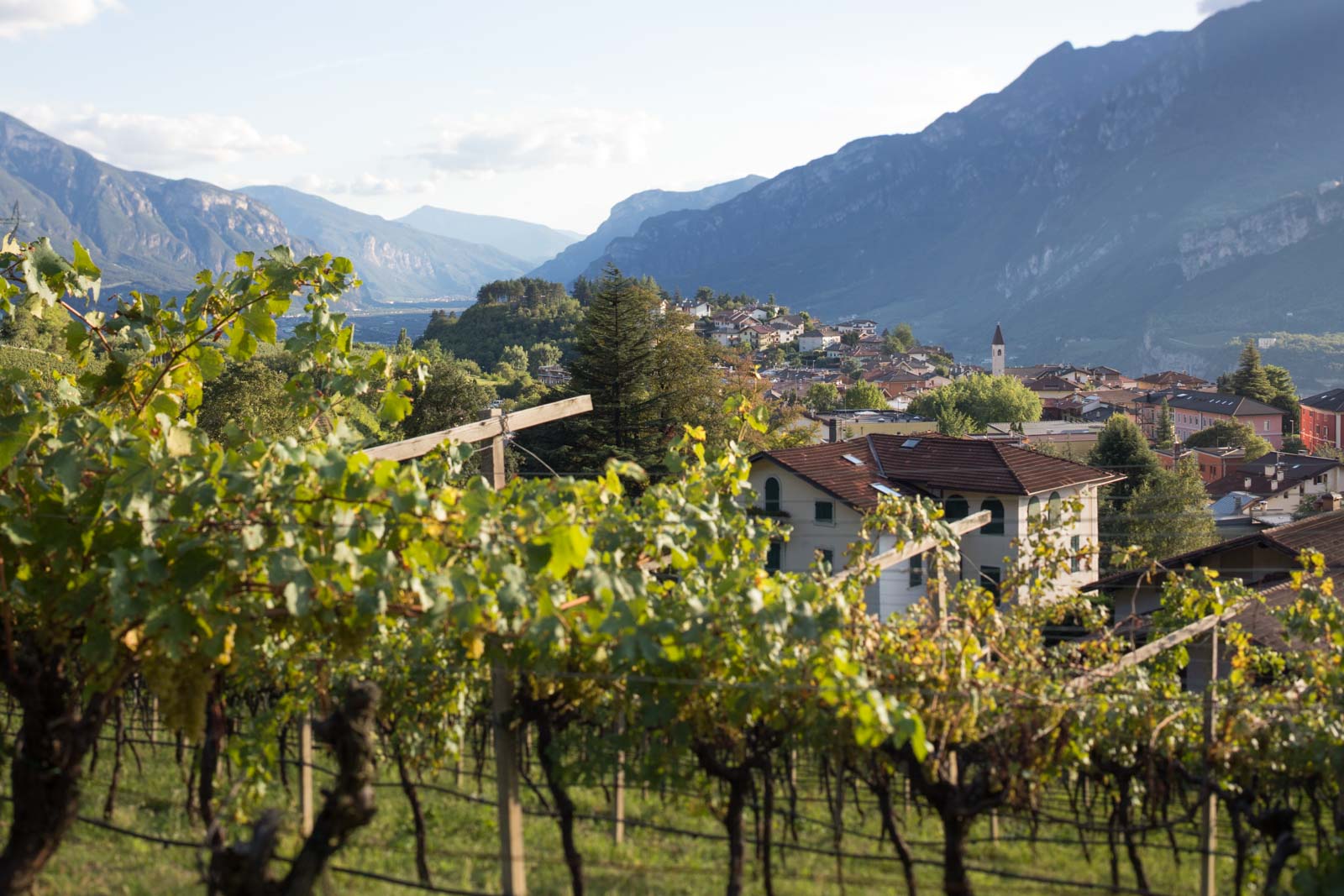 I recently spent a week in Trentino, meeting with winemakers, walking through vineyards and getting to know these wines as best I could. The trip culminated with a master class on Trentodoc from sommelier Roberto Anesi, a native of Trentino and 2017's Best Sommelier in Italy according to the Italian Sommelier Association (AIS).
So here is why you should set the Prosecco aside for a moment, take an occasional pass on Champagne, and give Trentodoc a try.
3 Reasons Why You Should Try Trentodoc
Versatility – Trentodoc is perfectly suited to a wide range of food pairings because of its extraordinary acidity. If you are looking for a wine to convince you that this category belongs at the table, start here.
Mountain character – Where does Trentodoc get that acidity? From the Alps. Situated in a series of mountain valleys in northern Italy, the vineyards of Trentodoc experience wide diurnal temperature swings, and draw their powers from roots dug into a mix of dolomitic limestone and volcanic porphyric rock. This combination of factors creates a wine with laser-like focus.
Affordability – The production steps for Trentodoc are the same as Champagne and Franciacorta, yet this region's wines are significantly more affordable. The quality-to-price ratio on Trentodoc is extremely high.
About the Appellation and Its Wines
Trentodoc is also known as Trento DOC, but no one seems to call it that. Trento's 1993 appellation designation (DOC) was the first in Italy devoted to traditional-method sparkling wines. It's main rival in Italy is Franciacorta DOCG, which has earned a higher quality designation and commands a heftier price. However, from my experience, numerous Trentodoc wines suggest that the appellation could make a run for DOCG status if they wanted to. Nonetheless, they've hung their brand on this first-in-the-nation DOC status and gone with "Trentodoc" as a brand name.
In the end, it is unlikely that consumers care about such distinctions, but just know this: Trentodoc is made in the mountains, and Franciacorta is made in the foothills. The former harvests with long sleeves on, the latter harvests in short sleeves. Therein lies their main differences.
The Beginnings
Despite the short, 26-year history as a DOC, these types of wines date back to 1902, when Giulio Ferrari — a local winemaker — began to tinker with traditional-method techniques. His studies at the Istituto Agrario di San Michele all'Adige (a beautiful agricultural school north of Trento), as well as in France, resulted in the foundation of a sparkling wine house that still bears his name. His work helped pioneer a new winemaking identity for the Trentino region, and today, the non-vintage Ferrari Brut Trento DOC is one of the world's best-valued sparkling wines.
In the 1950s, Giulio Ferrari sold the winery to his friend Bruno Lunelli, whose family has been its caretaker ever since. During the latter half of the 20th century, co-operative wineries emerged to play a pivotal role in shaping the Trentodoc industry. Today, the region's two largest wineries — Cavit (makers of Altemasi) and Mezzocorona (makers of Rotari) — along with Ferrari's leading 6 million bottles per year, account for a lion's share of Trentodoc's volume. But there are several small, independent wineries who — in my opinion — are making the most compelling wines.
The Wines
Trentodoc wines are typically made from Chardonnay, with significant portions of Pinot Noir sometimes rounding out the blend. Pinot Meunier and Pinot Blanc are also allowed, although they are rare. In fact, during my time in Trentino, I only saw one wine with any amount of Pinot Meunier in it, and none with Pinot Blanc.
Most Trentodoc wines are white, but there is also a rosé category. Three quality tiers drive the price and complexity of the wines:
Non-vintage brut (a minimum of 15 months on the lees) – $
Vintage or millesimato (a minimum of 24 months aged on the lees) – $$
And riserva (a minimum of 36 months on the lees) – $$$
"Trentodoc wines have the possibility to age well," says sommelier Roberto Anesi. "They get a lot from the long lees contact [but] without being overwhelmed by the lees." He attributes this firmness to Trentodoc's high acidity. "None of these wines," he added — pointing at the 10 riserva wines we tasted which ranged from 55 to 108 months aging on the lees — "seem to be overpowered by the classic bread-crust aromas that often dominate over all other aromas [in similar sparkling wines]."

Terroir
That piercing acidity — which can be downright fierce with your first sip — is the result of mountain terroir. From the valley floor to the steeply pitched hillsides, diurnal temperature shifts are dramatic throughout the growing season. This helps to balance acidity within each berry.
Another contributing factor to Trentodoc's unique character lies in the soil, which has excellent drainage — largely because of the broken, stony debris that was deposited by glaciers. Comprised of calcareous limestone — and in certain swaths, volcanic porphyric rock — these soils may be responsible for Trentodoc's mineral and piercing texture.
The production zone for Trentodoc largely follows the Adige River Valley through the heart of Trentino, with a few offshoots in the Valsugana, Valle dei Laghi and the Val di Cembra.
The Val di Cembra is particularly noteworthy. It is an area that, according to Anesi, "gives the most sharp wines with the highest acidity because of the climate." Visiting its vineyards on my final day, I could see why. Snaking its way from north of the city of Trento to the northwest and the Dolomite Mountains, the Val di Cembra is a conduit for cold mountain air. Meanwhile the angled, south-facing hillsides act like a solar panel in daylight hours. Many of the other Trentodoc production zones are impacted by Lake Garda's winds, but Val di Cembra is closed off, creating its own microclimate.
As special as these wines are, don't expect to find "Val di Cembra" on the label of Trentodoc wines. The DOC does not have codified subzones to provide further distinction, but that could be an interesting development in the future in the event that producers want to showcase more terroir-focused wines. For now, your best bet is to seek our Cesarini Sforza as an example of what Val di Cembra is like. They source most of their grapes from the valley.

What's In the Glass
One of Trentodoc's most remarkable features is its consistency. Over several days of tasting dozens of wines, I found more similarities than differences from one to the next. This is a tightly defined wine with a strong identity, and some of that has to do with the volatile compounds found in each one.
A recent study by the Edmund Mach Foundation; the University of Modena and Reggio Emilia; and the Ministry of Agricultural, Food and Forestry Policies (say all of that fast 10 times!) discovered that on average, Trentodoc wines carry upwards of 1,700 volatile compounds. Volatile compounds are the aroma-makers, and as this study further explored, 200 of them are specific to Trentodoc wines, likely because of the region's mountain terroir (although it appears more study on making this exact connection is warranted).
All I know is that a vast majority of the blanc de blanc wines I sampled had the same predominant aromatic notes: green apple skin, almonds and white flowers. Where they deviated was in the subtle details.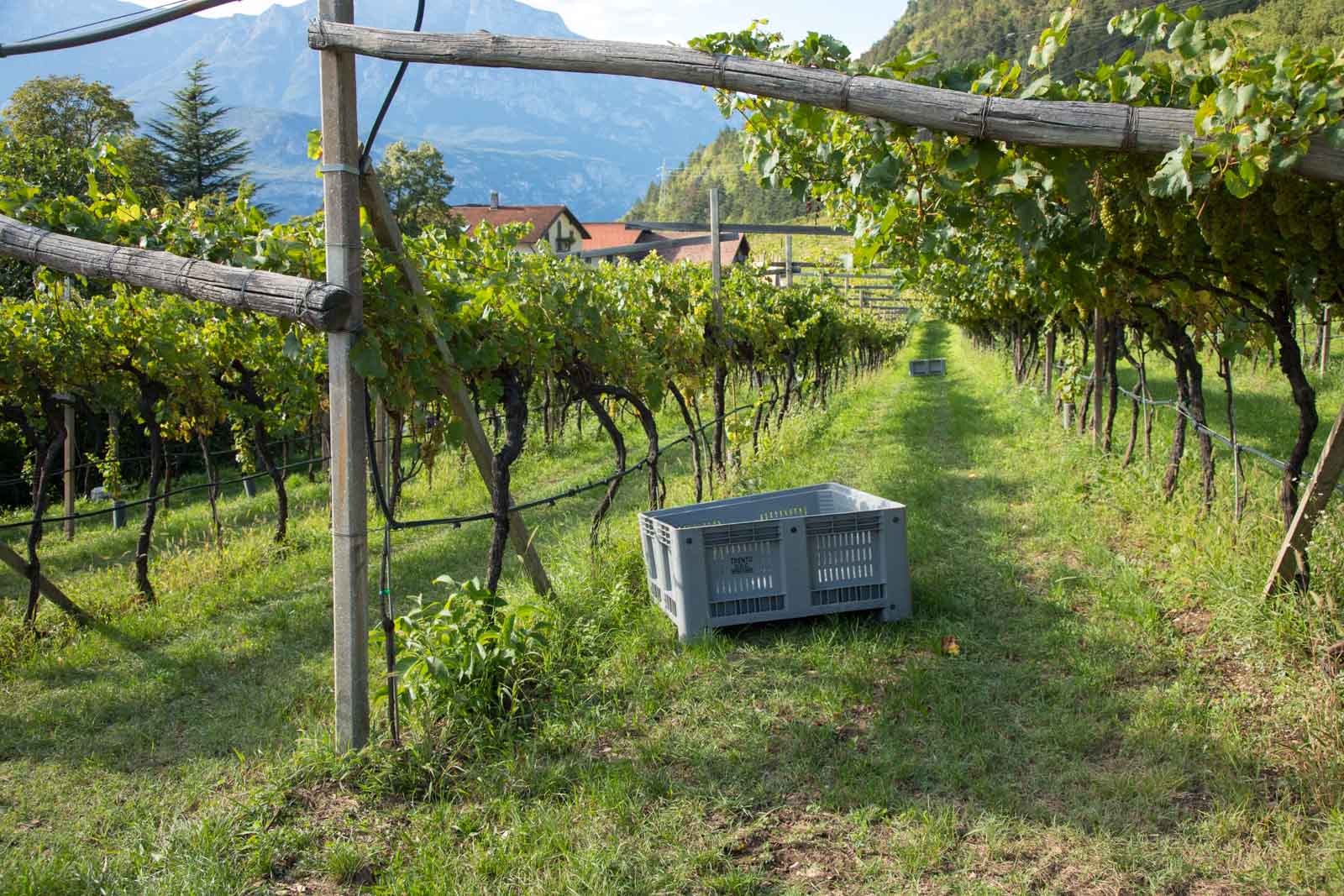 Serving Trentodoc
As noted above, because of their mountain terroir, Trentodoc wines have a zippy acidity, a fresh and lively bouquet, and a persistent finish. Some wines can seem downright aggressive, and often they need a little time to settle down before their pleasures can be enjoyed. If that's the case, treat the wine like a hyperactive child: give it a five-minute timeout, then let it come back to the table.
Because of these traits, I think Trentodoc shines better when paired with food rather than served on their own. That's not to say a fine bottle isn't worthy of a New Year's toast — I merely mean that even the best bottles are amplified by cuisine.
Lastly, Trentodoc wines appear to have an iron-clad endurance for aging. I tasted a handful of wines that had been cellared for several years, and the differences from younger wines was slight. I would call these wines stubborn to change if their personality on the palate wasn't so jolly.

Your First Taste
Now comes the fun part: which wines should you try for your first taste?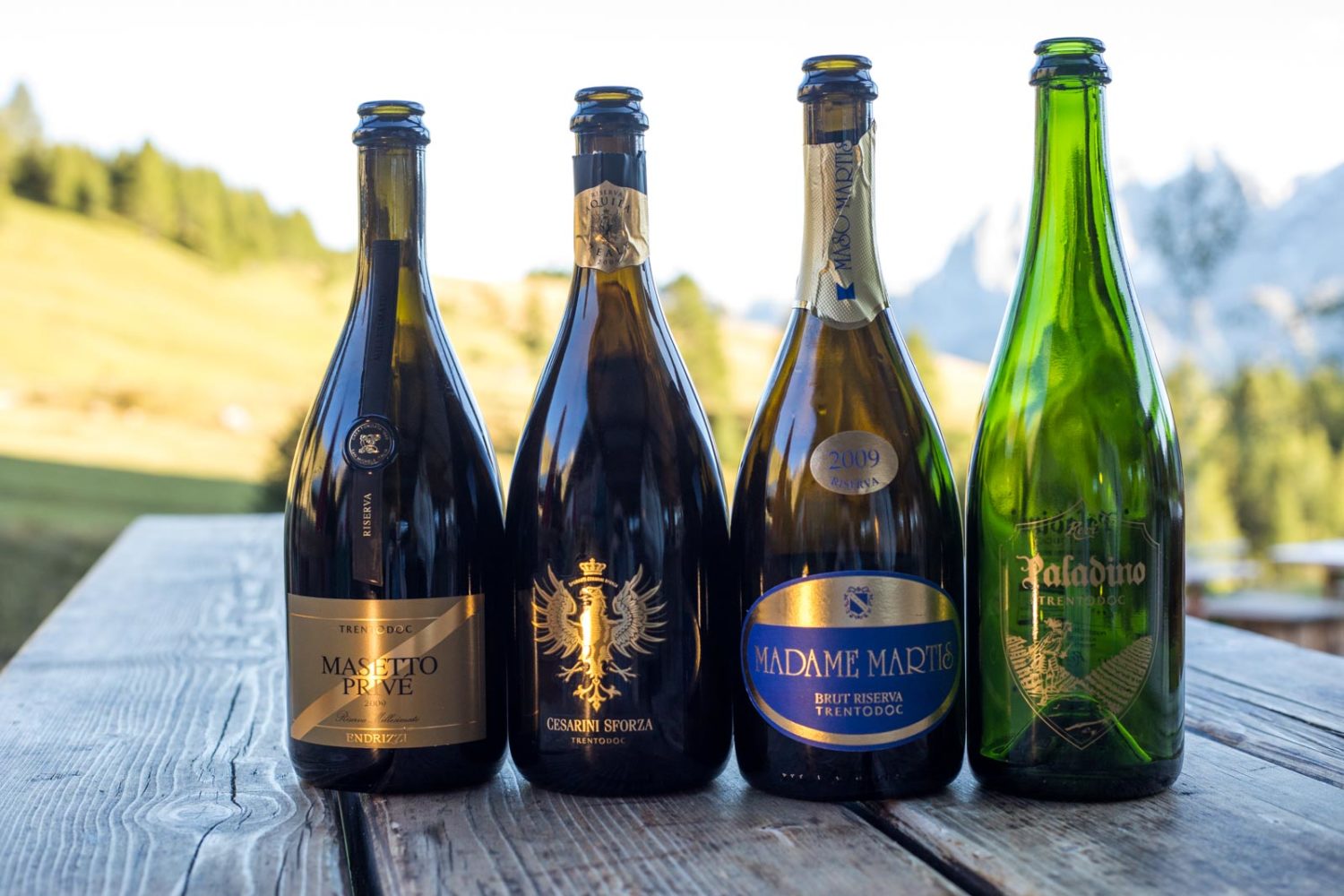 As noted above, the non-vintage Ferrari Brut Trento DOC (★★★★ 1/2) is a widely available and affordable starting point. Some of the wines I'll be recommending are hard to find, and even in limited quantity, so when in doubt, the Ferrari Brut Trento DOC would be my go-to wine. Ferrari's Perlé (★★★★ 1/2) and Perlé Rosé Riserva (★★★★ 1/4) are also notable and exceedingly well made, but I found them to be almost too conservative and unsurprising compared to the other wines sampled from the region.
Trentodoc's Most Compelling Wines
There were four wines that absolutely stunned, and to me, they represent the top tier of Trentodoc.
The 2009 Cesarini Sforza Riserva "Aquila Reale" Trento DOC (★★★★★) is a rare single-vineyard wine from the Sette Fontane vineyard. A wine of incredible depth and purity — with massive aromatic notes recalling honeycomb, golden apple skin and fresh-baked bread — it offered up enough mystery to ask for a second, then a third, glass.
Trentodoc's most unique wine also might be its rarest: the 2009 Endrizzi "Masetto Privé" Trento DOC (★★★★★) spends 84 months on the lees. It stood out from the pack because of its richness and toasted notes recalling coconut, as well as spicy ginger and blue flowers underneath a swath of apple and blueberry fruit. Does that sound like I'm getting carried away? I'm not. This wine was endlessly compelling and challenging, and it occupies its own space within the Trentodoc universe. The only problem? In the years that it is made, only 1,500 bottles are produced. So hunt this wine down when you visit Trento. The 2015 Endrizzi Brut Trento DOC (★★★★ 3/4) should be easier to find, and is a satisfying sparkler with slightly smoky tones.
Another rare gem: the 2013 Revì "Paladino" Riserva Extra Brut Trento DOC (★★★★★), which has a production of only 2,000 bottles. You can tell a lot about a winemaker by their top-of-the-line wine, and in this case, I found Revì to be noteworthy from top to bottom. The Paladino is among the softest and most lush wines in Trentodoc, bottled with slightly less atmospheric pressure than the other wines I tasted. This pretty wine carries tones redolent of lemon peel and golden apple skin, cinnamon and brioche. I was lucky enough to have it with lunch and on its own at a later tasting, so seeing it from two different contexts helped confirm its greatness. Revì's rosé versions of Trentodoc are more common and worth seeking out as well (both rated ★★★★ 1/2). From what I tasted, Revì produces the best rosé in Trentodoc.
Lastly, the wines of Maso Martis are worth toasting to. Of the wineries I encountered, they are the furthest along on sustainability, working only with certified organic grapes on their estate and from small, organic farmers in the region. The production of these wines is small (80,000 bottles of Trentodoc per year), but the character and expressiveness is substantial. At a tasting of 11 producers in Trento, their wines stood tallest aromatically, and — not surprisingly — they had the most variability from wine to wine. Their prestige cuvée is the 2009 Maso Martis "Madame Martis" Riserva Trento DOC (★★★★★) which sees an astonishing 108 months on the lees. It is Exhibit A of the phenomenon that sommelier Roberto Anesi talked about: despite long lees aging, Trentodoc wines retain their zippiness and pure fruit without tasting like a baguette slathered in butter. Furthermore, they require an extreme length of time for the "leesy" quality to even appear. The "Madame Martis" has a hospitable character and a savory persistence that encourages another sip.
Together with Cesarini Sforza's "Aquila Reale," Endrizzi's "Masetto Privé" and Revì's "Paladino," you'll have the clearest picture of what Trentodoc is capable of: world-class sparkling wine to rival anything out there.
---
Note: This article was made possible by a press trip paid for by the Istituto Trento DOC, a consortium of wine-growers. No editorial was promised in exchange for travel arrangements, and I maintained all editorial decisions — and the copyrights to the photography — throughout this process. Learn more about my editorial policy. Quotes have been edited for clarity.