3
min read
A lively rosé of Pinot Noir is an excellent wine to always have on hand, and when you can find a rosé that is a good value to boot, having three or four on the rack is about as essential as always having enough olive oil in your pantry.
Now, conventional wisdom says that rosé season is over. We should all be drinking reds and full-bodied whites now.
Well, "conventional wisdom" is not having a good year, so let's throw that out of the window.
Truth is, fall is a season where any type of wine is appropriate. I tend to agree with the school of thought that if a wine sounds good, open it, regardless of season. You'll know if a wine is a mismatch with the weather, and that usually only occurs in the dog days of summer (Amarone in July, anyone?).
Rosé of Pinot Noir is a versatile player in food pairings as it can handle many recipes, no matter how oddball. Last night, while looking at a recipe from Blue Apron, I had a few head-scratching ingredients to work with. There was the bitterness of brussels sprouts, the sweet-and-sour tang of whole-grain mustard, and the creaminess of potato salad. Blue Apron suggested a Chardonnay would work well, but to me, the lemon-like notes of a Chardonnay would amplify — rather than accentuate — those flavors.
Instead, I turned to a bottle of Pascal Jolivet Sancerre Rosé. With its hint of sweetness, lively acidity yet unusually creamy texture, it more than handled the brussels sprouts and mustard flavors, and it drank like a $30 bottle of Tavel (yet only cost $15).
The best part of the wine lay in the gorgeous flavors it presented on the palate. There were elements that reminded me of ripe peaches, dried apricots, as well as red tea and rose hips, and each sip ended with a steely, minerally finish that recalled slate.
Rosé doesn't need to be complex, but when it is, it can be deeply rewarding.
You know what's also deeply rewarding? Spending only $15 on it.
---
2015 Pascal Jolivet Sancerre Rosé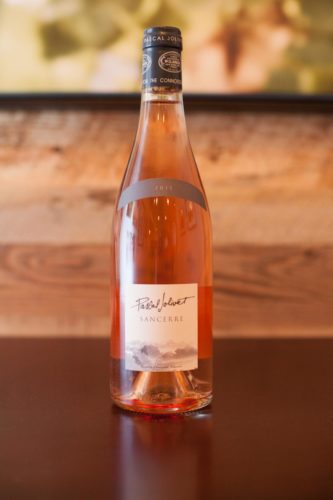 Sancerre, France
Grapes: Pinot Noir (100%)
Alcohol: 12.5%
Rating: ★★★★ 1/2 (out of five)
• Aromas, Flavor & Structure: ★★★★ 1/2
• Food-Friendliness: ★★★★ 3/4
Value: ★★★★ 1/2
Importer: Frederick Wildman & Sons
Tasting notes: This rosé of Pinot Noir boasts a beautiful carnation-peach color that is immediately inviting. Aromas are ripe and open up with plush waves of peach and apricot and a slicing cut of slate. On the palate, the wine is a speed racer, with a lively amount of acidity and a somewhat creamy texture. More stone fruit, as well as wonderful red tea and rose-hip notes round out each sip, with a short but minerally finish. A good value.
Recommended for: Charcuterie (especially brie, pickles, prosciutto), roasted chicken, side dishes focused on mustard and greens, casual sipping on its own.