4
min read
Oregon's wine scene is evolving dramatically, with an insurgency of small-scale, fresh-thinking winemakers looking beyond Pinot Noir for inspiration.
Throughout the year, we've tasted a few wines that demonstrate this trend, most notably Leah Jørgenson's Cabernet Franc-Gamay blend called "Tour Rain" and her Blanc de Cabernet Franc. Oh, there have been a few misses along the way (like a Grüner Veltliner aged in acacia wood … never again!), but failure is a necessary part of progress.
Many of the wines we've sampled from this new guard have begged the question: what grapes will define the future of Oregon wine? As summers get hotter and Pinot Noir gets plusher, its a natural question to ponder. Will pockets be more suited for Syrah and Viognier? What about Malbec? Or Tannat?
Adventures in Dundee
Like Leah Jørgenson, Brianne Day is nudging the conversation in new and interesting directions. And like Jørgenson, she finds a great deal of inspiration in France, particularly the Northern Rhône, Cahors and French Basque Country.
Back in June, my wife and I paid Brianne a short visit at her Dundee winery. The tasting room was barely under construction then (it'll be opening soon), but she made time for us in her busy schedule, opening five bottles of her wine in between rows of her barrels.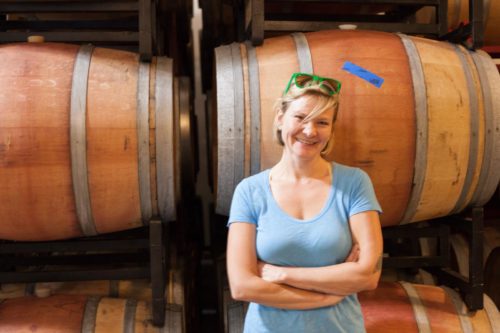 As often happens with me, I selected her winery for a visit because of her Pinot Noir, yet left with a bottle of entirely different wine.
(See also Copain. See also Penner-Ash).
We tasted a graceful yet fruity Pinot Noir from the Cancilla Vineyard, as well as a ripe and roaring Pinot Noir from the hot 2014 vintage from the Crowley Station Vineyard. Sampled shortly after we'd enjoyed her Johan Vineyard Pinot Noir at home, it was clear to me that she is well on her way to building a compelling portfolio of expressive single-vineyard Pinot.
But as enthusiastic as she was about these wines, her excitement seemed to go up a notch when we moved to her wines from Southern Oregon.
Syrah and Viognier, Tannat and Côt
First came the "Hock & Deuce," a Syrah and Viognier blend that is more delicate than any American Syrah I've tasted before, perhaps because of the generous proportion of Viognier (20%) that she has added. It's easy elegance may also derive from the volcanic soil in Mae's Vineyard, a plot of land in the Applegate Valley AVA where she sources many of her grapes.
The wine's name is a tribute to her business partners. She met them by chance while waiting tables at a Portland restaurant a few years ago — one of a few jobs she did to help support Day Wines in the early going. That same night, the couple from Michigan offered to invest in her fledgeling winemaking business. For Brianne, the moment felt like lighting in a bottle. While walking around her winery back in June and hearing her talk about her winemaking process, it is clear she's put in the hours to make this project soar.
We soon moved on to her TNT Tannat (which we recently included in our list of 12 Wines for Fall) before eventually diving into the "Running Bare" red, a blend of Cabernet Franc, Tannat and Côt (also know as Malbec).
"I prefer to call it Côt," Brianne told me. "That's the name used for Malbec in Southern France, and it is a very different style than we usually associate with 'Malbec.'"
Of her wines, the Running Bare was the hardest one for me to pin down, perhaps because it seemed so new to my palate, or because it followed two outstanding wines in close succession.
Ultimately, we bought those two outstanding wines — the TNT Tannat and the "Hock & Deuce" Syrah — then headed out to Penner-Ash for another tasting.
A Full Bottle of "Hock & Deuce"
Fast-forward four months, and we finally got around to opening the "Hock & Deuce" Syrah at home this week, where we could give it the ample attention it deserves. Alongside beef tenderloin, the wine offered a wonderful juxtaposition from within: soaring and intense aromas, as well as delicate and nuanced flavors on the palate. I picked up a great deal of black pepper and clove spice on the nose, which was surrounded by tones of mashed berries, wild game and violets. If Oregon's winemakers shift toward more Syrah and Viognier blends, I'd be a happy consumer.
Just do yourself a favor if you find this wine: serve it in a big, bowl-shaped glass. You'll want to linger on the aroma for a while.
2014 Day Wines "Hock & Deuce" Syrah and Viognier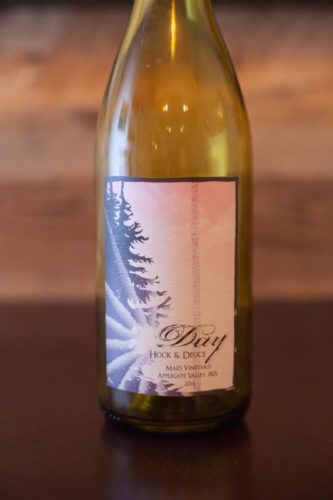 Applegate Valley, Oregon
Grapes: Syrah (80%) and Viognier (20%)
Alcohol: 13.5%
Ratings: ★★★★ 1/4 (out of five)
• Aromas, Flavors & Structure: ★★★★ 1/4
Food-friendliness: ★★★★ 1/4
Value: ★★★★ 1/2
Tasting notes: A wine with a heightened sense of nuance and elegance. More feminine than most Syrah, on account of a 20% blend of Viognier. Aromas are striking and pronounced, leading with crushed berries, black pepper, clove, a hint of game and violets. The palate is soft and gentle with a satin texture — a surprisingly delicate attack for a Syrah. Just a bit jammy on the finish, which lingers for a while.
Recommended for: A fairly versatile wine, I found that it nicely complemented the beef tenderloin and beet salad we made to accompany it. But given its delicacy, it might pair even better with roast pork dishes, duck or rabbit.
---
Note: The above bottle is empty. We drank it all before I got the chance to photograph it. Whoops.