4
min read
Rosé is an easy sell this time of year. It is impossibly refreshing, requires little thought on a hot summer day, and yet, still has a backbone thanks to a trace of tannin left from the grape-skin contact.
Plus, there's the color. Whomever first decided that the best marketing plan for rosé was a clear-glass bottle is a frigging genius. Sure, it is more likely to be damaged over time by light that way, but no one sits on a rosé — you're buying it and drinking it that night.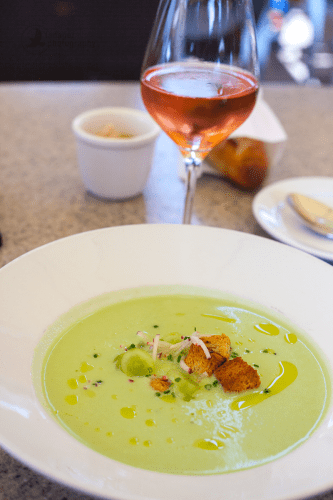 Another easy sell this time of year — at least in my home — is any green variation of gazpacho. Take zucchini, leek, basil, mint and spinach from the garden. Cook it down with garlic and onion, simmer in broth, then chill it in an ice bath to preserve its color. Blend. Chill. Drizzle oil. That's it. It's fairly simple, and in summer, simple and fresh wins every day.
Come to think of it, I love a green gazpacho for the same reasons I love rosé: it's refreshing, healthy, and gorgeous to look at. And when you put rosé with a green gazpacho, it is a perfect pairing for all of the senses.
This came to light again this past weekend when we made green gazpacho as a side to a halibut filet. I'd recently stocked up on rosé, and judging a bottle by its color ("a book by its cover" in other parlance), I settled on the EspritGassier from Chateau Gassier.
This blend of Grenache, Cinsault and Syrah (with some Rolle) hails from the Arc Valley just east of Aix-en-Provence. Crowned by the hunched-over summit of Mont Sainte-Victoire, the valley was frequented by Paul Cézanne for its natural beauty, color and light. Over a few decades, he created a famous series of paintings centered on the mountain, using wild swirls of earth-toned paint to capture granite and grass, farmhouses and cyprus, and mysterious traces of ochre found in the earth and depth of slanted sunlight. You might not notice it looking at a photograph of the area, but with Cézanne's work, its easy to see how the color of a Provençal rosé is almost a reflection of its landscape.
Excellent rosé ought to have a lightness and vibrancy that grows on you with each sip, yet never fatigues the palate. It's the kind of wine that can be drunk freely without much thought, but can surprise you in numerous ways if you pay attention to it.
The EspritGassier is certainly in this upper echelon of rosé — it might even be in its own orbit for my tastes. It offered an exciting tension between its lime-like acidity and peach-like fruit. There were also hints of stone, leather and herbs on the nose, the latter of which made it an ideal fit for the veggie-and-herb laden gazpacho we were having. And despite it coming from one of the more prestigious estates in Provence it is an exceptional value, coming in the $14 to $17 range.
Chateau Gassier makes four wines total — three rosé and a single white. Based on this bottle alone, they are worth hunting down.
2015 Chateau Gassier EspritGassier Rosé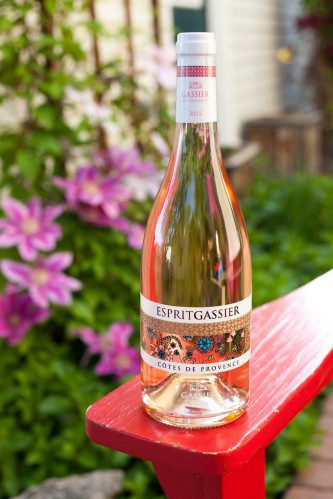 Côtes de Provence AOC
Grapes: Grenache (35%), Cinsault (30%), Syrah (25%), Rolle (10%)
Alcohol: 13%
Rating: ★★★★★ (out of five)
• Aromas, Flavor & Structure: ★★★★★
• Food-Friendliness: ★★★★
Value: ★★★★★
Tasting notes: An incredible rosé with a gorgeous, radiant apricot color. Has an intense and complex nose that has notes of barely ripe peaches and lemon, and a whole lot of mountain wildflowers. On the palate, has great tension between lime-like acidity and peach-like fruit, with a hint of leather and a solid, stony finish that lingers and leaves the palate cleanly.
Recommended for: Well, gazpacho, obviously. It's balance of acidity and fruit makes it quite versatile, but I'd imagine it would work wonderfully with a variety of vegetarian dishes. I'd be intrigued to partner it with mildly spiced fish tacos or a grilled chicken breast with a peach salsa, just to see how it fairs with spicy cuisine.
Note: This wine was provided as a sample by Wilson Daniels.
Learn more about our editorial policy.