3
min read
They did it again, those winemaking monks of Abbazia di Novacella.
After tasting their Schiava, Lagrein and Pinot Grigio (the latter of which made me forget how pedestrian this grape normally is) I listed them on my Essential Winemakers page. Little did I know that I hadn't even had the best wine from the Augustinian Abbey, which is located in the Valle Isarco of Alto Adige, Italy.

This past week, I uncorked a bottler of their Kerner, a little-seen white wine that achieved DOC status in Italy in 1993. Layered with savory, nutty, floral and fruity characteristics, it was easily the most exciting white wine I've had this summer (probably this whole year for that matter).
So what the hell is Kerner?
Kerner is the only grape variety that I am aware of that is named after a famous drinking-songs poet — the illustrious Justinus Kerner ("with a name like Justinus, he must be illustrious!"). In 1929, the grape was conceived by August Herold, a plant breeder who decided to put Riesling and Schiava on a blind date. When their love child demonstrated a knack for delicious wine, Mr. Herold decided to name it after Mr. Kerner. (He once wrote a poem entitled Wohlauf, noch getrunken which translates as "Arise, still drunk").
Over time, Kerner showed a resistance to frost which made it a popular grape for cultivation in the 1970s in such colder regions as Germany, Austria, Switzerland and Italy's Alto Adige. But for some reason, it's been on the decline ever since, with plantings in Alto Adige dwindling to just 90 hectares.
If the version from Abbazia di Novacella is any indication of what Kerner is capable of, it should be on wine lists everywhere. It brought the sweetness of Riesling with a sharp, mouth-watering acidity and delightful layers of flavor to our table. With each sip, it reminded me of green fruits, almonds and baking spices, making it a perfect wine to uncork as we head into fall.
In fact, you might want to flag it for Thanksgiving — it's certainly worthy of the biggest meal of the year.
2014 Abbazia di Novacella Kerner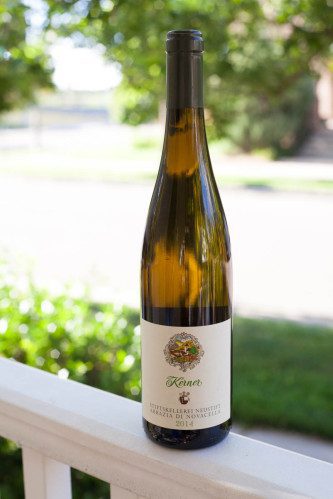 Valle Isarco (Alto Adige, Italy)
Grapes: Kerner (100%)
Alcohol: 14%
Rating: ★★★★★ (out of five)
• Aromas, Flavor & Structure: ★★★★ 1/2
• Food friendliness: ★★★★★
• Value: ★★★★
Tasting notes: A harmonious wine defined in equal measure by fruity, savory, nutty and floral characteristics. The palate brings loads of tartness and sweetness, leading to lots of little surprises along the way. At times, I thought it was reminiscent of green fruits, such as kiwi or key lime, with a wonderful edge of almond and nutmeg and a smooth, honey-custard like profile. An impressive wine from top to bottom.

Recommended for: The range that this wine shows with food is mighty impressive. I enjoyed it with a simple, light pasta dish one night, a spicy dish the next, and it held up well in both instances. I'll be coming back to this one soon.