3
min read
Back in April, I wrote about the Zenato family of Veneto's Valpolicella region, and how their "baby Amarone" (my words, not their's) called "Alanera" impressed with rich, extracted red fruits and soft tannins. It was enough for me to seek out some of their other wines a few months ago when I was stocking up.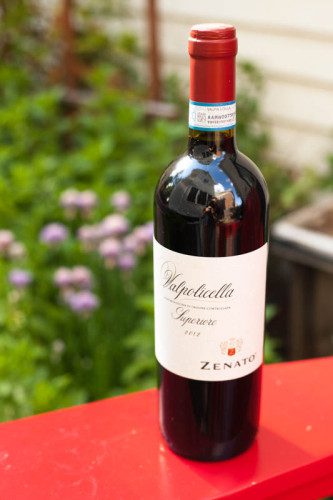 A week ago, we uncorked one of them: Zenato's Valpolicella Superiore, which goes for around $11 and may be among the best Italian wines in the category of Affordable-Weeknight-Wines-To-Go-With-Anything (this is a real category, which I have devoted real estate to in my cerebral cortex). It was rich and delicious, simple yet distinctive. You can't ask for more at that price point.
And then Sunday night, we went all out. My wife and I had the kitchen to ourselves, the girls were spending the night at the grandparents, and we had two beef tenderloin steaks to cook: the perfect ingredients for opening something a little more special.
I lined up five wines for Hailey, trying my best to describe what I thought they would have in store for us. Without hesitation she selected the Zenato "Ripassa" Valpolicella Superiore Ripasso, a wine that sits closer to Amarone on the spectrum than even the "Alanera," since the wine is pressed for 7 to 8 days over the skins, seeds and stems of the leftover, dried grapes used to make Amarone. It's as though Amarone leaves a thumbprint on the Ripasso.
Whomever thought of this trick is a genius, because the Zenato "Ripassa" is more than just "a little special." It is a Highlight-of-the-Year kind of wine.
It had everything without being complicated and overbearing. The color was strikingly dark, just like the bottle it came from. And the aromas rising from the glass — reminiscent of boysenberry, raisins and violets — were so vibrant and harmonious, I fell in love with the wine before I even sipped it.
I could go on, but what's the point? You get the idea. As we finished dinner at sundown on our covered patio, a thunderstorm arrived. Sunbeams pierced the sheets of rain creating an incredible sight, as well as a blushing rainbow to the east of us.
Great wine always makes things around it — food, conversation, scenery — better, but excellent wine is also modest enough to let those things around it, make it better, too. The Ripassa is an excellent wine.
2011 Zenato "Ripassa" Valpolicella Superiore Ripasso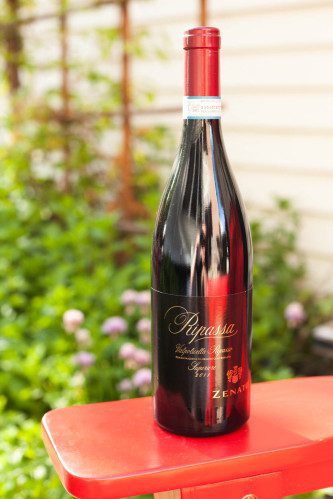 Valpolicella, Italy
Grapes: Corvina (80%), Rondinella (10%), Sangiovese (10%)
Alcohol: 14%
Ratings: ★★★★★ (out of five)
• Aromas, Flavors & Structure: ★★★★★
Food-friendliness: ★★★★ 1/2
• Value: ★★★★
Tasting notes: Normally, I don't comment on the color of a wine, but upon pouring this one, I exclaimed out loud ala Homer Simpson: "oooo, inky." This wine is fabulously dark. It just looks serious, like it has a game face. But the aromas and flavors that follow — while intense, powerful and rich — are also playful: I picked up notes recalling boysenberry, raisins, violets, vanilla and a tingling, stony finish. Heavily extracted, but not heavy-handed, this wine is stellar.
Recommended for: Braised short ribs, osso buco, or do what we did, serve it with pan-seered beef tenderloin with a reduction sauce. Pairs well with rainbows (see above).