8
min read
Let's talk about Nebbiolo's origins, shall we? Like its kinetic, multi-layered aromas, the grape has a complex past that no one can agree on. Did the ancient Roman author Pliny the Elder name it nubiola because of its preference for fog? Or does the name have to do with the appearance of its smoky-looking blooms? Is it indigenous to Piedmont or did it actually originate in the mountains of Lombardy? I know a few winemakers who'd love to debate that last point.
One thing is for certain: Nebbiolo is a homebody. It thrives in Italy; it is not itself elsewhere. As the ultimate authority on Italian grapes, Ian d'Agata says:
Much like Pinot Nero, it is a servant of its environment and has not spread in any quantity to new vine regions, though Nebbiolo plantings outside Italy have been increasing of late. Not that it, or Pinot Nero, can't adapt elsewhere: it's just that the resulting wines are almost nothing like those made in Italy. [Native Wine Grapes of Italy, University of California Press]
Which brings us to this edition of the Nebbiolo Fan Club, because we are examining three wines of very different origins. The first comes from perhaps the most iconic — some would say sacred — Nebbiolo ground on earth, Barolo's Brunate cru. Next, we flip the coin and examine a wine from a Valtellina producer whose origins are actually in Valchiavenna (Chiavennasca, anyone?). And finally, we end up on the other side of the world where an accomplished Australian winemaker is ready to go all in on Nebbiolo — and the result is unlike anything I've had before.
---
2010 Marengo Barolo Brunate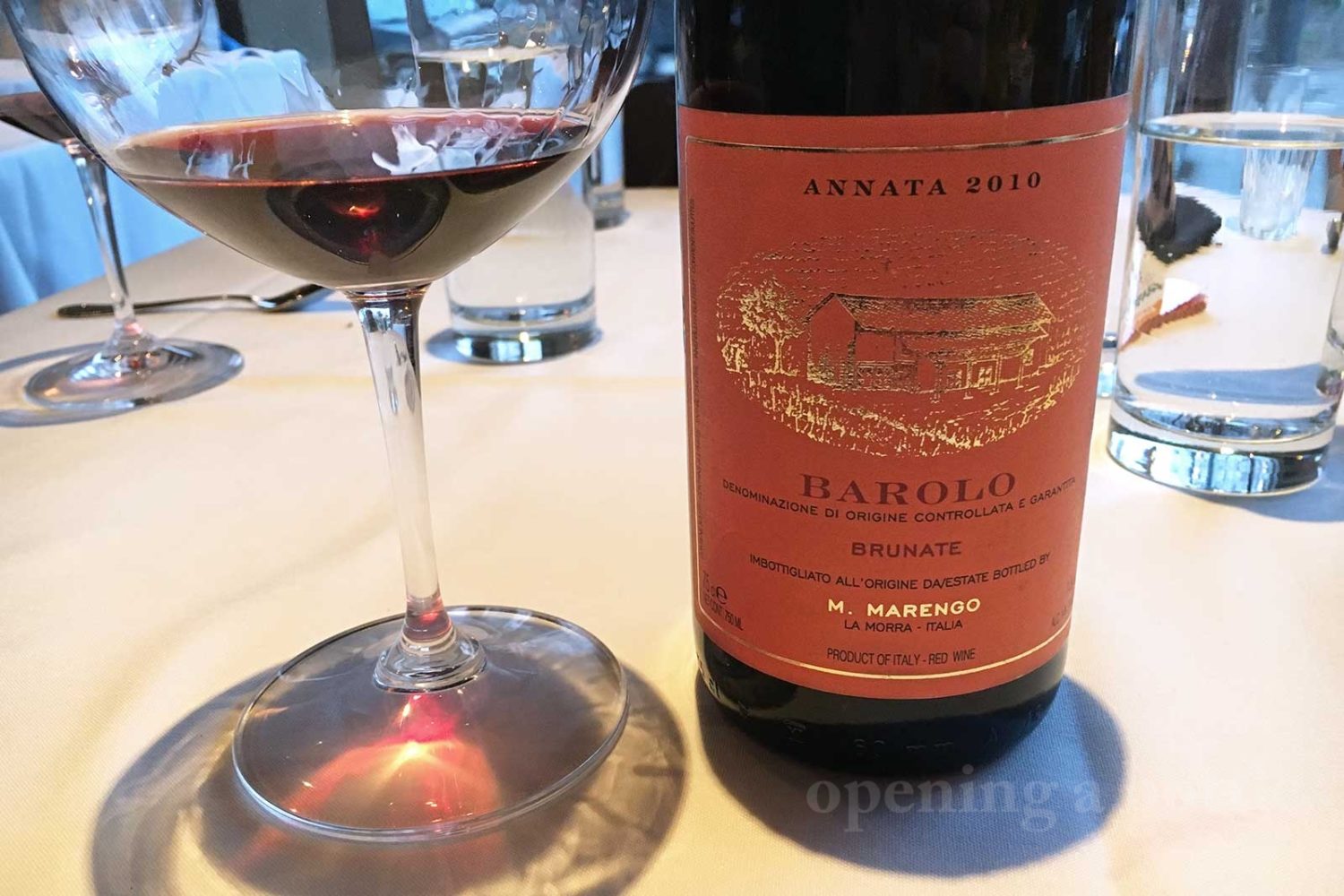 For several reasons, the Brunate cru is esteemed. For generations, the south-facing slope midway between the villages of La Morra and Barolo has been coveted ground for winemakers. The soils here are Tortonian, a calcareous marl that fosters Nebbiolo grapes with a softer, fresher and more forthcoming character. (It is also the site of a color-riot church, which has become an icon of the area, and regrettably a major site for Instagrammers in recent years).
I find a certain kind of comfort with Brunate. I've walked through the vineyard a few times, I've photographed the church and its surroundings (it's spectacular), and the wines match my palate. I like Barolo best when it whispers secrets and plays hide-and-seek. Lazzarito, Ornato and Bussia — to name only a few other cru — are a bit bombastic in their youth, but Brunate can be a bit more forthcoming, without losing any of the grandeur.
When I turned 40 in April, I wanted to order a spectacular Barolo and put my face into a bowl of decadent pasta. We went to the right place. Barolo Grill in Denver won the Grand Award from Wine Spectator in 2018, and their cellar is stuffed with great wines from across Piedmont. Nebbiolo, in particular, is a special focus.
I had just written a story for SevenFifty Daily on the rising stars of the Denver drinks industry, which included Barolo Grill's sommelier, Erin Lindstone. She had worked with Ryan Fletter, Barolo Grill's owner and wine director, to bring some of their older vintages to the fore through a curated Coravin menu for by-the-glass pours. She was kind enough to advice me on the wine list hours before they opened, just so I could get a headstart on a decanted Barolo. What she recommended was the 2010 Marengo Barolo Brunate, that is not only from one of the Barolo's greatest vineyards, but from one of the region's best recent vintages.
Few people know about Marengo. In fact, they are so under-the-radar, they don't even appear to have a website. The La Morra-based estate has had a presence in the Brunate cru for a very long time, but it wasn't until 1974 that they started to bottle their holdings separately. They prefer to age their Barolo in barrique, with only a small portion in new oak.
Oak was hardly noticeable with the 2010. Suggestive of cherries, blue flowers, black licorice and earth at different times, Marengo's version of Brunate is focused, balanced and just right. Sometimes, the gruffness of Barolo gets in the way of its pleasures. Not here. I would imagine that the 2010 will have even more secrets to spill in the coming years.
Other Nebbiolo wines by Marengo: Barolo Bricco delle Viole, Barolo, Nebbiolo d'Alba "Valmaggiore"
Barolo DOCG (Piedmont)
Grapes: Nebbiolo (100%)
Alcohol: 14%
Rating: ★★★★★ (out of five)
Food-friendliness: Versatile
Value: As Expected
Click on the wine icons above to learn more
Serving suggestion: Special occasions and a solid four hours of decanting, which helped unlock some of its secrets. And for a cuisine pairing: tajarin and white truffles, of course.
---
2016 Mamete Prevostini "Sommarovina" Valtellina Superiore Sassella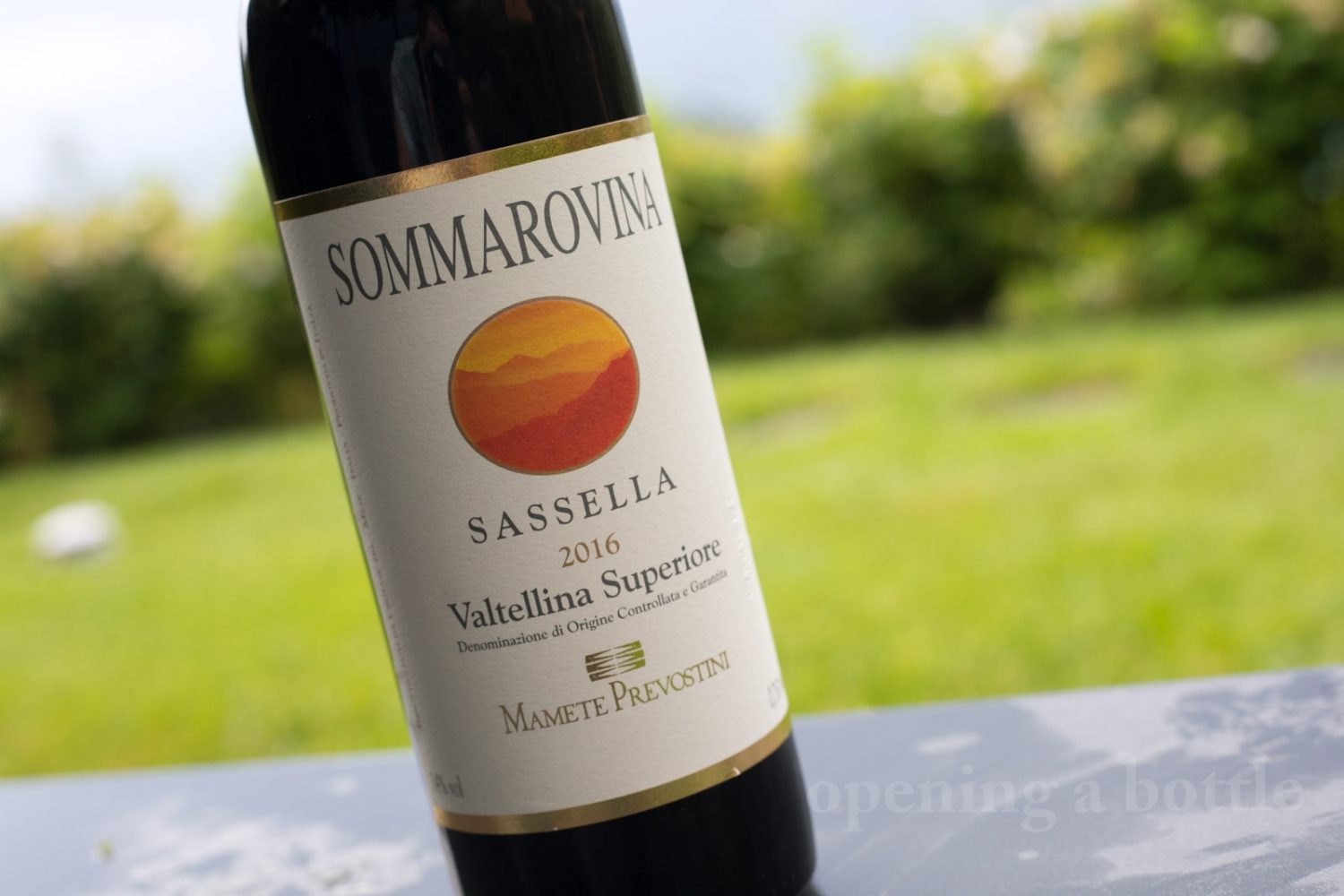 In Valtellina — a ridiculously long alpine valley that runs east to west in Lombardy — they have a different name for Nebbiolo: Chiavennasca. Rarely is the origin of this name discussed, unless you look to the producer Mamete Prevostini. While this winemaker boasts a fleet of Rossi di Valtellina, Valtellina Superiore and Sforzati di Valtellina, the family origins are in Chiavenna, an alpine city north of Lake Como at the mouth of the Valchiavenna, a dramatic alpine valley that stretches into Switzerland.
I was recently there on a day trip from the lake with my family, in pursuit of the stunning waterfall called Cascate dell'Acqua Fraggia. There, above town, were some of the steepest vineyards I've seen in all of Italy. Of course (as I later found out), they're planted with Chiavennasca, and that's when the connection with the name hit me.
Mamete Prevostini still maintains the family's historic crotto (a natural cave cellar in the mountain) in Mese just outside Chiavenna. (Which I didn't learn about until a day later. Oh well, there is always next time.)
All of this came to the fore back on Lake Como in a wine shop long the shore in Varenna, where I befriended sommelier Claudio Rampellini. He explained that the vines I had seen were in fact likely Chiavennasca (some whites are planted in the valley, too), and confirmed the ancient origins of the vineyard. Unfortunately, these wines are very rare, but I was happy to purchase the "Sommarovina" from Mamete Prevostini, which comes from the Sassella subzone of Valtellina. The Chiavennasca wines from Sassella usually have a beautiful focus to them, and the Sommarovina was true to form in this regard. The tones were decidedly savory and slatey, as Nebbiolo delle Alpi wines of the north often are, baring aromas and flavors similar to sour cherry, anise seed, orange peel and leather.
There will be more to come in the future on this producer, because I'm intrigued to pull on this string and see where it leads.
Other Nebbiolo wines from Mamete Prevostini: a Rosso di Valtellina ("Santa Rita" ); five other Valtellina Superiore from three different subzones; and two sfuzati made from partially dried grapes ("Corte di Cama" and "Albareda").
Valtellina Superiore Sassella DOCG (Lombardy)
Grapes: Nebbiolo (100%)
Alcohol: 14%
Rating: ★★★★ 1/2 (out of five)
Food-friendliness: Limited
Value: As Expected
Click on the above wine icons to learn more
Serving suggestion: Aged sheep's milk cheeses and bresaola.

---
2016 Luke Lambert Yarra Valley Nebbiolo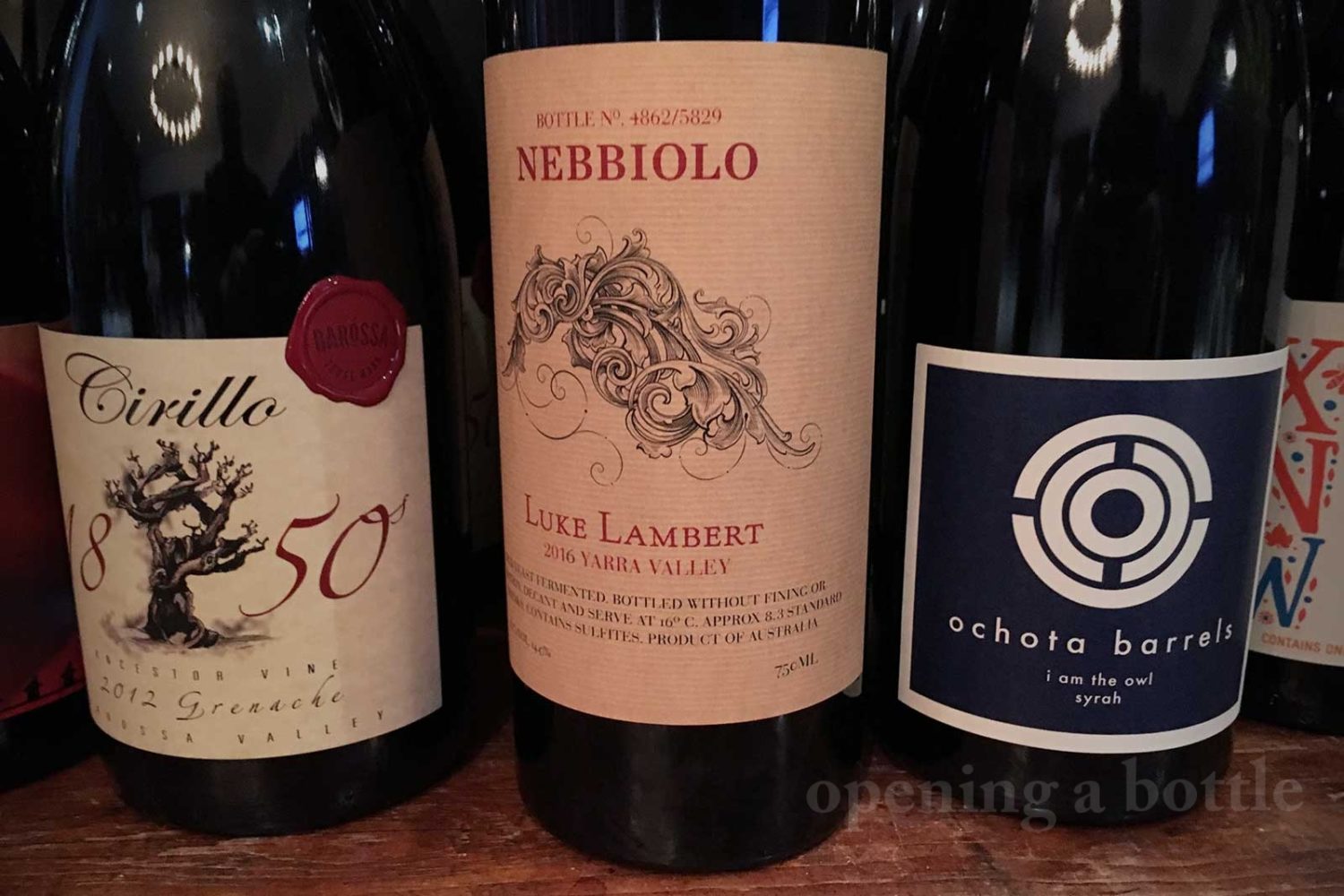 Everything about Nebbiolo is hyperlocal: the way it expresses terroir, the way it is handled in the winery, and even — as we just discussed — what it is called.
One reason the grape has not exploded in the New World has to do with its fickle nature. Nebbiolo has no tolerance for sloppiness, so experimenting with it can be an expensive proposition with a high failure rate. It requires a very long growing season; clay, sandy or granitic soils; and it can be highly susceptible to coulure. Furthermore, it has had centuries — perhaps millennia – to adapt to the unique terroir of Piedmont, as well as Valle d'Aosta and Lombardy. (Talk about a head start).
But none of that has discouraged Australian winemaker Luke Lambert, whose 2016 Yarra Valley Nebbiolo manages to navigate a tightrope between Piedmont and the Land Down Under.
It was featured in April at a New Australia wine tasting I attended led by Master Sommelier Bobby Stuckey at his Boulder, Colorado restaurant, Frasca Food and Wine. The signature cherry, roses and black licorice notes of the grape were noticeable, if a little milder than I am used to. Instead of earthiness, it was supremely herbal, a quality that seems to be a hallmark of the New Australia, where menthol, mint and eucalyptus continuously popped up in my notes over the flight of 13 wines. Also, the typical ferocity of Nebbiolo's youth was no where to be found. Lambert's Nebbiolo has nimble acidity and the tannins acted as though they wanted to help me out (whereas they usually seem to have their arms crossed at this stage). This is not Nebbiolo as we know it; it is something entirely new and fresh. Supplies are limited, but I'd like another go at it.
Lambert recently told Eric Asimov in the New York Times (an excellent article, worth the read) that he will soon be devoting his winemaking efforts entirely to Nebbiolo. Like me, he is turning 40 this year, and like me, he has a 9-year-old daughter, who named his new Nebbiolo vineyard Sparkletown after the way the light dances on the rocks.
From Brunate to Sparkletown — the wide world of Nebbiolo is indeed a kinetic, multi-layered story.
Other Nebbiolo wines by Luke Lambert: This is it, for now.

Yarra Valley (Victoria)
Grapes: Nebbiolo (100%)
Alcohol: 14%
Rating: ★★★★ 3/4 (out of five)
Food-friendliness: Versatile
Value: As Expected
Click on the wine icons above to learn more
Serving suggestion: Whenever I get a second go at this wine, I'd love to have a bahn mi with it. Something about the idea of matching the wine's leanness and the tang of pickled vegetables …

---
Looking for More Nebbiolo Fan Club Content?
It's coming, along with more First-Taste Guides, Vineyard Stories, winemaker profiles, photo essays and more. Subscribe to my monthly email digest to get all the juicy content.
---