4
min read
Ahh, the 100-point system for scoring wine. Is there a taller lightning rod in wine circles than its ubiquity and utility?
A year ago, after listening to an influential wine writer describe how mass wine tastings work (and how his dentist warned him about what it was doing to the enamel on his teeth), I've entirely given up on buying wines based on points. When you taste multiple wines in quick succession as wine critics do — sometimes hundreds of wines at a time — your palate will invariably look for attributes that make each wine standout. So naturally, wines that are bold, complex, amplified and even extracted — rather than light, subtle and shape-shifting over time — score better.
Furthermore, a key component of wine that is always overlooked in these ratings is how well each wine goes with food. Sure, food greatly influences wine and can alter objectivity (not to mention the impracticalities and cost of serving hundreds of dishes to pair with hundreds of wines in a single setting) but isn't drinking wine with food a central part of its essence?
"How to Buy Wine Without Relying on Points" is perhaps a longer discussion for another day, but I bring up this debate because a recent wine we enjoyed — the 2011 Qupé Maxtap Cuvée — is the perfect example of how misleading wine scores and tasting notes can be.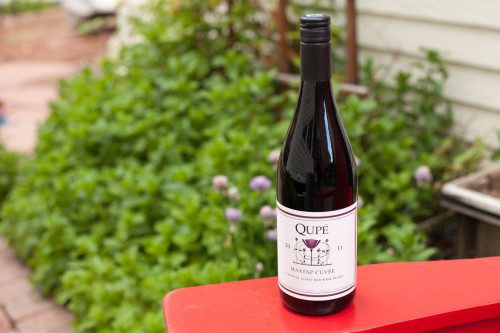 "A useful wine," states this review from Wine Enthusiast. That's tasting code for "meh." After offering a few flavor descriptors, the taster gave it 87 points. In high school, that would have been good for a B on a history test. In wine parlance, it means average, but it has come to mean "unremarkable."
Of course, I also rate wines here on Opening a Bottle and while my system also has its flaws (any rating system that relies on matters of taste is subject to debate), I feel validated here for having a separate rating on all wines for food-friendliness and value. Because in the case of this Grenache blend, that's where it really shines.
I found the Qupé Maxtap Cuvée immediately recognizable and delicious. "Reminds me of the red blends from Languedoc-Roussillon … Corbières and Fitou in particular," I wrote down. Do I drink Corbières and Fitou regularly enough to say this? Probably not, but I find it special when a wine recalls something from your memory that you didn't realize was so vivid.
Maybe it was the aromas and flavors of ripe raspberry, the hints of violet flowers, the traces of smoke, or maybe it was the wine's overall smoothness and elegance (which made it ideally suited for the steak-and-fries meal we enjoyed alongside it) that forged this connection.
Obviously, I didn't taste this wine blind, so I knew going into it that Qupé is a California winemaker who delivered on a great bottle of Syrah earlier in the year, and that they specialize in Rhône-style wines (another reason I was surprised it reminded me of Corbiéres). And perhaps the wine's misdirection on sense of place is a sign that I unfairly reward New World wines for aspiring to taste like Old World wines. But so what? The style of wine I like is subtle, layered and modest enough to let food enhance its qualities. Old World wines usually aspire for that trait.
Either way, I was thrilled by this wine. Maybe it would have been overshadowed alongside 50 other California-made Rhône-style blends in a mass tasting, but that's kind of the point. As far as drinking wine in an enjoyable environment — and for $15 a bottle — this wine was a knockout.
And if I bought wines solely on points, I never would have known about it.
2011 Qupé Maxtap Cuvée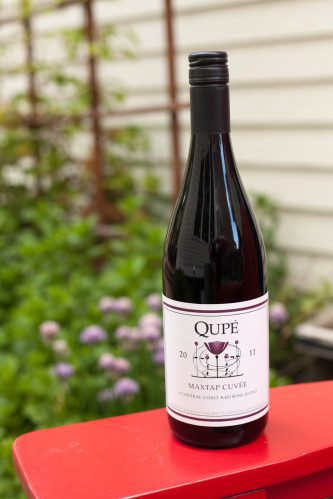 Central Coast, California
Grapes: Grenache (64%), Syrah (18%), Tempranillo (15%), Mourvèdre (3%)
Alcohol: 13.5%
Ratings: ★★★★ 1/2
• Aromas, Flavor & Structure: ★★★★
• Food-Friendliness: ★★★★ 1/2
• Value: ★★★★
Tasting notes: Reminiscent on the nose and palate of Corbiéres. Intriguing, inviting and delicious. Aromas are layered in a way that works nicely together: raspberry, violets and smoke come to the forefront, with a good balance of acidity and fruit. Seemed to take on more enhanced qualities when matched with the herbs on our steak. A great table wine to have on hand at all times.
Recommended for: Perhaps not the most spectacular wine on its own, but that's beside the point: it belongs on the table with dinner. Serve with grilled meats that are rubbed with rosemary and thyme for greatest effect.