5
min read
Have you ever wondered if terroir — the concept that grapes can express the site-specific traits of soil, sun-exposure and rainfall in a wine — is real? I certainly have. I love the concept. It makes wine-drinking more than just a pleasure pursuit … it creates an intellectual puzzle as well.
The problem is that it rarely shows itself. Sure, winemakers and importers love to taut the terroir of this vineyard and that one, but when the day is done — far too often given all of the talk — their Riesling tastes like a Riesling. Their Pinot Noir, just as anonymous as most.
I've come to believe that for everyday bottles of wine, terroir just doesn't matter because you're not going to notice it. In fact, if your opinion of terroir is that it is utter B.S., I would completely understand.
But it is not.
Drink enough Moulin-à-Vent (and the neighboring Cru villages of Beaujolais) and you'll forget you ever thought such a thing.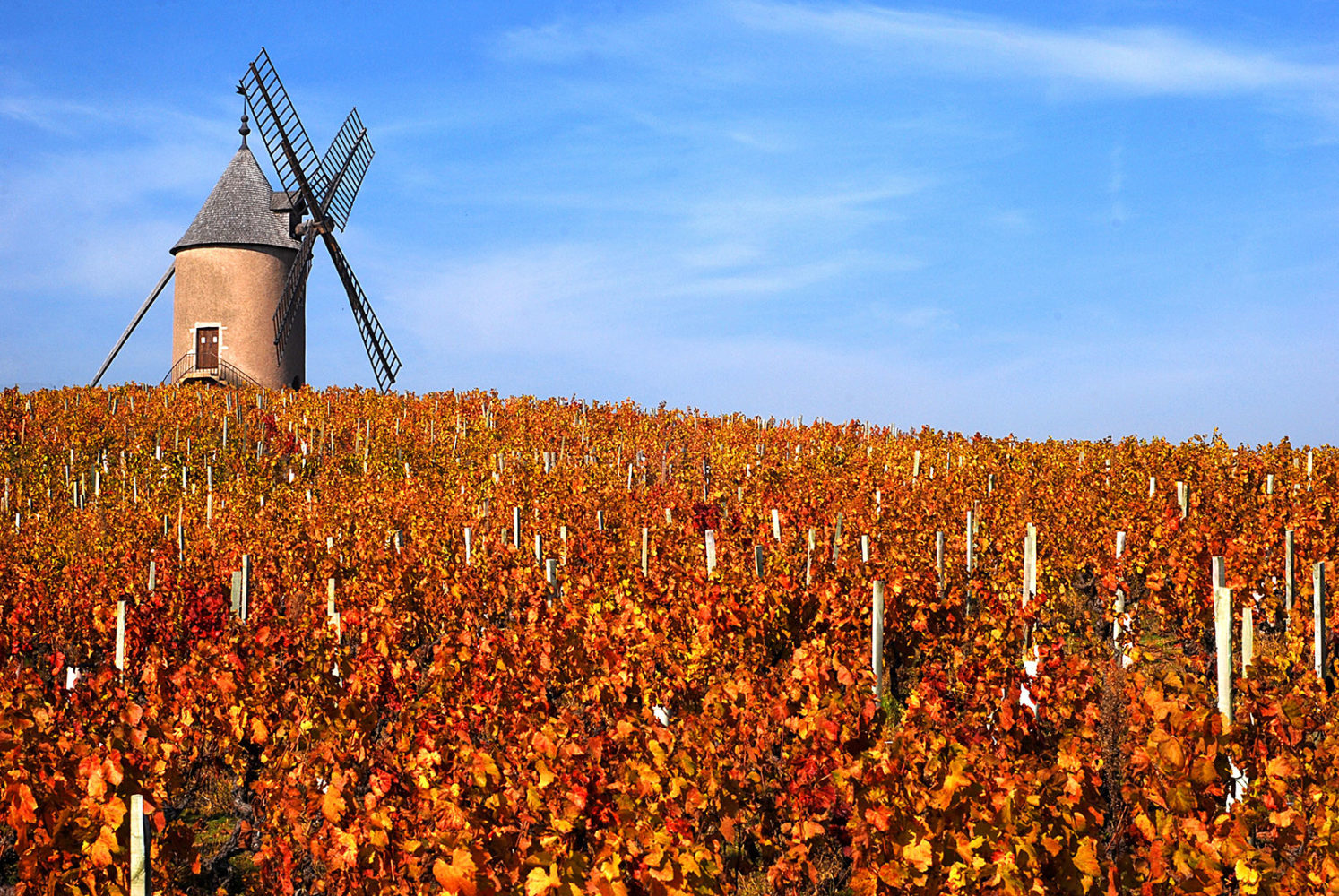 I've fallen hard for Cru du Beaujolais this year. Clearly: I wrote about it a just four weeks ago. I am uncorking one every chance I can get because there is something richly rewarding and surprising with their spectrum of aromas and flavors. And the consistency I have discovered from one Cru to the next has underscored that there are real differences between them, and those differences are in the vineyard.
The ten Cru of Beaujolais make their wine from the same grape (Gamay) using essentially the same methods, with the exception of a little more oak in certain villages. Because of this, they are a great test case for whether terroir is real or not.
Drink a Moulin-à-Vent next to a Fleurie and you'll see that it is.
Moulin-à-Vent offers depth and tannic structure, and is perhaps more in-line with typical American palates. Fleurie offers aria-like heights of lightness and floral perfumes. This difference is largely in the soil. Moulin-à-Vent wines are deeper mostly because of the iron and manganese in the area's soils, which yields grapes of rich concentration. Meanwhile, Fleurie's soil is acidic and dry with bits of clay mixed in.
Same grape, similar winemaking methods … but different land, different wine.
Moulin-à-Vent at Its Best?
This subtlety is a fact the winemakers of Beaujolais have known since at least the 18th century. At Château des Thorins (now known as Château du Moulin-à-Vent) in the late 1700s, a winemaker by the name of Philiberte Pommier discovered that certain plots of land on her estate yielded more exceptional wine than others. She set about to study and understand these plots, and tailor her winemaking to what the grapes were offering. In 1862, at the incredible age of 99, her wines were deemed the best in the Mâcon region of France at the Universal Exhibition of London.
Over the last two weeks, I had the pleasure of drinking two wines from this historic estate — one a blend of four vineyards from within the designated zone (a good indicator of the terroir of Moulin-à-Vent as a whole), and the other a single-vineyard called Croix des Vérillats (a good indicator of a single site within Moulin-à-Vent).
While both of these wines were exceptional, I was surprised to find the blended Moulin-à-Vent more complex and pleasing. Perhaps this speaks to age, as it had two extra years in the bottle. With its tannic structure, the wines of Moulin-à-Vent can age 10 to 20 years, much more than its Beaujolais counterparts (with perhaps the exception of Morgon). The Croix des Vérillats was exquisite, but a little closed off. By that, I mean that it seemed to flirt with us upon each sip. It was well-rounded, smooth and elegant, and it took our dinner — herb-rubbed pork tenderloin with seared strawberries — to the stratosphere. But its aromas and flavors seemed densely layered, as if more would come out of hiding at any moment. If I weren't such a thirsty fellow, I may have found them eventually, but the bottle was just too damn drinkable. It was gone by sunset.
Château du Moulin-à-Vent also makes Couvent des Thorins Moulin-à-Vent, which I have had twice this year, and which remains one of the best wines I've had all year. There's no denying that there is a bit of magic in the soil on that windmill-topped hill in eastern France. A 283-year legacy helps, too.
2009 Château du Moulin-à-Vent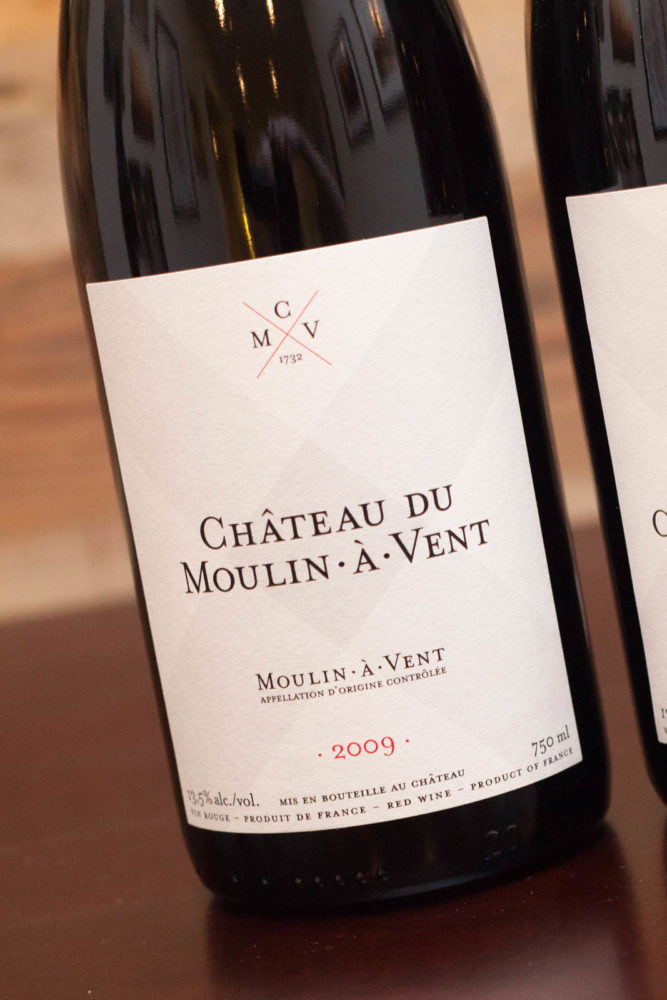 Moulin-à-Vent AOC, France
Grapes: Gamay 100%
Alcohol:
Ratings: ★★★★ 1/2
• Aromas, Flavors & Structure: ★★★★ 1/2
• Food-Friendliness: ★★★★★
• Value: ★★★
Tasting notes: An exceptional, elegant wine with a noticeable amount of depth — perhaps the fullest Cru du Beaujolais I have had. Presents flavors of black cherry at times, raspberry at others, as well as aromas that recall leather, forest and sand. I really loved the earthy recollections it created, which in a way, make it similar to a fine Nebbiolo. Silky on the palate. Would have given it five stars if its structure lasted a little longer, but it faded a bit after a couple of hours.
Recommended for: Remember this wine at Thanksgiving. But if you must drink it now, in the heat of summer, chill it slightly and serve it with a grilled rack of lamb, which would show wonderfully beside it.
---
2011 Château du Moulin-à-Vent Croix des Vérillats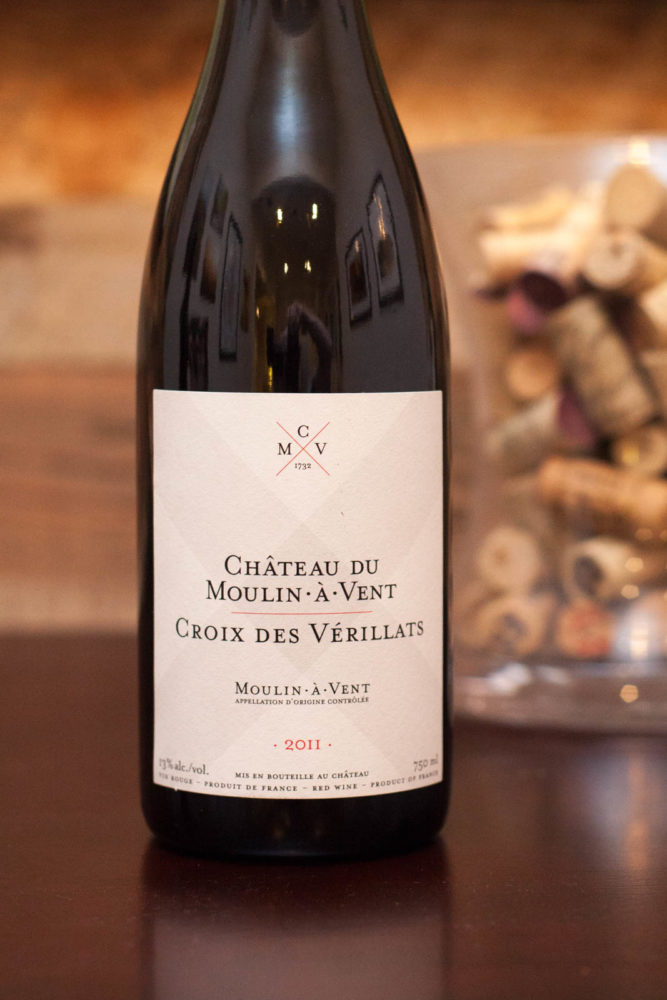 Moulin-à-Vent AOC, France
Grapes: Gamay 100%
Alcohol: 13%
Ratings: ★★★★ 1/2
• Aromas, Flavors & Structure: ★★★★ 1/2
• Food-Friendliness: ★★★★ 1/2
• Value: ★★ 1/2
Tasting notes: An unmistakable wine, bearing all of the lovely traits of Cru du Beaujolais, especially aromas that recall cherries, watermelon and violets all at once. It seemed a bit closed off at first, like it needed additional time to breathe, or perhaps age. On the palate, it was smooth and elegant, never growing tired over the course of a long evening. Could stand to age a few more years and open up even more, but there is no mistaking that this is an excellent wine worth cellaring if you love Moulin-à-Vent wines.
Recommended for: At times, it presented a bit of earthy mushroom on the finish, which made me think it would compliment certain risottos or pastas nicely. I tend to associate Cru du Beaujolais with spring and summer, but this one screams for the hearty dishes of fall.
---
Note: Both Château du Moulin-à-Vent wines in this article were provided by Wilson Daniels. Learn more about our editorial policy.