4
min read
One of the biggest misconceptions in wine is the notion that grandeur always equals better. In fact, many of Europe's most esteemed regions are structured to capitalize on this very fallacy with prestige wines designed to garner rave reviews, and second wines to help with the cash flow. You rarely, if ever, see an estate's second wine scoring better than their prestige wine. That's because critics reward ambition and aspirations of cellaring more than immediate pleasures, which is ironic given the marketing tactics used to sell high-scoring wines to shoppers seeking — you guessed it — immediate pleasures. It is the greatest self-fulfilling prophecy in wine, and its utter crap.
It is the greatest self-fulfilling prophecy in wine, and its utter crap.
While prestige wines benefit from more selective fruit (undoubtedly a positive), they also encounter more exposure to oak and longer aging in the cellar. They're built for the long haul. But that does not always translate into "better." Often, it just means "more structured" versus "more linear." "Cellar-worthy" versus "more immediate." An apple versus an orange.
Wouldn't it be great if winemakers showed the same level of care and focus in their second wines as they do in their prestige bottlings? And wouldn't it be great if wine writers (like me!) celebrated these wines more? After all, they are more affordable, and, when done well, more food-friendly.
One place that seems to understand this appellation-wide is Tuscany's Montalcino, where Brunello di Montalcino is the totemic icon, and Rosso di Montalcino is the little sibling.
I adore Rosso di Montalcino. The days in which I need a tower of power in the glass (Brunello) are fewer and further between than the days that I just need something refreshing, nuanced and delicious (Rosso). To me, Brunello di Montalcino is the Grand Canyon — vast, expansive, unknowable in its entirety. Rosso di Montalcino is the Glenwood Canyon in Western Colorado, where rock-clinging oaks and pines hang over the very same river that eventually carves the Grand Canyon. One is 6,000-feet deep, the other 3,000-feet deep — both beautiful in their own way.
Typically made from younger Sangiovese vines (also from the Brunello biotype), Rosso di Montalcino enjoys many of the same benefits as Brunello di Montalcino. The zone of production is the same, so the tension of Montalcino's Mediterranean-meets-Continental climate is woven into the fabric of the wine. Producers can also choose to use fruit from Brunello-designated vineyards if they like, which can sometimes make "off vintages" for Brunello prime vintages for Rosso.
The big difference in these wines is their time in barrel and bottle. Rosso di Montalcino has no oak-aging requirements, and can be released as early as September 1 following the vintage. Meanwhile, Brunello di Montalcino has the longest aging requirements of any Italian wine: four years, with two of them in barrel and a minimum of six months in bottle. To open a Brunello requires the right occasion and a sense of reverie. To open a Rosso requires thirst.
This is where Montalcino continues to have a leg up on the rest of Tuscany. It's two chief rivals for Sangiovese-based red wines — Chianti Classico and Montepulciano — have an uneven track-record between prestige and second wines. In fact, I often prefer the second wines. What they lack in ambition (translation: oakiness, still to this day) they make up for with decidedly fresh and invigorating fruit.
Montalcino has a better record of having it both ways, and I wish that producers in Chianti Classico and Montepulciano would follow this example. Grand doesn't always mean better, and there are many kinds of beauty in wine. The more a producer can demonstrate this across their range of wines, the more loyal I'll be to purchasing them.
And the more common these kinds of producers are in an appellation, the more success the entire region will have in the long run.
2016 Padelletti Rosso di Montalcino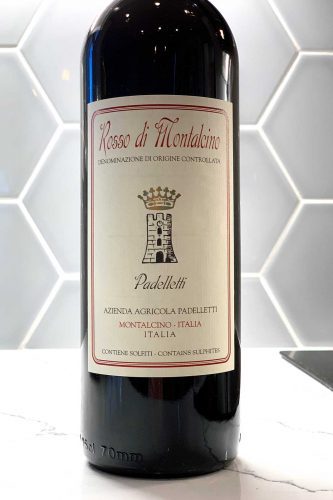 Rosso di Montalcino DOC (Tuscany)
Grapes: Sangiovese (100%)
Alcohol: 14%
Rating: ★★★★ 3/4 (out of five)
Food-friendliness: Versatile
Value: Exceptional
*Learn what our new wine icons mean.
Importer: Oliver McCrum Wines & Spirits
Review: Which brings me to my first taste from Padelletti, one of Montalcino's most established and historic families, with records suggesting their role in the local wine business dates back to 1570. This is my kind of wine, woven with an assertive sinew of muscle and savory herbs, while remaining sleek and agile. Aromas are suggestive of bing cherries, plush plums, salami, smoke and peppercorns. The pitch-perfect acidity lends the wine momentum across the palate, with just a touch of chalky tannin to make things linger.
Serving suggestion: Diavola pizza, grilled pork chops with ample rosemary, or smoked baby back ribs.