5
min read
It has often been said that it takes a lifetime to understand Italian wine. I often wonder if a lifetime is enough to understand just Sangiovese.
Planted across 71,500 hectares, this grape is far and away Italy's most ubiquitous variety. It's signature is consistent: cherry-like fruits with a hint of leather and tobacco. But its diversity — from Abruzzo in the south to Romagna in the north — as well as its various levels of quality, is sweeping.
However, I still struggle to reliably know what will be in a bottle of Sangiovese from one to the next. Even within its best-known appellations, Sangiovese can be a smash hit or a big whiff.
What accounts for this variance is two things: blending and oak. On the first front, I am rarely taken by Sangiovese wines that are blended with Cabernet Sauvignon, Merlot, Syrah or Petit Verdot (although there can be rare exceptions, such as below). These wines often comes across like Tom Cruise in Far and Away — a recognizable actor talking with a poorly practiced accent. To my taste, Sangiovese has a better alchemy with the native grapes Canaiolo and Ciliegiolo.
However, it is oak usage that proves to be the trickier assessment. In fact, I'm currently questioning whether oak and Sangiovese are an overrated couple. Recent tastings from Chianti Classico in particular have underscored this point: oaky tannins can be so heavy-handed that your palate resembles a dried-out, drought-stricken lawn in July.
But there are those glimmers of hope. Recently, two other Tuscan Sangiovese wines — from Montecucco — hit the mark mostly because they were completely naked.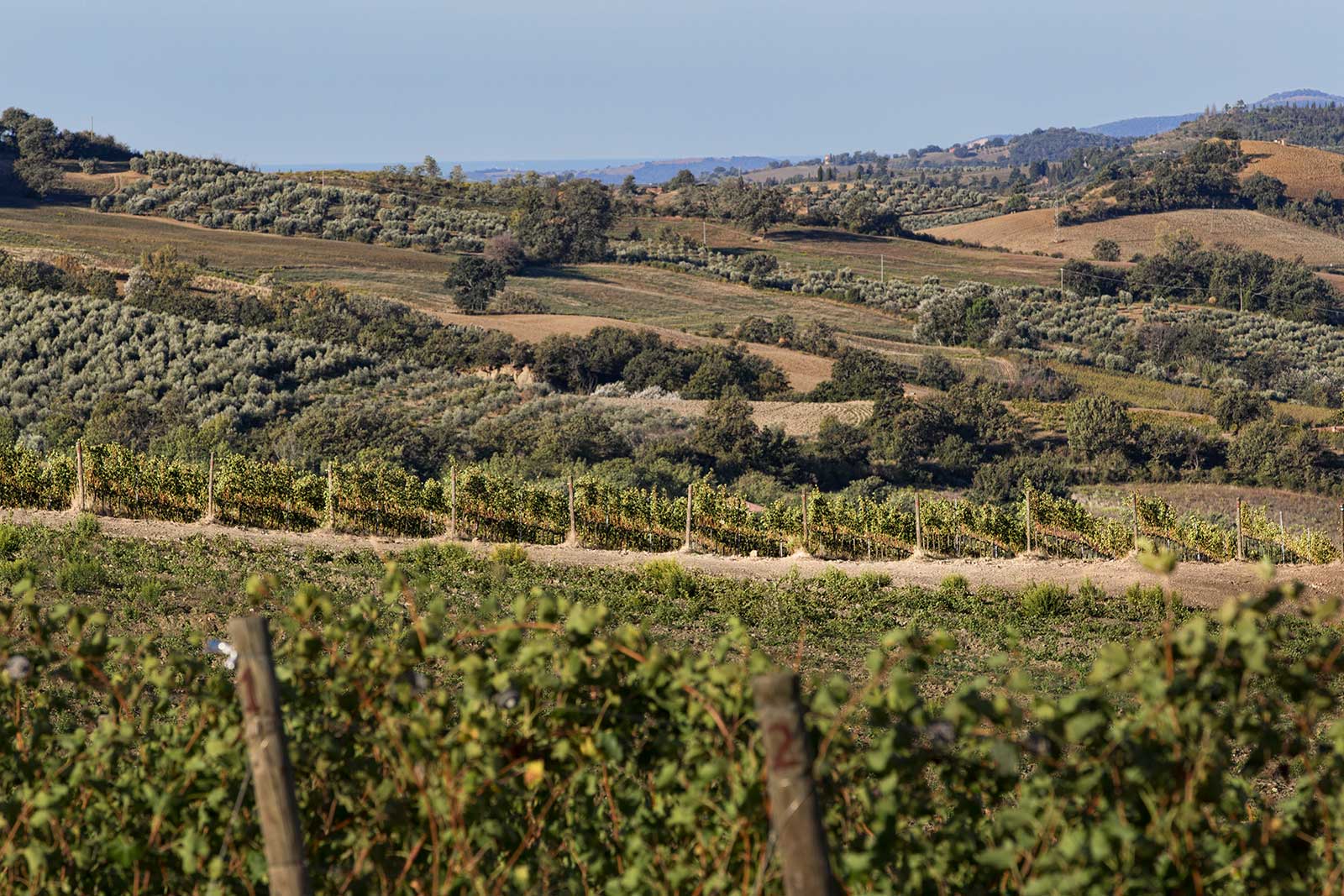 Montecucco is a relatively new appellation, but its rise within the ranks of Italian wine has been meteoric. In fact, there wasn't even a tradition of viticulture in this southern region of Tuscany until the 1990s. By 2011, it's oak-aged wines were granted a DOCG level, the highest in Italy. Montecucco maintained a DOC level for entry-level reds, and that's where I found these two expressive and vivacious Sangiovese-based blends.
Le Calle di Catocci's seemingly simple Montecucco Rosso (aged in bottle for three months only) was wildly complex and nervy. Without the grip of oaky tannins, the wine had an enjoyable momentum from sip to sip, and in my opinion, was more versatile with food pairings because of it.
The Montecucco Rosso from relative newcomers Le Maciarine (their first vintage was 2008) had a deeper timbre to its voice, but a similar texture that glided across the palate in a gratifying way. Like Le Calle di Catocci's "Campo Rombolo," the wine's fruit tones were allowed to flourish without any oak, although it was not as authentically Sangiovese due to its assertive blending partners. That splash of Cabernet Sauvignon and Petit Verdot (10% of the total) seemed to disguise the storyline a bit. It wasn't quite a Bordeaux wannabe, but also not a purebred Tuscan stallion. It somehow seemed to land in a different place, like a delicious but simple Valpolicella.
Of course, oak is a spectrum. You don't have to be an absolutist to allow such grapes as Sangiovese to shine. And you don't have to pick a side. However, these wines offered a compelling reason for Italian winemakers to carve out a new class of Sangiovese wine — unmasked by oak — and offer it to the world.
---
2017 Le Calle di Catocci "Campo Rombolo" Montecucco Rosso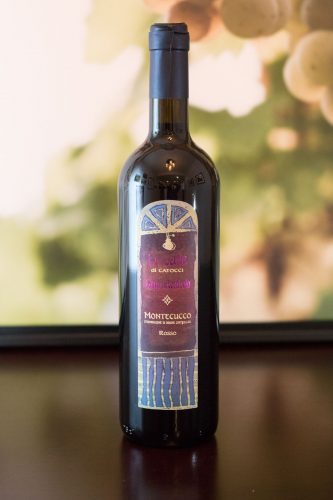 Montecucco DOC (Tuscany)
Grapes: Sangiovese (90%), Ciliegiolo (10%)
Alcohol: 14%
Practice: (certified organic)
Rating: ★★★★ 3/4 (out of five)
Food-friendliness: Impeccable
Value: Very Good

Tasting notes: This certified organic wine spends 12 to 15 days macerating on the skins in stainless steel tanks, then is aged for a mere three months in bottle. There is no oak, and as a result, Sangiovese's signature aromas — reminiscent of black cherry, leather, peppercorns and dark flowers — come to the fore. That's not to discredit the 10% Ciliegiolo in this wine, which likely enhances that cherry-like touch. The texture of this wine is supple and engrossing, with a vibrato-like energy that runs through its core. Moderate tannins made me compress the time between sips: I literally couldn't help myself with this wine. A cut reminiscent of sour-bitter blood-orange-like fruit tones lingers on the finish. There is no mistaking the national origin of this wine.

Serving suggestion: A few degrees below room temperature, but warm enough to release those charming aromas. I paired it with spaghetti and meatballs, which wasn't very original, but worked out well.
---
2017 Le Maciarine Montecucco Rosso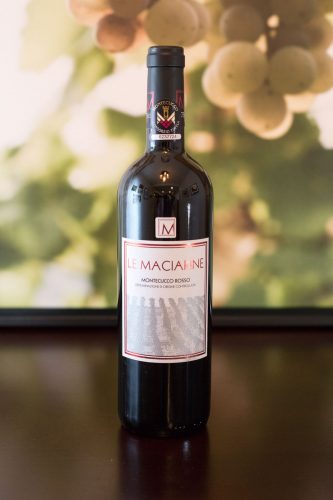 Montecucco DOC (Tuscany)
Grapes: Sangiovese (90%), Cabernet Sauvignon and Petit Verdot (10%)
Alcohol: 14%
Rating: ★★★★ 1/2 (out of five)
Food-friendliness: Versatile
Value: Very Good

Tasting notes: Tuscany meets Veneto in this wine; on paper, that assertion doesn't make sense given its lack of oak and 90% Sangiovese juice, but in my notes, I wrote "the most Valpo Sangiovese I've had."
Like the "Campo Rombolo," this Montecucco spends about two weeks macerating before an élevage exclusively in stainless steel. Here, Cabernet Sauvignon and Petit Verdot work to darken the tones of the wine, lending it more of chocolatey mood. Nonetheless, the distinct character of Sangiovese shines with aromas recalling black cherry leaning toward prune and leather, with shades of gingerbread, cinnamon stick and blue flowers. There is more grip from the tannin, and a slightly more ferocious acidity.

Serving suggestion: Room temperature with a ribollita soup with black kale and beans, or uncork with gyros.
Note: These wines were provided by the American press agency of the Consorzio Tutela Vini Montecucco. Learn more about my editorial policy.
---