10
min read
Walking through ARPEPE's inner-mountain winery, one notes the tremendous amount of space they have. In the 1960s and 1970s, production used to be significantly more. Then, during hard times financially, the company was sold to a Swiss holding company who consolidated it with Nino Negri.
The Pelizzatti brand continues, just without the the Pelizzatti Perego family. That's because in 1984 — upset by the loss of the family business and the deterioration of quality in the wines — Arturo Pelizzatti Perego bought back the mountainside winery to complement the key vineyard holdings he still had in Sassella, Inferno and Grumello. What he couldn't get back was the family name, so he launched a new brand founded on his trilogy of initials.
---
[one_third]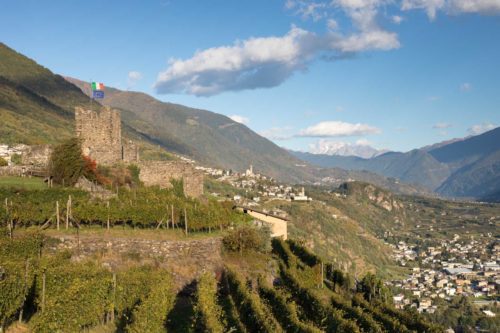 [/one_third][two_third_last padding="0px 12px 0px 12px"]
Go into the heroic vineyards at ARPEPE with Isabella Pelizzati Perego and learn how tending the vines of Valtellina is a constant struggle with the elements.[/two_third_last]
---

The approach at ARPEPE today is fiercely traditional and stubbornly meticulous. Decisions are made solely on what is best for each wine as it evolves, even if that is at the expense of quick financial recuperation. A year's work might not pay off for more than 10 years.
Their process completely depends on the character of each vintage. Early on, an assessment is made: essentially, "do we have a riserva on our hands?" In the very best years with the most favorable weather, the wines will be sourced from the best plots in each zone. They will then spend between 40 and 50 days macerating before they spend four years aging in large casks made of mostly chestnut.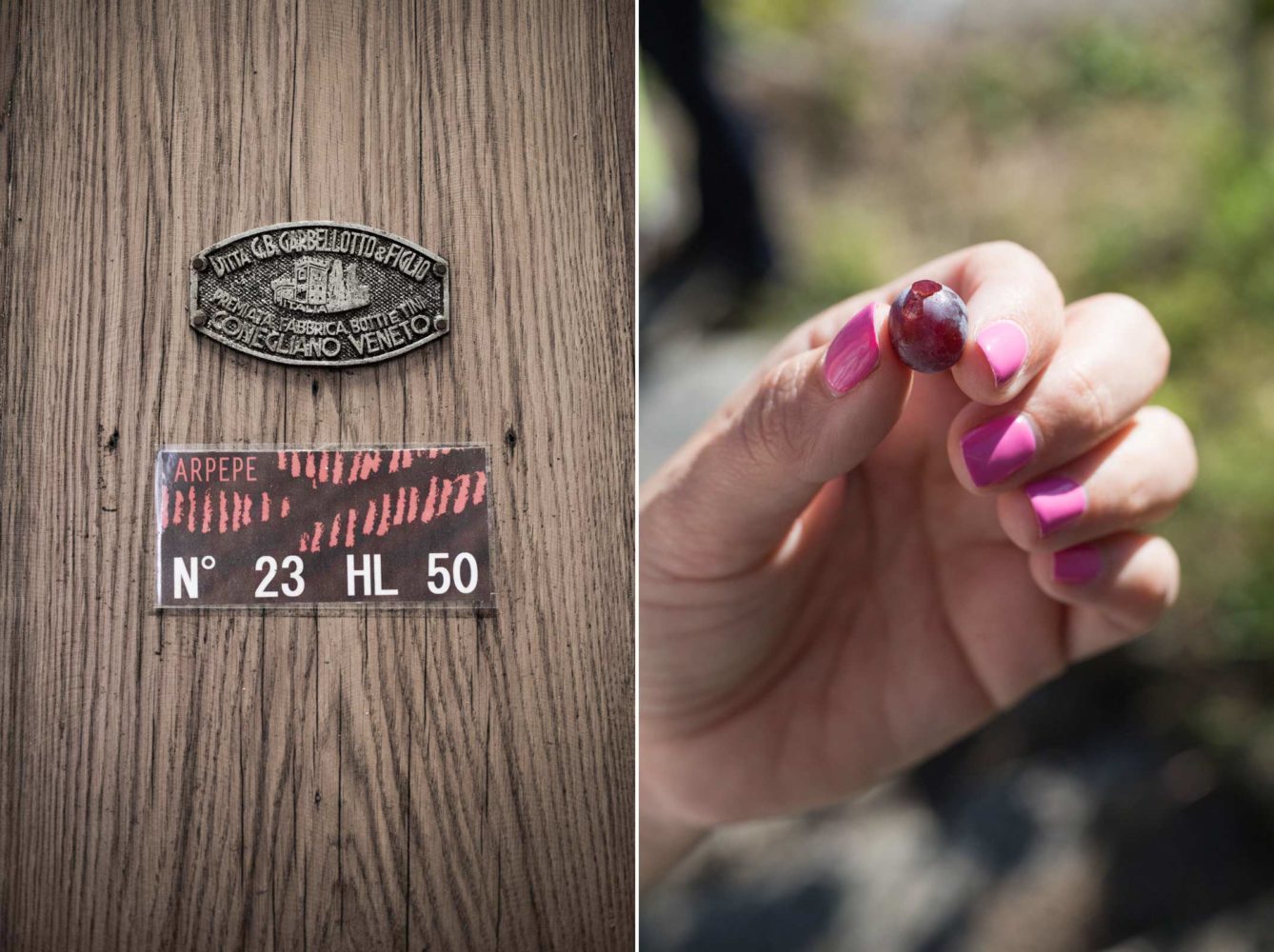 Here is another way that "traditional Valtellina" differs greatly from "traditional Barolo." In Barolo, chestnut is prohibited because the wood's surface imparts additional tannins that are considered too coarse. Combined with the high tannins in Nebbiolo's skins and seeds, the resulting wine would be overbearing.
Yet "overbearing" is the last word I would use to describe ARPEPE's chestnut-aged wines. They are the exact opposite: elegant, precise, and downright jubilant. "Chestnut was normal in Valtellina, then it was abandoned in Valtellina as in the rest of Italy. Instead, we stick to tradition with chestnut being key with our wines," Isabella told me.
Italian wine, she added "abandoned everywhere towards oak, I guess according to French noble tradition. We believe instead that chesnut wood matches better our Nebbiolo delle Alpi structure and flavor profile. As a result the wine seems more harmonic and younger to us. Sixty percent of our chestnut barrels are 50 years old, so this is also helping us have a more velvet finish with our cru wines."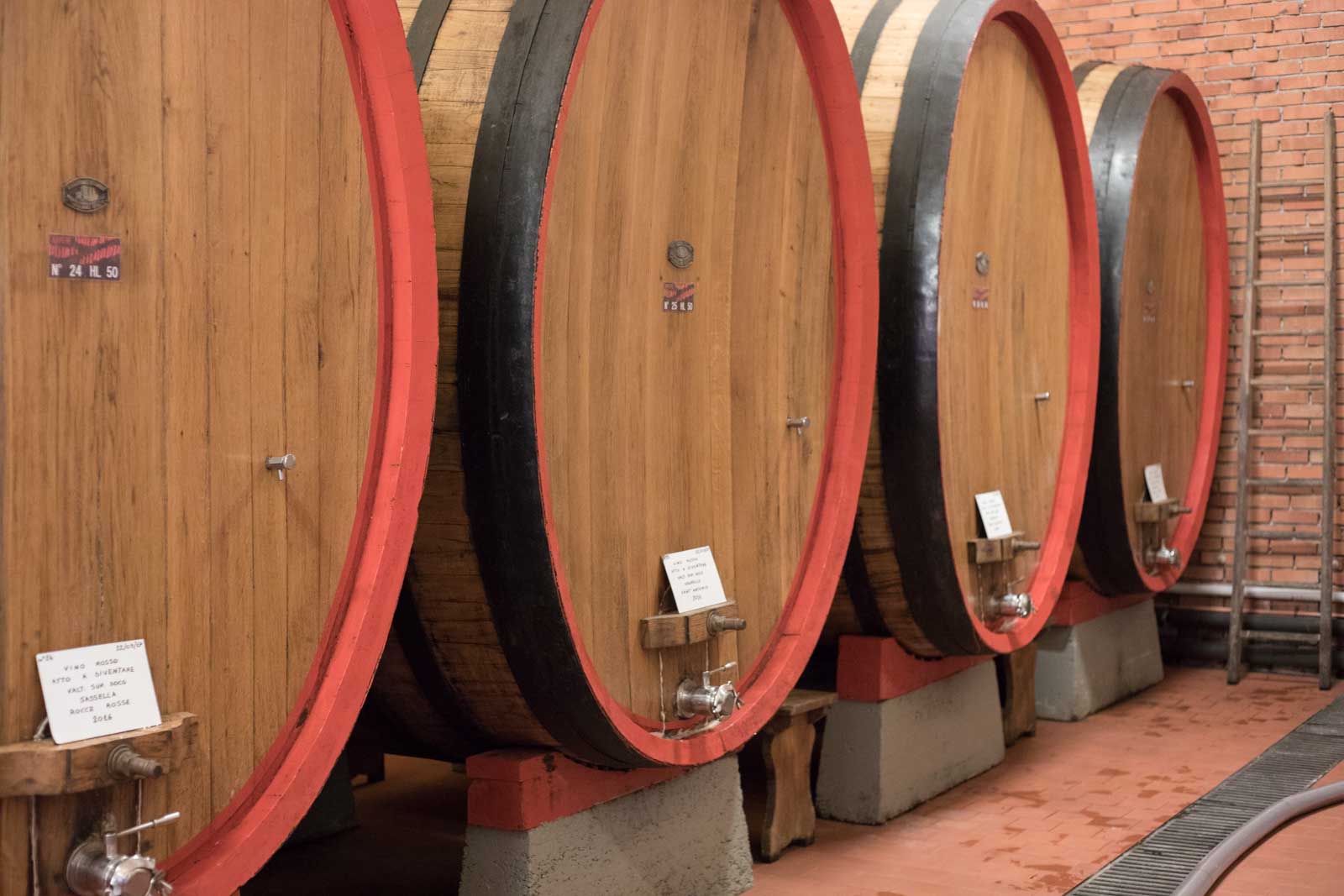 After their stage in chestnut, the wines are bottled and Isabella and Emanuele carefully appraise them over the years. In the case of the 2007 "Rocce Rosse" Valtellina Superiore Sassella, ARPEPE held back its release for four years. In the 2001 vintage, they decided to hold on to them for eight years before sharing them with the market. The process has paid huge dividends: Shortly after our visit, Gambero Rosso named the 2007 "Rocce Rosse" the Red Wine of the Year, essentially saying it was the best Italian red wine released this year.
Yet the non-riserva years can be equally thrilling — in part because they can be consumed right now, and with a wide array of cuisines.
In good vintages, these "cru wines" — as Isabella refers to them — may see more time in maceration but less time in wood (roughly two-and-a-half years) and less time in bottle (about 18 months). They are also bottled with a differently styled label and alternate names for the wine — such as the "Stella Antica" Valtellina Superiore Sassella instead of the "Rocce Rosse."
And every year, regardless of vintage, ARPEPE makes a Rosso di Valtellina DOC — an entry-point wine that is anything but ordinary. As a blend from the lesser plots within the different zones, it will see less time macerating and aging, and is therefore ready to drink in youth. In poor vintages, the Rosso is the only wine ARPEPE releases, yet it benefits greatly from the inclusion of grapes from the best plots. In the end, this Rubick's cube of a process ensures a ridiculously high degree of quality for all of their wines.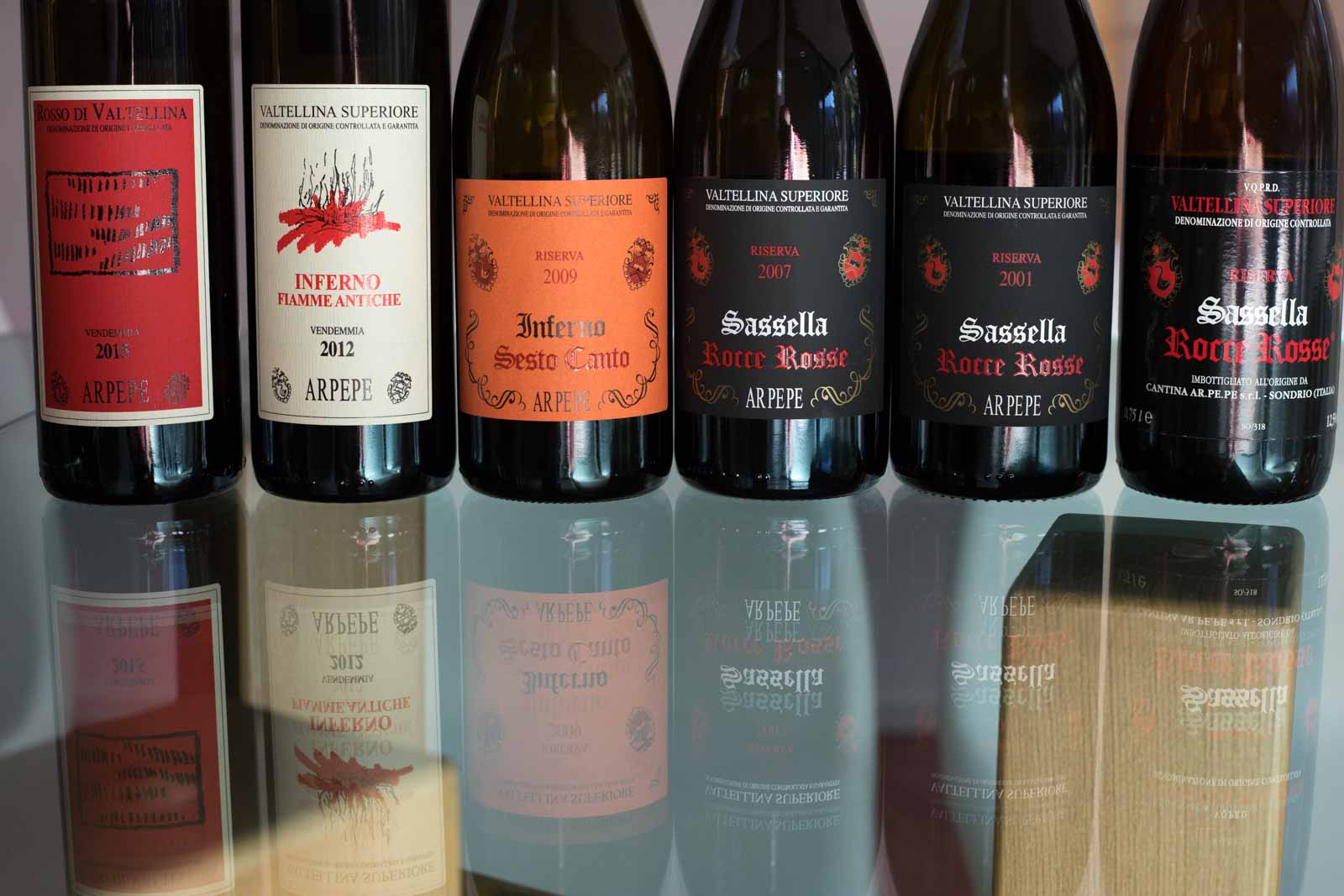 Tasting Impressions
Pardon the baseball analogy, but imagine an inning in which the first six batters all hit home runs, each one on the first pitch they face. That's what this thrilling tasting was like, with powerful impressions from the nose to finish on every one of ARPEPE's wines. (In hindsight, two years later, this remains the most thrilling wine tasting of my career).
2015 ARPEPE Rosso di Valtellina DOC
The entry-level bottle from ARPEPE is a blend from the winery's various vineyards in the valley. It is unlike any other Nebbiolo I've tasted (★★★★★). On the nose, it conveys the essence of a soft vanilla bean that has just been sliced open and scraped apart. There are also deep undertones of cherry-like fruit, a bouquet of flowers, and two delicate notes that shine through only on the palate: watermelon and honeycomb. The tannins are so feathery on this wine — I wanted to savor it ever so slowly — and there was a tantalizing mineral feel to the finish. It didn't take much imagination to conjure recipes it would shine next to: lightly seared ahi, roasted chicken, lamb shank …
2012 ARPEPE "Fiamme Antiche" Valtellina Superiore Inferno DOCG
From the Rosso di Valtellina, Isabella's next two wines showcased the terroir of ARPEPE's vineyards within the Inferno subregion of Valtellina. In good vintages, such as 2012, they bottle the cru wine — called "Fiamme Antiche." In extraordinary vintages, they are given longer aging and bottled as a riserva wine known as "Sesto Canto."
On the "Fiamme Antiche," (★★★★★) the complexion of the fruit seemed deeper and darker than the Rosso di Valtellina blend, recalling forest berries with traces of balsamic. There were also secondary aromas that distinctly brought to mind walnut. The tannins were a little more sharp on this wine, too, and they lingered well into the finish. Yet the wine remained open and convivial, especially for such a young, structured Nebbiolo. A brilliant wine.
2009 ARPEPE "Sesto Canto" Valtellina Superiore Inferno DOCG Riserva
"Fiamme Antiche" is an upper echelon wine, but the "Sesto Canto" (★★★★★) is somehow even better. The wine has spent an incredible five years in cask and two years in bottle, and only now do they feel it is ready for release. The aromas are sweeter, deeper and more layered. It's an elusive wine that entices you to do some digging within your sense memory. For me, it conjured up raspberries, cherries, vanilla bean and mint, as well as a mineral note you find on the best Valtellina wines that is akin to the aromas of a summer's rainstorm. And the balsamic characteristic remained on the finish as well, something Isabella noted is "a constant character of the Inferno for us." This wine felt timeless.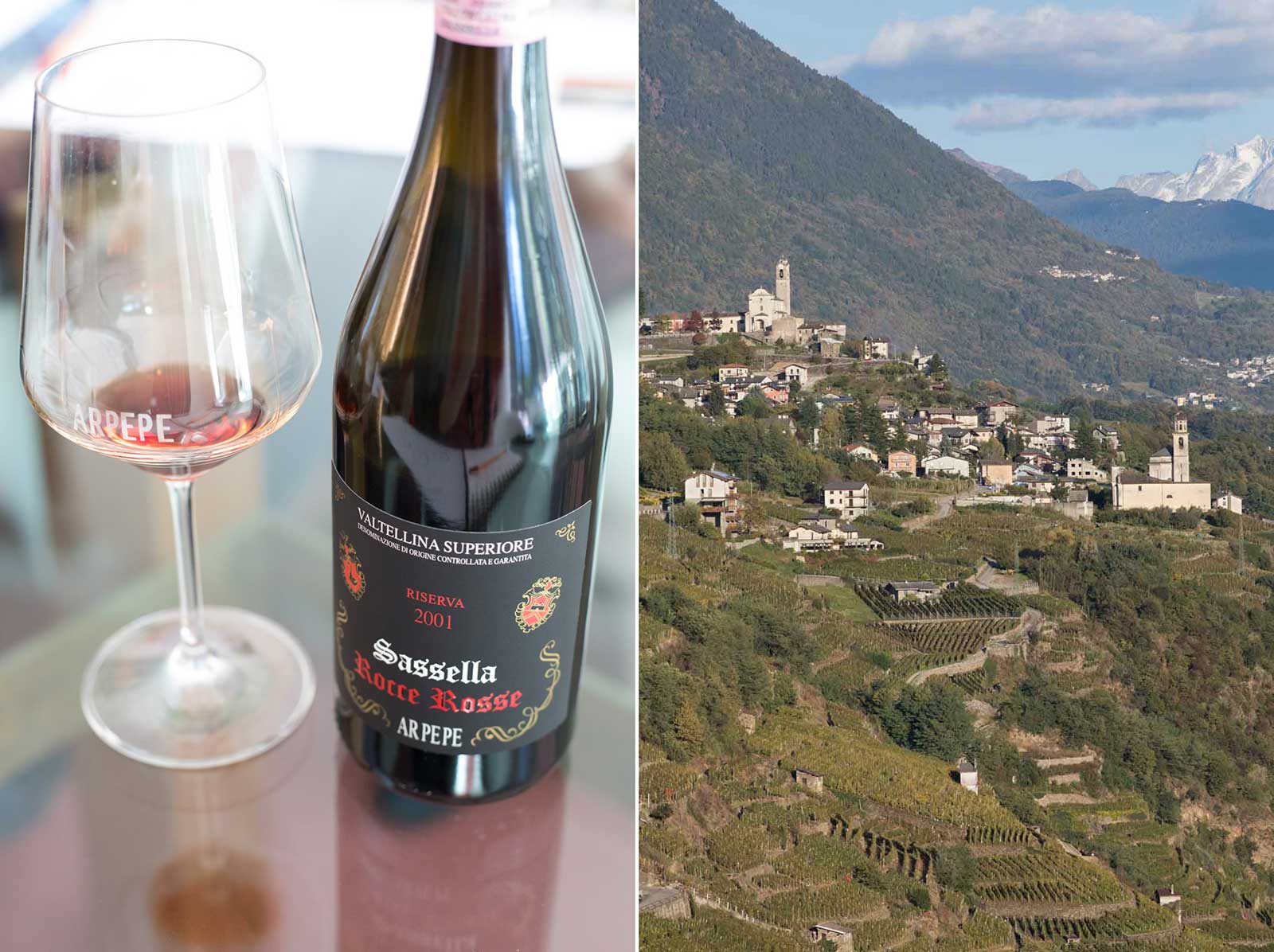 2007 ARPEPE "Rocce Rosse" Valtellina Superiore Sassella DOCG Riserva
The final three wines of the flight could be considered ARPEPE's signature wine from Valtellina's signature terroir — Sassella. Defined by its iron-rich red rocks, ARPEPE's vineyard holdings here range from 400 to 550 meters (1,300–1,800 feet) above sea level. Something happens in this soil that is unique, and in the best vintages, it is fully revealed in the grape clusters. Only then do Emanuele and Isabella carry on the practice their father established of producing a riserva wine, which has always been called "Rocce Rosse" (red rocks).
The 2007 vintage (★★★★★) is extraordinary; the kind of wine that will be telling its story for decades to come. It saw 41 days of maceration, followed by four years of aging in chestnut cask. From there, it lay patiently waiting another four years in bottle before its release. All that time in the winery has allowed the juice to reveal a complex character filled with wonderful contradictions. It is concentrated yet light on its toes. It is focused on the nose, yet wonderfully unpredictable, carrying a gamut of notes straight from the forest: wild berries, walnuts, evergreen. And the finish lingered like a long piano note.
Shortly after our visit, Gambero Rosso named the 2007 "Rocce Rosse" the Red Wine of the Year. It's a well deserved honor.
2001 ARPEPE "Rocce Rosse" Valtellina Superiore Sassella DOCG Riserva
When I interviewed Isabella last winter, I was curious about the Valtellina Superiore's ability to age. After all, these are Nebbiolo wines we are talking about.
As if to prove that Valtellina Superiore can stay as fresh, complex and captivating as any other aged Nebbiolo, she graciously poured us two older vintages of the "Rocce Rosse," beginning with the 2001 (★★★★★). This was one of Arturo's last vintages. Emanuele had worked with his father for many years, but only at the end of 2001 did Isabella join them. They took on the lion's share of winemaking responsibilities at the end of 2002 as Arturo grew more ill, continuing the traditional winemaking technique that defines them today (Arturo passed away in 2004). So the 2001 vintage marks a special yet bittersweet moment in the history of ARPEPE.
Here was a wine that carried the now-familiar aromas of its cousins — raspberries, vanilla bean, hazelnuts, summer rainstorm and licorice — but with a mellower and more measured presentation. It wasn't that the 2001 had more to say than the 2007. It was just more careful and deliberate with its words. Some people age the same way, but it is rare. All the more reason to love it when a wine can reveal the same attribute.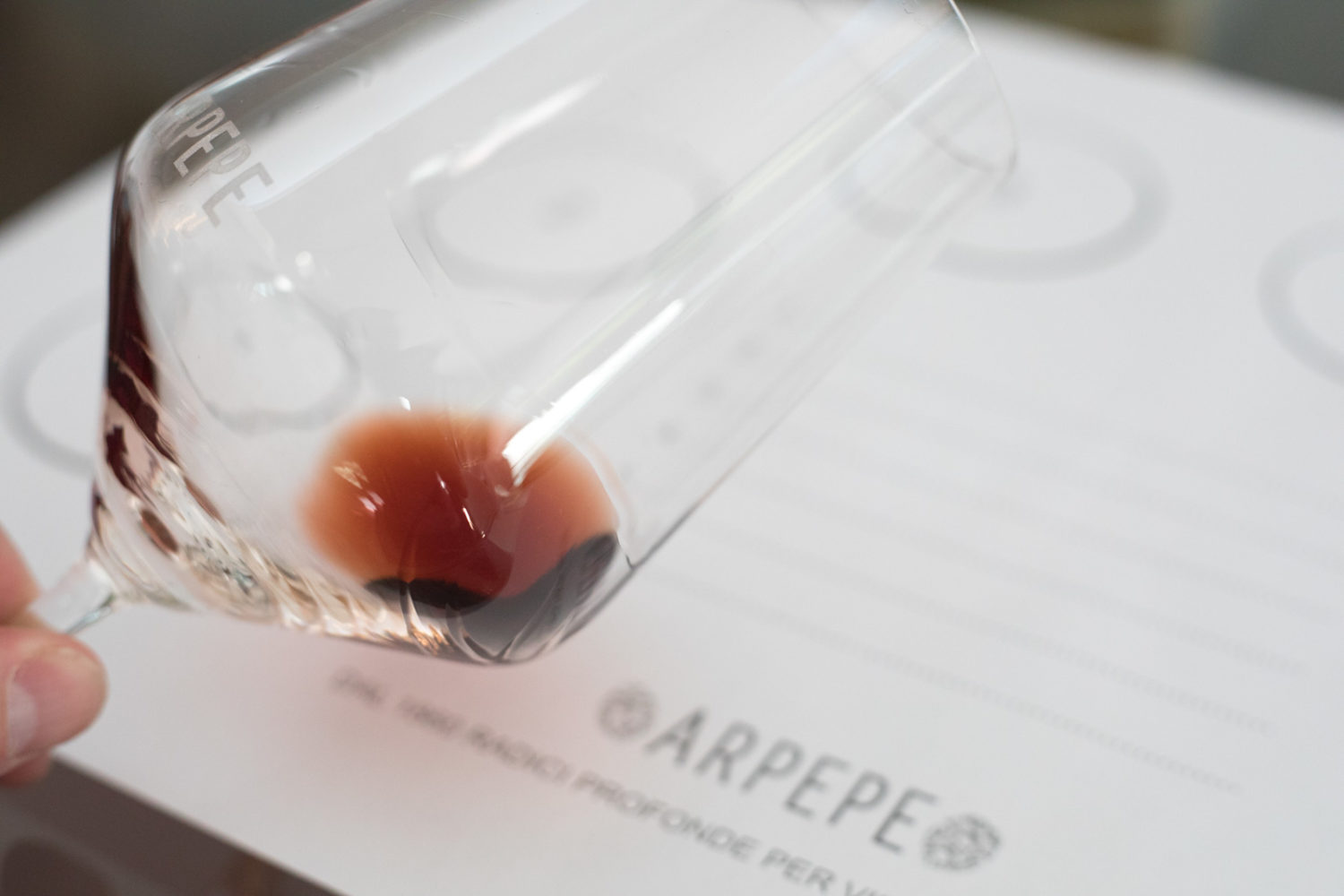 1996 ARPEPE "Rocce Rosse" Valtellina Superiore Sassella DOCG Riserva
The final pour of the "Rocce Rosse" was from the 1996 vintage (★★★★★), and only now — 21 years later — did I start to see the characteristic orange-brown tinge that comes with aged Nebbiolo (I've seen this tinge in much younger Barolo). This final wine was a bit more mysterious, as if the detailed aromas of the other wines were beginning to overlap into strange and wonderful combinations. Raspberry and fennel seed were now linked in a curious way; leather and violets as well. "How can something so light and beautiful still be so powerful?" I wrote in my notes. Sometimes, you ask a question and don't want an answer. And when that happens with a wine, you've reached the apex.
---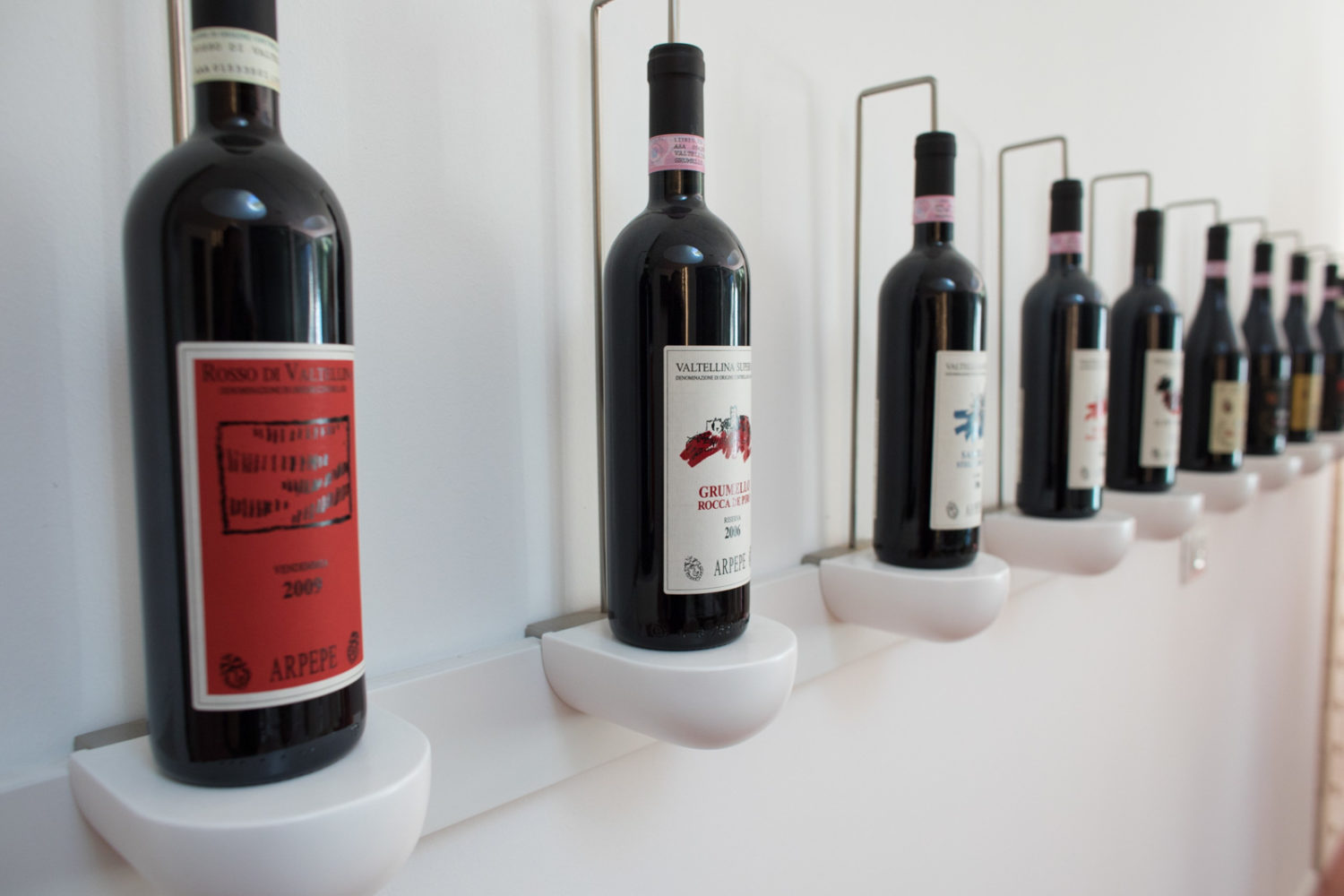 If You Go
ARPEPE occasionally welcomes visitors by appointment only, but since their team is small, they do not accept visitors during busy time periods such as harvest. There is a tasting fee (and you will likely buy a few bottles because they are so damn good).
The winery itself is architecturally stunning. Designed by Isabella's husband, Enrico Massimino, the modern space features a living roof, playful skylights that bring in natural light and point to the vineyards on the hill above, and a lovely tasting room with lacquered Nebbiolo vine clippings interwoven to create a "living wall" effect by the door. ARPEPE may be traditional in their winemaking technique, but their building is a bold statement about looking to the future.
Valtellina is beginning to have a few more amenities to offer tourists, including the Wine Hotel Retici Balzi located in the Grumello hills near ARPEPE. I was on vacation with my family, and so we stayed in Varenna on Lake Como, but it was an easy, scenic and enjoyable drive of about one hour.
Again, do not show up at ARPEPE without an appointment. Isabella and her family and kind and gracious, and they love sharing their story, but when you see how demanding their winemaking operation is up close, you can appreciate how precious their time is as well. I am grateful for the time and effort Isabella made for our visit.
You can contact ARPEPE via their website.
---
Essential Winemakers of Italy
ARPEPE is one of our Essential Winemakers of Italy. Learn why, and discover other exceptional Italian winemakers via the link below.