3
min read
I remember eagerly watching Mark McGwire and Sammy Sosa race for the home run record in 1998. Watching it, we all knew there was a distinct possibility that both players were loaded on steroids, but it was the '90s — I don't remember anyone around me, myself included, caring. We were awed by power, and in some senses, it was the apex of a cultural phenomenon that had been building for over a decade.
I wasn't drinking wine back then. No, I was in college, where the formula of the time was Kool-Aid + contraband tequila bought with a fake ID. But in the wine industry from the 1980s through the mid 2000s, power was rewarded over substance so much that it skewed people's understanding of what wine ought to taste like. There are still vast segments of the wine-drinking public who clamor for over-extracted, oaky, alcohol-walloping wines without knowing it. Often, Spain is more than happy to oblige.
I bring this up delicately because this week's wine comes from a producer who — in the 1980s and 1990s — was celebrated for their powerful, concentrated wines. In 1982, wine critic Robert Parker called Tinto Pesquera "the Spanish Petrus." Now, whenever I hear "darling of the Parker Era" — or a similar comment — I generally turn my attention elsewhere. That's not to dog his work or place judgment on the tastes of a time when I was still drinking unspiked Kool-Aid; it's just that I know I'm not into the style of wine that Parker made famous.
But the 2014 Tinto Pesquera Ribera del Duero Crianza did surprise me. It was elegant and lean, if anything, satisfying the same mood as a structured Gamay or an earthy Pinot Noir. Granted, crianza wines are always the freshest, least oaky versions from an estate, but even then, they never strike me as particularly complex. This was earthy and evocative of nature, with a tinge of petrichor and walnut appearing on the nose.
I'll admit that I don't follow Spanish wine nearly as closely as I do French and Italian. I also don't have a frame of reference for Tinto Pesquera's back vintages. But it made me wonder if the style of the estate is evolving to a more subtle character. Either way, I am a fan of whatever is happening here.
2014 Tinto Pesquera Ribera del Duero Crianza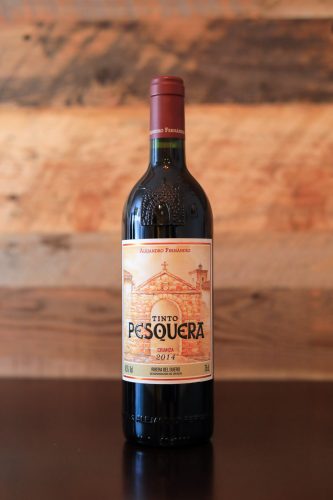 Ribera del Duero DO (Castilla y Léon)
Grapes: Tempranillo (100%)
Alcohol: 14.5%
Ratings: ★★★★ 3/4 (out of five)
• Food-friendliness: Selective
• Value: A Little Pricey
Tasting notes: A vital and suggestive Tempranillo wine from the estate that helped revive the Ribera del Duero region 40 years ago. Today, this crianza-level wine recalls black cherries, black plums, a strong aroma of potting soil, then walnuts and rainstorm as it opens up. It's complexity on the nose carries through to the palate where the fine tannins and integrated, sauntering acidity allow the fruit and tertiary aromas to continue saying something meaningful. The black cherry and walnut notes remain and linger on the finish. Note: This is not the current release of this wine.
Serving suggestion: The oak may be dialed back on this wine, but it still Tempranillo through and through — pair with rich proteins, herbs and earthy mushrooms.
---
Note: This wine was provided as a sample by Tinto Pesquera's importer. Learn more about our editorial and sample policy.