8
min read
No one can make compelling wine without compelling raw materials. No matter which side you take on the natural wine debate — if you can even call it a debate — I think everyone agrees that greatness starts in the vineyard. But what I saw and learned at Foradori gave me more to chew on than perhaps any other winery visit in my career.
All the same, did any of it — massal selection, co-planting with vegetables, biodynamic practices — matter in the glass? I am inclined to say it does.
The wines of Foradori are Demeter biodynamic-certified, and over the years there has been a concerted effort to embrace the use of clay vessels for the maturation of certain wines. Given all of the focus in the vineyard on "genetic richness" and biodiversity, this makes sense. Clay is a subservient material, refusing to impart any of its own ideas like oak does. Because of this, many of Foradori's wines — including the "Morei" and "Sgarzon" Teroldego — spend ample time in clay tinajas, a vessel that is tapered at the top and bottom.
The benchmark "Granato," however, still spends time in oak, but the influences are subdued. It was the only wine from the 2017 vintage that I tasted — all others were from 2018.
---
[one_third]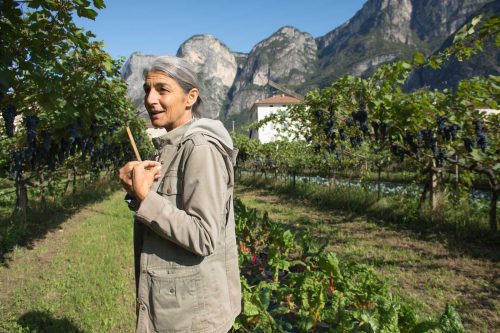 [/one_third][two_third_last padding="0px 12px 0px 12px"]
Learn more about the unique ethos behind the vineyard management at Foradori, led by the pioneering presence of Elisabetta Foradori.[/two_third_last]
---
White Wines
2018 Foradori Fontanasanta Manzoni Bianco
Manzoni Bianco is a cross between Riesling and Pinot Bianco, and it finds a happy home in clay-based soils, which Foradori has in the Fontanasanta area above Trento. Their Fontanasanta Manzoni Bianco (★★★★ 3/4) ferments on the skins in cement tanks before transitioning to a 12-month rest in acacia casks, which fosters a delicate texture. It was one of the most potently aromatic white wines I've ever encountered, yet for it to come together, it needed some time to oxygenate. What little fruit tones I could detect recalled pineapples. Instead, the wine is preoccupied with sassafras, roasted almond and pretty floral aromas. Completely dry and mildly tart, the wine's lack of fruitiness makes it invigorating, if a bit rigid. Much of this, however, would be rectified with more time in bottle. A highly unusual wine perfect for curious drinkers. Production: 25,000 bottles.
2018 Foradori Fontanasanta Nosiola
Nosiola is a fickle grape, but according to Elisabetta Foradori, also a victim of "bad wine politics." She points to the two largest Trentino co-operatives — Cavit and Mezzacorona — for Nosiola's decline. Twenty years ago, the co-ops encouraged their member farmers to pull up Nosiola and replace it with Pinot Grigio, a move that perhaps made good economic sense given Nosiola's difficulties and obscurity. The popularity of Trentodoc has also encouraged an economy for Chardonnay and Pinot Nero, while decimating plantings of Nosiola — especially in the Val di Cembra. "And if it is not these grapes, they plant Muller Thürgau which, I am sorry, is a shit grape," said Elisabetta.
I'll be damned if I have had a more compelling white wine all year than Foradori's Fontanasanta Nosiola (★★★★★). It has the aromatic oomph of an Oslavian orange wine, but the delicate body and tenor of an Alto Adige white. But between those two frames of reference, all analogies collapse. It is beguilingly unique.
The juice undergoes eight months of maceration in clay tinaja — yet for all that maceration, the resulting wine's color is barely evident. On the nose, I was reminded of ripe honeydew, candied papaya and honeysuckle flowers, while on the palate it had a distinct salinity. It was thin and delicate, yet generous and gracious. A wine of wizardry, and unlike anything I've ever tasted before. Production: 10,000 bottles.
2018 Foradori Fuoripista Pinot Grigio
If Muller Thürgau is a "shit grape," than Pinot Grigio is the grape that gets treated like shit. We'll spare any effort pointing fingers, but the Pinot Grigio market is saturated with cheap, mass-produced wines made of insipid fruit. I hesitate to even call it wine.
But Pinot Grigio can be awesome, if given the proper focus and care. From Friuli to Veneto and up in Alto Adige, I've written down "a Pinot Grigio to prove the naysayers wrong" more times than I can count. But few wines have gone so far to the extreme of what the popular PG identity is than Foradori's Fuoripista Pinot Grigio (★★★★ 1/2). Perhaps that's the point of this wine.
In 2015, Foradori began buying grapes from Marco Devigili, a biodynamic farmer on the Campo Rotaliano who had only Pinot Grigio grapes. He was tired of selling to the co-ops and seeing his fruit blended in with the rest of the area's Pinot Grigio. Now, his grapes yield an "orange wine" that has the color of muted watermelon thanks to its extended maceration on the skins. Pinot Grigio clusters are actually blueish-gray in appearance, so a lot of the grape's aromatic potential (the compounds in the skin) is jettisoned in the standard white-wine vinification process. Foradori allows these compounds to shine by giving them 8 months of skin contact with the wine.
The Fuoripista smells like cherry blossoms and peach skin, eventually shifting to a tone reminiscent of rooibos tea. It is intense, but not overpowering, with some gentle oxidized notes on the palate and a coarse texture. If there is a critique on this wine, it's that the aromas (soft, lovely) and the texture (rough, unrelenting) seem at odds. I'd love to revisit this wine, as I suspect Foradori has a lot of vintage variation due to their methods, and perhaps the wine's coarseness was accentuated after the feather-weight beauty of the Nosiola. Production: 10,000 bottles.
Entry-Level Teroldego
2018 Foradori "Lezèr"
As we came to the red wines, we started with Emilio's idea: the Lezèr (★★★★ 3/4). Meant for early consumption and produced with a light maceration of the Teroldego grapes, it yields a wine that's gulpable and delicious. In fact, it almost seems beside the point to analyze it and take it seriously, but here goes: Lezer's aromas recall sour cranberries and raspberries, black pepper and black truffles. The acidity scours the palate, countered only by those delicious sour fruit tones which put the wine in balance. It seems alive. Serve with a light chill, and pair with a nap under a tree. Production: 25,000 bottles.
2018 Foradori Teroldego
The most widely available wine from Foradori comes from a blend of vineyards, including the Guyot-trained Teroldego vines on the estate property. This pretty, fresh and vibrant wine — known at the winery as "The Foradori" (★★★★ 1/2) — serves as a superb introduction to what Teroldego can be. The least Syrah-like of Foradori's Teroldego (the grape is Syrah's genetic uncle), the Foradori suggests plums, red berries and freshly baked bread on the nose, with a quenching and vivid display on the palate. This is the simplest of Foradori's wines, but perhaps its most versatile at the table. I can see partnering it with Thanksgiving dinner and being quite content. Production: 50,000 bottles.
Single-Vineyard Teroldego
The three most important wines at Foradori are the single-vineyard Teroldego wines. The Morei and Sgarzon vineyards are off-site, while "Granato" comes from the estate's pergola-trained vines which date back to the 1930s. "Morei" and "Sgarzon" mature in clay tinaja vessels, while the "Granato" — as it always has — matures in oak. The main benefit of the clay vessels is to preserve the unvarnished character of the variety and to better showcase the subtle differences of site. Each wine is majestic, wild and unique, so choosing a favorite is nearly impossible. (Although I did buy a bottle of "Granato" to take home).
2018 Foradori "Morei" Teroldego
The Morei vineyard differs from the Sgarzon vineyard in two crucial ways: the soil is sandy with lots of small stones (alluvial influences courtesy of the Noce River, a tributary of the Adige) and it receives about an hour more of sunshine per day during the height of growing season. (The tall cliffs that surround the Campo Rotaliano create some severe shadows).
The Foradori "Morei" Teroldego (★★★★ 3/4) shows off its familial resemblance to Syrah with notes suggesting raspberries, black cherries, blue flowers, tar and tobacco leaf. On the palate it is surprisingly high-toned and only moderately tannic. However, the acidity has a ferocious attack; I'd recommend letting this one sit for a few years before opening. Production: 12,000 bottles.
2018 Foradori "Sgarzon" Teroldego
Sgarzon is a cooler vineyard site defined by its soil, which is pure sand. The Foradori "Sgarzon" Teroldego (★★★★★) also needs some time in bottle before it comes together as an integrated whole: but it is clearly all there, ready to be unwrapped. I found the aromas to be bottomless: black cherry, raspberry, black tea and spearmint were all conjured in vivid ways. Juicy, lean and bright on the palate with citrus-like notes, it seemed to suggest that there was more in waiting … if I only gave it time. A very suggestive and compelling wine that Pinot Noir lovers should enjoy. Production: 12,000 bottles.
2017 Foradori "Granato" Teroldego
Comparing the Foradori "Granato" Teroldego (★★★★★) to the other single-vineyard Teroldego is a fool's errand. Granto's vines are considerably older and trained on a pergola, and the wine's maturation includes 15 months in oak tonneaux vessels. However, it is the deepest and most suggestive red wine from the estate, and for all the attention the clay-vessel wines get, the O.G. Teroldego deserves the headline.
My pen could not keep up with the sensory suggestions from the wine: dark blueberries, violets, black olive tapenade, mint, black tea, even a faint trace of peaches came to mind. Despite its aromatic acrobatics and concentration on the palate, the wine is supremely refined and elegant, with controlled tannins that provide just enough grip to make the wine linger. Production: 20,000 bottles.
---
Essential Winemaker of Italy
Foradori is listed as one of our Essential Winemakers of Italy. Learn about visiting the winery and see who else makes our coveted list.