3
min read
I'm a newcomer to the hobby of wine collecting. My wine fridge has three segments, and the ones on the left are the ones I'm sitting on. They're almost all Nebbiolo, with a handful of Pinot Noir and Riesling throw in. It's completely driven by where I've been.
The other two segments are wines for us to open at any moment, and I've made it a habit to always have three or four Italian reds on hand, with a box of Casina di Cornia Rosso Toscano IGT ever present.
But I'm beginning to think I need to have a couple of rustic French reds on hand at all times, too. I've been doing my best to overcome my Franco-flat-footedness this year: my ineptitude at pronunciation, my ignorance of French geography. For so long, I skipped the aisle labeled FRANCE at the liquor store because it was intimidating. But a single book — The Concise World Atlas of Wine by Hugh Johnson and Jancis Robinson — has helped me overcome such silliness.
One bottle that has now firmly placed a pin down on the Loire Village of Chinon is the 2011 Domaine de Pallus "Les Pensées de Pallus" Chinon, one of the most aromatic young wines I've ever buried my nose into. This 100% Cabernet Franc is a genuine conversation piece. "Is that plum or cherry?" "Have you ever picked up the smell of sand in a wine before?" "Can I finish your glass for you?"
I think Cabernet Franc has to be listed as one of the world's more under-appreciated grapes. Usually cast in a supporting role in Bordeaux-style blends to the more obvious and bold Cabernet Sauvignon (or the more famous but less talented Merlot), Cabernet Franc has showed me a few times that it can carry a movie all on its own.
So if you drink a lot of Cabernet Sauvignon, find your way to the Loire Valley section of the wine store and pick up a Chinon. It's like choosing a classic with Robert Duvall in the lead instead of Al Pacino.
2011 Domaine de Pallus "Les Pensées de Pallus" Chinon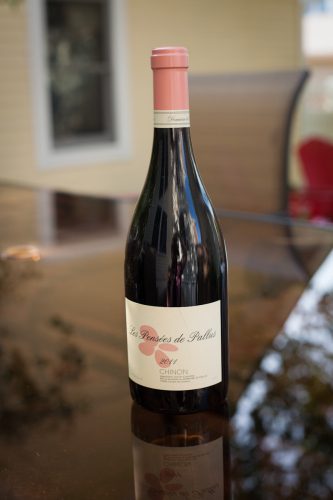 Chinon (Loire Valley), France
Grapes: Cabernet Franc 100%
Alcohol: 12.5%
Ratings: ★★★★ 1/2 (out of 5)
• Profile: ★★★★ 1/2
Food Friendliness: ★★★ 1/2
• Value: ★★★★
Recommended for: Date nights. A romantic wine, even if you never show your date that gaudy pink capsule.
Tasting notes: A highly aromatic wine with scents of plum, cherries, sand and menthol filling the glass. Hangs high on the palate with a lot of tannin but a surprisingly light body for a Cabernet Franc. Vibrant notes of blueberry jam, sandlewood, violet flower and a touch of minerality on a long finish.
Photo credit at the top: Image of Chinon Castle by ©Xorge (Flickr user).
Licensed under a Creative Commons License.