3
min read
For Syrah lovers, the name Graillot conjures a wine of remarkable freshness, delicacy and balance, with a hint of spice. Known as the winemaker who elevated the potential of Crozes-Hermitage, Alain Graillot was a self-made man who knew when to call upon his winemaking friends for advice. When he set out to become a vigneron, he leaned on a duo of Burgundy legends who'd become his skiing friends — Jacques Seysses of Domaine Dujac and Patrick Bize of Domaine Simon Bize et Fils. Through their guidance, he learned the craft and adopted a style of whole-cluster fermentation for his Syrah that added pop, dimension and that hit of spice I referenced. He would eventually rise to the top of the ranks in the Northern Rhône, despite the long odds forged by Crozes-Hermitage's lowly reputation: as a backlot of flat land permanently in Hermitage's shadow.
Sadly, Alain Graillot passed away last March at the age of 77, but the spirit of his wines continues on with his son Maxime, who has been leading the winery since 2008, and whose side project — Domaine Equis — continues to produce red wines of thrilling excitement and exceptional value.
I recently tasted the 2020 "Equinoxe" from Maxime Graillot, and it was pure delight. Fresh, juicy, and always on its toes, it reminded me of how far off my first perceptions of Syrah were 20 years ago, when the inky, rich but bruising style dominated the American market. (Ahh, remember those times?).
Unfortunately for Syrah, many people continue to view this grape through such opaque lenses, partly because they've never been exposed to the more elegant versions such as those hailing from the Northern Rhône. Production tends to be small here, especially when compared to the polyglot vineyards of the Southern Rhône, and when the starting price for an entry-level Northern Rhône is $35 and up … well, its easy to see why a consumer wouldn't change lanes.
But at a mere $28, you cannot pass up this wine, especially if you haven't revisited Syrah since the era when this look passed for fashion.
2020 Maxime Graillot Domaine Equis "Equinoxe" Crozes-Hermitage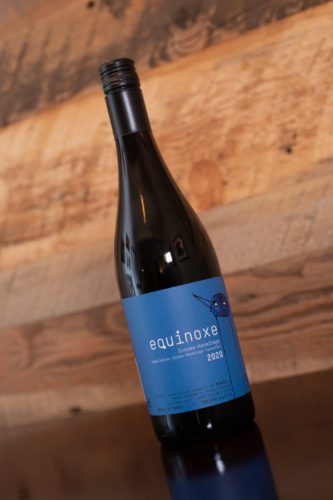 Crozes-Hermitage AOC (Northern Rhône )
Grapes: Syrah (100%)
Alcohol: 12.5%
Opinion: ★★★★ 3/4
Food-friendliness: Versatile
Value: Exceptional
A beginner might like … how damn delicious this wine is. Turn off your student brain for a second and just enjoy the dark berry fruit tones and the herbal hints throughout this wine. What you might not like (at first) is light sediment, as this wine is unfiltered. It's not a big deal at all, just be mindful of the last pour.
A wine obsessive might like … teasing out the influence of whole-cluster fermentation. With his Equis line of wines, Maxime Graillot has toned down the practice compared to the standard set by his father, but this wine still has 30% whole-cluster, which for me, was more than enough to add some zip and action to the mid-palate.
Note: This wine was provided as a sample by the winery's importer, Europvin. Learn more by reading our editorial policy.