3
min read
Something strange has happened: I've found myself advocating for certain grape varieties as though they were an underrated athlete worth rooting for.
I remember watching Rafael Nadal back in 2003 before he had won any Grand Slams. I had never been a huge tennis fan — "mild interest" in the game is probably the best way of putting it — but his athletic ability, determination and scrappiness made the sport infinitely more exciting. I wanted to see him take on the world. And I wanted my friends and family to see him play and join the bandwagon.
Now, I'm wishing for the same with grapes.
Have you tried Roero Arneis? I asked someone recently.
If you like that, you should give Grüner Veltliner a go.
Last year, I gave a bottle of Bierzo to a friend for Christmas … not because we usually exchange gifts, but because I thought he might like to get on board with Mencia-based wines.
This is what I've become. It seems that nothing would make me happier than to introduce these grapes to new palates, and see us form some kind of fan club.
It took a Cabernet Franc with a clever label for me to see these parallels between wine and sport. Cabernet Franc is by no means a "new" grape — for God's sake, Cabernet Sauvignon calls him "dad" — but it is unheralded, especially on American shores. Knowing this, the guys at Vinum Cellars in Napa named their Cabernet Franc "The Scrapper" as a tribute to underdogs. They simply decorated the bottle with a photo of unheralded boxing legend Gene Tunney. You know, the Gene Tunney who defeated Jack Demsey … twice?
I've cultivated a fondness for Cabernet Franc over the last year. It's much more subtle and — I believe — more versatile with food than Cabernet Sauvignon. It's potential for shape-shifting over the course of an entire bottle also makes it more interesting. The most famous Cabernet Francs in the world come from Chinon in the Loire Valley of France, but a few rogue winemakers in Australia, Canada and particularly California have embraced it as well, not merely in its customary role as a blending grape, but as the star of the show.
The Scrapper is a delicious rendition. Never before have I picked up on a wine aroma that smells like drunken fruit: this one distinctly called out black cherries that had been soaked in brandy. That's not to say it felt like a fortified wine: not at all. The palate was clean and smooth with a pronounced earthiness and spice. It would work just as well alongside roasted chicken as it would pot roast. If it was missing anything, it was the herby notes you get from a Chinon, but you can only ask for so much in a wine. After all, for a time Rafael Nadal lacked a good serve in his repertoire.
Vinum Cellars is a winemaker to look for. Started in the late 1990s by two UC Davis grads, their first wine wasn't a Cabernet Sauvignon, Chardonnay, Pinot Noir or Syrah (as you might expect in California), but a Chenin Blanc. They source their grapes from across California — grapes for The Scapper come from 25-year-old vines in the El Dorado Hills outside Sacramento — and clearly they have a true love for expressiveness of varietal wines. If The Scrapper is any indication, I'll be coming back to them for more.
2010 Vinum Cellars "The Scrapper"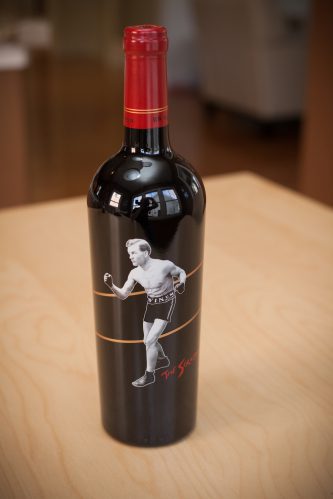 El Dorado AVA, California
Grapes: Cabernet Franc (100%)
Alcohol: 14.9%
Rating: ★★★★ (out of five)
• Profile: ★★★★
Food-friendliness: ★★★★
• Value: ★★ 1/2
Recommended for: Any occasion where you need to punch above your weight class, I guess.
Tasting notes: Despite being aged in oak for 26 months, The Scrapper is decidedly smooth in texture. The nose delivers aromas of drunken black cherries, violets, wet sand and a gamey note akin to venison — a very interesting complex of scents. The palate comes clean with boysenberry, vanilla and a medium amount of oaky tannin, surrounded by flavors of earthiness, spice and flint.
---
 Additional Reading on Cabernet Franc