7
min read
On our recent trip to Oregon, my family and I arrived in the Willamette Valley on Father's Day. The valley was greener than last time, a symptom of the season I suppose, and as we rolled down Highway 99W, I was tempted to drag everybody to a tasting room. But instead, I played the "Dad card" differently and insisted we stop at a wine shop to kick off the trip. We pulled over in Dundee at the Red Hills Market, and my ever-patient wife and daughters perused the shelves of culinary treats while I surveyed roughly 100 bottles of local wine.
The shelves of Oregon wine at Red Hills Market in Dundee. ©Kevin Day.

Right away, I suffered a major spell of indecision. So many new labels! This one doesn't come to Colorado! Neither does that one! Or that one!
(A few days later in Cannon Beach, my daughter would re-enact this for me when presented with a display of Beanie-Boos. It was like looking at a mirror).
I bring this episode up because the market for Oregon Pinot Noir is massive and overwhelming. I ended up buying two bottles from winemakers I had never heard of — de Lancellotti and Varnum — and then over the next three days, I would end up sampling some 17 more Pinots across five tasting-room visits.
With that, came a couple of core insights on how I'd like to approach buying Oregon Pinot Noir over the next few years. By no means did I come away from Oregon with a master's degree on this wine, but a few maxims did emerge on what to look for the next time I'm label-gazing at a wine shop:
Pay Attention to Vintage
Oregon summers have been trending hot in recent years. My last visit was in August 2014 and the daily highs were near 100º F every day of our visit. Now, this vintage is hitting shelves and many of the results, unfortunately, are subpar.
Some 2014s reminded me of listening to music on blown-out speakers. The heat resulted in higher sugar levels which translated into more alcohol. As a result, many of the subtleties and beautiful edges that define this delicate grape were washed out by thicker fruit flavors. You can feel these wines in the corner of your mouth, and they can quickly become fatiguing to the palate. It's better and safer, in my opinion, to avoid 2014 and buy 2013 if you can. Other cooler vintages to seek out include 2008 (getting harder and harder to find) and 2010.
More Importantly, Pay Attention to Alcohol
Once again, this comes back to vintage, and the role hot weather plays in raised sugar levels and the resulting alcohol. Rather than memorizing each vintage, a quicker tell on what the Pinot Noir will offer can be found in the alcohol by volume (ABV). The tipping point seems to be around 14%. From there on up, Pinot Noir is pretty much ruined.
According to Hanna Momtazi — who was managing the tasting room at Maysara on the day of my visit — there is an additional state tax on Pinot Noir when the ABV exceeds 14% (I'm still trying to verify this on the state website). This fee, of course, is passed on to the consumer, which means you're paying extra for a hotter wine. But I honestly feel that the 14% marker is a good indicator of the wine's quality as well. The bottle of de Lancellotti Pinot Noir I mentioned earlier clocked in at 14.5% ABV and it really suffered under the weight of all that alcohol.
Might you find an enjoyable bottle over 14%? Maybe. But the more interesting, complex and elegant Pinot Noir will always be under that mark.
Lastly, Pay Attention to Site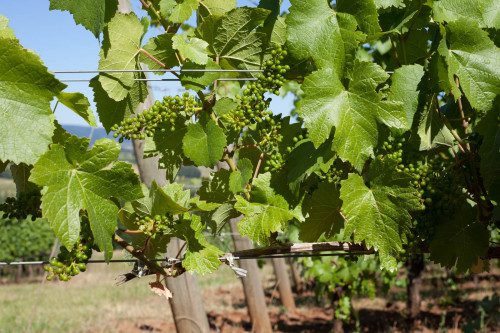 Of less importance is location — at least in terms of shopping for a good bottle.
Every AVA (American Viticultral Area) in the Willamette Valley has several exemplary bottles of Pinot Noir. And every AVA has its misses, too.
Therefore, surveying the label for its region is less about judging the wine's worth vis-a-vis climate and more about framing your expectation of what's inside the bottle. Discovering and exploring the subtleties from one AVA to the next is part of the fun.
While diving into the various differences between the AVAs is the subject of a book (not a blog post), there are a few things to know about each one for when you are surveying labels: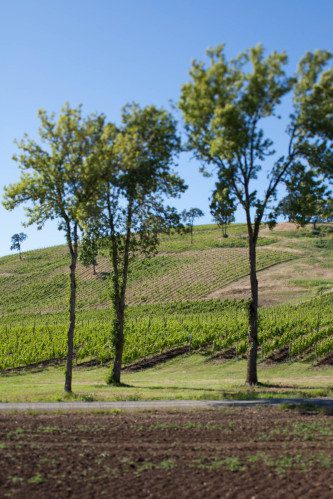 Dundee AVA – The most celebrated area, located just north of Dundee, tends to be on the warmer side of things within the Willamette Valley, in part because its elevation puts the vineyards above the fog line. Dundee is also home to some of the oldest vines, and its red dirt soil (called Jory) provides excellent drainage for Pinot Noir vineyards. From my tasting experience, these wines have the most swagger of Oregon's Pinot Noir, and they often score better because of it.
Chehalem Mountains AVA – This chain of higher hills on the northern end of the valley has a great deal of topographical variation, perhaps more than any other AVA in the area. Because of this, it can be both a cooler site as well as a warmer site. The soils are a real hodge-podge of sedimentary and volcanic types. A lot of variable in them hills.
Ribbon Ridge AVA – A subset of the Chehalem Mountains AVA, Ribbon Ridge is a spur that descends south from the mountains, and has its own unique micro-climate that tends to be warmer than the lower lying valleys. It is also more uniform in its soil type, which is mostly WillaKenzie, meaning the grapes have to struggle to get nutrients. And where there is struggle, there's character. Pinot Noir from Ribbon Ridge can be complex and nuanced.
Yamhill-Carlton AVA – The Yamhill-Carlton AVA is fairly large, but its vineyards sit in a rain shadow caused by the Coast Range and the Chehalem Mountains. By area standards, the weather is moderate. The soil is predominantly sedimentary over sandstone, which — according to this Oregon Wine Press article — creates Pinot Noir with lower acidity.
McMinnville AVA – When you think of the McMinnville AVA, think of afternoon breezes. Its geographic location puts it on the edge of the Van Duzer Corridor, where oceanic breezes cool the vineyards in the late afternoon, which helps preserve acidity in the grapes. From my experience, the wines made here are elegant with more of a plum-like fruit than the cranberry note found elsewhere.
Eola Hills-Amity AVA – Eola Hills-Amity AVA also takes advantage of the Van Duzer Corridor, making its climate fairly similar to McMinnville AVA. The soils in Eola Hills-Amity AVA are a mix of volcanic flows, sedimentary and alluvial deposits which seem to lend these wines added concentration.
(There is also the catch-all Willamette Valley AVA, which pretty much encompasses everything from the Columbia River south to Eugene. Due to this variation, generalizations are even harder to make.)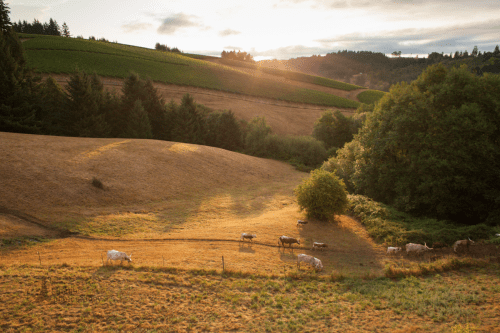 I've had great wines from every one of these AVAs, so by no means should you limit your shopping. Taste several wines from around the area and see where your preferences lie, because there are quite a few subtleties between the areas that are worth exploring.
However, if you are looking for a single bottle and you prefer the cooler climate style (i.e. more acidity), I'd say look to vintage first. If you are limited to a selection of only 2014, the cooler sites of McMinnville AVA, Eola Hills-Amity AVA and Chehalem Mountains AVA might be a good bet. But if you have the option of buying a cooler vintage such as 2013, perhaps reach for Dundee AVA, Ribbon Ridge AVA and Yamhill-Carlton AVA.
Again, we're talking in generalizations here. Conventional wisdom is meant to be debunked, but from all of the Pinot Noir I've tasted, this would seem to be the pattern for my preferences. Most important of all: look for the ABV %. That will tell you a lot about what to expect from the Pinot.
A Final Note
It should also be noted that when we compare a hotter area (such as Dundee AVA) to a region in California, the term "hot" is relative. Oregon is still much further north (less direct sunlight) and in general cloudier than almost all of California, meaning the Pinot Noir will always ripen slower and for longer (sometimes more evenly) than its southern neighbor. If you are used to drinking California Pinot Noir, than Oregon Pinot Noir will seem like a different beast all together, with higher acidity and tarter fruit flavors.
Additional Reading