4
min read
I stood with my back to the barbecue, chin up, eyes closed, breathing in the backyard air which was suddenly laden with a mixture of sprouting green leaves as well as a hint of grilled-chicken smoke.
We made it. My family and I. My wife, my parents and in-laws, our brothers and sisters, my oldest daughter, and especially my youngest daughter: we had beaten her cancer … for now.
It was the first Monday in May, and we'd spent the whole day at the hospital, bouncing from one test to the next, somewhat expecting the good news, but also somewhat expecting the worst (because that's what cancer does to you: it conditions you to brace yourself for the next body blow).
It only took 12 weeks of chemotherapy (a blink of an eye compared to some battles with this insidious disease), but we'd made it. The tumor first made itself known a year ago: a small, seemingly innocuous bump under the skin, but it had grown more and more alarming as Christmas approached. By late January, our little girl would have surgery to remove it. Then in February came the bad news from pathology. From February 19 to April 25, she would undergo chemotherapy to clean up the messy trail it had left behind.
Now, the scans had showed us it was gone … nothing left but woulds that would heal with time. We were free.
And so we were quietly celebrating with a little dinner and a bottle of bubbly. It felt strange to be celebrating when so many other families were still in the fight. But you quickly learn to accept your triumphs, commemorate them while you can, and then move on to the next round, whatever that may be.
To be honest, the glass of Franciacorta just wasn't resonating with me. Wine is all about context, and in this case, no matter what I was drinking, it was going to taste bittersweet.
Merely a Bookmark
I've noted this before, but it bears repeating: Writing about wine in the context of a major life crisis is problematic at best, offensive at worst. And yet, when wine is your passion, it becomes a regulating presence of normalcy. A wine ceases to be a stand-alone experience; rather a bookmark of a moment. And it doesn't define and dictate the moment as much as dog-ear the page in your memory for easy recollection.
It is because of this — and I know I am not alone in this — that I line the ledge above the basement stairs with special bottles. It's not to show off like a frat-boy ("look at the Pyramid of Giza I made with beer cans!"), but rather to jog the memory of sweet times every time I walk by.
And so, above those stairs, you'll find an empty bottle of Raptor Ridge Gran Moraine Pinot Noir from a Friday night at the end of the worst week of my life. We had learned of the diagnosis on a Tuesday, the same day our health insurance provider pulled some shenanigans. By Friday, we had prevailed on at least the health insurance side of things. Given what lay ahead, it was — again — odd to "celebrate," but sharing the wine with my wife over a nice dinner with our girls was a steadying force. It felt like a deep breath before plunging underwater.
Above the stairs is another empty bottle, the Renato Ratti Battaglione Barbera d'Asti which we drank to restore normalcy and add a dash of flavor to our life after the first seven colorless days of chemotherapy in the hospital. The Barbera was like an old friend — familiar, vivid, full of character and conversation. It was a relaxing force.
And now, with news of our little girl's triumph, we were opening a Franciacorta. Standing there, breathing in the nascent spring air, I could have been drinking anything (or nothing) and it would have been memorable. Such was the intensity of the relief I felt.
So … Why Bubbles?
Why do we always feel compelled to celebrate with sparkling wine? Is it the cloud-like lightness of the wine — the way it dances with tiptoes of your tongue until it evaporates? Or is it the delicate fruit flavors? The way it looks? The way it sounds when you pop the cork? The accelerated buzz?
It feels a little cliché. It feels a little bit like its what you are suppose to do in such a moment.
But by the time I removed the rosemary-lemon chicken from the grill and pulled the bruschetta out of the oven, I had warmed to it. The feeling of bittersweetness was slowly fading, revealing that — yes, bubbly feels great when it dances on your tongue. Yes, it tastes and looks and sounds great. And yes, it does accelerate your buzz.
Cheers, family. Let's move on, but never forget.
Ca' del Bosco Franciacorta "Cuvée Prestige" (Non-Vintage)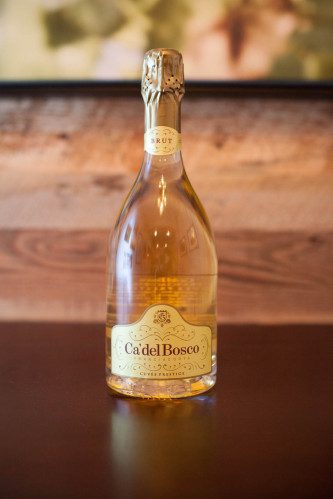 Franciacorta DOCG, Italy
Grapes: Chardonnay, Pinot Noir
Alcohol: 12.5%
Rating: ★★★★ (out of five)
• Aromas, Flavors & Structure: ★★★★
Food-friendliness: ★★★★ 1/2
• Value: ★★★
Tasting notes: An elegant and graceful bottle of bubbly, made in the traditional method of Champagne, but hailing from a small appellation in Northern Italy. Beautiful beading in the glass, vivid color. Offers a nose of lemon, pineapple, walnut, hints of perfume and cinnamon bark. On the palate, it seems to vaporize in a cloud of bubbles, but not in the same you expect from a Prosecco. In fact, its quite different given its winemaking method and what that imparts, which is a touch of baked bread on the finish, thanks to the secondary fermentation that occurs in the bottle.
Recommended for: What else? Celebrations. But this Franciacorta also pairs brilliantly with sharp cheeses, barbecued or rotisserie chicken, and light tapas.