9
min read
Yes, it has been a little Piedmont-heavy on the pages of Opening a Bottle lately, but when you've had the year I've had (it's a long story), you tend to turn to the things that give you the most comfort. When it comes to wine, the reds of Piedmont are — and always will be — my happy place.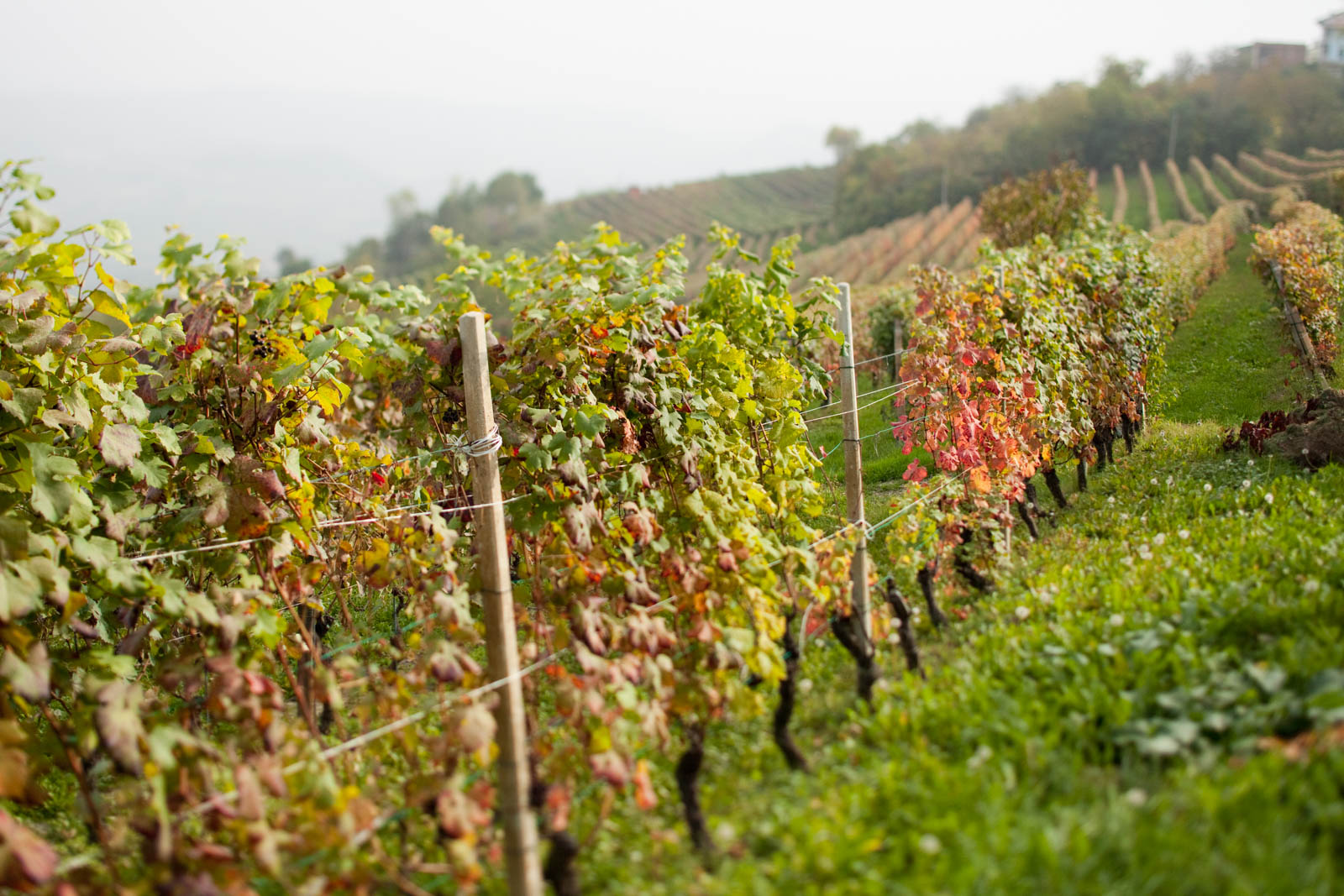 In mid-April, we were slated to have a wine-tasting dinner at our house with friends, featuring six Piedmont wines. But the climate in Colorado cannot make up its mind (Am I spring? Am I winter? Is it the apocalypse?), and so we postponed the event because of a blizzard. Finally, this weekend, we made up for it and opened those six bottles.
My wife and I have really enjoyed hosting these kinds of parties in recent years. We did a horizontal tasting of Cru du Beaujolais last May — which immediately advanced my understanding of this wonderful class of wines — and last fall we did a broader tasting on the "unheralded" wines of Spain.
With all of this in mind, it was clearly time to turn our attention to some wines we know really well — the reds of Piedmont, Italy. We invited the same set of friends from last fall, plus my brother and his wife, and set the stage that this was a celebration of great friends, great food and great wine.
In a previous feature, I shared some ways that you can host a Piedmont wine tasting, including themed flight suggestions. For this tasting, we stuck closely to The Classics, but emphasized the three red grapes of the area — Dolcetto, Barbera and Nebbiolo. Here were the six wines: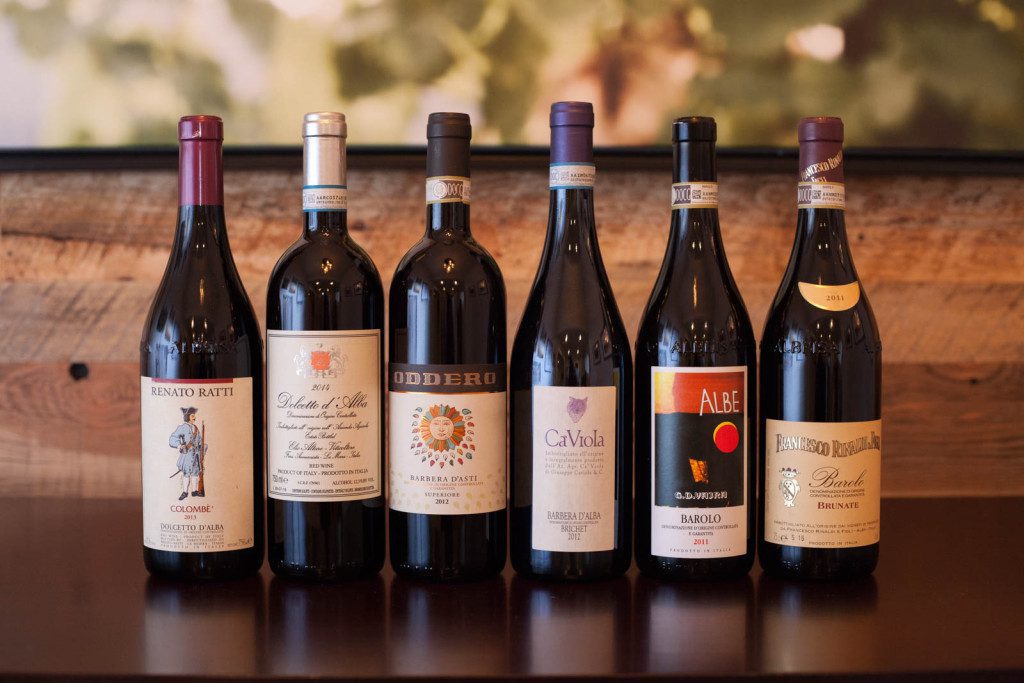 2013 Renato Ratti Dolcetto d'Alba (

★★★★

1/2)
2014 Elio Altare Dolcetto d'Alba (

★★★

1/2)
2012 Oddero Barbera d'Asti Superiore (

★★★★

)
2012 Ca' Viola "Brichet" Barbera d'Alba (

★★★★

1/2)
2011 G.D. Vajra Barolo "Albe" (

★★★★★

)
2011 Francesco Rinaldi & Figli Barolo "Brunate" (

★★★★★

)
This was an incredible group of wines, and I'd buy each one a second time if given the chance. We drank them in pairings: Dolcetto vs. Dolcetto, Barbera vs. Barbera, and Barolo vs. Barolo. Here is how they showed.
Dolcetto vs. Dolcetto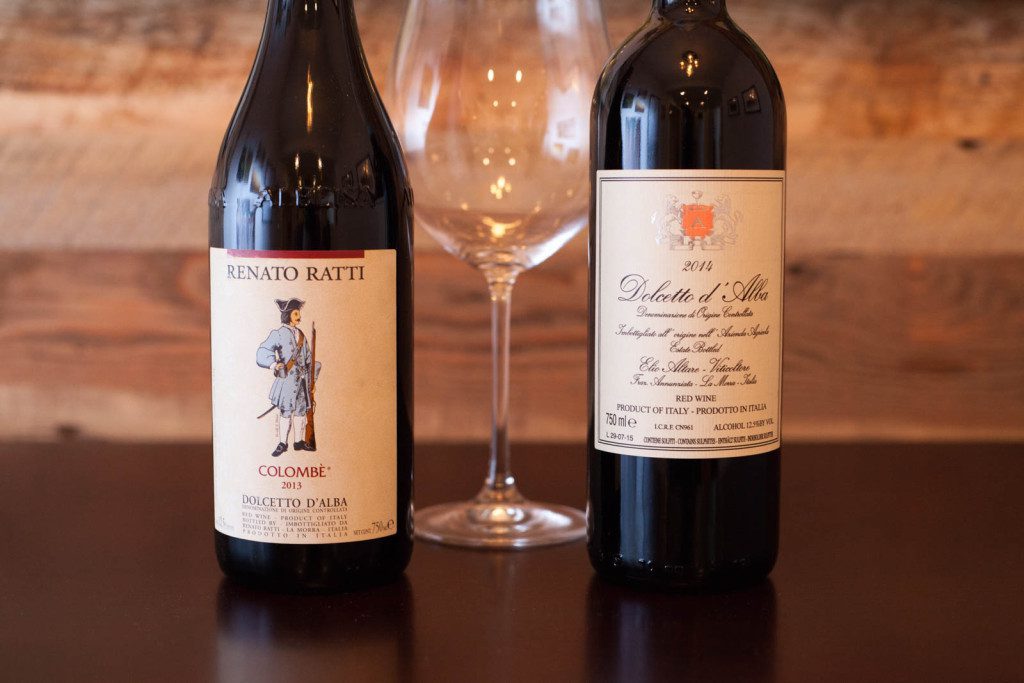 To personify Dolcetto, it is a care-free individual with a lot of intelligence. It easily slides into a variety of circumstances and if you listen carefully, it has a lot to say. In other words, it's the perfect starting point for a social wine event.
The comparison I wanted to see between these two wines was vintage. The Elio Altare Dolcetto d'Alba (★★★ 1/2) came from 2014, which was known around Piedmont as a rather lousy vintage for Dolcetto. The spring was cold and wet, delaying bud-break. But then May was hot, which accelerated the development of berries. July suddenly grew cold, giving farmers fits about whether their crop of Dolcetto (which is harvested early, in August) would be ripe enough to produce a good vintage. When I talked with Elena Currado of Vietti two weeks ago at an event, she noted somewhat mournfully that 2014 was a forgettable year for Dolcetto.
Well, Elio Altare must be an excellent winemaker, because his 2014 Dolcetto d'Alba is still a pretty good wine. It was high-toned and refreshing, with a noticeable meatiness on the nose that recalled salumi. One taster noted that it was a bit too dry, almost "chalky." Given the vintage, it is probably worth trying again in a different year.
The Renato Ratti Dolcetto d'Alba (★★★★ 1/2) came from 2013 and — along with the two bottles of Barolo later in the night — was my favorite wine of the evening. This vintage started off bleak as well, with a rainy and cold spring. In some areas, it was reported that the vineyards were too soggy for tractors. But by summer and into fall, temperatures rose and stayed even. Whether this well-rounded and balanced Dolcetto showed more depth and personality stems from the weather or not, I can't be certain, but I loved its dark cherry notes and perfectly dialed amount of oak. Really: one of the best Dolcetto d'Alba wines I have ever had.
Barbera d'Alba vs. Barbera d'Asti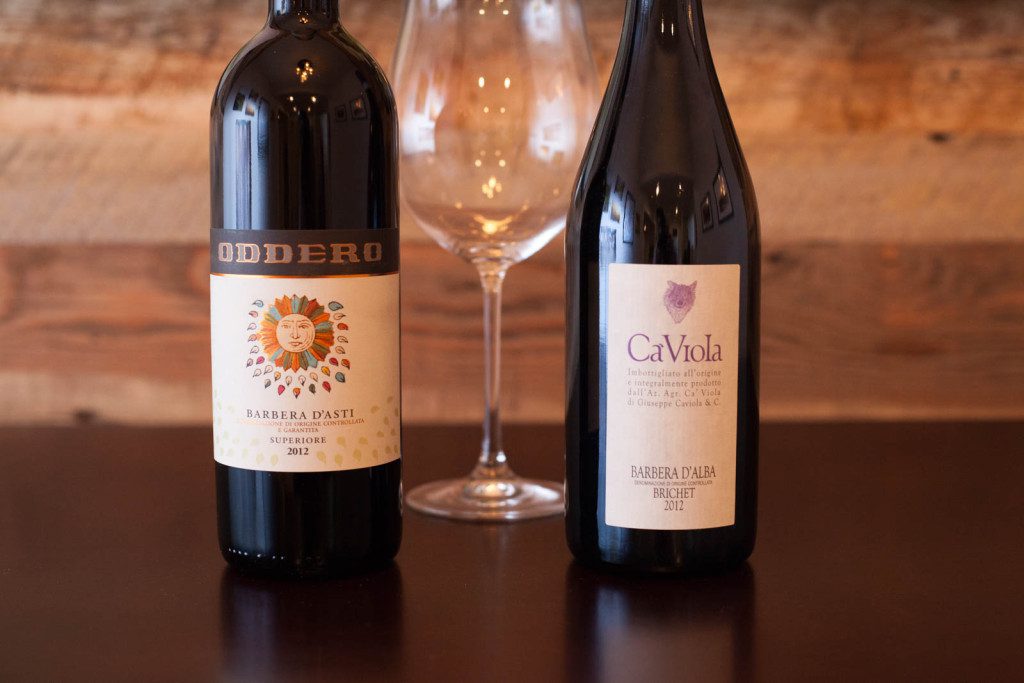 By the time we got to the showdown of Barbera wines, we were all ready to eat. On went the oven, off came the tinfoil, plates were set out — there was a mad scramble in the kitchen as prosciutto-stuffed peppers, garlicky kale salad, and mushroom-ragu polenta was served.
This is how it should be with Barbera. It is simply an outstanding food wine — fine on its own, yes, but really much better when its cleansing your palate after a rich and hearty bite.
I had a glass of the 2012 Ca' Viola "Brichet" Barbera d'Alba (★★★★ 1/2) first, and I really enjoyed it. It was the first wine I've had from the tiny village of Montelupo Albese — which would be insignificant if it weren't for the excellent, modernist hotel there called Ca' del Lupo, which I remember fondly. Montelupo Albese seems to sit atop all of the Langhe Hills, with a lofty perch that on clear days can see all the way to the Matterhorn as well the striking villages of Rodello and Diano d'Alba in the near distance.
Winemaker Beppe Caviola sent me some notes on this wine and what makes it distinctive in his opinion, particularly the minerality on the finish — a sensation that seems to convey the limestone and clay soil from which the vines grow. For me, the aromas of his Barbera d'Alba conjured thoughts of purple things — ripe boysenberries and blackberries, a hint of violets — and compared to the Oddero Barbera d'Asti Superiore from the same vintage it had more depth and fullness in the fruit, yet was softer and sexier.
That is not to say that the Oddero Barbera d'Asti Superiore (★★★★) wasn't intriguing in its own way. Such are the differences between Barbera from the Langhe Hills, and Barbera from the hills south of Asti, which see less rain and fog, and are in general less severe in their pitch. I've had a few exemplary Barbera d'Asti recently — most notably Vietti's La Crena, Renato Ratti's Battaglione, and La Spinetta's version — and when the context is right, Barbera d'Asti is preferable. That context is when it can be alone in the spotlight, supporting a rustic dish with a lot of savory elements to it. Given the depth of the Ca'Viola, I found that the Oddero's voice was a little lost in the mix and that it could use a second tasting. It was noticeably gamey on the nose, with traces of sour cherry, pepperoni, musk, herbs and oak on the palate, with a real buzzsaw of acidity to cut through the fattiest of foods.
Speaking of buzzsaws, that brings us to …
Cuvée vs. Cru Barolo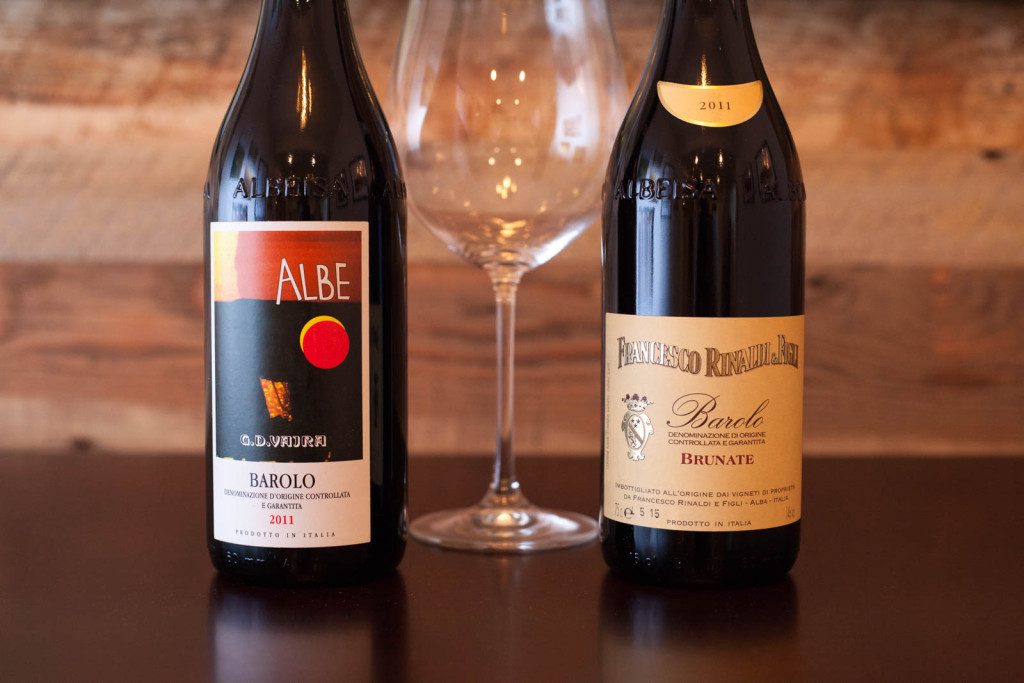 Our final wines demonstrated a comparison of two different approaches to Barolo from the same commune, La Morra. On the one hand, we had the 2011 G.D. Vajra Barolo "Albe," (★★★★★) which takes grapes from three different vineyards in close proximity and blends them during the winemaking process. On the other hand, was the 2011 Francesco Rinaldi & Figli Barolo "Brunate," (★★★★★) a Barolo from a single vineyard in La Morra — the legendary Brunate, which faces to the south and absorbs the sun like a solar panel.
The day before, I was talking with a wine enthusiast friend about this tasting's offerings, and given that these two wines are only five years old, he suggested that I decant them both 10 to 12 hours in advance to fully aerate them and mellow the tannins.
Ten to 12 hours. I don't know about you, but leaving a wine out that long feels akin to leaving the milk on the counter … if that milk cost $50 a carton. But I bit the bullet and decanted the Brunate at noon, and the Albe at 1:30pm, then continuously peeked on them as if they were sleeping children. By 8pm, we were eating scottadito-style lamb chops and ready for them, and goodness did they deliver.
Their differences were very subtle. The G.D. Vajra had the elevated nose you come to expect from a Barolo — even layers of bing cherry, cranberry, tobacco, rose, leather and oak all compressed into one massive, intense aroma. Even after six and a half hours, it was still a fiercely tannic wine, but at least it was more nuanced and compelling because of the long time aerating. (I thought back to the Elvio Cogno "Ravera" Barolo from a few weeks ago and regretted not giving it several hours in the decanter).
The Rinaldi "Brunate" was gorgeous. Again, everything about it was heightened: the aromas, the way it engaged every taste bud on the palate, the extraordinarily long finish. It felt like a wine that had more to give — that it could have stayed open for days if only there weren't eight thirsty house guests downing it. If there was any difference between this wine and the blend from G.D. Vajra, it was in the flavor profile. Along with bing cherry and blackberry, there was a third fruit — something brighter that I couldn't quite place … watermelon? peach? nectarine? — that gave the Brunate a bit more vibrancy and energy.
Single-vineyard wines offer a more detailed and characterful expression of a wine than their multi-vineyard, blended brethren. At least they are suppose to. Because they come from such a tightly defined area, the idiosyncrasies don't get diluted or edited out by the common denominators. This third-fruit note in the Brunate demonstrated this. The G.D. Vajra was the blockbuster — I couldn't imagine anyone not loving this wine. But the Rinaldi "Brunate" was like the indie movie that fewer people see, yet earns a more fervent following. Gravity vs. The Descendants, if you will.
Either way, the whole night was a fascinating study in contrasts — just like the region these excellent wines hail from.
Summary of Ratings
2013 Renato Ratti Dolcetto d'Alba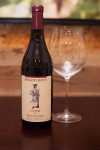 Grape: Dolcetto (100%)
Alcohol: 12.5%
Rating: ★★★★ 1/2 (out of five)
• Aromas, Flavor & Structure: ★★★★ 1/2
Food-friendliness: ★★★★★
• Value: ★★★★★
---
2014 Elio Altare Dolcetto d'Alba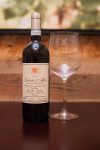 Grape: Dolcetto (100%)
Alcohol: 12.5%
Rating: ★★★ 1/2 (out of five)
Aromas, Flavor & Structure: ★★★ 1/2
Food-friendliness: ★★★★
Value: ★★★
---
2012 Oddero Barbera d'Asti Superiore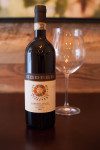 Grape: Barbera (100%)
Alcohol: 14.5%
Rating: ★★★★ (out of five)
Aromas, Flavor & Structure: ★★★★
Food-friendliness: ★★★★
Value: ★★★ 1/2
---
2012 Ca' Viola "Brichet" Barbera d'Alba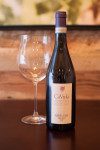 Grape: Barbera (100%)
Alcohol: 14.5%
Rating: ★★★★ 1/2 (out of five)
Aromas, Flavor & Structure: ★★★★ 1/2
Food-friendliness: ★★★★ 1/2
Value: ★★★★
---
2011 G.D. Vajra Barolo "Albe"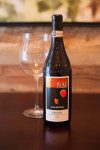 Grape: Nebbiolo (100%)
Alcohol: 14.5%
Rating: ★★★★★ (out of five)
Aromas, Flavor & Structure: ★★★★★
Food-friendliness: ★★★★
Value: ★★★★★
---
2011 Francesco Rinaldi & Figli Barolo "Brunate"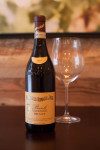 Grape: Nebbiolo (100%)
Alcohol: 14%
Rating: ★★★★★ (out of five)
• Aromas, Flavor & Structure: ★★★★★
Food-friendliness: ★★★★ 1/2
• Value: ★★★★
---