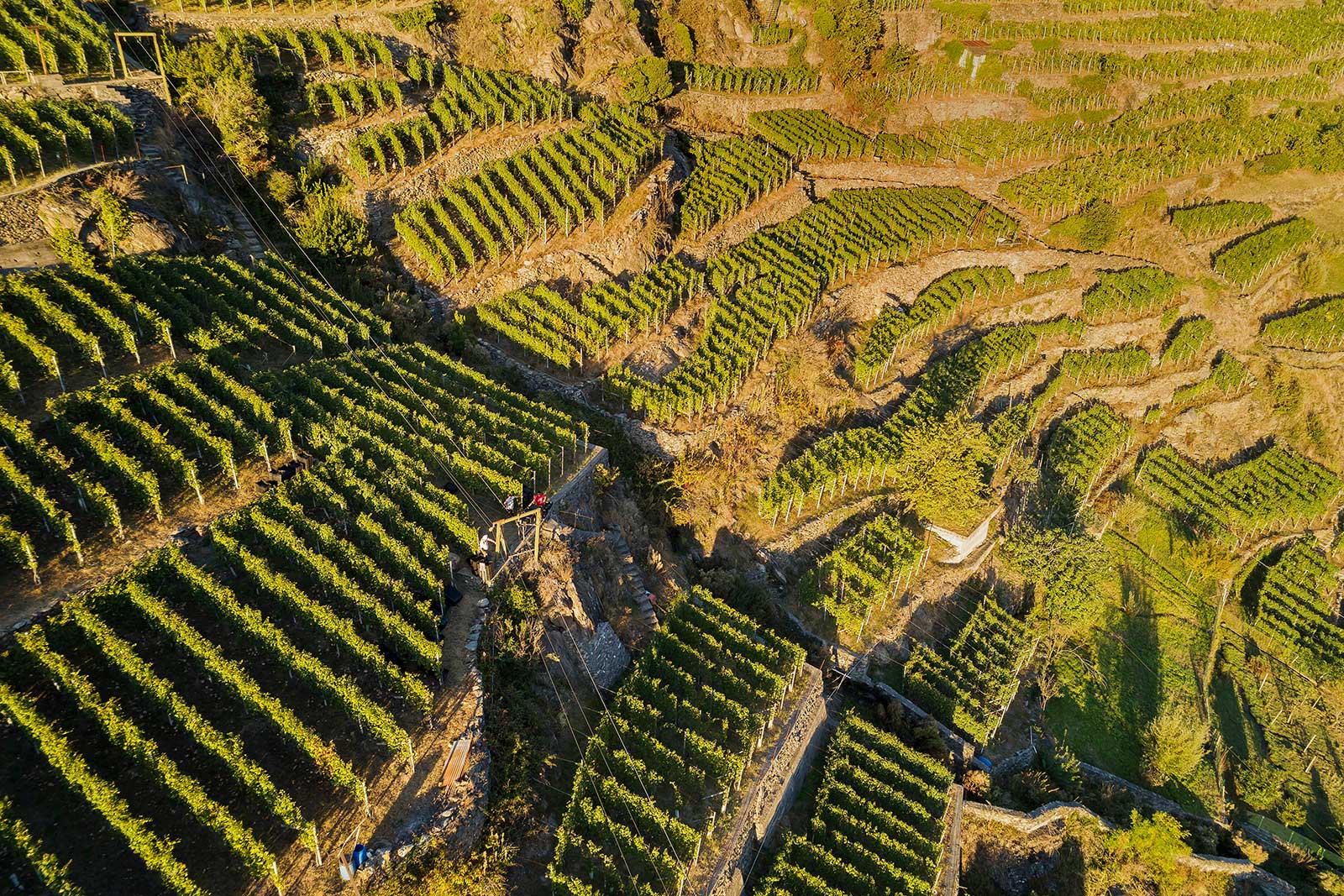 This is a measure that is near and dear to my heart, but probably the most nebulous to assign. Wineries with this icon have at least one vineyard where the labor to farm it is so intensive, you question their sanity. ("Heroic" for the record, is a wine industry phrase, and not my own invention). To me, "improbable viticulture" is a good way to look at it. Farming the slope would seem unlikely — downright crazy, even — but somehow they make it work.
Opening a Bottle Asks ...
Some regions are entirely covered with heroic vineyards, but every now and then, you come across one in an unexpected place, like L'Aietta, in the heart of Montalcino.
Why Heroic Wines Matter
In Europe, there is an organization called CERVIM that is devoted to the preservation of mountain viticulture. (Each year, they have an "International Congress on Mountain and Steep-Slopes Viticulture" ... these are my kind of people). CERVIM has put a formal definition on heroic viticulture that is handy. The first measure for heroic viticulture is the steepness of the slope. Vineyards that require terracing just to defy gravity are a clear hallmark of heroic viticulture — think of Valtellina in Italy, or the Côte Rôtie in France. Terracing alone is not required. The vines of Cartizze and Valdobbiadene grow on very steep pitches, but the root systems hold much of the hillside together (most of the time).
The second measure is altitude. High-altitude vineyards — such as Valle d'Aosta and the upper slopes of Alto Adige, Etna and Savoie — have extreme weather that dramatically raise the stakes for farming.
The last measure is remoteness, often defined by small island viticulture with minimal infrastructure and a combination of the previous two measures.
Some regions are entirely comprised of heroic vineyards, such as the aforementioned Valtellina and Côte Rôtie, the Amalfi Coast and Pantelleria, Spain's Ribeira Sacra, and Portugal's Duoro. Others — like Alto Adige — have a majority of their vineyards on workable, gently sloped land, with a few outlier vineyards of extreme steepness and exposure to the elements.
Heroic vineyards and the wineries that work with them are constantly under threat. Their very existence is tenuous, and from my experience, the only reason they continue to exist is because they yield unbelievably expressive wines. They should be duly celebrated.
10 Great Heroic Wines
ARPEPE "Rocce Rosse" Valtellina Superiore Sassella Riserva

Domaine Zind-Humbrecht "Clos Saint-Urbain" Grand Cru Rangen de Thann Alsace Pinot Gris

Vincent Paris "La Geynale" Cornas

Clos Mogador Nelin Priorat Blanco

Ciro Biondi "San Nicolo" Etna Rosso

Benanti Contrada Rinazzo Etna Bianco Superiore

Rotenfaden & Rossweg "Terraces" Red

Dominio do Bibei "Lalama" Ribeira Sacra

Dr. Pauly Bergweiler Ürziger Würzgarten Riesling Trocken

Ferrando "Etichetta Bianca" Carema