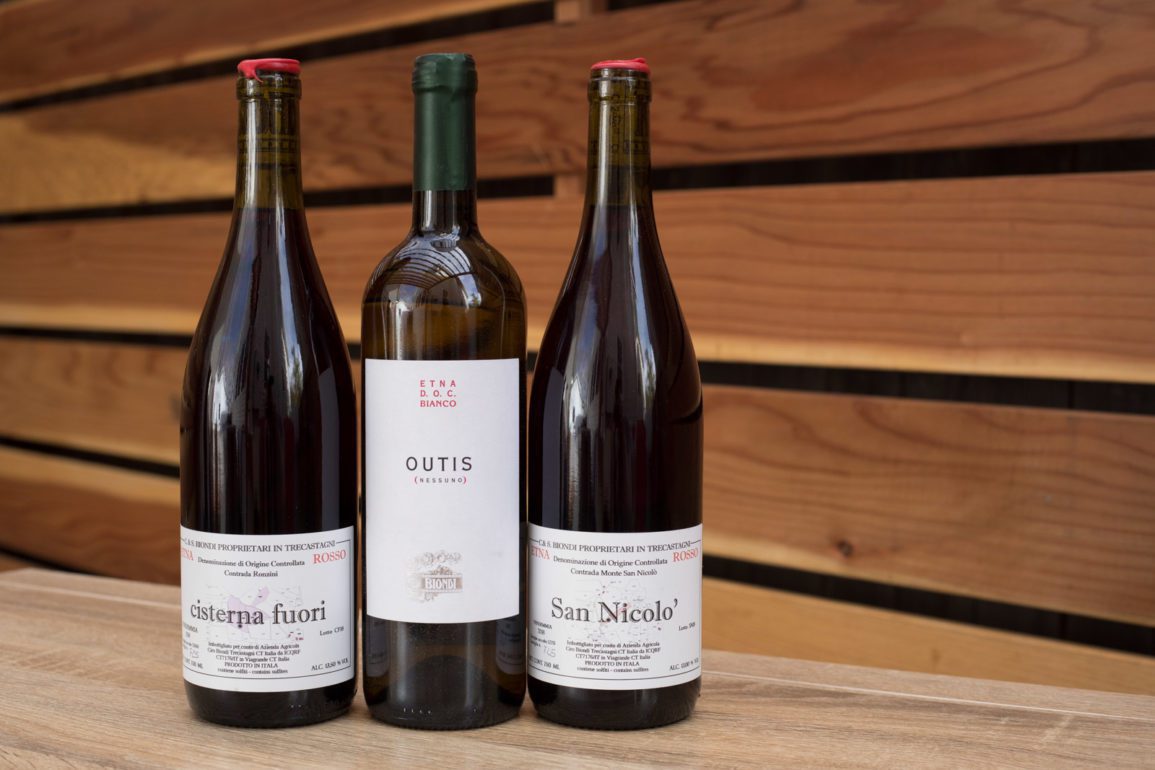 Why
Azienda Agricola Biondi

is Essential

Take a look at a satellite view of Mount Etna, and you might notice a series of bumps leading along a line from the volcano's summit to the city of Catania. Zoom in a little closer and you'll see that a few of these are extinct craters, their tops dimpled and filled in with trees and vegetation. Along the southwest face of one of these craters lies a terraced vineyard of red dirt. Facing it, a steep slope with another series of terraces and more vines.

This is where winemaker Ciro Biondi — and his wife and business partner, Stephanie — clawed back from nature his family's viticultural heritage. By all accounts, it wasn't easy. The Biondi family had tended grapevines for wine production on the slopes of Mount Etna since the 1600s. But the industry was so in the dumps in the 1980s and 1990s that Ciro's father encouraged him to forge his own path and, essentially, break the family's lineage to winemaking. Ciro pursued architecture, but in 1999, the pull of his family's vines called him back. Bit by bit, he and his wife reclaimed the terraces of the family farm and began to experiment with winemaking. Today, the results are among the most thrilling wines in all of Italy.

Biondi makes excellent use of multiple grapes in blending both his red and white wines. The Etna Rosso wines are a 80-20 split between Nerello Mascalese and Nerello Cappuccio. Meanwhile, the Etna Bianco wines are a little richer and more full throttle than those from Milo due in part to the presence of Minella and Cataratto Bianco. What I love about these wines is their unmistakable volcanic characteristics, without sacrificing ease of consumption. They are not angular nor stern, nor closed and in need of excess aging. Just perfectly balanced, refined and massively complex and compelling.
Trecastagni, Sicily
Grapes: Carricante, Nerello Mascalese, Nerello Cappuccio
Appellations/Cru: Etna Rosso DOC, Etna Bianco DOC
American Importer: Oliver McCrum Wines (West), Selected Estates of Europe (East)
Originally listed: September 2021
Renewed: September 2023
Wines to Seek Out
Azienda Agricola Biondi is one of the smallest producers featured in our curate Essential Winemakers of Italy list. Production is limited to only a few thousand bottles per year, which makes these wild and distinctive wines all the more special to seek out.
Ciro Biondi "Outis" (Nessuno) Etna Bianco
Etna was apparently the domain of the Cyclops in Homer's The Odyssey. This wine takes its name from Odysseus' epic mic drop reply to the raging monster when he asked "who stabbed my eye out?" As his platoon of men escaped, Odysseus said "Outis," or "nobody" (so gangsta).
Like Odysseus, this entry-level Etna Bianco is not messing around. It does not aspire to be commercial friendly, or to gently introduce drinkers to the wonders of Carricante from the great smoldering mountain of Sicily. It has a dominant mineral smell to it that registers like iodine, with faint pineapple fruit and lemon-tea aromas beckoning beneath. It's glossy texture and thrilling acidity won me over, and even had me backtracking to those wild aromas to discover that, actually, I kinda like that piercing mineral smell. It is not as epic as Biondi's two Etna Rosso listed below, but it is every bit as unrelenting and fearless in its approach. Mic drop? Indeed.
Ciro Biondi San Nicolo Etna Rosso
With one look at this vineyard, you know something will be different is the glass. The soil of San Nicolo is a rusty reddish color thanks to an increased presence of iron. It scales the side of a rather young, 12,000-year-old crater named Monte San Nicolo. The effect is a staircase of rusty earth decorated in orderly vines. Seeing their drone video of it reminds me of the way my daughters like to layer their stuffed animals on our stairs when they play.
I'll get to the point: this is one of Sicily's greatest wines. In time, it may even be one of Italy's greatest wines. It's aromas oscillate from light cherries and berries to blood oranges, licorice, thyme and even an ashy hallmark. The structure seems indestructible, yet it has an easy grace and lightness that put it on another plane entirely. There is even a rusty-like hue around its edges, which — romantically — I want to relate to that aerial footage of San Nicolas' soil. But alas, I cannot.
I'll be seeking this wine out for many vintages to come.
Ciro Biondi Cisterna Fuori Etna Rosso
Compared to the San Nicolo, the Cisterna Fuori single-vineyard Etna Rosso kicks things up a notch significantly. This wine is mysterious and savagely beautiful, like being granted a safe ride on a wild mustang. The aromatics are classic Etna Rosso, but its the interplay of tart, bitter, sweet, sour, savory and mineral tones on the palate that make it memorable. The tannins mean business, and strongly suggest that you sit down for an indulgent dinner if you are going proceed any further.
Like the San Nicolo (and many of the Etna Rosso wines from this side of the volcano), there is a healthy percentage (20%) of Nerello Cappuccio in the blend, lending the wine a little more richness and polish than you might get with a pure Nerello Mascalese wine.