8
min read
Wine culture runs deep in the city of Verona. Situated on a languid bend in the Adige River, the city is within a 30-minute drive of Soave, Bardolino, Lugana and most notably, Valpolicella.
But that's not all. Verona exists because it lies at a crossroads: to the north is Trentino-Alto Adige, the Brenner Pass, and Austria and Germany. To the west, lies Milan and Genoa. To the south, Rome. To the east, Venice. This fortuitous location means the city has been a commerce hub for its entire history. Combine this aspect with the ancients vineyards that surround it, and you have quite possibly Italy's greatest wine city and the natural host of the world's largest wine expo — Vinitaly — every April.
So what does this wine culture mean for a tourist? If Venice has Prosecco, and Rome has Frascati, then Verona has it all. Yes, it's nice to order an Amarone from the nearby hills, but in Verona, you are not obliged to. Have a glass of Franciacorta, buy a bottle of Barolo or order that Brunello you've always wanted to uncork. The mood in Verona — judging from the dozens of wine lists I perused — is far from the fervent localism you see elsewhere in Italy.
Granted, I am by no means an expert on Verona. My visits have always left me with the impression of unfinished business. Such is the nature of this dynamic city. But from my experience, here is what every wine-lover itinerary of Verona should include.
Where to Stay: Corte Realdi Suites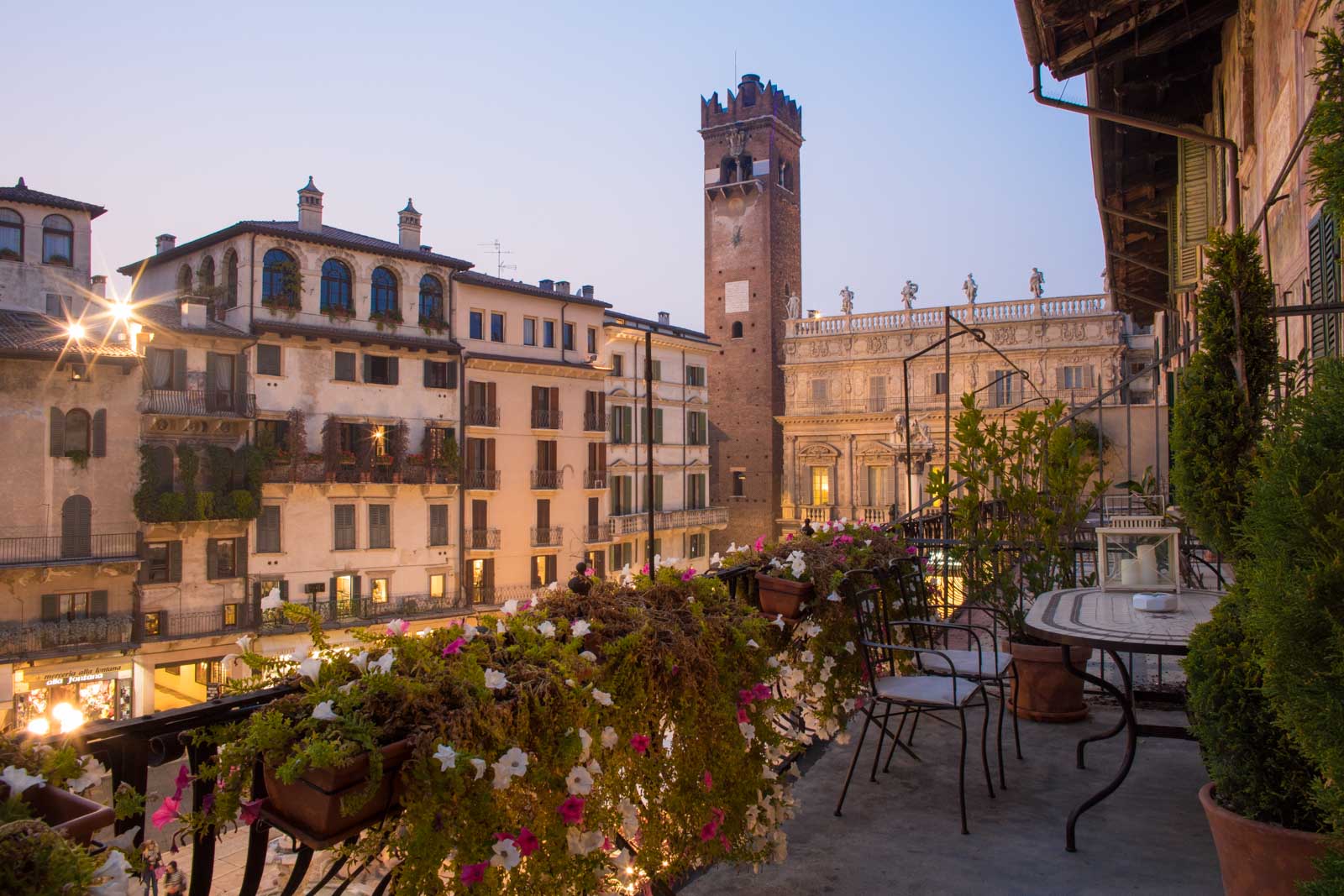 The Roman Arena may be the symbol of Verona, but Piazza delle Erbe — once the site of Verona's Roman Forum — is the city's nerve-center. As a result, it is the most exciting place to base your stay.
Shaped like a plane wing and with Verona's tallest tower rising over its eastern end — the 84-meter tall Torre dei Lamberti — the piazza has a near-constant buzz to it. And the Corte Realdi Suites offer you a front-row seat to its ever-changing moods.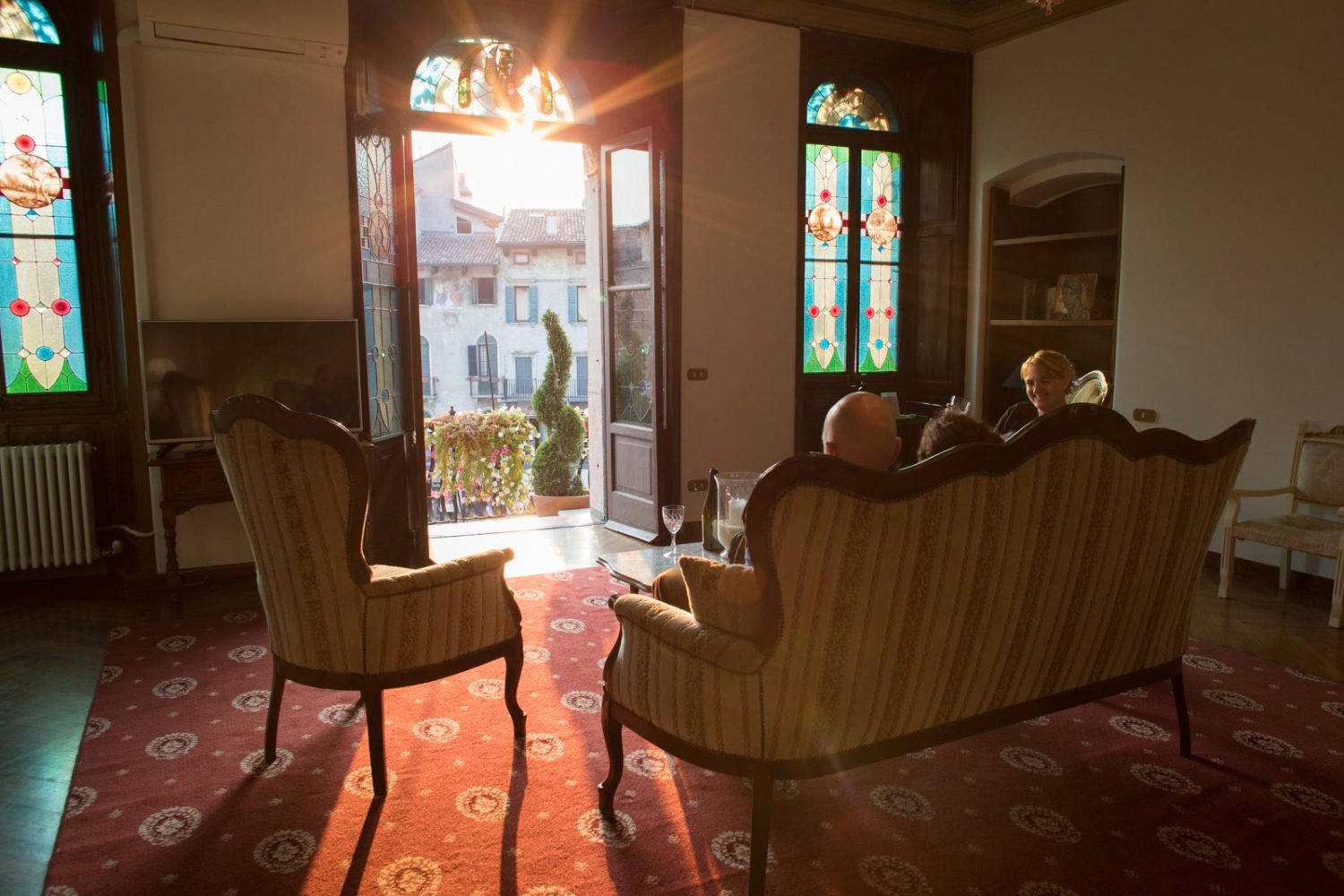 We booked the two-bedroom Piazza Erbe suite, which has comfortable beds and a small kitchen. The real highlight is the stunning veranda, which takes in the street life of Piazza delle Erbe below. From here, the city looks like a stage backdrop, its various characters navigating a storyline too multifaceted to make sense of from the balcony seats. No matter. Pour a glass of Prosecco, embrace the delirious joy, then head out for an evening passeggiata or gelato prowl. Life in Italy doesn't get much better.
Where to Drink: Antica Bottega del Vino
Atmosphere counts for everything in Verona, and while there are numerous enoteca throughout the city, I was drawn to an old-school haunt I stumbled upon called Antica Bottega del Vino. Little did I know at the time how historic and esteemed this bar/restaurant actually is.
There is no way to manufacture the Bottega's mood or its historic feel. Time seems to have benevolently worn on the place. Dating back to the 16th century and the Venetian Republic, the space has had many forms, but its current incarnation as a world-class enoteca and restaurant took shape in 1890. Today, the Italian wine list is among the most extensive in the world.
Around the walls of the bar area you'll find empty bottles of epic wine lining the shelves, a personal touch that reminds me of my basement staircase where I've done the same thing (albeit, with lesser bottles). Carved into the wood beams around the bar is a lengthy quote that says, in part, "Bevi del vino e lascia andare l'acqua al mulino." (Translation: "Drink some wine and let the water go to the mill"). Amen.
If you have more forethought than I do, you can book a dinner in its bottle-jammed cellar. But if not, do as we did: order some cicchetti and a glass of Soave or Amarone from the chalkboard above the bar, which regularly features up to 45 wines by the glass.
Where to Shop for Wine: Enoteca Santa Anastasia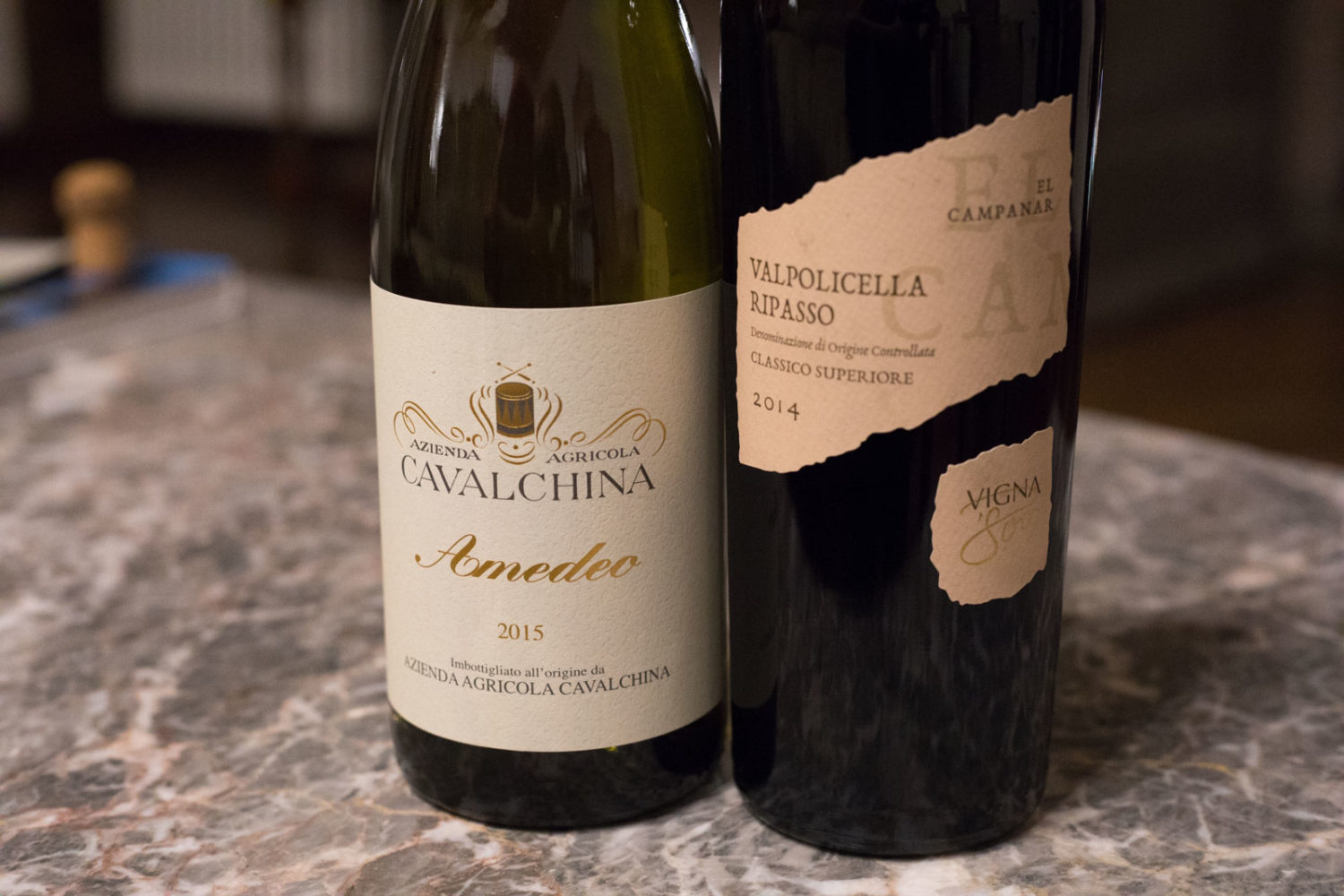 We kept our visit to Antica Bottega del Vino short because we had dinner plans — we were cooking a meal at our apartment kitchen from produce we bought at the Piazza delle Erbe market. However, we needed wine for this, so we asked the bar staff for a wine-shop recommendation, and ten minutes later, we entered the stately space of Enoteca Santa Anastasia.
This little wine shop across from Piazza Santa Anastasia feels a little bit like an Old World bookshop with wine bottles, rather than books, lining the shelves. I was immediately told to take off my backpack or get out. The proprietor hovered over us like a librarian following a pair of slacker teenagers in the magazine section. And he was in no mood to speak English.
Sound uninviting? It pretty much was, but I was fine with it. I'm sure he has seen his fair share of broken bottles from careless tourists, and as for the no-English policy, good. We're in Italy. Ho bisogno di praticare il mio italiano. 
But if you want to find compelling bottles from the countryside that surrounds Verona, this is the place to go. Their selection is awesome. We returned with a playful white wine from the Custoza DOC by Cavalchina. Called "Amedeo" (★★★★) it was a blend of Garganega, Cortese, Trebbianello and Trebbiano. Even better was the Valpolicella Ripasso from Vigna 800 called "El Campanar" (★★★★ 1/4) which offered a brambly, berry-patch goodness on the nose and a seering finish.
Where to Shop for Groceries: Piazza delle Erbe Market and Punto at Piazzetta Pescheria
Every day in Piazze delle Erbe, there is a market. Much of what is under the umbrellas — hats, trinkets and tourist crap — can be ignored, but the produce stalls are as tantalizing as you would hope. Fresh fruit for a snack, zucchini blossoms to stuff with ricotta, straight-from-Eden tomatoes. It's hard not to over-buy.
For additional ingredients missing from your apartment's pantry, head to the Punto grocery store in the small Piazzette Pescheria near the Adige River. Not only is the ancient fish-market-turned-into-a-grocery-store a sight to behold, so is the intimate piazza.
What to Eat: Risotto all'Amarone
If there is one culinary product that rivals my love for red wine, it is Parmigiano-Reggiano cheese. And butter. So in which dish do the three harmonious meld together? Risotto all'Amarone.
At La Piazzetta Enoteca & Ristorante — located off Corso Porta Borsari on Corte San Giovanni in Foro — I ordered this dish with high expectations.
"The serving is for two people, sir" the waiter informed me.
My sister-in-law gamely changed her order and volunteered to join me.
"And it takes 45 minutes to prepare properly."
Oh, we'll wait.
Any home chef who has tried to make authentic risotto knows how hard this dish can be to execute correctly. It is deceptively simple, yet requires a massive amount of attention, otherwise it turns gummy. But in the right hands, it is pure bliss. The local spin in Verona with Amarone della Valpolicella is a particularly iconic version. At La Piazzetta, each rice grain was permeated by the dark-fruited, tannic Amarone — the richness only offset by a neat pile of potato crisps on top.
We paired the risotto and a series of other dishes — gnocchi with sage and pumpkin, veal with porcini — with a bottle of Tedeschi Maternigo Valpolicella Superiore DOC (★★★★ 3/4). This lighter-bodied wine still carried the dark velvet fruit of Valpolicella, but its lower alcohol and zippy acidity made it match everything at the table.
Must-See Attraction: Basilica di San Zeno Maggiore
Wine won't be calling you at all hours in Verona. Some of the cities most moving sights are worth carving out time for — even if you are attending Vinitaly and feel like your schedule is crammed.
On the west side of the city lies a cathedral unlike any other — the Romanesque Basilica di San Zeno Maggiore. The church was built in honor of St. Zeno, a native of Mauretania (present-day Morocco, Algeria and Libya) who found his way to Verona in 340 AD, where he eventually entered a monastery and, later, became the bishop of Verona.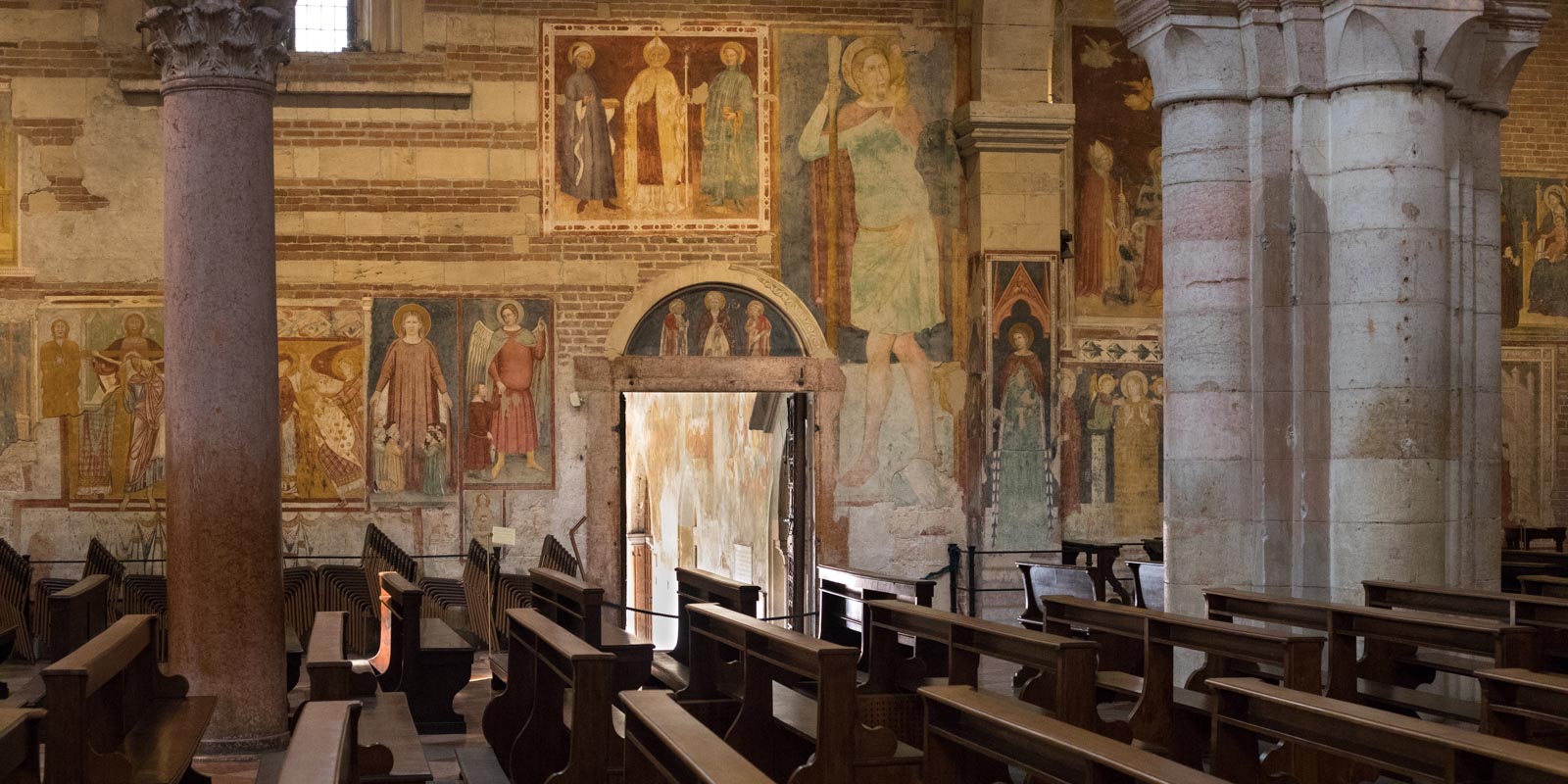 The frescos inside the nave are indelible. From a distance, they looks like a biblical graphic novel, filled with rich hues and frozen action. A closer inspection reveals that many of the paintings have been etched upon, not by misbehaving tourists, but rather devoted monks, who carved devotional script into the negative spaces. Other frescos have partially crumbled from the wall's surface, revealing older frescos underneath. The entire church feels suspended in motion.
Underneath the apse lies the haunting crypt with its 49 columns and the sarcophagus of St. Zeno. It served as inspiration for the scene of Romeo and Juliet's marriage. It's uh … far from romantic. Step outside for fresh air in the tranquil cloisters and ask the dumb question: why didn't Shakespeare have them get married here?
Best Single Sight: Ponte Pietra and Castel San Pietro Vista
Every element of Verona's beauty converges at the Ponte Pietra: the ancient sense of time, the refreshing newness of the tumbling river, the elegance of every era on the nearby hillside. It is the penultimate sight to see.
On our final morning this last time, we crossed the Ponte Pietra shortly after breakfast. Built in 100BC by the Romans, this simple stone bridge has weathered an unimaginable amount of footsteps — and a few earthquakes — over the millenia. On the other side, we climbed the stairs to the Castel San Pietro and enjoyed the iconic vista of Verona. If you're lucky, you'll see the Alps, but most likely you won't. This is the Po River Basin, and the skies are frequently soupy.