4
min read
This week's bottle recommendation — a sublime red from Etna with great versatility — comes courtesy of one of Denver's best new restaurants, Tavernetta. (And in case you haven't been to Denver in several years, you wouldn't recognize this place. We have A LOT of new restaurants).
For months, the opening of Tavernetta was the most talked about debut in our time zone. In fact, when I was driving around Castiglione Falletto with Vietti's Luca Currado in October, he asked about the latest developments with its opening, but I didn't have an answer. Here I was, a born-and-raised Denverite, getting schooled on my local restaurant scene by a Barolo master. (Word travels, I guess, especially when Master Sommelier Bobby Stuckey is at the helm).
When it comes to dining out, I'm a bit of a control-freak: the more I'm spending, the more demanding I get. And Tavernetta is pricey. Yet from the very beginning, we felt welcome. Actually, scratch that, because it is an understatement. We felt like guests at the home of a good friend — a good friend who happens to make to-die-for sunchoke sformato.
We did not want for anything for any length of time. The staff was on the spot, and ready to take care of us warmly. It was this tone that made me surrender their extensive wine list to the evening's sommelier. The list — which is overseen by Carlin Karr, a protégé of Bobby Stuckey — is 100% Italian and reflects the country's enological diversity perfectly. (In fact, it could have made for good beach reading for an Italian wine fanatic like me.)
We had a complicated array of flavors heading our way: earthy, salty and umami for the antipasti; spicy, briny and sweet for the primi; savory and hearty for secondi. No problem: our sommelier recommended the Passopisciaro "Contrada G," a single-vineyard red from Etna (technically not an Etna Rosso since it is a Terre Siciliane) with superb tension and lots of surprises up its sleeve. "It reminds me of a red Burgundy," he informed us, a characterization that wasn't far off. However, I found the wine to be sturdier than a Pinot Noir, which I don't think would have related as well to the Calabrian chiles in our tagliatelle.
Passopisciaro is a Sicilian winery created by Tuscan winemaker Andrea Franchetti of Tenuta di Trinoro. The estate resides on the north slope of the smoking Mount Etna, and the Guardiola vineyard (or contrada) is the second highest of the estate's cru, with 70- to 100-year-old vines surrendering a minuscule yield. I have yet to visit, although it is about as high on my list as any estate due to this description from their website:
At the top of the steep Passopisciaro property looms a hump of black gravel. It's where the lava spill from a big eruption in 1947 had stopped, caking up just before it could submerge whole terraces below it, vines, walls, and buildings: on Etna you can lose it all.
It seems like such a contradiction sometimes: how the finest wines can come from such struggle and toil, yet be consumed with such ease and sensual pleasure. I'll be on the hunt for more bottles from Passopisciaro — and perhaps a more extensive article — and if you find yourself at Tavernetta in Denver, surrender control of the wine list when you walk in.
2015 Passopisciaro "Contrada G" Terre Siciliane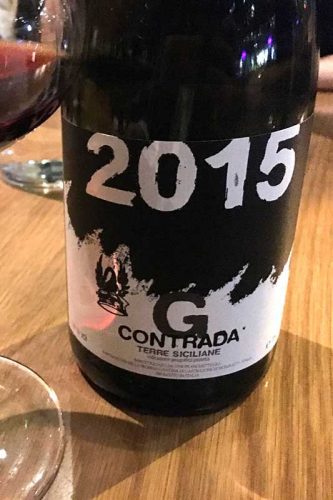 Terre Siciliane IGT, Italy
Grapes: Nerello Mascalese (100%)
Alcohol: 15.5%
Ratings:  ★★★★★ (out of five)
• Aromas, Flavors & Structure: ★★★★★
• Food-friendliness: ★★★★ 3/4
• Value: ★★★
Tasting notes: Likened to a red Burgundy by Tavernetta's sommelier, this 100% Nerello Mascalese from the slopes of Mount Etna is filled with paradox: simultaneously savory and fruity, spicy and floral. This carried through to its texture, which was smooth upfront yet brazen on the finish. While certain traits were reminiscent of Pinot Noir, it's sour cherry tones were decidedly Italian to my palate. Aromas also recalled violets and peppercorns. Excellent momentum from the acidity; really shined with a variety of dishes.
Serving suggestion: Of the dishes we enjoyed with this wine at Tavernetta, the sunchoke sformato with its earthy and umami flavors had the most interesting interplay with the wine. But this Etna Rosso is not just for decadent cuisine or fancy date nights. I can imagine it performing well with that ever-tricky, omnipresent weeknight meal in America: spaghetti and marinara (just make sure the sauce isn't too sweet). Better yet: uncork it with grilled sausages and peppers. Serve with a light chill.
Photo credits: Image of Tavernetta ©Tavernetta. All other images ©Kevin Day/Opening a Bottle.