3
min read
What should we call the simplest, most affordable wines in a producer's portfolio? Their "basic wine?" Their "second," "third" or "fourth" wine? Or do we go with "entry-level wine" because it is the affordable introduction to a house style and philosophy? Even if its denuded of romance, this phrase seems to be the best fit, simply because many producers see that wine as the hook which reels in the fish. It becomes a gateway to the nuances of their world, and serves to develop an audience for the more premium wines.
You can learn a lot about a producer based on how well their entry-level wine sings. For our Essential Winemakers lists, greatness at the entry-level is a prerequisite. But on a broader level, its the best way for consumers to field-test different winemakers. In places with significant winemaking talent such as Alsace, tasting these wines first is often the best way to snoop around and see who is who.
At Domaine Ostertag, the entry-level wines — a Pinot Gris, Pinot Blanc, Gewurztraminer, Riesling and Pinot Noir — are all called "Les Jardins," an appropriate reference to the garden-like quality of the region's vineyards. You won't be tasting some sort of second place wine with "Les Jardins" either, especially the Pinot Gris featured below, which is bursting with springtime sensations and botanical tones. The wine's gorgeous texture — a dazzling planetary ball of golden liquid — comes in part from 9 months on the lees in aged oak barrels. But it also helps that "Les Jardins" Pinot Gris comes from vines with more than 20 years of age. This is a wine that seems to vibrant with energy on the nose, but which soothes and comforts on the palate — a juxtaposition you don't often find with a producer's entry-level wine.
Domaine Ostertag is rightly one of the most respected Alsatian wineries, in part because André Ostertag's terroir-centric approach has a tendency to transcend grape variety (i.e. you don't taste Pinot Gris as much as you taste Alsace's rich, heady version of Pinot Gris). And if this is what he is saying with his "entry-level," one might just want to step into his world a little further.
2017 Domaine Ostertag "Les Jardins" Pinot Gris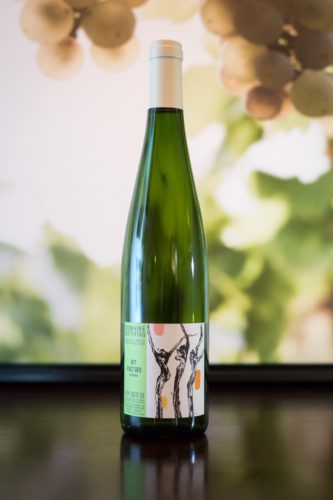 Alsace AOC (Alsace) 
Grapes: Pinot Gris (100%)
Alcohol: 13.5%
Opinion: ★★★★ 3/4 (out of five)
Food-friendliness: Impeccable
Value: Very good
A beginner might like … The charming energy of this wine, which may redefine for you what Pinot Gris — and its often-maligned Italian version, Pinot Grigio — can be. This wine doesn't just race across the palate without a trace; it leaves an indelible mark.
A wine obsessive might like … The way Ostertag threads the needle between lightness (e.g. the way the acidity lifts up the wine's spirit) and fullness (e.g. the way the wine's body grounds it). Intense aromas akin to apricot, herbs and lilies are delightful and unexpected.
---
Note: This wine was provided as a sample by Wines of Alsace USA's press agency. Learn more about our editorial policy regarding samples.