4
min read
A few years ago, I devoted some time to tasting Piedmont's Dolcetto grape and getting to know its place in the wine world. For one, I like underdogs, but I was also growing weary of the wine world's constant celebration of Only the Epic. No, I did not turn on Nebbiolo (never!), but I was curious about the area's other reds and what exactly they offered consumers.
In Piedmont, it is often said that Dolcetto is the thirst-quenching red, the everyday table wine. There is a certain appeal to a red wine that requires no thought, no pairing, no fuss — especially when it is an integral part of the Piedmontese table.
So what was its story? I made a pitch to wine-searcher.com, called up some of my contacts, and wrote a piece on Dolcetto's place in the Piedmont arsenal of grapes. I finished the piece by noting that Dolcetto and Barbera formed a trinity with Nebbiolo — a natural progression that meant Dolcetto wasn't going anywhere, despite higher land costs and shrinking margins for the wine.
Since then, however, it has become clear that Dolcetto is more threatened than I thought: a one-two-three punch of the Langhe's economics, decreased market interest and climate change.
You see, Dolcetto is a viticultural pain in the butt. Its berries hang lower, so they're harder to harvest. When they achieve ripeness, they tend to fall off the vine. But what is more, Dolcetto is an early budding and early ripening variety, making it quite prone to damage from the more frequent spring frosts that hit the area. Oh, and it doesn't like excessive heat, big temperature swings from night to day, nor humidity. It is a diva, but one that can hardly be sold at $20 a bottle for retail. Given the Langhe's new climatic normal of "anything goes," utilizing Dolcetto for cashflow while the Barolo and Barbaresco mature in the cellar is no longer a sound business plan. In fact, if it were solely up to the accountant, Dolcetto would fall off the roster entirely.
Lastly, despite the fact that it is inextricably linked to the highly fashionable Piedmont wine scene, Dolcetto is simply not in vogue. I've heard many wine professionals groan about it. If the wine world was a wedding reception, Dolcetto might be seated at the same table as Gewürztraminer and Pinotage, far away from dancefloor.
All of which lays the table for the extraordinary — and I mean it: extraordinary — Dolcetto d'Alba featured below. Winemaker Maria Teresa Mascarello is one of the most prominent torch-bearers for traditionally made wines in the Langhe. Her Barolo, which I savored last year, is the penultimate Barolo. Pure, measured, deep and complex, it embodies all the best attributes of Italy's showpiece wine and places them accordingly. Because of this — and her father's towering stature in Barolo history — the Bartolo Mascarello Barolo is among the most coveted and expensive from Italy.
On a recent outing, I ordered the 2018 Dolcetto d'Alba and found a similar ethos defining the wine. Now this is Dolcetto. I found a wine with no seams: the stitches between the grapey-/strawberry-like fruit — and the delicate floral and botanical tones — were undetectable. Everything seemed to flow together in harmony. "Balance" is a favorite term in wine circles, but Maria Teresa Mascarello seems to suggest we throw that term around too loosely. I'll show you balance, she seems to say. This seamlessness is an incredible thing to encounter, regardless of whether its a Dolcetto or a Barolo. In fact, given Dolcetto's lack of cooperation in the vineyard, this wine is an even more impressive effort than her Barolo. Not a better wine, but perhaps a more skillful feat.
And while Dolcetto's fate is uncertain, I am optimistic that the torch-bearers for tradition — with Maria Teresa Mascarello leading the way — will find a way to keep it from extinction.
2018 Bartolo Mascarello Dolcetto d'Alba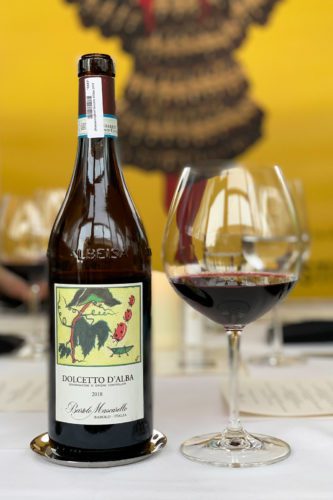 Dolcetto d'Alba DOC, Piedmont 
Grapes: Dolcetto (100%)
Alcohol: 13.5%
Opinion: ★★★★★ (out of five)
Food-friendliness: Impeccable
Value: Little Pricey
Click on the wine icons to learn more
A beginner might like … The supple texture of this wine. You don't have to be a practiced taster or an Italian wine geek to tell that this wine is the result of impeccable craft. Another thing to look for? How many sensations are you picking up on the nose and the palate? Dolcetto rarely achieves this kind of complexity: drink it in.
A wine obsessive might like … How Maria Teresa Mascarello has the uncanny ability to max out the grapes she works with. This is Dolcetto? The simple Piedmont sipper that at times is merely alcoholic grape juice? Yes, it is, and it is the most sterling example I've come across. She shows us that fine wine can come from almost any grape, as long as its given a great site, great care, and careful handling in the cellar. Another trait wine obsessives might love? Only 450 cases of this wine are produced annually, making it more rare than her Barolo.