4
min read
Across Italy, there are numerous, red wine grapes that produce light- to medium-bodied wines whose sole purpose is jolly-good thirst quenching. I'm thinking of Piedmont's Dolcetto, Sicily's Frappato, Alto Adige's Schiava, Valle d'Aosta's Petite Rouge and Cornalin, and of course, the subject of this column, Campania's Piedirosso. They fire away with lean, red currant-like fruit with an earthy underbelly recalling autumn leaves and forest floor. I'd call them cousins, but that would imply some familial relationship. With the exception of Petite Rouge and Cornalin, there is little evidence to suggest any of them are genetically linked. They merely have the same facial tics and mannerisms.
Like pretty much any grape, Piedirosso and its quasi-cousins can offer up astounding wine if only properly cared for in the vineyard and managed in the cellar. They may not be world beaters, or wines that collectors line their shelves with, but their versatility at the table and their beguiling charm means they ought to be part of the conversation, especially as we head to our patios for summer.
I recently sampled two fascinating Piedirosso during a virtual tasting with the Sannio consortium of winegrowers. One came from La Fortezza, the other from Mustilli. Both offered a compelling counterpoint to the area's robust — but food-pairing limited — red, Aglianico (which is made under the DOCG, Aglianico del Taburno). Of the two Piedirosso, I'm choosing to write about Mustilli because of availability, but do be on the lookout for La Fortezza as well.
Piedirosso garners its name ("red feet") because of the red stems that develop in the grape clusters around harvest time, which in the case of Mustilli's wine, happens in late September. An alternative name around Campania is Pér 'e Palummo, meaning "pigeon's foot," for the same reason. The grape's most famous versions come from Campi Flegrei, a highly volcanic terroir near Naples, as well as the slopes of Vesuvio. Sannio, which is the largest wine producer by volume in Campania, has yet to make its mark with Piedirosso, but perhaps that might change. Mustilli's "Artus" is a hell of a lot of fun to sip. It is suggestive of ripe red currants, tart berries and smoke at first, but later hints of the potting soil you might have on your hands this time of year. I don't know about you, but these kinds of aromas trigger a head-swelling response of delight for me: namely, I head for the hills.
There are a few things happening with this wine that may account for its sumptuous aromas and texture. For one, the vineyards are a mix of soils: calcareous marl, clay as well as some with volcanic origins. Each is known for imparting distinct textures on a wine, and I found myself wondering if this wine's tension was because of this geological milieu.
But the vines also come from a cooler microclimate, due to Sant'Agata de Goti's elevation of 250 meters (about 820 feet) above sea level, which helps preserve aromas.
Lastly, winemaker Anna Chiara Mustilli has chosen ceramic casks as a fermentation and aging vessel. This last part calls for a winery visit next time I'm in Campania. Ceramic vessels often foster ideal oxygen exchange without imparting a flavor agenda like oak does. Another benefit? They require a lot more attention to detail than fermenting in stainless-steel tanks or concrete. From my experience, there aren't many lazy winemakers using clay. Put another way, I want to drink wine from meticulous winemakers, and if that's what clay demands, I'll always be curious for a sip.
2017 Mustilli "Artus" Piedirosso Sannio Sant'Agata de Goti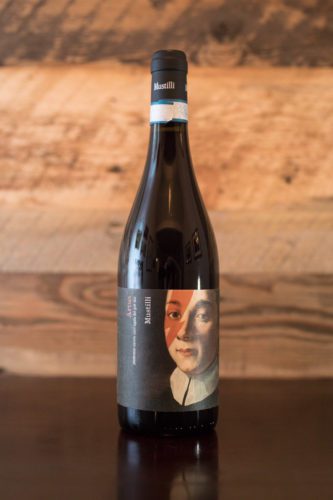 Sannio Sant'Agata dei Goti DOC (Campania) 
Grapes: Piedirosso (100%)
Alcohol: 11.5%
Opinion: ★★★★ 1/2 (out of five)
Food-friendliness: Impeccable
Value: A Little Pricey
A beginner might like … You might notice how the tart red fruits burst on the palate, or how the earthiness and savory qualities on the nose seem to add another dimension. Either way, this is a red wine that can handle a light chill, warm weather, and even some seafood pairings.
A wine obsessive might like … The similarities to some of Italy's alpine wines of the north — with just with the faintest touch of saltiness from the volcanic soil, rooting it in Campania.
Note: This wine was provided as a sample by the Sannio Consorzio Tutela Vini as part of a virtual education series they conducted for wine professionals. Learn more about our editorial policy regarding samples.