4
min read
On a recent outing to my local wine shop, I surveyed their aisle of Spanish wine looking for something to catch my eye. Somewhere between contemplating a Faustino V Reserva and the Viña Eguía Reserva I eventually bought (and loved), it dawned on me that it might be helpful to create a simple guide to the four classifications of Rioja red wine.
A Little Background on Rioja Tinto
First off, tinto means red, and Rioja Tinto is centered on the Tempranillo grape, which is often blended with Garnacha Tinta (aka Grenache), Graciano and/or Mazuelo. Rioja is more like Bordeaux than Burgundy or Piedmont, in that the region's red wines are predominantly blended wines, where Tempranillo serves as the core, and other grapes are blended in to soften edges, or dial up or down the fruitiness or body.
Tempranillo's flavor profile is very cherry, a bit plummy, and can carry residual aromas and flavors of tobacco leaf, and baking spices like clove or cinnamon. However, the note you are almost guaranteed to pick up is vanilla, and that's because Rioja winemakers are big on oak-aging, which imparts this wonderful toasted note.
Oak Aging
Which brings us to the main thing you should look for while shopping: the degree of oak aging. More than the recipe of the blend (which isn't often disclosed on the label), the amount of oak aging that has occurred will determine whether the Rioja you are buying works for the dish or occasion you are buying it for.
Pick up the bottle and look for one of these four postage-stamp-sized classification labels on the back.
---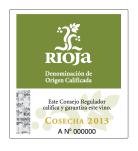 Rioja
What the label means … The green label speaks to youth. With little to no oak aging (less than a year), these are the most fruit-forward of the Rioja reds. They are also among the cheapest, starting around $8 and moving on up to $14 on the top end.
So it matches … These are good bottles to bring to casual parties where people are sipping, but not really thinking about the wine. They are bright, fun and crowd-pleasing.
Typical tasting notes … Cherry and plum, maybe a bit of chocolate.
---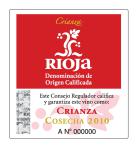 Crianza
What the label means … Crianza is the gateway wine: I fell in love with Rioja once I fell in love with Rioja Crianza. Aged for at least a year in oak, and not sent to market until after two years of aging, these wines are a touch more serious, yet somehow still playful. Their price range is a bit more, but you shouldn't have to spend more than $20 for a good one.
So it matches … Grilled meats with crusty bread.
Typical tasting notes … Cherry and plum + occasionally raspberry and tobacco leaf, usually touches of vanilla from the oak.
---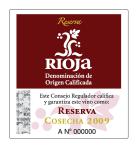 Reserva
What the label means … Now we're getting serious. Reservas are at least three years old, with one of those years being in oak. Here's where you start to see the potential of Tempranillo to age well. Expect a firm structure and nice balance with a lasting finish. A Reserva will transform nicely with air over a slow dinner. For me, Reserva is just right. They usually retail between $25-$40.
So it matches … The perfect wine to order at an upscale restaurant — aged, of high quality, but not dastardly expensive.
Typical tasting notes … Cherry and plum + red berries, smoked meat, tobacco leaf, leather, baking spice and quite a bit of vanilla.
---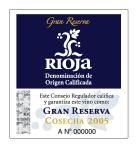 Gran Reserva
What the label means … Remember what you were doing with yourself five years ago? That's when this wine was most likely born. Increasingly rare, a Gran Reserva has been aged in oak for at least two years, and in the bottle for an added three or more. Winemakers who offer a Gran Reserva will often let it sit for even longer, releasing it only when they think its time (which would account for why a 2006 could be the current release). In some vintages, a Gran Reserva won't even be made.
These are the most traditional Rioja red wines — it used to be that they were aged 10 to 15 years before release. But — as with technology, films and how we get our news — we as a species are far too impatient for that. Expect a lot of oaky tannin and make sure your decanter is sparkling clean. A Gran Reserva can run from $40 on up.
So it matches … Your wine cellar, where you can let it rest for even longer, and then pull out for a triumphant occasion, like your child's acceptance to college, or a milestone birthday.
Typical tasting notes … Cherry and plum is only the beginning. A Gran Reserva will be long and lean, with a complex texture that evolves and thrives over the course of an hour or two. These wines are less about the flavor notes, and more about the impressions they create, such as earthiness and minerality.
---
 Photo credit at the top: Flickr user ©Robert McIntosh / Licensed via Creative Commons license.