3
min read
Italy is flush with indigenous grapes that don't seem to thrive anywhere else. Of these, Lagrein is among my absolute favorites. A testament to subtlety, this is a wine grape that was never destined for popularity. It's rustic but not bold. Plummy, but not fruity. Mild-mannered but not simple. In other words, it's not obvious, but it sure goes great with a variety of foods, particularly the seasonal ingredients of fall. I would liken them to a racier rendition of Merlot.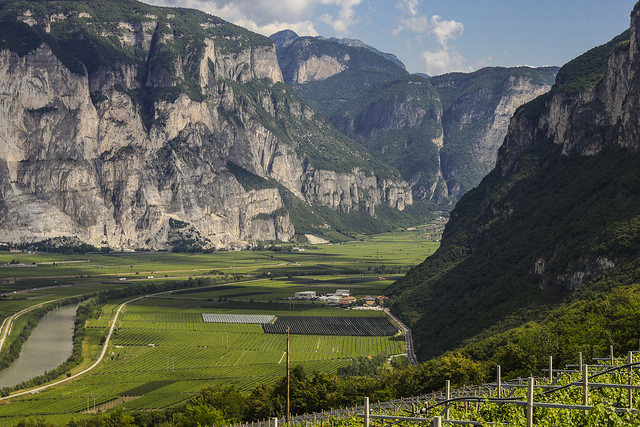 When it comes to matters of Lagrein, I will admit that my love for these wines stems from the gorgeous, gorgeous place where they are made: deep in the warm valleys set beneath Alto-Adige's Dolomite Mountains.
It was here, on my first visit to Italy, that I realized I would never fully understand this country. After a few days enjoying the riotous colors, draped foliage and weathered palaces of Lake Como, I was suddenly in a place that was German-speaking, tidy, orderly, and yet tinged with Mediterranean warmth beneath soaring, austere mountain peaks. Clearly, the complexity of Italy would warrant multiple visits, all of which would be insufficient to fully comprehend its history and culture.
Star-struck on that first night in Bolzano, the waiter at an outdoor café encouraged me to try a local Lagrein, and I've been seeking them out ever since.
This weekend, we opened a Lagrein from Abbazia di Novacella, an Augustinian abbey that produces a vast selection of quintessentially Südtirolean wines. In July, I reviewed their Schiava, which to this day is one of the most surprising and intriguing red wines I've had all year.
The Lagrein dazzled all on its own. Bearing the hallmark flavors of ripe plum with an astringent tannin profile that woke up the roof of my mouth, I found this wine to be uncomplicated, unfussy and delicious. After it breathed for a while, an interesting thing happened: suddenly, the finish carried a wintergreen, menthol like note that lasted. As with their Schiava, the Lagrein was restrained in a pleasing way. It wasn't there to impress or knock you around a bit; it was there to enhance dinner, to keep the conversation going, and then add an extra little touch to be remembered by. With the Schiava, it was a delightful vanilla extract note. Here, it was wintergreen. I found it intriguingdeli that a winemaker could show such symmetry across two different grapes.

I will say that Lagrein — this one in particular — does have a drawback. They are fleeting. Two hours after the bottle had been opened, I returned for another glass, but those once-noticeable flavors had faded quite a bit. I would have rated it four-and-a-half stars had this not happened. But there's a simple fix for this problem: share the bottle with a few friends and polish it off in time.
2012 Abbazia di Novacella Lagrein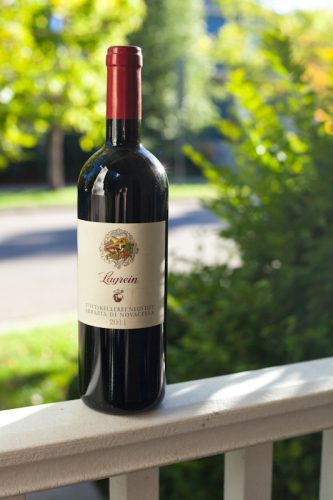 Südtiroler Eisacktaler, Trentino-Alto Adige
Grapes: Lagrein (100%)
Alcohol: 13%
Ratings: ★★★★ (out of five)
• Profile: ★★★ 1/2
• Food-friendly: ★★★★ 1/2
• Value: ★★★ 1/2
Recommended for: Grilled pork, ratatouille or fall soups. Serve with a group of friends and finish the bottle in 2 hours. Its brilliance fades fast.
Tasting notes: A fantastic Lagrein with racy acidity and only a few prominent tasting notes to savor. Those that arrive are vibrant and pleasant: ripe plums, violets and a wintergreen-like finish. Reminiscent of a Merlot, but whereas Merlot often feels like fruit with a touch of acidity, this one is the opposite.