3
min read
Almost all of our articles on Opening a Bottle focus on drinking and enjoying an entire bottle from start to finish. But sometimes, its a single glass consumed at a single place that becomes the highlight. This new series will profile special places to enjoy a glass of wine, where a sense of place and community come together to create something indelible.
---
As a general rule of thumb, I'm not one to mix athletic activity and alcohol. So much can go wrong when you exert your body and then fill it back up with the loopy juice.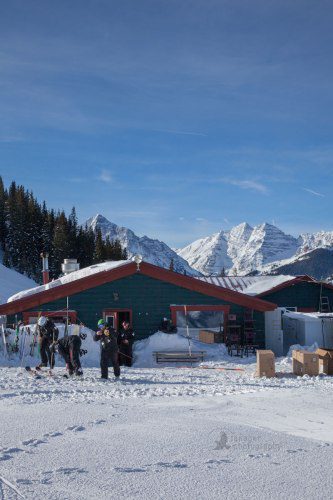 Last week, while I was skiing Aspen Highlands, I had to make an exception. Situated toward the top of the mountain is a ski-patrol-HQ-turned-restaurant called Cloud Nine Alpine Bistro. Its outdoor terrace overlooking the Maroon Bells and Pyramid Peak has become synonymous with Champagne-doused afternoon parties.
Skiing by myself (full disclosure: I was on a writing assignment for Aspen Snowmass), I was in no mood to uncork bubbly. But the Executive Chef who oversees the mountain's restaurants told me they had quite a few good wines on the wine list, and … well, that view. I wouldn't mind kicking back and savoring it a bit with a good, contemplative glass of red.
Bellying up to the outdoor ice bar, I could quickly tell what everyone was drinking: Veuve Clicquot. Empty bottles of the famous Champagne were being recycled with abandon. But I was pleased to see that the wine-by-the-glass selection wasn't the usual Napa Cab/Sonoma Pinot Noir/Italian Pinot Grigio affair.
There was an Oregon Pinot Noir from Domaine Serene, a Morgon (one of the 10 Crus of Beaujolais) from Jean-Marc Burgaud, and a Nebbiolo Langhe from De Forville. After reading those three labels, I didn't care what else they had. All three were the kind of Old World-style, underdog wines I tend to go for, and since the Morgon hadn't been opened yet, I offered to get the Beaujolais train rolling down the tracks.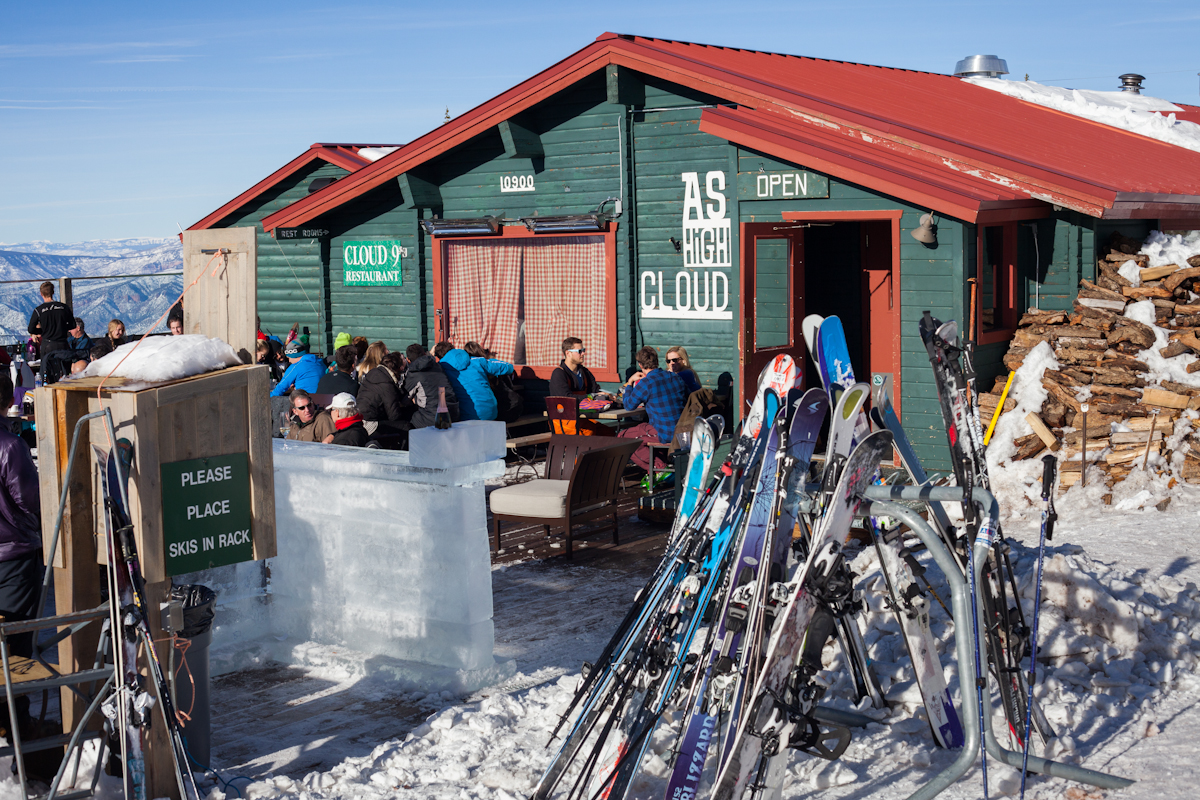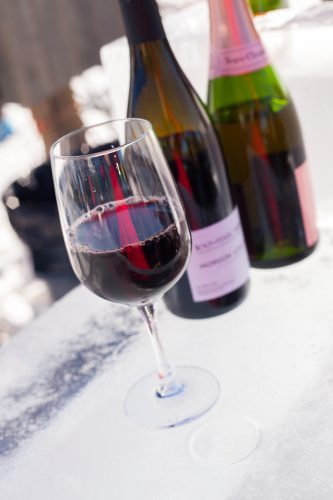 And it didn't disappoint, with aromas of candied cherry and cedar, and a wild palate that encompassed watermelon, bing cherry, honeysuckle and a touch of tobacco. For such a light wine, that's a lot of deep flavor.
I had been told that Cloud Nine often gets rowdy after 2pm, with people dancing on the tables and Champagne being sprayed all over like someone's won the World Series. But I didn't see it. By and large, it felt like a mixture of locals gathered to dish on town gossip, and international skiers (mostly Aussies) who couldn't believe their luck with the warm sun and deep snow.
For me, I couldn't get over that view of the Maroon Bells and Pyramid Peak. Despite growing up in Colorado, and visiting the area often, I never grow tired of staring at those striated peaks. They are absolutely unmistakable, and — like the Matterhorn— once you see them, there is no mistaking where you are in the world.
To slow down, unclip your ski boots, and stare at those peaks with a great glass of grape juice. Not much could be better.
OK, maybe some company.
---