4
min read
Northwest Italy's Dolcetto is a funny little wine. The name means "little sweet one," but a touch of bitterness is usually the thing one notices at first sip. Fruit is present, but it is hardly a sweet wine, a paradox that probably accounts for its relative obscurity on wine-shop shelves stateside. Americans love to say that they dislike sweet wine. And every one has seen "dolce" above a dessert menu at an Italian restaurant. This misconception is probably why it seems that for every Dolcetto on the wine shop shelf, you are likely to find five Barberas.
And yet, in Piedmont, where it calls home, significant acreage is used to grow Dolcetto, largely because it is the choice table wine in a region better known for the special-occasion wines of Barolo and Barbaresco. If it ever shares the stage with a Barolo or Barbaresco, it is the opening act to the opening act; the wine you drink while you cook the feast, followed by Barbera at primi, Barolo at secondi. If Barolo is Andrea Bocelli, than Dolcetto is Suor Cristina on The Voice (I could go on forever with metaphors, but I'll stop).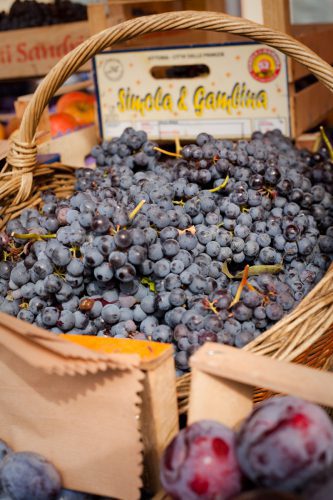 When we visited with the Bocchino's, they noted that they grow Dolcetto, but only for themselves. In fact, because it is one of the easiest grapes to turn into wine, it is not uncommon for ordinary Italians — both rural and urban — to buy Dolcetto grapes in bulk to make their own wine at home. When I visited Alba in the fall a few years back, Dolcetto grapes were being sold in the street market. We bought some to snack on, not realizing their intended purpose (talk about a mouth-puckering experience).
All of this sets the stage for the bottle of Poderi di Luigi Einaudi Dogliani that we opened last week, a surprising Dolcetto that reached for greatness not typical of a "table wine."
Among Dolcetto's devotees, the small village of Dogliani — tucked into the rolling terrain south of Monforte d'Alba and the Barolo region — produces the finest Dolcetto. Here, nearly 1,000 years of viticulture and an ideal mixture of clay and limestone soils have earned the village DOCG status, the only Dolcetto with such a classification. Given the fame and fortune of Piedmont's Nebbiolo wines, its admirable that a community next door would effectively say "we do Dolcetto well, and that's what we're sticking to."
We bought this bottle for personal reasons. My father-in-law is friends with Luigi Einaudi's grandson. They used to work together in Washington DC, and given who Luigi Einaudi was — a winemaker and the first president of the Republic of Italy after World War II — we needed to finally try this family's wine. And it is quite exceptional. Taunt and precise, it presents a handful of exact flavors with light but noticeable tannins. I was surprised by how stripped down the fruit was. Cherry and a touch of raspberry were on equal footing with violet, forest floor and almond notes. Dare I say, it was the first Dolcetto I've had that felt like a "fine wine."
But let's not get carried away. It will never substitute the roles served by an oaky Barbera d'Alba in its prime, let alone a Barolo or Barbaresco I've been sitting on. And that's perfectly fine. I eat pizza more often than braised beef, so I have more of a need for wines like this one.
2012 Poderi di Luigi Einaudi Dogliani
Dolcetto di Dogliani DOCG
Grapes: Dolcetto (100%)
Alcohol: 13.5%
Ratings: ★★★★ (out of five)
• Profile: ★★★★
• Food Friendliness: ★★★★
• Value: ★★★ 1/2
Recommended for: Most any rustic Italian fare you want to throw at it: would fair well with pork. We found that it even stands up nicely to Cajun flavors such as andouille sausage.
Tasting notes: As good as Dolcetto gets. Straddles a unique position among Piedmont wines: perhaps the only Dolcetto I've had that I would call a "fine wine" due to its balance, and yet it would never upstage a comparable Barbera in complexity. Nose presents aromas of cherry, violets and forest floor, while the palate continues with similar flavors, adding a bit of spice and almond. Not as noticeably fruity as other Dolcettos.
---
Additional Reading: