4
min read
When I commissioned Master of Wine (and local friend) Ashley Hausman to write a handful of Essential Winemakers of France profiles last summer, I knew exactly where the priority for the assignment should lie: guidance on Burgundy. After all, Ashley had interned at Domaine Dujac, an experience she chronicled for us. My experience had been a single rushed day that still remains the highlight of my wine writing career, but … it was rushed.
While I have formulated opinions on several of my favorite producers in the Essential Winemakers list, to know Burgundy requires ample resources, both in terms of time, experience and financial means. Burgundy, but particularly the Côte d'Or, has the deepest bench in the wine world. It is riddled with talent, teeming with potential, and fragmented into tiny gems of seemingly unknowable terroir. Finding quality and intrigue isn't the issue: it's availability and value. And it is this last attribute, value, where we vet the list differently than in other wine regions. As Ashley would point out:
It's nearly impossible these days to point people in the direction of affordable red Burgundy — especially when they have an address in the Côte de Nuits [the northern half of the Côte d'Or], where all but one of the famed Grand Cru Pinot Noir vineyards reside … Still, there are a couple gems here and there that manage to have both pedigree and a prolific range in their portfolio.
It was with that in mind that she added Domaine Jean-Jacques Confuron to our list last summer, an estate whose story, Ashley tells brilliantly "is not without a good dose of love, marriages, merging of vines, and all the twists and turns that make Burgundy so complicated and fascinating."
Of course, Domaine Jean-Jacques Confuron produces numerous splurge-worthy Grand Cru wines should you choose to pursue them, but for our purposes with this publication, it is what happens on the bottom rung of the ladder at these Burgundian estates that matters most.
I recently tasted their most humble and affordable of wines — the "Cuvée Jeunesse" Bourgogne at $38 — and found it to be a riveting archetype of Burgundian Pinot Noir. It was highly aromatic, every bit as savory as it was fruity, lean and long on the palate, and never fatiguing.
Below, in the wine review, I rank the wine in the highest tier because of its quality to value. I honestly did not expect such complexity in a regional wine, and to snag it for under $50 felt like quite the coup. (You'd be hard pressed to find a regional Pinot Noir from Oregon or California at this price with this level of complexity, too, although they are out there).
Again, our ratings are a little different here on Opening a Bottle: five stars is our ceiling, but that does not mean a perfect wine. As we note in our How We Rate Wine page, five-star wines reveal:
Complexity mixed with effortlessness. Distinctiveness mixed with typicity. Energy as well as endurance (the latter noted both on the finish, and completely separately, in its potential to age). Lastly: the ability to work well at the table with a wide variety of foods.

Note that this is not equivalent to a 100-point wine, nor do we consider these wines "perfect." This is simply the upper echelon of excitement for us as tasters.

Roughly 5% of the wines we taste, and 15% of the wines we write about.
I have not come across another regional wine in Burgundy (supposedly the lowest tier, but you wouldn't know it tasting this wine) this good. It may not have the age-worthiness box checked, but then again, I'm sure it would deliver 10 years from now. Its components are that dialed in. Snatch it up if you ever see it, as well as Confuron's "Aux Planted" Bourgogne Aligoté, a scintillating white wine of brilliant subtlety.
2019 Jean-Jacques Confuron "Cuvée Jeunesse" Bourgogne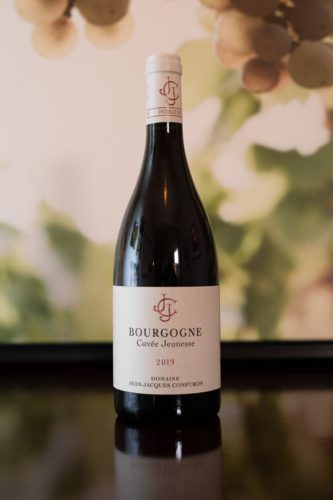 Bourgogne AOC (Burgundy )
Grapes: Pinot Noir (100%)
Alcohol: 13%
Opinion: ★★★★★ (out of five)
Food-friendliness: Versatile
Value: Very Good
A beginner might like … understanding the fuss over Burgundy for less than $50. This wine is supremely balanced, offering both sides of the fruity-savory coin, with a lovely bouquet suggestive of peonies and wintergreen mint. It has slightly more body than one would expect from upper echelon Burgundian Pinot Noir, and acidity that it more mellow than vivacious. But this is mostly the archetype of the style. Open one beside an Oregon Pinot Noir and play Spot-the-Difference.
A wine obsessive might like … diving into the details with a Bourgogne-level red. I suspect we've all had that musing at one time or another: what if we just bought up a few Bourgogne wines to satisfy our Burgundy urge? I don't know about you, but that has often been a dud of a pursuit. Not here. Pay special attention to this wine's finish. It is mineral, with a note suggestive of iron that lends it gravity. A pretty cool wine to geek out over, without the pressure of missing a car payment because of the purchase.
Note: This wine was purchased with funds raised from subscriptions like yours. Thank you!