6
min read
Thursday was a watershed moment for a wine guy like me. It had been 945 days since I last attended a trade tasting. For those of you outside the wine industry, a trade tasting is simply a mass tasting for wine professionals showcasing a group of wineries (it could be a consortium, an importer, a distributor … you get the idea). You mill about with a wine glass, meet winemakers (or their reps), ask questions, network … The last one of these I attended was the Slow Wine Tour in Denver on February 21, 2020. It was a room filled with about 100 of Italy's top winemakers and a good 300 people in the trade. Packed around tables, we yelled our conversations over the din and hovered over spittoons so as to not get soused.
A few days later, the entire region of Lombardy was put on lockdown as the first tsunami of COVID-19 in Europe swelled. I quickly realized what a close call the event was with a disease I simply couldn't appreciate yet.
At times, I wasn't sure I'd ever go back to a trade tasting. The thought of going near a communal spit bucket — a vital part of physically managing a wine tasting — was repulsive.
But with time, multiple jabs and a bought of COVID all my own, comfort with the idea of attending a trade tasting has returned. The number one reason was the networking. This week's event was one I was not going to miss. DallaTerra's tour was in town, at the same venue as Slow Wine, ironically, and many of my favorite Italian producers were here in my hometown: Federico Giuntini of Selvapiana, whom I wrote about this week. Robert Stucchi Prinetti of Badia a Coltibuono. Helena Lageder of Alois Lageder. And Cristina Scarpanelli of Valtellina's Tenuta Scersce.
The Luca and Elena Show
I have wrestled with something: was the solar shine of Luca and Elena's charms the real reason I kept covering Vietti?
But as soon as I walked in at the opening, I made a beeline for the one table I knew would get crowded: Vietti. Long-time readers of Opening a Bottle know that I've covered the Barolo estate more than anyone, and to be honest, the reason for that is the forthcoming nature of its proprietors, Luca and Elena Currado. Luca was the first winemaker I asked for an interview when I started blogging. Elena, who does many of the road shows, was the first person in the industry to recognize my name at a similar trade tasting ("You are Kevin Day? Well, we need a photo for Luca. He'll be happy that we met." I was astonished that she even knew me after that one blog post). I returned to Luca for answers on his single-vineyard Barbera, and he took a shine to the fact that I wanted to tout Barbera in the first place. And it was in 2017 that Luca and I finally met face-to-face — at their spectacular, ancient winery in Castiglione Falleto — where the story quickly veered from his mastery with Nebbiolo, to the wonderful crew of people, many of them of Macedonian descent, who make Vietti hum. And since then, they launched a Timorasso, Piedmont's answer for an age-worthy white wine, that was so vital and expressive … well, I couldn't help but interview them again and write about.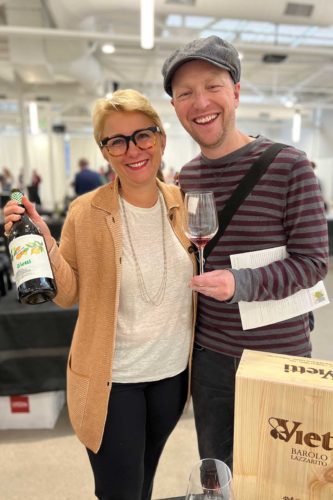 But internally, I have wrestled with something: was the solar shine of Luca and Elena's charms the real reason I kept covering Vietti? I truly value the encyclopedia of knowledge they've passed on to me about Piedmont's roster of grapes. After all, very few wineries in Italy work with as many as Luca does, let alone coax as much from them. But had I lost my ability to critically assess the wines, unless they were blind?
One thing was for certain, however. I have never doubted that their interest in my work was genuine, too. Anyone who has met Luca and Elena knows this about them. Their warmth is authentic, and their Italian sense of hospitality is no act. It comes from within.
"Hold on," Elena said to the one wine pro at her table when I arrived early. "I need to say hello to this wonderful human."
We hugged, and she poured me the 2020 Timorasso, which absolutely sang from the glass. For a moment, I indulged in how great it felt to have those 945 days behind me. To have one foot each in the Italian and Denver wine communities at the same time.
And Then We Got to Lazzarito
The answer is no. An emphatic no. Vietti's wines are truly among the world's best, and should be known as such.
Trade tastings are usually not the place to write about wines. It's speed-dating. A fleeting impression, and based on that impression, you pull on the threads that will interest you most for the real work later.
But Elena's final wine, the 2018 Barolo from the Lazzarito cru, forever answered my question on whether the solar shine of the Currado family was their real legacy in wine.
The answer is no. An emphatic no. Vietti's wines are truly among the world's best, and should be known as such. I am not alone in this assessment by any means. The world loves Vietti right back. But I can finally put to rest the idea that Luca and Elena's charms are the reason for that reputation. No, no. Their wines standout. At the end of the tasting, it wasn't even close which wine was most magnificent (and there were some stellar wines on display that day).
The less I say about Lazzarito, the better. It is that kind of wine. But if there is one common thing I've observed about Currado's Barolo wines over many vintages, it is that they come at you in a direct fashion at first, then quickly expand into all the corners of your senses.
The 2018 Lazzarito is a supernova, but not in a bombastic way. It's not the alcohol or the tannins, the tar or the roses that seems to expand on the palate. It's a balance of elements that hits you on the finish — as if to say "this is what perfection might look like." That's the part that feels momentous.
But that doesn't quite cover it. The less I say, the better. But to have a couple sips of this wine in a brightly lit event hall … that's quite the thread to pull on.
2018 Vietti Lazzarito Barolo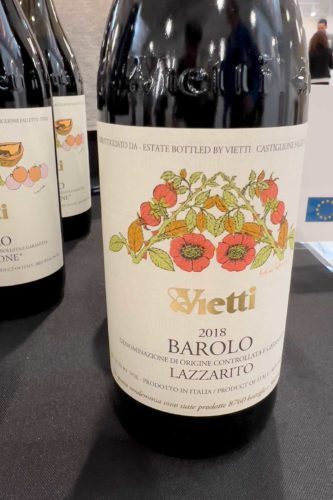 Barolo DOCG (Piedmont)
Grape: Nebbiolo (100%)
Alcohol: 14.5%
Opinion: ★★★★★ (out of five)
Food-friendliness: Selective
Value: A Little Pricey
A beginner might like … the fluidity of this Barolo's tones, which seem to flow from one sensation to the next with such ease. Sometimes, young Barolo comes across as coarse to newcomers — delicious, but a lot of work. I was amazed at how direct this wine was at such a young age.
A wine obsessive might like … proof that the 2018 vintage wasn't a dud by all means. One well-known critic was vocal about his disappointment in this vintage. I don't see what he sees based on what I've had, but this Lazzarito demonstrates that upper echelon Barolo was certainly possible, and moreover, great winemakers find a way even in difficult circumstances.