10
min read
Pierre de Benoist wanted to be an astronaut, but "that didn't work out very well," he said under his breath, his rigid brow unmoved as we stood in the shade by the cellar door, just moments after my arrival. Then he wanted to become a helicopter pilot, he said, but his eyes weren't good enough.
In 1998, de Benoist found himself at his uncle's winery in the secluded village of Bouzeron in the Côte Chalonnaise of Burgundy, where he was offered the role of domaine manager. But it did not appeal to him just yet. He finally had his career sights set on something tangible: he was studying to become a lawyer, specifically hoping to investigate crimes in Paris as a chief of police.
"It was a job where you can meet beautiful and dramatic behavior from humans at the same time," he told me, a reason for pursuing police work that — I must admit — I'd never of thought of myself.
"It was not words that convinced me. It was the wine that convinced me."
Pierre de Benoist
Winemaker, Domaine de Villaine
But when he returned to Bouzeron the following year — the offer of domaine manager still on the table — something changed in him. "It was not words that convinced me. It was the wine that convinced me."
That wine was not from Chardonnay or Pinot Noir, but Aligoté, an unheralded white grape variety that can produce generous wines of zesty acidity and silky texture. For de Benoist, who comes from Sancerre, it was Aligoté's kinship with Sauvignon Blanc — both in its genetic makeup, but also its character — that made him feel at home in Bouzeron.
And that uncle of his? He is none other than Aubert de Villaine, the master of Pinot Noir whose work at Domaine de la Romanée-Conti helped to elevate "DRC" into an orbit that no other wine on earth has touched. De Villaine was 32 years old when he purchased the Bouzeron estate, and already well on his way to becoming co-director of what was already an iconic estate.
"In Vosne-Romanée, you have the light from the sun and the light from spotlight," said de Benoist. "In Bouzeron in 1971, you have only have the light from the sun and the moon. He was totally free."
And therein lies the beautiful contradiction of Domaine de Villaine, for Aligoté in the 1970s must have seemed like the furthest thing from prestige. Yet it was exactly that trait that appealed to Aubert de Villaine when we purchased the domaine and began tinkering with its wines — a "side hustle" before anyone coined the term. In Bouzeron, de Villaine immediately saw what practically no one else did: the quality of Aligoté was unlike anywhere else in Burgundy.
In short, there was potential, but it would take decades to realize it.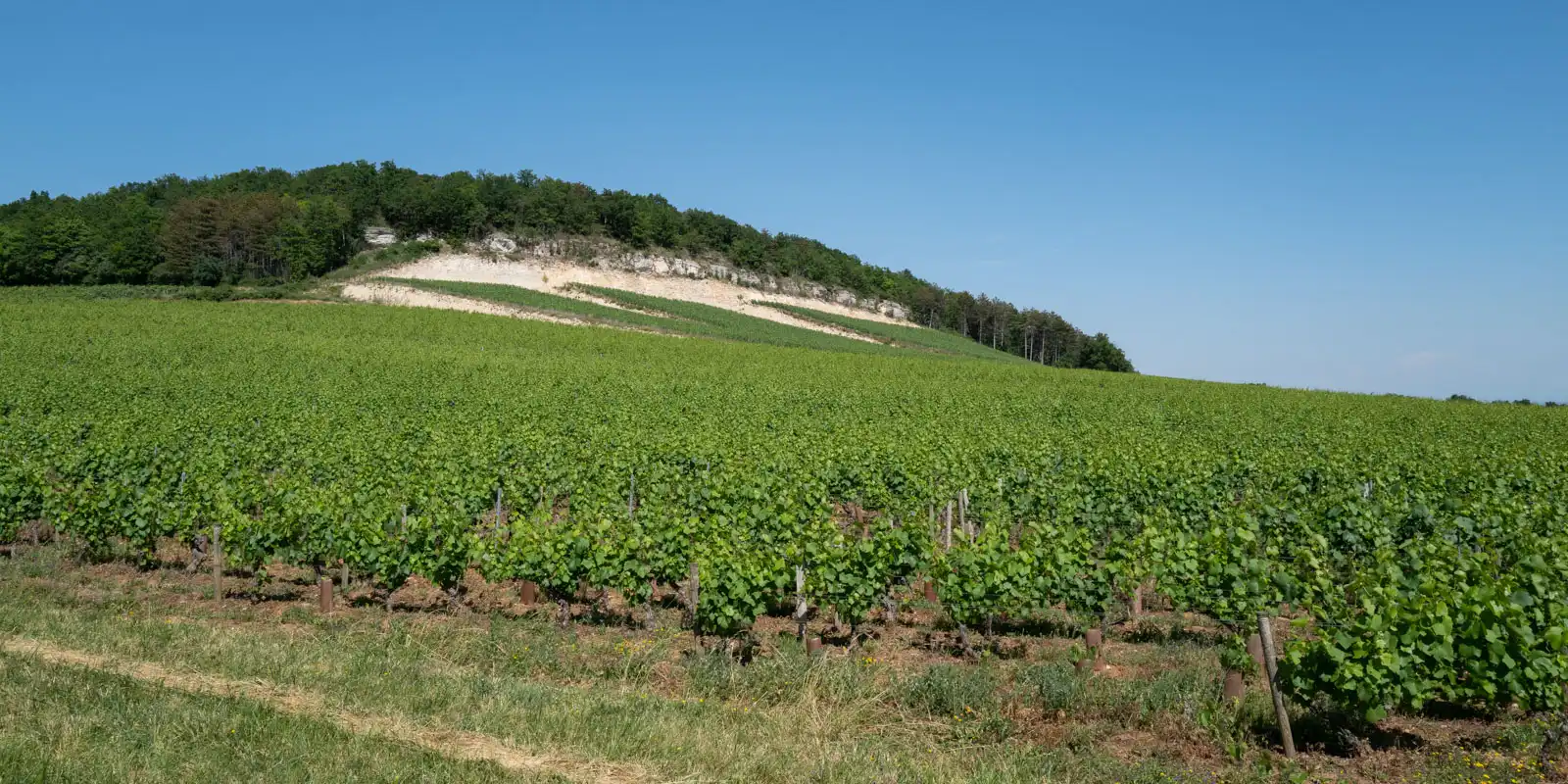 Bouzeron: A Piqued Curiosity
In Bouzeron, Aligoté has long been grown on the top of the slope, which in Burgundy is prime real estate usually devoted to Chardonnay and Pinot Noir. There, a fine, chalky limestone-marl soil facilitates the drainage of water, which in turn prompts grapevine roots to dig deeper and work harder just to produce fruit. Grapes from this soil are less fruity and fleshy, more expressive of site. What could be more appealing to a Burgundian winemaker, especially one so familiar with the most esteemed terroir site in the world?
But there was something else that accounted for Aubert de Villaine's attraction to certain plots in Bouzeron: the age of the vines. Like nearly every grape in France, Aligoté had been decimated by phylloxera in the late 1800s; it was in the replanting where it was more compromised than its peers.
Once the producer of fine wines across Burgundy, Aligoté was largely overlooked when it came time to replant Burgundy's great vineyard sites. It was significantly less favored than Chardonnay and Pinot Noir, relegated across the region to flatlands and north-facing slopes where — as de Benoist put it — "it fed the Crémant market," and where it evolved into a weaker, higher-volume version of itself.
Everywhere, that is, except in Bouzeron.
By the 1970s, most of Aligoté's holdings across Burgundy were genetic clones of what de Benoist calls "green" Aligoté: productive to the point of being insipid, and lacking in most structural potential. But the higher-quality "golden" Aligoté (or Aligoté Doré) of Bouzeron was a different animal. Capable of richness and a silky texture, with a fruit-forward personality from the start, it offered a welcome addition to Burgundy's lexicon of wines.
"When you taste Aligoté young, you taste first of all the quality of the grape varietal before tasting the quality of the terroir."

Pierre de Benoist
Winemaker
"When you taste Aligoté young — like Sauvignon or Chenin — you taste first of all the quality of the grape varietal before tasting the quality of the terroir," de Benoist said. "That is because the wine is naturally aromatic. It is exactly the opposite with Chardonnay. Chardonnay is more neutral, and it more quickly expresses the terroir."
Through the 1970s, '80s and '90s, De Villaine propagated the vines via massal selection, eventually amassing 17 different high-quality clones of a grape few were paying attention to. Between these vine studies and the mapping of the village's vineyards, the groundwork to obtain an AOC Village recognition for Bouzeron's Aligoté was well underway, but it would not come to fruition until 1998.
When I commented what a long road that was — from 1971 to 1998 — de Benoist's eyes twinkled and he shrugged: "You are in France."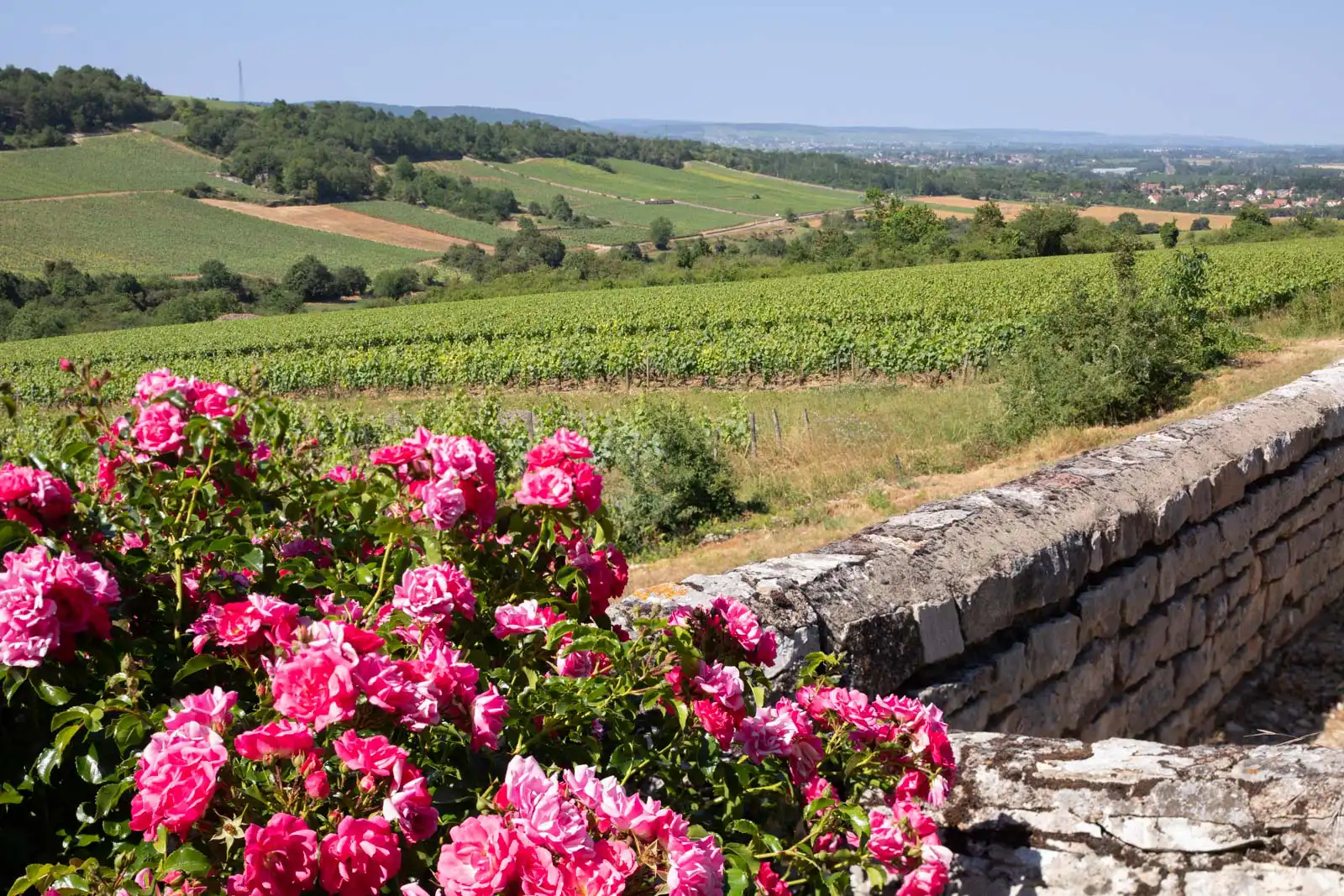 "Unity of Vine Means Unity of Wine."
Domaine de Villaine is a grand old house, right in the heart of the village. It was a hot June afternoon when I arrived, and as we descended the cellar stairs into the subterranean barrel room, the coolness felt refreshing and needed.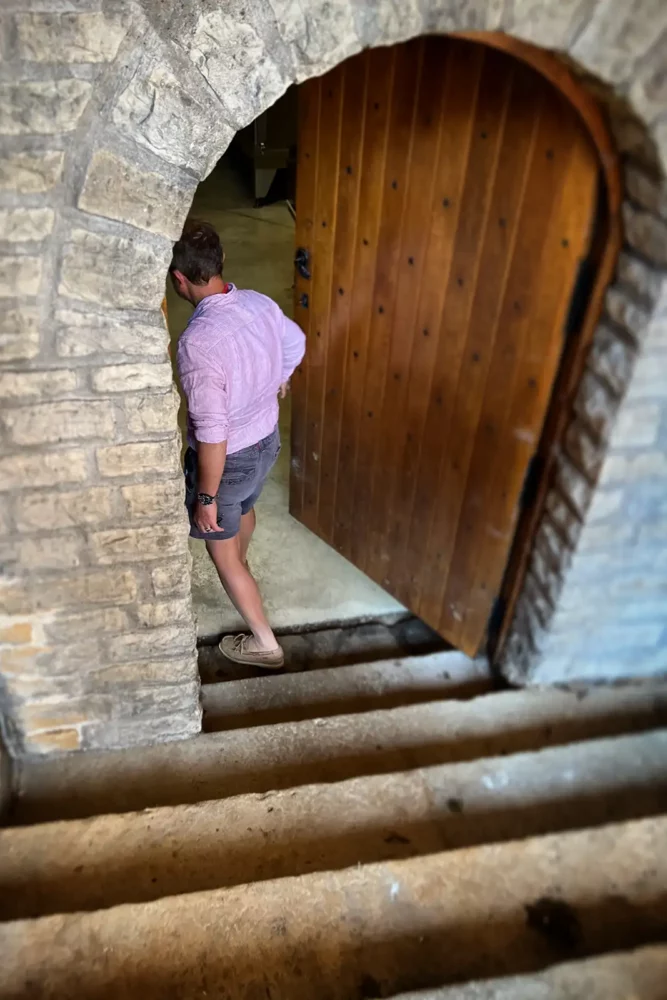 Inside the first room, a series of 30 and 40 hectoliter oak casks — known as foudres in France — possessed the 2022 vintage of the domaine's Bouzeron Aligoté. Of the 15 estates I visited across Burgundy, Domaine de Villaine was the only one with such casks.
Aubert De Villaine had been utilizing these foudres in his winemaking when De Benoist arrived, partly out of necessity. They were there, they worked wonderfully with Aligoté, and they weren't exactly easy to move out of the cellar either.
But de Benoist felt tempted to switch to a stainless-steel regiment on the wines when he arrived, as much a sign of the times as his origins in Sancerre. Plus, Aligoté is genetically linked to Sauvignon Blanc, and provides the same ample amount of aromas. The logic of using stainless steel to preserve its freshness seemed — on paper at least — on point.
"But first I had to experiment," he said. "Stainless steel, yes, but also amphora, barrels, concrete … I tasted everything 23 years ago. At the end, finally after all my experimentation, the winner was … " He gently patted the side of a foudre, like one does with a well-trained golden retriever.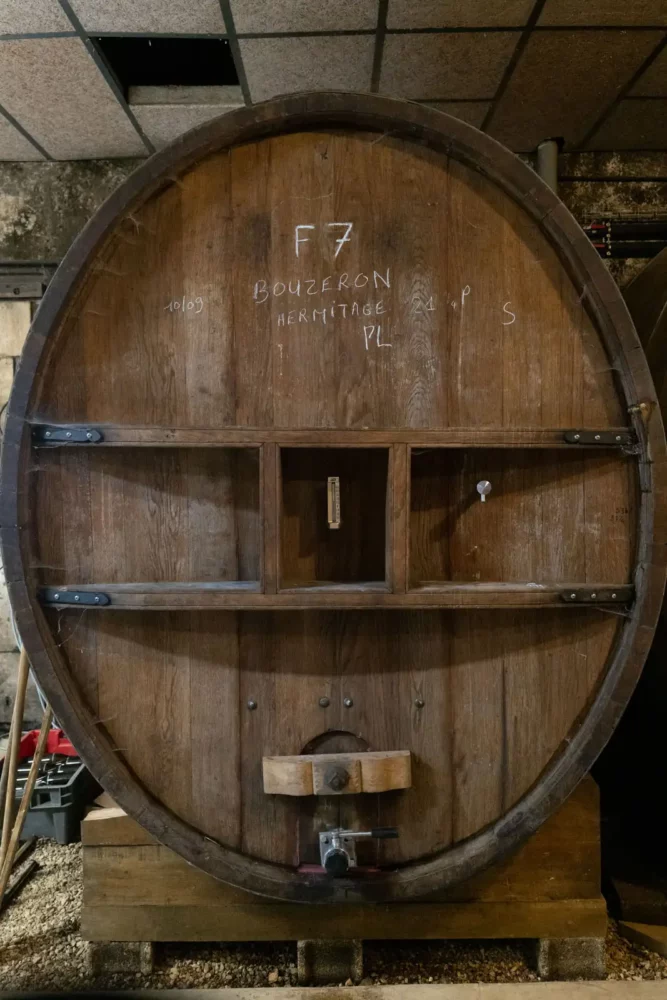 The reason why the foudres came out on top was fairly straightforward … at least at first. Their worn wood staves didn't smother the details of terroir. In fact, they seemed to coax those finer points to the surface due to a slower maturation that occurs in such a large vessel. And given the advanced age of the Aligoté Doré vines that he was working with in Bouzeron — on average, 65 years old today, with one vine dating back 115 years — de Benoist wanted nothing more than terroir-expression.
But he is also a bit mystical in his love of foudres, noting that what makes them more compelling is the way the wine naturally circulates within the cask, looping in a figure eight, or — as he was quick to point out — the infinity symbol.
"If you consider that wine is able to express through memories," he noted. "The memories of the terroir, memories of the foudre, the memory of the [winemaking] knowledge in Burgundy which has existed for two thousand years — you can imagine the results of the wine is an expression of eternity, of infinity."
Consciousness, Memories and Too Much Terroir
Every action and movement within his cellar seems calculated and thoughtful, even if I didn't quite understand how it all tied together. For instance, he spent ample time telling me about the specific concrete of the cellars walls and how it facilitated a unique environment for his wines to be raised.
But what I did relate to was his appreciation of consciousness. "It is a very Japanese concept," he said. "I like this philosophy that means I am not only Pierre de Benoist. I have the knowledge of my father … the consciousness of my father — who is a winemaker in Sancerre — the consciousness of my grandfather, my great grandfather, from all the previous generations … I am the product of that."
"And for the last two thousand years [in Burgundy] we restart something, and the worst enemy of that is routine. If you prune the vineyard, if you make the wine [without consciousness], you damage this history. It is important to preserve the link between me and the first vigneron of my family."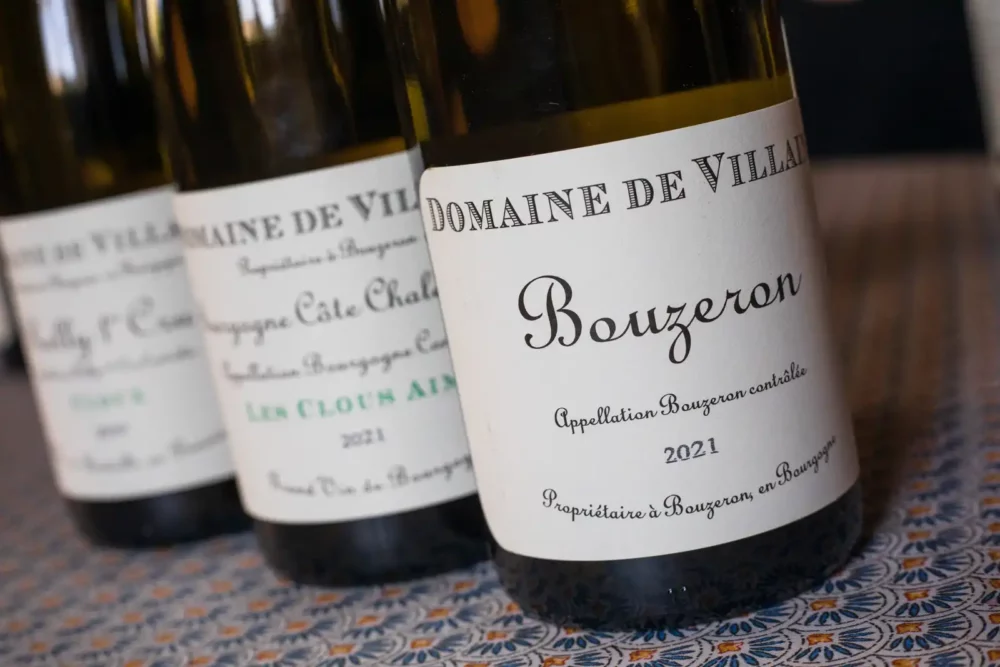 However, he has recently come upon a new challenge that — as president of the appellation, and as the torch-bearer for what Aubert de Villaine started in Bouzeron — has him rethinking just how specific terroir expression needs to be.
I noted during our tasting that, for all this talk about different biotypes of Aligoté matching specific sites within Bouzeron, he still had only one Bouzeron Aligoté wine. He was blending the plots. Was this a product of Bouzeron's market not yet supporting individual lieu-dit bottlings priced at a premium? Or was something else going on?
"It is a big question," he said, creasing his brow slightly. "I started the fight for Premier Cru [vineyards,]" he began, and then he stopped and changed course. (After all, Premier Cru vineyards in Bouzeron are for now, only theoretical).
"I have to set an example as the President of the Bouzeron appellation. I need to make a Bouzeron with a sense of place. Now, that could be a Premier Cru [someday] like La Fortuna, et cetera. But then when I taste all nine of my lieu-dit every year, one by one … the assemblage is better."
"Could it be that too much terroir can kill the notion, the very philosophy of terroir?" he asked. "It is a big question for me."
He respects his contemporaries in Bouzeron who are pushing for Premier Cru designations, and who are even moving forward today with single-vineyard Aligoté bottlings. While he wants to "set an example" and also uphold his duty to the consortium and its desires as a collective, his palate keeps telling him something else. Yes, the alchemy of vine and terroir is crucial, but the harmony of those sites coming together simply tastes better. The terroir is Bouzeron, and Aligoté Doré is the vessel.
"Could it be that too much terroir can kill the notion, the very philosophy of terroir?" he asked. "It is a big question for me."
And perhaps that's why Aligoté's moment in the spotlight right now is more than just a fad: Perhaps it could challenge the orthodoxy of terroir in Burgundy, even as a "third wine."
Or perhaps this is just the internal struggle of a single winemaker who would rather embrace the questions and mysteries of wine, rather than the empirical "answers" required of a tech sheet. From biodynamics to consciousness to the memories embedded in wood grain, it may have seemed like Pierre de Benoist was all over the place, but I think it was in this idea of mindful questioning that he finds a consistency and focus that shines in his wines.
A tasting report on those will be published soon.

Support Opening a Bottle
Join Opening a Bottle and help fund more independent wine guides and stories such as this one. You'll gain access to our wine reviews, our curated list of Italy and France's best producers, our archive of video classes, and you'll be the first to know about upcoming live classes — all for just $49/year.
---
Note: This visit was part of a customized press tour that was conducted in close collaboration with the Bourgogne Wine Board (BIVB), who funded accommodations, transport and my return flight to the U.S. Story selection and topics of coverage, as well as opinions rendered, remained at the discretion of the writer. Learn more about our editorial policy.