6
min read
A year ago, I was in Germany, photographing the famous vineyards of the Middle Mosel River and tasting as many wines as I could. From Cochem to Trittenheim, you are always within sight of vineyards, their names announced with large white marquees rising out of the steep, saturated-green embankments. Drink enough Riesling from the area and you might start picking up on terroir-specific subtleties from one to the next — and by "enough," I mean Riesling by the case load. So extensive are these vineyards, and so various the styles, doing it myself one bottle at a time wasn't cutting it.
However, the place where I started to see it come together was the tasting room of Dr. Pauly-Bergweiler in Bernkastel-Kues.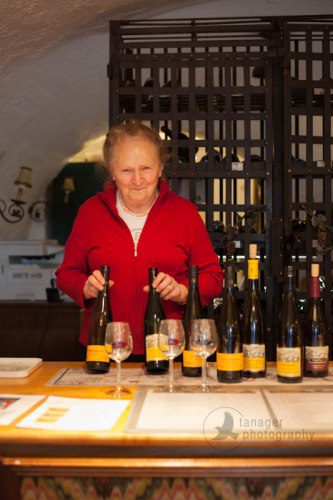 Here, under the careful tutelage of the vinothek manager, Monika Schmitt, I sampled five of their wines from the area and, for once, could draw comparisons. Four of the five were Rieslings, consisting of the estate Riesling trocken (dry), and a kabinett each from the Doctorberg, Wehlener Sonnenuhr and Ürziger Würzgarten vineyards. I could have asked for sips that dabbled into spätlese and auslese styles (which I'll do later in this post), but alas, my pregnant wife got a glass of water out of the endeavor — she was more than entitled to some expediency on my part.
On that day last October, one wine stood out as superior: the Ürziger Würzgarten, a wine from the famous vineyard of Ürzig (the name translates as "Urzig's Spice Garden," as romantic a vineyard name as I've found). Here, the vines thrive on a red-volcanic soil that differs greatly from the more famous blue-slate vineyards just downstream. I prefer my Rieslings dry and crisp, and this one's peachy/stone-fruit flavor was pierced by a most-pleasing mineral, flintiness. I packed a bottle of it for home and in a few weeks will open it before Thanksgiving dinner. It cost me a whopping 9 Euros.
Such is the magic of the Mosel River's single-vineyard plots. When you drink them side by side — as Dr. Pauly-Bergweiler's portfolio allows — you can draw better distinctions and become a fanboy of one vineyard over another.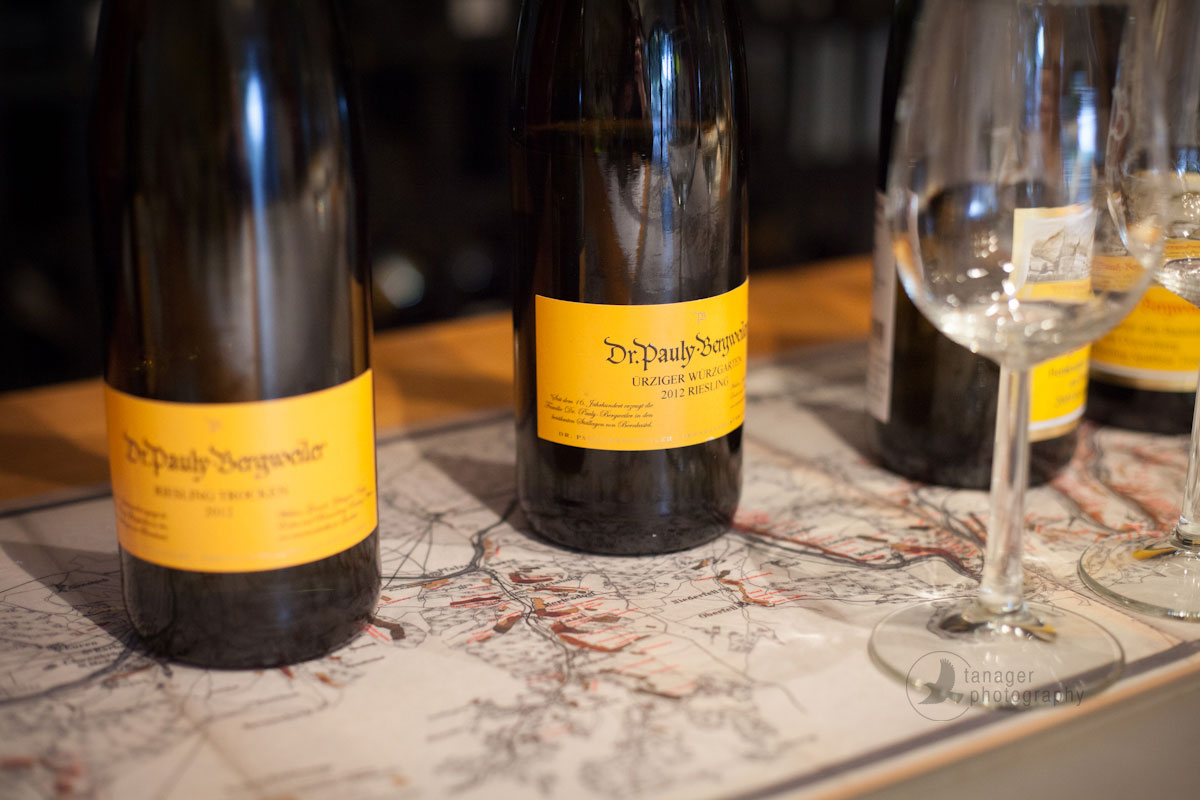 In fact, the stretch from Ürzig to Bernkastel — a mere 11 km of bending river — is rich with multi-faceted Riesling vineyards where terroir is on full display. Perhaps the most famous vineyard in Germany — which is within sight of the Dr. Pauly-Bergweiler tasting room front door — is the Doctor vineyard of Bernkastel-Kues. Much of this fame has to do with the folktale behind it (as well as its sheer scenic beauty) but make no mistake: some legendary, age-worthy wines come from its gorgeous slopes.
Perhaps the only vineyard that fires up the Riesling-crazed in equal measure is Wehlener Sonnenuhr, which translates as "Wehlen's Sundial," a reference to an old sundial that emerges from the rocky, vine-draped mount at the heart of the vineyard. One hundred years ago, this sundial kept workers abreast on lunch time (a well-deserved break on these precipitous slopes). In this case, there is an odd but direct correlation between time and ripeness: in order to have a sundial, you needed optimal southern exposure to sunlight. That same optimal southern exposure also means perfectly ripened grapes. Combine this with the wonderfully unique blue slate slabs covering the ground, and Rieslings from Wehlener Sonnenuhr can be among the most vibrant white wines in the world.
Dr. Pauly-Bergweiler is one of nearly 200 different owners who lay claim to plots in this massive vineyard. Go to your local wine shop or head online to a major retailer and you are likely to see "Wehlener Sonnenuhr" on labels from Dr. H. Thanisch, Dr. Loosen, J.J. Prüm, and Selbach-Oster among others. The wines here are slightly more full and ripe than those of Ürziger Würzgarten, and equally as rich as those from the Bernkasteler Doctor.
On a recent Sunday evening, we opened two of Dr. Pauly-Bergweiler's "Wehlener Sonnenuhr" Rieslings: a Kabinett and a Spätlese. If your head is spinning from all these varying degrees of Riesling, that's perfectly normal. I still have to look these terms up every time I dabble in German wine.
On its most basic level, Kabinett means the wine is made from fully ripe grapes. Spätlese means the wine is made from grapes that were picked later (spät = late) and therefore it will be extra ripe. Auslese and Beerenauslese and Schadenfreude we'll save for another day.
Kabinett does not necessarily mean "dry" (that would be trocken) but it definitely means more crisp and less sweet than anything ending in –lese.
My parents were visiting for dinner, and we were about to sit down to a dinner of blackened mahi-mahi, grilled asparagus and whole-grain bread. I poured a little of the Kabinett and Spätlese per person so we could compare the two styles side-by-side. The Spätlese was a bit of a tough sell. On the nose, it had a noticeable petrol aroma that was hard to overcome, and the noteworthy sweetness — while still countered with some mineral crispness — was a bit too dominant for all four of us. The Kabinett had a whisper of petrol as well, but three out of four of us could deal with it. In fact, it was toned down just enough to be exotic, and what a difference that meant. After the wine breathed for a bit, the petrol aroma left the wine completely, replaced by loads of ripe pineapple, stony notes and a wonderfully smooth texture.
Believe it or not, this petrol note is a hallmark of higher-quality Rieslings, and it becomes more pronounced with age. The International Riesling Foundation explains it better than I can. But present in higher concentration, the petrol aroma becomes heavy handed. Talk about a fine balance.
While many wine critics and sommeliers adore the riper renditions of Mosel River Riesling (they're certainly unique), I think I'll be seeking out Kabinett styles more often than others. With the two Wehlener Sonnenuhr wines, they were essentially the same song; one simply had the bass cranked up to levels I found unpleasant. A matter of taste, not quality.
A couple weeks of ripening: that was the main difference between these two wines. Same winemaker, same vineyard, same method of creation. If you're diving into the world of German Rieslings, I'd strongly suggest vertical tastings like this. Vineyard vs. vineyard, or ripeness level vs. ripeness level. Only then does it start to make sense.
---
2011 Dr. Pauly-Bergweiler Wehlener Sonnenuhr Riesling Spätlese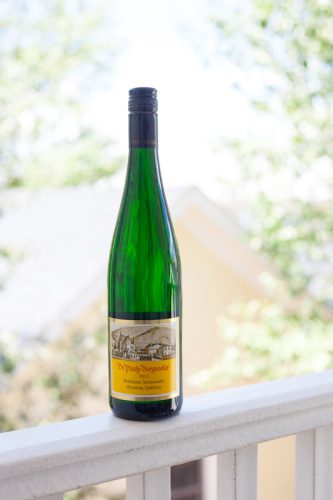 Bernkastel, Germany
Grapes: Riesling (100%)
Alcohol: 8%
Ratings: ★★★★ (out of five)
Profile: ★★★★
Food-Friendliness: ★★★ 1/2
Value: ★★ 1/2
Recommended for: Lighter dishes with pronounced spice and/or acidity to counter the high degree of sweetness.
Tasting notes: A vibrant and lively sweet Riesling that opens with pungent petrol and beeswax aromas with only a faint note of apple. Aromas mellow over time, revealing flavors of pineapple, honey and baked apple with notes of grass and flint on a wonderfully full texture.
---
2011 Dr. Pauly-Bergweiler Wehlener Sonnenuhr Riesling Kabinett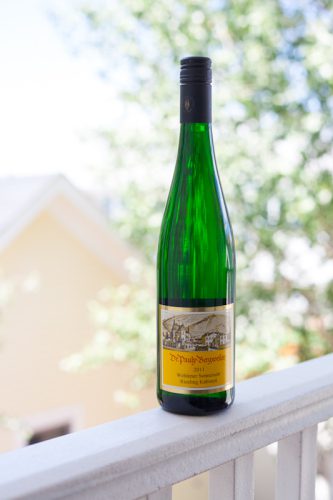 Bernkastel, Germany
Grapes: Riesling (100%)
Alcohol: 8%
Ratings: ★★★★ 1/2 (out of five)
Profile: ★★★★ 1/2
Food-Friendliness: ★★★★ 1/2
Value: ★★★
Recommended for: Spicy Indian and Thai dishes.
Tasting notes: A compelling and unique wine that evenly balances the eccentricities and delicious flavors of German Riesling. Aromas lead off with apple and a touch of petrol, followed by flavors of crisp apple, tart pineapple, flinty notes and a rounded honey-like texture.
---