3
min read
Mighty little Schiava ought to be better known. One of Italy's more unique indigenous varietals, Schiava is most often associated with Trentino-Alto Adige, an autonomous region in Northern Italy crowned by the Dolomites. Schiava produces light but acidic red wines that are highly versatile with food pairings, and the best versions usually come from older vines in the Santa Maddalena and Lago di Caldaro subregions. There, the surprisingly hot summers and cool alpine nights foster a wonderful fruitiness and freshness within the berry clusters. The resulting Schiava wines are flush with bright flavors recalling red fruits and a tinge of almond extract.
At your local wine shop, you won't find shelf-talker tags boasting "94 points from such-and-such a wine critic" under these bottles. That's because Schiava's lighter-than-air profile doesn't shine as well in a mass tasting, which is how critics score wines; it shines at the table alongside a giant plate of pasta bolognese. Or — given the feast we just had here in America — Thanksgiving leftovers.
This bottle from Elena Walch is among the upper echelon of Schiava that I've tried over the years. What it lacks in richness it makes up for with precision. The pronounced note that recalls bitter almond — on the nose, as well as the finish — truly rounds out the wine and gives it added dimension.
Elena Walch is a compelling producer, making an enormous range of wines from one of Italy's most dramatic winemaking landscapes. Her story is just as fascinating as her wines. She was an up-and-coming architect from Milan in the early 1980s when she was hired to restore the famed Castel Ringberg by Werner Walch. They fell in love, married, and she ultimately took over the family winemaking business, which is now transitioning to their daughters.
Hopefully, with a few more wines and a little more travel, I'll dive into their story at greater length someday. In the meantime, pass the leftover turkey and pour me another glass of her Schiava.
2016 Elena Walch Schiava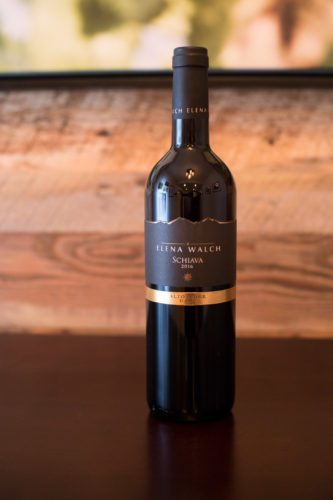 Alto Adige DOC, Italy
Grapes: Shiava (100%)
Alcohol: 12%
Ratings: ★★★★ 3/4 (out of five)
• Aromas, Flavors & Structure: ★★★★ 1/2
• Food-friendliness: ★★★★ 1/2
• Value: ★★★★★
Tasting notes: An excellent, supremely food-friendly wine at a ridiculously good price. Don't be fooled by the wine's light hue and almost transparent appearance: it is aromatically complex and full of intrigue. Aromas brought to mind vivid recollections of sweet red cherry, bitter almond, leather and a surprising hint of sweet basil, which I've never detected in a wine before. Convivial acidity complemented by a low amount of tannin on the finish.
Recommended for: Naturally, given the time of year, my thoughts turn to Thanksgiving, particularly how this Schiava would pair with the wine meat of turkey breast. However, we opened it with a traditional pasta bolognese, adopting the Emilia-Romagna guidance on wine: drink light with rich cuisine. It's not anything like Lambrusco (no frizzante, no sour fruit taste), but it worked just as well.