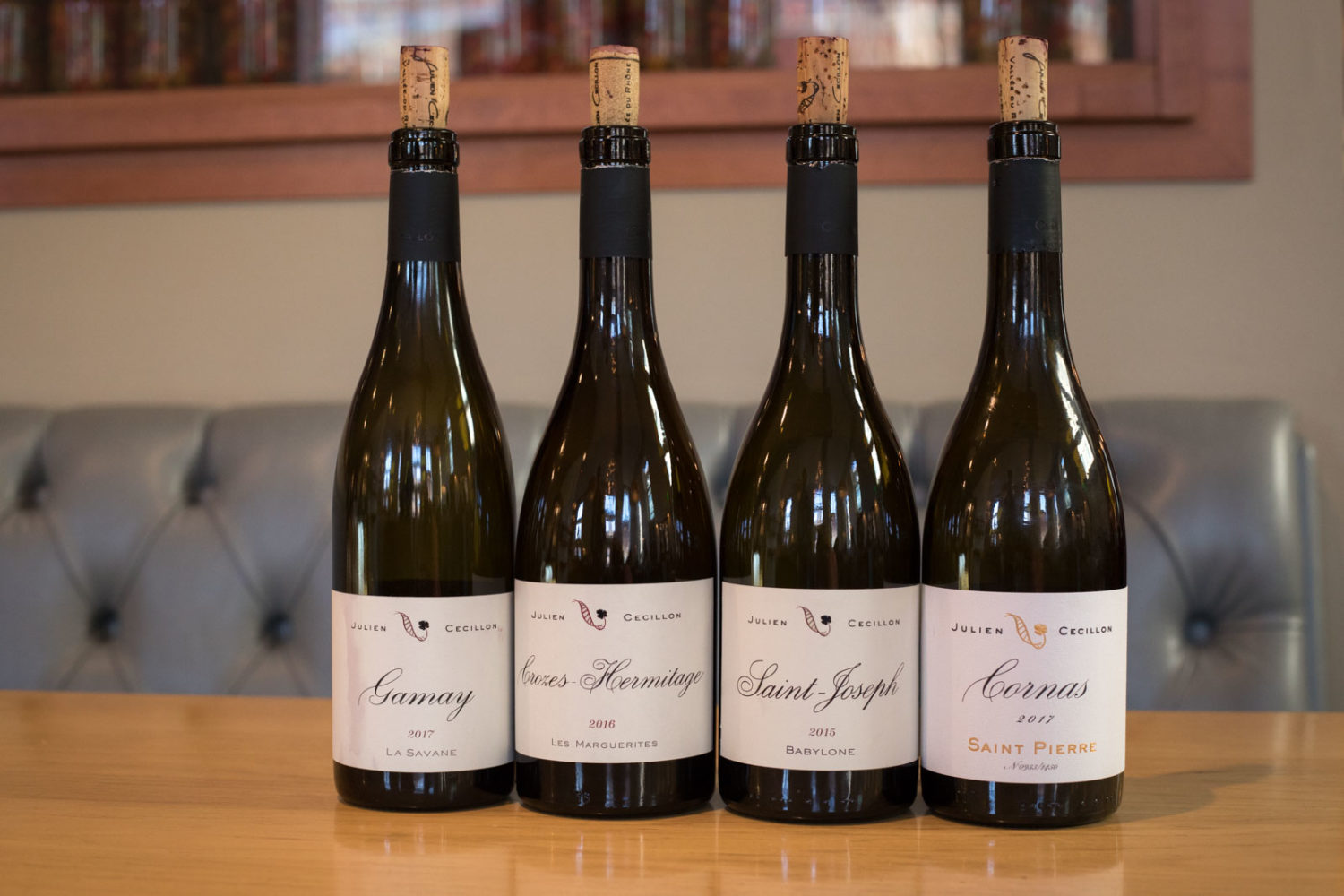 Why Julien Cécillon is Essential
Established by the husband-and-wife duo of Julien Cécillon and Nancy Kerschen, this up-and-coming winery is on a roll with a series of traditional Northern Rhône wines.
Based on the right bank of the river — across from the famous hill of Hermitage — they naturally focus on Syrah, Marsanne, Roussanne and Viognier as well as a single Gamay, sourced from a high-altitude vineyard. Appellation wines include two Saint-Joseph (rouge and blanc), a Crozes-Hermitage, a Saint-Péray and a most stellar Cornas. There are no hard edges to these wines. Just pure, glossy fruit; elaborate, savory details; and a consistent thread of minerality on the finish.
While Julien and Nancy work with a few biodynamic vineyards, they are not fully invested yet. Says Julien: "Biodynamics today is like a guru — 'don't think, just do it.' I cannot do that. I have to see if for myself." But where he has implemented these practices — notably the Crozes-Hermitage "Les Marguerites" — the results have been compelling.
Cave Julien Cecillon is a small producer, but well worth finding because they represent the next generation of producers making superb Northern Rhône wine.
Tournon-sur-Rhône, Rhône Valley
Grapes: Syrah, Marsanne, Roussanne
Appellations/Cru: Saint Joseph AOC, Crozes-Hermitage AOC, Cornas AOC
American Importer: Paris Wine Company
Originally listed: November 2017
Renewed: February 2019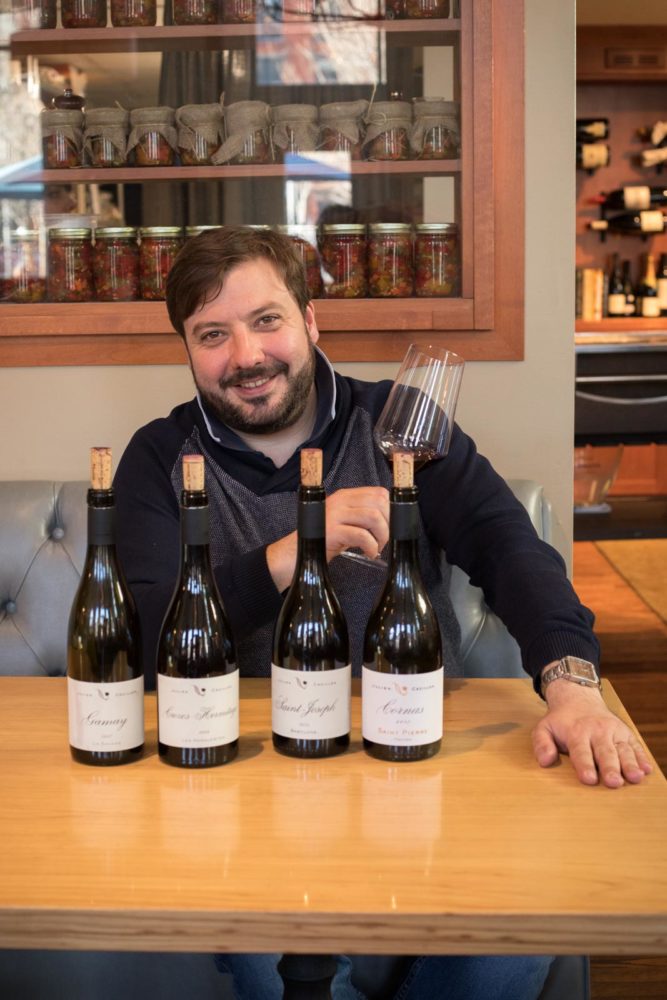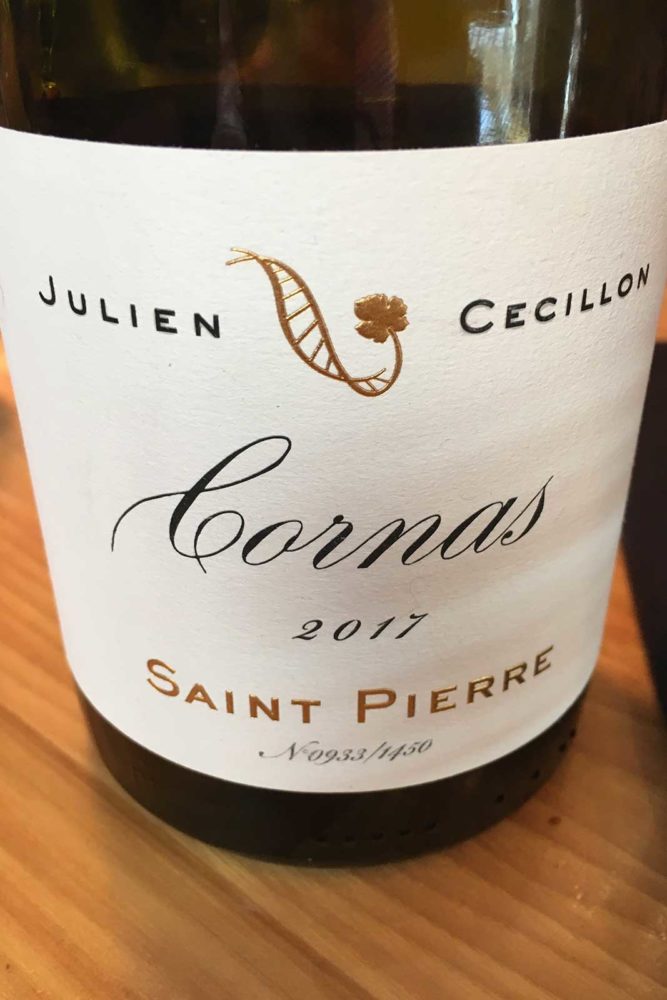 Wines to Seek Out
Julien Cécillon is the grandson of Jean-Louis Grippat, a winemaker who was instrumental in the establishment of the Saint-Joseph AOC in 1956. The design of his labels are a tribute to the labels of that now defunct domaine, which was bought in 2001 by Marcel Guigal. The secret is out about this producer, so score what you can while it is still "affordable" (many of these wines are between $35–$50 ... good deals by Northern Rhône standards).
Julien Cécillon "Gemini" Saint-Péray Blanc
As an advocate for the white wines of the Northern Rhône, I frequently cite this wine as emblematic of the style at its best. "Gemini" is rich yet bright, woody yet floral and fresh. A blend of Marsanne and Roussanne, it has a voluptuous mouthfeel that counters — significantly — the "crisp is everything" camp of white wines that dominates yet dilutes the U.S. market.
Also look for Cécillon's Saint-Joseph Blanc, which is 100% Marsanne.
Julien Cécillon

"Les Marguerites" Crozes-Hermitage

This brilliant Crozes-Hermitage shows Cécillon's precision well: aromatic tones are a dead-ringer for sour plum and blackberry, cloves and violets. But its the seamlessness of the wine's texture that makes this wine punch above its $40 price tag. Many Northern Rhône wines going for twice this price don't measure up.
Julien Cécillon "Babylone" Saint-Joseph
The wine that hooked me on Julien Cécillon, and a perennial favorite at home. Like "Les Marguerites," the emphasis here is on purity of fruit and precision on the palate, making it a highly versatile red for pairing at your dinner table.
Julien Cécillon "Saint Pierre" Cornas
The rugged appellation of Cornas is the domain (without the 'e') of August Clape, Thierry Allemand and Vincent Paris, three of France's most stellar winemaking houses. Yet it was Cécillon's Cornas that revealed a dazzlingly spicy and citric side to these wines that I had not encountered. Like all of his wines, this red is lithe and wastes no space on the palate, yet its amplified power and chiseled structure make it an ideal candidate for cellar aging.