3
min read
As an Italian-minded wine fanatic, I have gone through various phases of opinion when it comes to the country's indigenous grape varieties being grown elsewhere. At first, not knowing any better, I expected the same result. Then, with more information and a dangerous passion, I flatly rejected them. Now, I've come back around to surveying them with greater curiosity: in the end, great raw materials beg for new interpretations from new landscapes and new visionaries. Like Australian Nebbiolo or Californian Nero d'Avola.
On the surface, this latter grape ought to work just fine in many of California's wine regions, where the growing conditions mirror its homeland, Sicily. If anything, what has held the grape back is its reputation. Ten years ago, it was largely still being produced as a Cabernet Sauvignon wannabe: fully loaded, alcoholic, swinging for the seats. The emergence of a lighter, acidity-driven style — such as the head-turning wines of Arianna Occhipinti and COS — has proven that Nero d'Avola can be a star on its own merits.
It appears that no one knows this better stateside than Martha Stoumen, who interned at COS in Sicily's Vittoria region, and whose recent debut is full of promise.
I had sipped a brief encounter with her Nero d'Avola last winter at a trade tasting, and ever since I had been eager to revisit it. That time came recently. Once again, I was at my local pub — Annette Scratch-to-Table — with a friend and we were sharing a bottle and catching up on our lives. The most notable attribute of this Nero d'Avola is its bread-like qualities. It is a red wine that is fluent in Champagne.
"My goal is to make wines that are delicious and alive," Stoumen recently told SevenFifty Daily, a profile that is fascinating to read. I'd say she's accomplished that mission.
2017 Martha Stoumen Nero d'Avola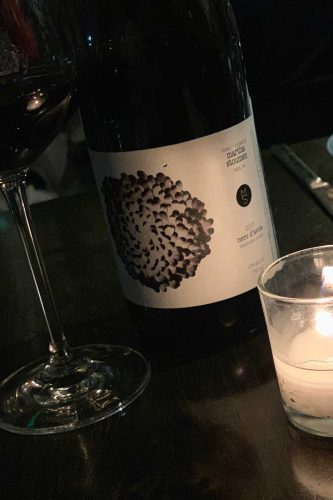 Mendocino AVA (California)
Grapes: Nero d'Avola (100%)
Alcohol: 13%
Practices:  (organic & biodynamic practices)
Ratings: ★★★★★ (out of five)
• Food-friendliness: Impeccable
• Value: As expected
Tasting notes: A brilliant and original expression of Nero d'Avola from a promising new winemaker. The nose of this wine is vivid and expressive, suggesting a slight quality of breadiness often associated with wines that have undergone secondary fermentation; also suggested ripe cherries, dark berries and herbs. There is no mistaking this wine's "natural" status, but that said, its liveliness, detailed character, structure and focused acidity make a convincing argument for minimal intervention done with this level of care. There was a sensation of minerals and petrichor on the finish. A delightful wine.

Serving suggestion: This wine welcomes a slight chill. Pairs beautifully with hearty pasta dishes or even just aged cheeses.
---
Support Us By Buying Wine at

---