4
min read
It may seem at times that every phrase in the wine world has a dozen asterisks behind it, qualifying it to death. The ubiquitous term "old vines" certainly requires context and clarification wherever it is used. It could just be marketing hackery, or the very story of the wine itself. Let's focus on an example of the latter: Calabratta's soulful Carricante.
The reason "old vines" can be a tricky expression is because different grape varieties have varying life expectancies for their vines. Adding another dimension of relativity is the context of terroir. For instance, what you may consider old in Oregon or Chablis or the Langhe, is quite different from what you'd consider to be old on the slopes of a volcano.
Which leads us back to Sicily's Mount Etna, where a variety of factors both natural (e.g. volcanic soil, high elevation) and cultural (the cratering, then rebirth of the wine industry) has resulted in a tapestry of very old vines, from both red and white varieties. Etna's producers may be sundry, but they all have one thing in common: a desire to work with these old vines rather than uproot them.
Some of the vines used in Calabratta's sumptuous Carricante are more than 100 years old, making them undisputed in their "oldness." And these living artifacts should be important to our palates for two reasons: old-vine white wines are generally rarer than red, and more importantly, they're likely responsible for this wine's amicable energy and soulful bass line.
Roughly one-third of this wine is comprised of these ancient Carricante vines, but it should be noted that the vineyard also includes some Minella Bianca mixed in. If you were to go back in time a century on Mount Etna, you'd find a wine industry that was less concerned (and less capable, really) of planting vineyards in the modern, monovarietal, monoclonal way. Good. Because what we have in the glass here is wild, with enough twists and hairpin turns to feel like you are driving up the volcano.
While Calabretta has only been estate bottling since 1997, the family has been farming vines on Mount Etna for generations. Sure enough, this translates in the glass, for there is an old-soul quality to their wines that I find very compelling. A colleague referred to them as "rustic," but I disagree, for the edges to their wine are so refined, their depths yielding bountiful surprises. (See last year's Top 12 Wines of 2020 article for a review of their dazzling Nerello Mascalese). What some find rustic could be attributed to the traditional winemaking techniques employed, especially for the red wines: such as the use of large botti casks, long maceration, and lengthy bottle-aging before release. These techniques have a dramatic impact on the outcome of any wine, but I tend to love the style. However, the Carricante is more modern, fermented in stainless steel with a delayed release of a year. Still, that old soul spirit is there, somehow conveyed in the wine's supple and patient texture.
If you are tired of the sameness of Italian white wine (and let's be honest, a vast majority of this country's white wines have the personality of an Amazon Echo), then hunt this wine down. It is a portal to possibilities.
2019 Calabretta Carricante Terre Siciliane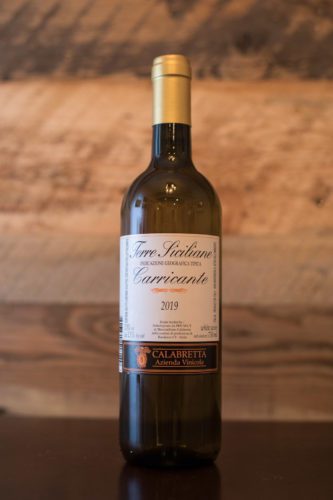 Terre Siciliane IGT (Sicilia) 
Grapes: Carricante/Minella Bianca (95%), Cataratto and Inzolia (5%)
Alcohol: 13%
Opinion: ★★★★ 3/4 (out of five)
Food-friendliness: Versatile
Value: Very Good
A beginner might like … Those aromas. If this wine is opening up for you (as I suspect this vintage will right now), you'll get a glimpse of the complexity that lies within Carricante — a grape that can yield one of Italy's most compelling white wines. Look for crisp pear, violets, roasted almond and a distinct salty smell that is the "tell" of volcanic white wines from Etna. Don't smell it? See if you taste it. I found the saline note on the palate as well.
A wine obsessive might like … Contrasting this Carricante with other Etna Bianco. A perpetual moving target, these volcanic wines can be closed down for years after release, or wildly vivid and detailed. I can't promise you what you'll encounter with Calabretta's Carricante (if the wine seems closed, pour it into a pitcher or decanter and see if that helps), but it will offer an interesting comparison to the Etna Bianco of other producers. What it showed me was restrained acidity with volcanic energy; it is less aggressive, but no less poignant in conveying its point.
Note: This wine was purchased with our editorial budget thanks to our virtual tasting series. Grazie!