7
min read
The wine region of Valtellina utterly captivates me.
Situated along the south-facing mountains that rise above the Adda River in Northern Italy, this appellation is held together by nearly 1,500 miles of stone walls. The existence of these terraces is for the sole purpose of growing wine grapes.
My personal affinity for Valtellina began last year when we uncorked a bottle of Nino Negri's Valtellina Superiore called "Inferno." Here was my favorite grape (Nebbiolo) reminding me of my other favorite grape (Pinot Noir) in terms of complexion, finesse and beauty.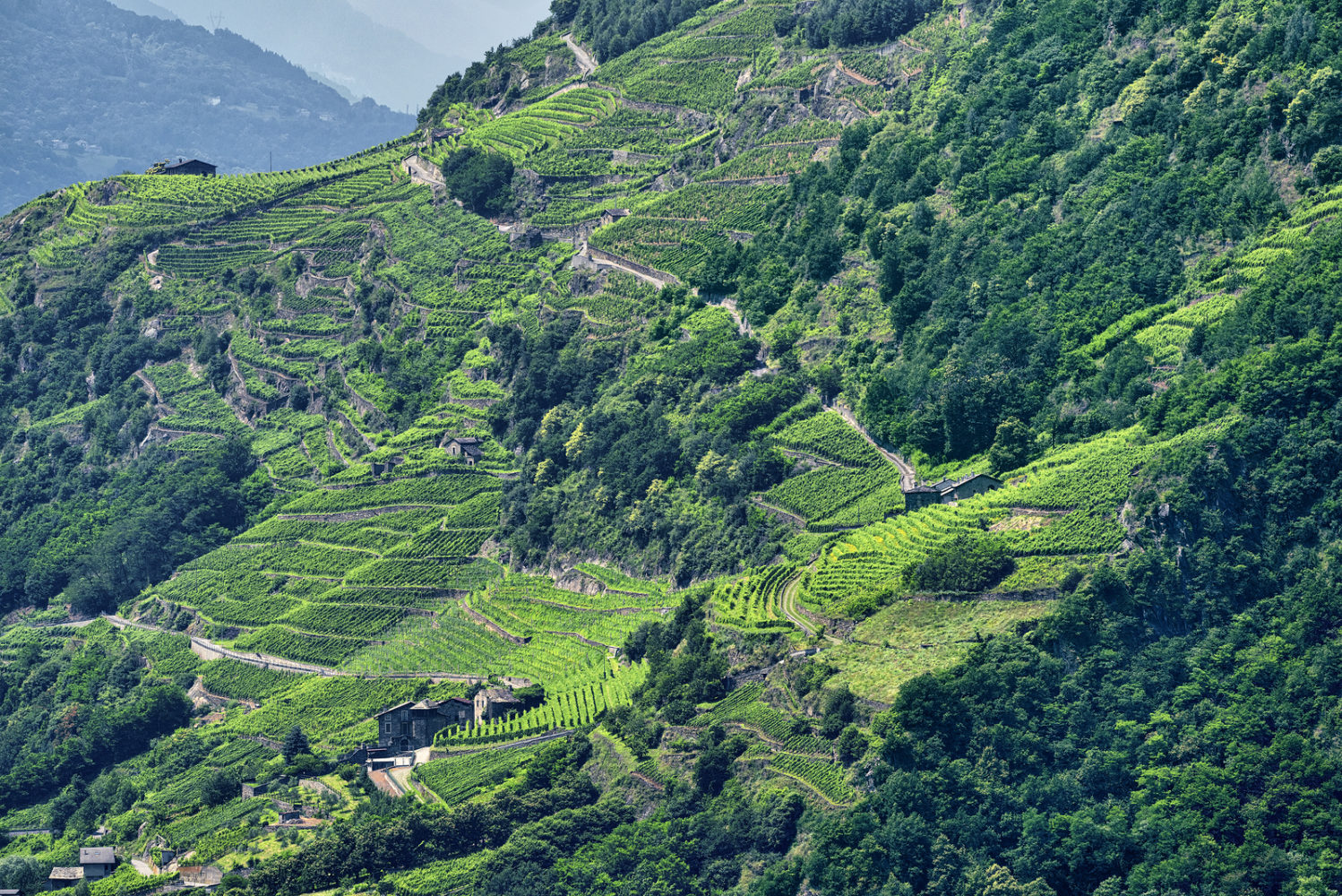 Since then, I've been enamored with the region, and as I drink more of its wines — particularly those from Nino Negri — I am beginning to realize that (a) Valtellina is Italy's most underrated wine region and (b) it makes the most accessible Nebbiolo, too.
Why Drink Valtellina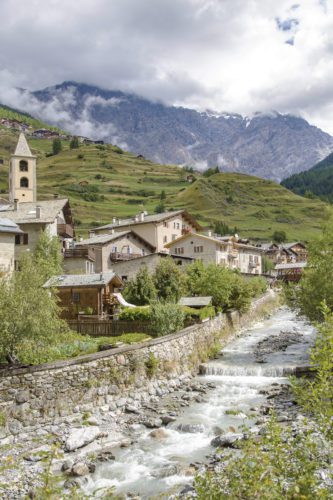 If you love wines from the Nebbiolo grape, its because of Barolo or maybe Barbaresco. But for all their class and prestige, these wines are defensive in their youth. They simply won't relinquish their true character until they have matured 10 years or more.
Of course, this is what makes Barolo and Barbaresco magical. But it often presents a quandary to its biggest fans: do you wait patiently for them to mature, or open and decant one in the morning for dinner that night?
The Nebbiolo alternative for everyday drinkers, it would seem, is to enjoy Nebbiolo d'Alba and Nebbiolo Langhe. While these wines are less austere, often delicious, and certainly more accessible, they are rarely stratospheric.
And that's where Valtellina Superiore shines. It retains the nuance and mystique of Barolo, while being accessible in youth so that you can enjoy them now.
Valtellina 101
Valtellina is an enormous region, stretching from the tip of Lake Como to the city of Tirano. It has two principal DOCG wines, a standard rosso DOC as well as a few rare white wines mixed in (IGTs) for good measure. The red wines are as follows:
Valtellina Superiore DOCG – Traditionally vinified Nebbiolo (or "Chiavennasca" as it is called locally) from the five best zones of Valtellina: Sassella, Grumello, Inferno, Maroggia and Valgella. Typically a light- to medium-bodied wine that is noticeably less tannic than its Langhe brethren, but powerful on the nose and complex on the palate.
Sforzato di Valtellina DOCG – Possibly the most unusual of all Nebbiolo wines. "Sforzato" means strained in Italian. Grapes are dried on reed mats to concentrate flavors, as with Amarone della Valpolicella. The resulting wine is concentrated, powerful and requires more age to fully develop than Valtellina Superiore. Like Barolo, this is a wine to reserve for special occasions.
Rosso di Valtellina DOC – The base-level red wine of the region, which has to be at least 90% Nebbiolo.
The Wines of Nino Negri
If you were to find a single Valtellina winemaker to be your tour guide, Nino Negri would probably be your choice. This is in part because — at least in the United States — their wines are more readily available than other Valtellina producers.
But they are readily available for a good reason.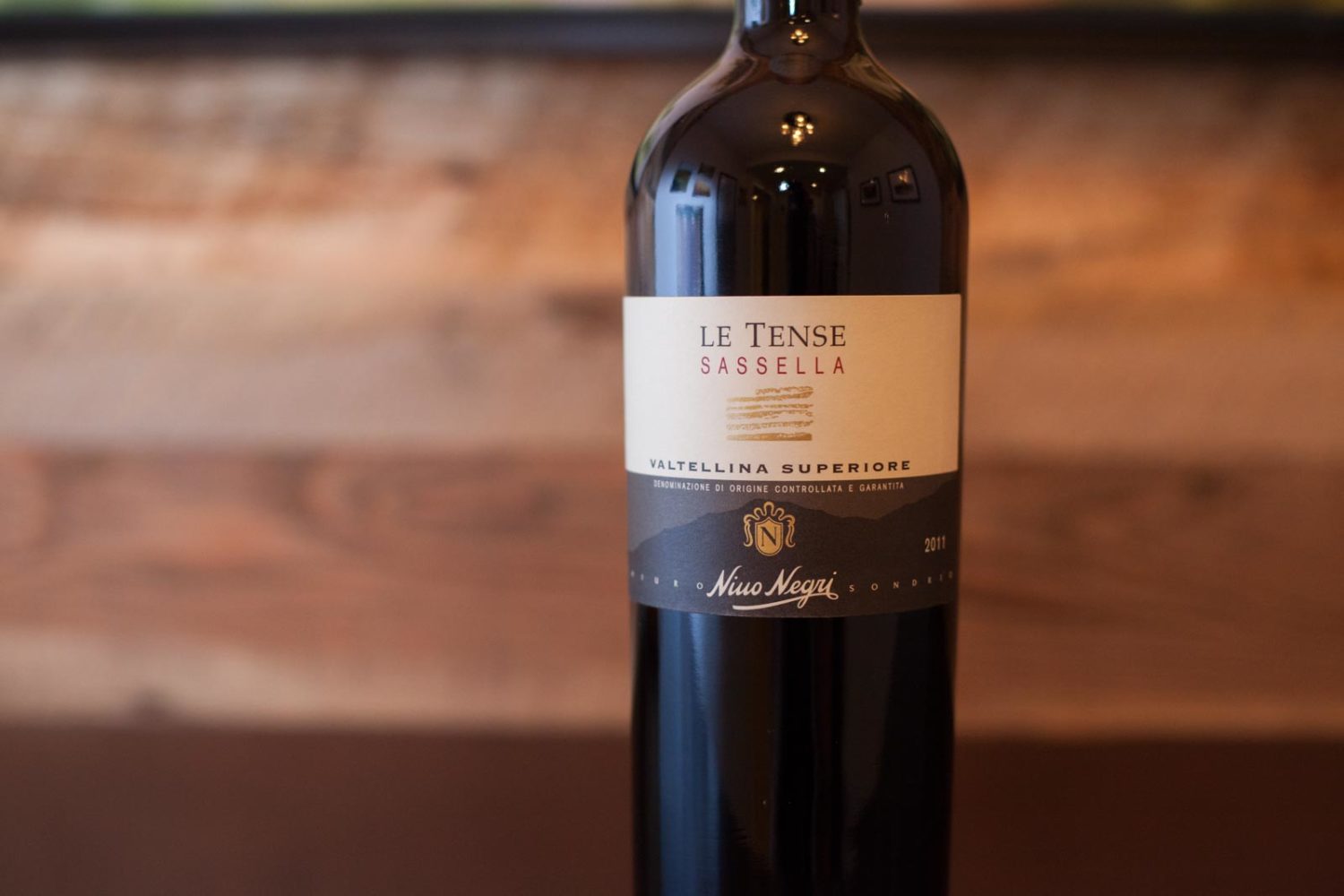 Le Tense
In early October, we opened a bottle of their "Le Tense" Valtellina Superiore from the Sassella zone. It demonstrated so many of the elements that make Nebbiolo my favorite grape: swirls recalling cherry, roses, earth and spice. It had pin-point precision and balance, and since we were hosting friends for dinner, it made me look good. (I'll be publishing my annual list of the year's best wines in the coming weeks, and it will certainly be listed in the Top 10).
Fast forward to this past week, and we opened two more from Nino Negri: a Sforzato di Valtellina called "Sfursat" (which is dedicated to the late winemaker Carlo Negri), and a rare bianco from Valtellina called Ca' Brione.
Sfursat
The "Sfursat" resembled a Barolo crossed with an Amarone della Valpolicella. Harvested from vines that grow in especially shallow and sandy soil, "Sfursat" harbors an intensity from the very beginning. To enhance this power, the grapes are dried for three months in special boxes where they lose 30% of their water, creating a concentration and density that is unique, and ideally suited to drinking on cold winter nights.
"Sfursat" was a significant step-up in intensity, and probably requires several years in the bottle to fully emerge. Yet what it was showing in its youth was compelling. I also have a bottle of the 2010 vintage and I won't be pulling the cork on it any time soon.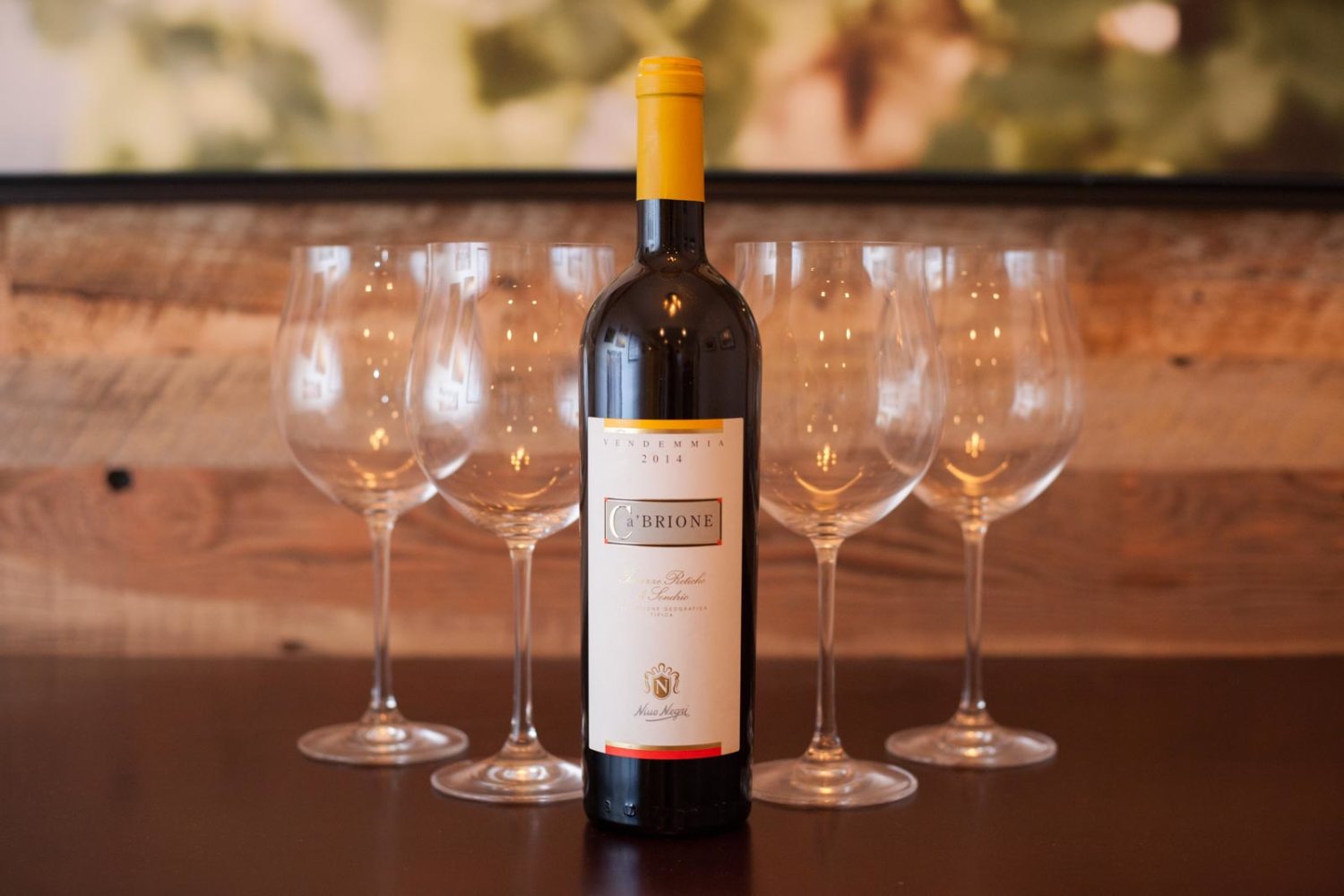 Ca' Brione
But where I was convinced most of Nino Negri's brilliance is with the Ca' Brione. This was not because it is their best wine. Rather, it showed their versatility as a compelling winery. To showcase such a unique, blended white wine in an area known for a single red grape, is no small feat. (As a result, I have added Nino Negri to our list of Italy's Essential Winemakers).
A blend of Chardonnay, Sauvignon, Incrocio Manzoni and Nebbiolo, the Ca' Brione was accessible but incredibly detailed. Light in body, creamy on the palate yet decidedly toasty as well, it is a wild ride from start to finish.
---
2011 Nino Negri "Le Tense" Valtellina Superiore Sassella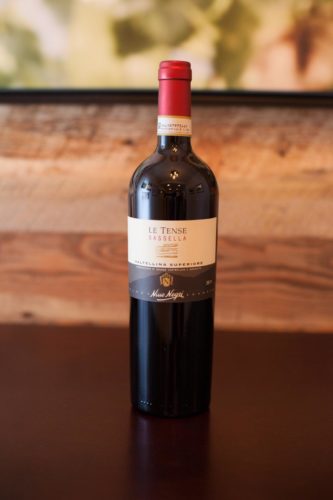 Valtellina Superiore Sassella DOCG, Italy
Grapes: Nebbiolo (100%)
Alcohol: 13.5%
Rating: ★★★★★ (out of five)
• Aromas, Flavors, Structure: ★★★★★
Food-friendliness: ★★★★★
Value: ★★★
Tasting notes: Already shifting toward that lovely orange-brick color of aged Nebbiolo, this red wine simply blew me away. An impressive and intense nose offers notes reminding me of cherry, raspberry, smoked meat and black pepper spice. The aromas alone made me want to dig and start eating. Smooth and surprisingly elegant on the palate for a relatively young Nebbiolo, with the tannins already integrating nicely. The finish lasted like a long piano note. A brilliant wine, and likely the best Nebbiolo I've sampled this year. Drink now through 2021, maybe all the way to 2026.
Recommended for: With winter on my mind, I'd say this wine is ideal for any kind of braised meat. Serve with lamb shank, peppercorn encrusted steak or pot roast.
---
2011 Nino Negri "Sfursat" Carlo Negri Sforzato di Valtellina
Sforzato di Valtellina DOCG, Italy
Grapes: Nebbiolo (100%)
Alcohol: 15.5%
Rating: ★★★★ 1/4 (out of five)
• Aromas, Flavors, Structure: ★★★★
Food-friendliness: ★★★★
Value: ★★
Tasting notes: A significant step-up on intensity and density compared to "Le Tense," this Sforzato di Valtellina drinks like a young Barolo with shades of Amarone's ferocious alcohol. The color is already a beautiful rust-red, with the nose recalling cooked strawberries, ultraripe raspberries, licorice and balsamic vinegar. Shockingly dry, dense and concentrated, yet somehow defensive at this age. The tannins reminded me a bit of black tea. I would recommend aging the wine 10 to 20 years to fully appreciate it. Or at least decant the wine 6 to 8 hours before serving.
Recommended for: Serve with "Le Tense" at Christmas dinner — or a similar roast-based feast — for an interesting counterpoint in styles.
---
2014 Nino Negri "Ca' Brione"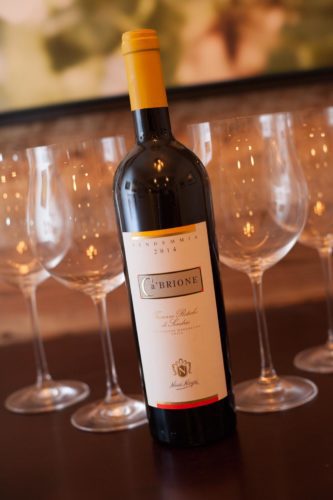 Valtellina IGT, Italy
Grapes: Chardonnay (30%), Sauvignon Blanc (30%), Incrocio Manzoni (30%), Nebbiolo (10%)
Alcohol: 13%
Rating: ★★★★ 3/4 (out of five)
• Aromas, Flavors, Structure: ★★★★ 1/2
Food-friendliness: ★★★★ 3/4
Value: ★★ 1/2
Tasting notes: This wonderful blend resembles Chardonnay the most, with a rich-and-creamy body and toasted notes throughout. Very light in color. Aromas recall crisp pear, lemon, coconut and creme brûlée. The first few sips are wildly tart yet elegant. The wine seems to get better with time: we re-corked it and discovered that it was even better on the second night.
Recommended for: Hearty pasta dishes. Doesn't shy away from spice. We served it with spicy shrimp bucatini with kale and it performed exceptionally well.