4
min read
The crescent shaped viticultural area surrounding Mount Etna's northern, eastern and southern slopes is divided into 133 contrada — neighborhoods on paper, but terroir designations, too, to those in-the-know. Similar to Barolo's MGA/cru system (but broader in size), each contrada has specific hallmarks of place dependent on its microclimate, soil structure and even the age of the lava flows that have infiltrated them. Contrada often have multiple producers, and the names are sanctioned by the local consorzio for inclusion on the label if the fruit exclusively hails from the contrada.
In the heart of the Milo district on the eastern slope, where universally the mountain's best white wines come from, lies the Contrada Rinazzo, home to one of Italy's most celebrated white wines, Benanti's Pietramarina. Well ventilated and blessed with good diurnal temperature patterns, Rinazzo fosters the Carricante grape particularly well, which is the majority partner. To show two sides of the same terroir coin, the family allows Pietramarina to mature on the lees in stainless steel for 24 months, and offers a second wine (the Contrada Rinazzo) which matures for half that time.
"It is as though the wine's aromas hibernate and have to be rousted with aeration or time."
I recently savored the 2018 Contrada Rinazzo with a close friend of mine, Matt — a beer-obsessed friend of nearly 40 years. We were promptly reminded of Etna Bianco's often aloof personality. Upon opening, the wine had only the faintest alkali smell. No fruit, no flower, nor vegetal or toasted notes. Had this been my first taste of Etna Bianco, I may have been disappointed, but this shyness is part of the Carricante's charm, especially when it has been chilled. In fact, these wines often go into a nadir period aromatically, right around this three- to four-year mark — it is as though the wine's aromas hibernate and have to be rousted with aeration or time. Our fix was simple. We left to get take out, leaving the open wine on the counter to warm a bit, then poured a new glass an hour later.
By then, this flower had blossomed, proving once again that Etna Bianco's rewards are massive … they just require some patience.
Now I was getting multiple sensations, which — as the night progressed — duplicated, then triplicated. The aromas reminded both of us of rose water and fresh nectarine, but we debated the other bits — particularly a sour fruit tone that recalled apple Jolly Rancher candy for me, and yellow pear skin for Matt.
But it was the wine's personality on the palate that made me adore it. While fairly mellow for a volcanic wine, the acidity nonetheless had plenty of lift and verve. This is a wine that wastes no space on the palate, and after each swallow, it seemed to tidy up from where it had been.
A quick spoiler alert: this year's end-of-year Top 12 Wines of 2021 will likely read as a celebration of Etna's wines. This and four other Etna-based wines are in the running for the top wine of the year. The vinous magic of Europe's most active volcano is no longer a surprise to anyone who remotely pays attention to Italy. But I think the time has come to acknowledge it is in the very upper echelon of wine regions on Earth, and will likely be staying there for some time.
2018 Benanti Contrada Rinazzo Etna Bianco Superiore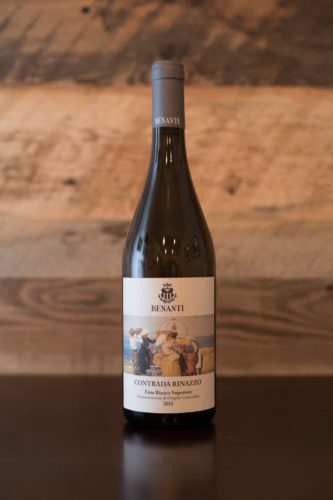 Etna Bianco DOC (Sicily)
Grapes: Carricante (100%)
Alcohol: 12%
Opinion: ★★★★★ (out of five)
Food-friendliness: Selective
Value: As Expected
A beginner might like … experiencing an "alive" wine. There is no doubt that this wine has a personality. That it behaves. That it shifts from one shape to another as it interacts with oxygen and temperature. For me, this is the hallmark of fine wine, but it is often subtle and requires some level of experience to seek it out. Not so with Benanti's Contrada Rinazzo. It shows its evolution very clearly, from the hibernating aromas to their dramatic liberation from slumber to the crystal-clean finish.
A wine obsessive might like … salinity. Forget for a moment the science of volcanic wines and "minerality," that often-overused term that has become de rigueur in Somm circles and tasting groups. This is not about whether it exists or not, but rather whether the feeling exists. Benanti's Contrada Rinazzo teases out the carnal emotions analogous to salt — that desire to have more — in such a convincing way that it becomes real. This is one of the most singular finishes in Italian wine.
---
Benanti
An Essential Winemaker of Italy
Largely credited with kickstarting Etna's renaissance, Benanti has carried into its second generation a precision and poise that's noteworthy. Learn more about them and the extraordinary Italian producers we love in the Essential Winemakers of Italy.
---
Note: This wine was purchased thanks to subscribers like you who make this publication possible. Help us out by spreading the word to your wine-loving friends.