4
min read
Google Translate can only get you so far. Midway through a bottle of Domaine de l'Hortus' excellent Pic Saint-Loup Rouge, I decided to type "Bergerie" into the app and see what it meant. I was fairly certain that this wine was from the heralded Languedoc-Roussillon estate that is wedged in between two limestone outcrops in the Pic Saint-Loup AOC just west of where my wife and I were sipping (at the Camargue's incredible hotel, Mas de la Fouque). But in France, it appeared, the winery was using a different name: Bergerie de l'Hortus. What was a bergerie?
"Sheepfold" the app said.
"What is a sheepfold?" I asked my wife. Apparently, we are more detached from rural life than we realized, because the new-to-our-ears word made us giggle like slaphappy children. How does one fold a sheep?
As I later discovered, bergerie refers to an animal enclosure, for they have a line of wines called "Le Loup dans la Bergerie" — which could be "a wolf in the henhouse/sheep pen." In the summer of 2020, I profiled another wine of their's called "Loup y Es-tu?" — "wolf, are you there?" And if you are wondering if the limestone peak that lends its name to the appellation is derived from a pious wolf, I had that question, too. No, in fact. It is named after a crusader, Saint Thieri Loup, who lived as a hermit in the area.
By the way, what's French for "rabbit hole?"
I'll Get to the Point
What I loved about it was the way it disrupts the Southern France narrative of power, body and density in a red wine.
This wine was my favorite full bottle from our time in Provence, only eclipsed by a tasting at Vieux Télégraphe (but that was a tasting, not a full bottle). What I loved about it was the way it disrupts the Southern France narrative of power, body and density in a red wine. The sun seems endless in thre South of France. That blinding radiance is the No. 1 reason people flock to it for vacation — to never take off their sunglasses, to never button the top two buttons of their shirt, to never get into the pool, but rather just dip one's toe. So how could the red wines, raised under such blinding light, avoid anything but a burly shape?
The answer lies in elevation, which the vineyards of Domaine de l'Hortus have. Situated between the toothy peak of Pic Saint-Loup and a fortress-like escarpment from which the winery takes its name, Domaine de l'Hortus benefits from a meager-sounding elevation of 150 meters (around 500 feet). But that — along with the corridor shape of the valley, which channels air currents — is enough to cool things down at night and secure an even maturation of the grapes.
This wine is simply delicious, with a playful and inviting nose that is followed by plush white and red fruits and a floral-meets-herbal cut reminiscent of violets and mint. The tannins are compliant, serving the wine's bigger picture in a way that you don't even notice them. In fact, before I knew it, we neared the bottom of the bottle and still had our main course on the way.
Hailey and I were celebrating a major wedding anniversary, so our time in Provence was not focused too much on wine. But in the coming weeks and months, I'll share my thoughts on four amazing hotels that you should consider if you are planning a trip to the region, as well as profiles on Vieux Télégraphe and their Gigondas property, Les Pallières, and Cassis' Clos Sainte-Magdeleine — two places where Hailey let me indulge my inner wine geek for an afternoon. Stay tuned.
2021 Domaine de l'Hortus "Bergerie de L'Hortus" Pic Saint-Loup Rouge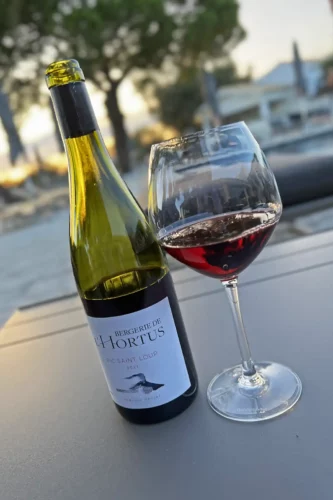 Pic Saint-Loup AOC (Languedoc-Roussillon )
Grapes: Syrah (60%), Grenache (20%), Mourvèdre (20%)
Alcohol: 13.5%
Opinion: ★★★★ 3/4 (out of five)
Food-friendliness: Selective
Value: Very good
A beginner might like … triangulating Syrah, Grenache and Mourvèdre in the glass. It is far more common to see Grenache take the lead, but here, the blend favors Syrah 3-to-1 over its companions. I found Syrah waving its hand and saying hello mostly in the fruit flavors of this wine: darker yet somehow more playful than Grenache's stern strawberries and Mourvèdre's ripe raspberry.
A wine obsessive might like … the steady and fine-grained nature of the tannins. This is a wine that slides across the palate without any fingernails trying to hold on, making it infinitely quenching. You might even be tempted to chill it a smidge.
Note: This wine was purchased with funds raised from paid subscribers like you. So, thanks.