3
min read
I am just like you in one regard: I don't like to work hard for my wine. Plop me down in a wine region, and if I don't find something that resonates with me after a handful of different wines, I will likely bounce and not return. I like to open wines from places that my palate trusts, and right now, my palate prizes lower alcohol, silkier textures and versatility at the table. Of course, this is a problem if you are an independent wine writer looking to cover two vast wine nations like France and Italy. There are invariably pockets of terroir ill-suited to that flavor profile.
Put another way: it's like being a film critic who personally hates horror films. You still have to sit through each one and write a review.
For me, the Southern Rhône has long been a genre of wine I struggle with. When I was younger, I had no problem drinking and digesting Grenache and Grenache blends, but as I've gotten older, two things have happened: I've grown more sensitive to alcohol, and climate change has ticked-up Grenache's alcohol levels vintage by vintage.
But there is a lot to love about the Southern Rhône from a writer's standpoint. Few places have a greater concentration of gnarled old vines. Few places have as long of a history of wine production. And few places boast a wider selection of grape varieties that often end up blended together in a variety of ways.
You can see these two wave lengths, and probably sense how badly I want them to harmonize.
In the 2020 Domaine Les Pallières "Les Racines" Gigondas, they do just that. We opened this extraordinary wine in early May, and my first note was "finally … this is what I've been looking for." Elegant, refined, evocatively aromatic and yet still potent and hedonistic (as Grenache should be), this wine managed to check all the boxes for someone whose palate preferences have gone in a different direction.
The estate is one of the Southern Rhône's most historic, but it fell on hard times in the 20th century due to neglect and two devastating frosts, which killed a significant amount of vines. When the Roux family chose to sell the estate in 1998, it garnered considerable attention. Ultimately, it was purchased by Kermit Lynch and the Brunier family, who are behind Châteauneuf-du-Pape's esteemed Vieux Télégraphe. A large portion of the estate is intact Provençal forest, which helps to moderate temperatures. In 2012, a goat farm was established to maintain the undergrowth through grazing and to make a cheese called Rove de Pallières. Sounds like a story that I might need to pursue with my camera in the future.
2020 Domaine Les Pallières "Racines" Gigondas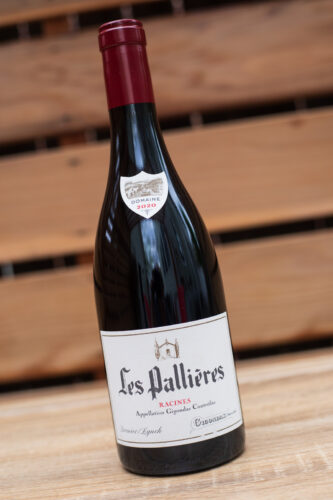 Gigondas AOC (Southern Rhône )
Grapes: Grenache (80%), Syrah and Cinsault (15%), Clairette (5%)
Alcohol: 14.5%
Opinion: ★★★★★ (out of five)
Food-friendliness: Selective
Value: As Expected
A beginner might like … the tapestry of aromas present in this powerhouse wine, which is then followed by an already-in-form structure that is open to interpretation. Put another way: you can lay this wine down for years if you really wanted to, or you could pop and pour now and actually enjoy it.
A wine obsessive might like … knowing that the 15% Syrah and Cinsault is from a co-planted plot. Additionally, this wine's supple edges may account from the fact that it never sees a small oak barrel. Fermented in a mix of wood and concrete vats, then matured in large oak foudres for 20 months, "Racines" is given the space and time to find its form.
Note: This wine was provided as a sample by the winery's importer upon a story pitch from our editor. Learn more about our editorial policies.