5
min read
Never heard of Arneis? Get used to it, because this is probably not the last time you will hear its name.
The "rascal" grape of Piedmont is experiencing a rebirth that is nothing short of miraculous. In the 1960s, it was on the verge of extinction — a grape largely confined to a small section of the Roero district north of Alba. Today, plantings are increasing and its vines have figuratively crossed an ocean, finding their way into the soils of California.
Last year, I had my first taste of Roero Arneis (from Paitin di Pasquero) and immediately I fell in love with it. It was crisp yet decadent, inviting and original. So, for my big summer stock-up run in May, I bought another bottle, this time, from the family estate that helped to save Arneis in the first place — Vietti.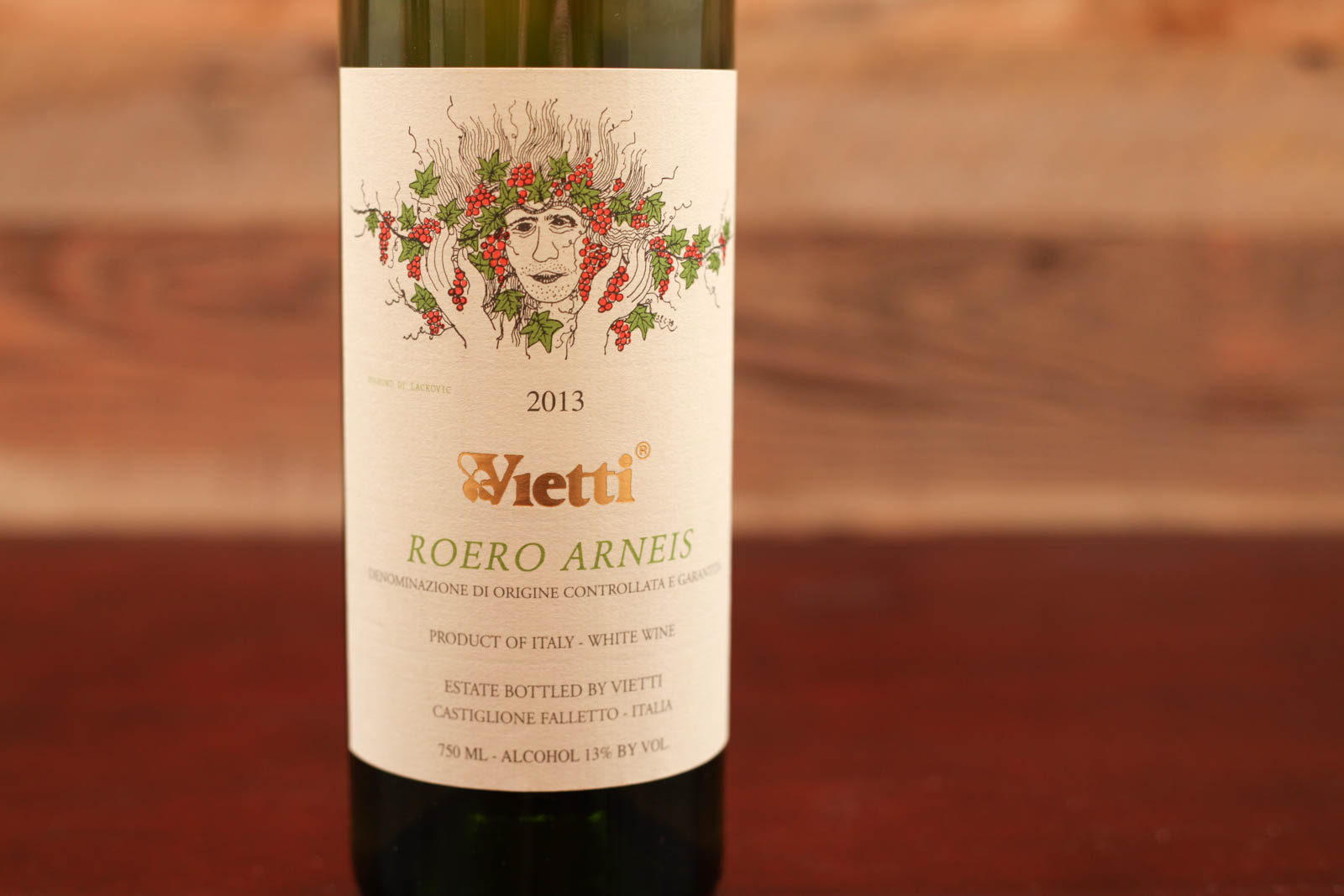 Vietti's wines — with their beautiful and unique labels — are among the most distinguished in the region. The family's history of grape-growing in Piedmont dates back to the 19th century, and their family name began adorning bottles in 1919. Their Barolos and Barbarescos (like almost all Barolos and Barbarescos) are out of my price range for everyday wine drinking, so my experience so far had been limited to their Nebbiolo — which is called "Perbacco." (I've had my share of Nebbiolo Langhe, and it is easily the best one). Their Barberas and Dolcettos are on my wish list for the fall, and regardless of price, I will probably be splurging on a trio of the 2014 Vietti Barolo Brunate when it becomes available — the perfect wine to cellar for a special milestone.
Their Legacy with Arneis
The family's legacy is entwined with two industry-shaping ideas in the region, both attributed to Alfredo Currado, who married into the family in the mid-20th century. One idea was to bottle Barolo wine as single-vineyard "cru" wines, a practice that was seen as radical back then, but now (of course) everybody does it.
The other idea was to create a dry white wine Piedmont could call its own. Moscato was well-regarded, but was decidedly sweet. And while international varieties were gaining in popularity at the time — such as Chardonnay, which thrives in the terroir of the Langhe and Roero regions — Alfredo Currado had no interest in doing what the rest if the world was doing.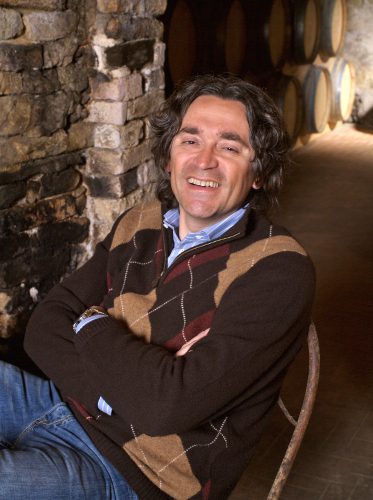 "We are too close to our territory and traditions," his son, Luca, told me when I emailed him about it.
"(It) is a funny story, the Arneis," he went on.
In the 1960s, there were only about 4,000 vines of Arneis growing in the Roero region. They were used to blend with lower-grade Nebbiolo, creating a pinkish table wine, which, as Luca notes, the farmers called "a mother-in-law wine."
Disregarded and underutilized, Arneis was kept around in some cases solely to give the birds something to eat instead of the prized Nebbiolo grapes.
Little did they realize at the time that Arneis is most likely a "white mutation" of Nebbiolo.
"My old teacher of Torino University was one of those (who believe this theory). Leaves, shape of clusters, are just like a white Nebbiolo," Luca noted.
Not only does it prefer the same soil and sun exposure, it also has the same bullheaded stubbornness about growing and ripening as Nebbiolo does.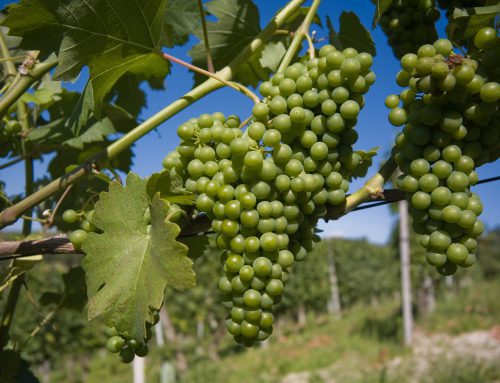 Luca's father had a hunch that the grape could produce something interesting, and he began to conduct research on Arneis in 1967.
"He wanted to make a white wine with 8 to 10 grams per liter of sugar," Luca told me. "But unfortunately, he did not have the technique to stop the fermentation and it was dry." So Alfredo left it in a cement vat on the lees for the rest of winter. Probably not the best experiment, but he did it anyway.
The following year, in 1968, Luigi Veronelli — one of Italy's most acclaimed gastronomy writers — arrived to report on Piedmont's wines and the recent harvest. Intrigued with Vietti's first white wine, he sampled it. "And instead (of Barolo) making the page of Corriere Della Sera," Luca said "he wrote an entire page on the Arneis!"
Sipping Roero Arneis
So what does Roero Arneis taste like? A year ago, I likened it to the flavors of Riesling on a Chardonnay body, but now I think that's all wrong … a misguided effort to pin it down and explain it.
It truly has its own identity which defies easy comparison. My first few sips of the Vietti were gripping: the acidity was so robust, I had to find a bite of food to tame it (sound familiar, Nebbiolo?). And that's when it started to show some magic. Alongside creamy and rich flavors, it created a harmony that was so inviting, I was on to a second glass in short order.
Many have likened Roero Arneis' unique finishing note to almonds. I was reminded more of walnuts, but that doesn't matter as much as the wine's ability to come at you in waves over the course of a meal. For that, its a wonderful companion any night of the week.
2013 Vietti Roero Arneis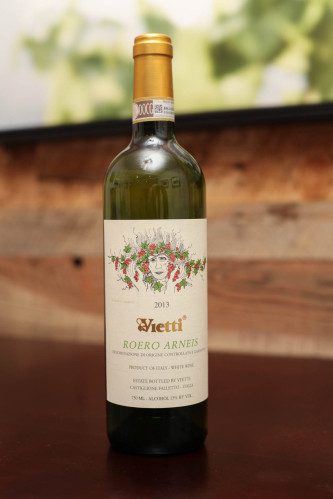 Roero DOCG, Italy
Grapes: Arneis 100%
Alcohol: 13%
Rating: ★★★★ 1/2 (out of five)
• Aromas, Flavor & Structure: ★★★★
Food-friendliness: ★★★★★
• Value: ★★★
Tasting notes: The 2013 Vietti Roero Arneis opens up on the nose immediately, offering rich scents reminiscent of apples, lime and a finishing note of walnut. It might seem like a strange combination of notes at first, but it works beautifully. The wine's pronounced acidity cuts through fatty foods like a buzzsaw.
Recommended for: Not a wine to be sipped on its own. Well, you could, but why would you when it shines so much better alongside rich foods? Think: cheese plates and charcuterie; buttery, pan-friend halibut; even a primi of sage-butter tajarin pasta as they do in Piemonte.
Top photo: A typical vineyard near Castiglione Falleto ©Vietti