4
min read
There is only so much wine drinking an individual can do.
You might disagree with that, but it is a thought I keep having whenever I enjoy the wines of Hacienda Araucano from Chile.
You see, I simply have yet to invest much time into understanding this beautiful country's wines because I am so invested elsewhere: France, Italy, cool-climate whites from California, Pinot Noir from Oregon … I mean, how many wine-education priorities can a wine lover/family man such as myself have?
But I think the winemaker behind Hacienda Araucano — fifth-generation Bordeaux vigneron François Lurton — is trying to tell me something: Chile is worth deeper investigation. Especially considering the value you get from its wines.
A trio of Lurton's red wines — as well as their Alka Carménère which I profiled last year — demonstrate such a wonderful depth, that surely the culprit of excellence is just as much the terroir of the Colchagua Valley as it is Lurton's adroit winemaking skill.
Here, just south of Santiago, the Andean valleys run west to east, pulling maritime influences from the Pacific up into the hot interior hills at night. The best Pinot Noir regions of California are known for the exact same thing, but I have yet to have a $13 California Pinot Noir that competes with Lurton's $13 Hacienda Araucano Pinot Noir Reserva. It is well-rounded, interesting and surprisingly gamey. If I am braising a meat, grilling a salmon or ordering a pizza, I wouldn't hesitate to uncork it.
Earlier in the year, we enjoy two other reds from Lurton — his Cabernet Franc and his Gran Araucano Cabernet Sauvignon. The Cabernet Franc showed off all the qualities I love about this grape: a unique profile that recalls blueberries and violets, and a softness that improved the wine with food — all without loosing its backbone. It reminded me of Chinon, the Loire Valley's best-known and super reliable Cab Franc region.
The Cabernet Sauvignon was less thrilling, but in all honesty, that's just Cabernet Sauvignon and my palate. But I appreciated that it retained some savory qualities and that it held back a bit, as if it was patiently waiting for a rack of lamb to be served with it. The glut of overly fruity, overly noisy Cabernet Sauvignon on the market has shifted my starting point on what Cabernet Sauvignon is suppose to taste like, and this wine's careful demeanor alone made it noteworthy.
And the Alka Carmenérè — with its notes of blackberry and clay — is a monster of a wine. I would order it again if I saw it on a wine menu.
I was hoping to just enjoy these wines and not have to write about them, but I'll be damned if they didn't inspire me to pay more attention to Chile.
My homework assignments just increased.
2013 Hacienda Araucano Pinot Noir Reserva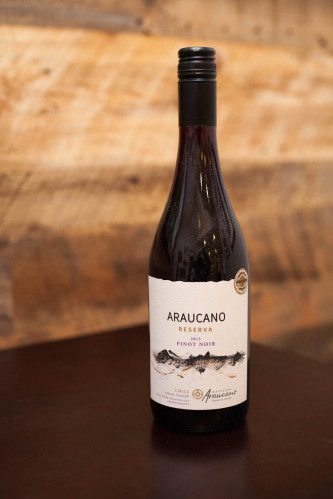 Lolol Valley (Colchagua Valley, Chile)
Grapes: Pinot Noir 100%
Alcohol: 14%
Ratings: ★★★★ 1/2 (out of five)
• Flavors, Aroma & Structure: ★★★★
Food-friendliness: ★★★★
• Value: ★★★★★
Tasting notes: The 2013 vintage in the Lolol Valley was a wet and cold one, and it has yielded a Pinot Noir in the style that I love: a little gamey at first, with delicate and elegant black fruits that allow intriguing aromas — such as wildflowers and a black pepper — to rise to the surface.
Recommended for: Given its price tag ($13) this wine resides in half-case territory. Stock up, and you'll have a great everyday Pinot Noir for red-sauce pasta dishes, pizzas or salmon.
---
2011 Hacienda Araucano Cabernet Franc Reserva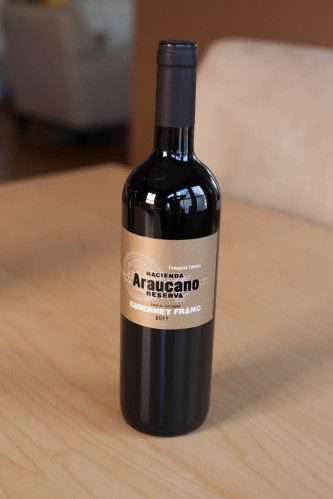 Lolol Valley (Colchagua Valley, Chile)
Grapes: Cabernet Franc 85% / Cabernet Sauvignon 15%
Alcohol: 14%
Ratings: ★★★★ (out of five)
• Flavors, Aroma & Structure: ★★★★
Food-friendliness: ★★★★ 1/2
• Value: ★★★ 1/2
Tasting notes: A dead-ringer for Chinon, this lovely Cabernet Franc expressed a tantalizing combo of aromas that recalled blackberries, blueberries, graphite and roses. I loved its even balance and soft tannins, which gave it a nice platform for complementing a variety of foods, particularly grilled pork tenderloin.
Recommended for: A wonderful introduction to Cabernet Franc. Serve this to a friend who has never had it if you want to convert them.
---
2010 Gran Araucano Cabernet Sauvignon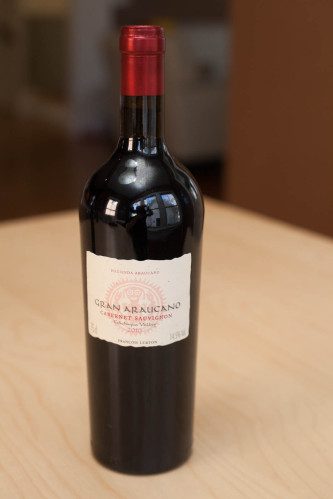 Lolol Valley (Colchagua Valley, Chile)
Grapes: Cabernet Sauvignon 100%
Alcohol: 14%
Ratings: ★★★ 1/2 (out of five)
• Flavors, Aroma & Structure: ★★★ 1/2
Food-friendliness: ★★★★
• Value: ★★★
Tasting notes: Quite nice, and while it is not wholly distinctive, it is a well balanced wine, offering solid amounts of fruit and savory qualities to rise above the crowded field of Cabernet Sauvignon. Aromas are reminiscent of raspberry, violet flowers and musk, with a rich palate recalling blackberries, rose and vanilla. Perfect amount of oak, and after it has breathed for 30 minutes, it really mellows out.
Recommended for: Lamb, steak or venison. May be a wine that gets more interesting with age. Sit on it through 2018 or so.
---
Note: Wines for this article were provided as samples from WineSellers Ltd. Learn more about our editorial policy.