10
min read
If you don't know the wines of Alsace, I suggest that you check them out, especially now that it is the height of summer.
Alsace specializes in Riesling, Pinot Gris, Gewurztraminer and Pinot Noir, its lone red wine. There is also a wide-open range of sparkling wines made in the same traditional method as Champagne known as Cremant d'Alsace. They are exciting, full, delicate, complex, and one-third the price of Champagne.
Truthfully, these wines work at the table any time of year, but the heat of summer is a great time to rediscover them. It is usually now I find myself in a wine rut: nothing seems exciting because its hot and most of the rosé I've been sampling sucks.
So if you are hatching a midsummer night's scheme to revitalize your wine rack, buy some wines from Alsace: they will liven up your summer. (And I have suggestions below).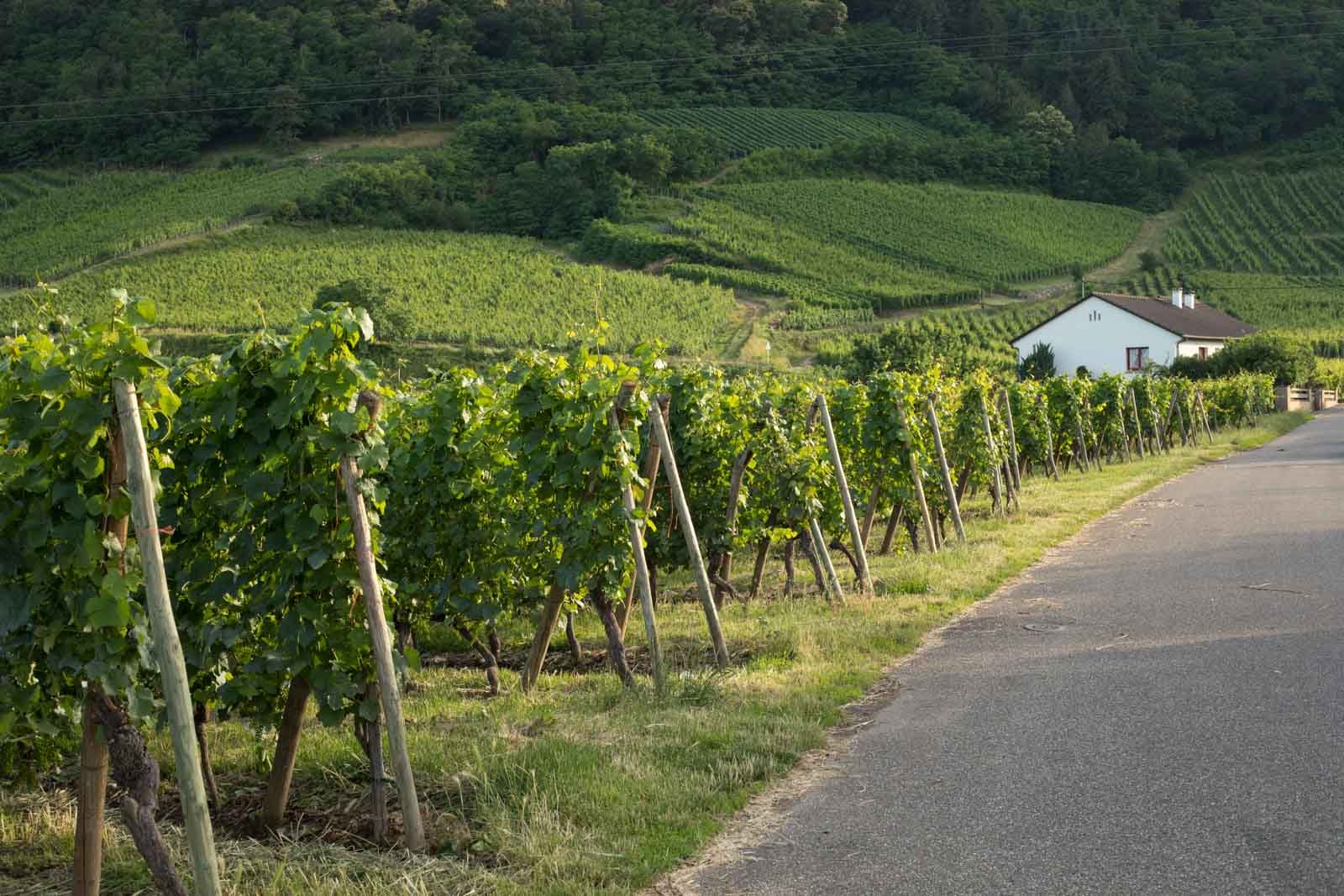 I was invited to Alsace this month to attend their semi-annual trade event called Millésimes d'Alsace. The four-day event gives sommeliers, importers and journalists the chance to sample wines from 100 of the area's producers and then tour Grand Cru vineyards and visit wineries for the duration. It's a sly ploy to make us fall in love with Alsace and its wine.
And you know what? It worked.
The headline event of Millésimes d'Alsace is the trade tasting, located in the Colmar Expo Center. It's speed-dating for wine professionals, except each winemaker faces numerous suitors at once and you have to squeeze your questions in over the din. It's not the best way to conduct an interview, but it affords tasters the chance to really see the dramatic differences within the region.
Right now, there is an on-going battle over sweetness in Alsace. The wines used to be dry, then 20 years ago they gradually became more sweet. Now, a new generation of winemakers seems determined to restore order and revert back to dryness. The clash of styles is fascinating to experience.
To me, these were the 10 standout wines (with two pairs of wines lumped together because they were part of vertical tastings):
2015 Barmès-Buecher Grand Cru Steingrübler Riesling (

★★★★★

)
2015 Barmès-Buecher Grand Cru Hengst Gewurztraminer (

★★★★★

)
2013 & 1988 Léon Beyer Comtes d'Eguisheim Pferzigberg Riesling (

★★★★★

)
2016 Zind-Humbrecht "Clos Ste Urbain" Grand Cru Rangen de Thain Riesling (

★★★★★

)
2016 Zind-Humbrecht Grand Cru Brand Riesling (

★★★★★

)
2014 & 2008 Josmeyer Grand Cru Hengst "Samain" Riesling (

★★★★★

)
2014 Josmeyer Grand Cru Brand Pinot Gris (

★★★★★

)
2015 Marcel Deiss Burlenberg (

★★★★

3/4)
2011 Muré Clos Saint-Landelin Pinot Noir (

★★★★

3/4)
2011 Gustav Lorentz Altenberg de Bergheim Gewurztraminer (

★★★★ 

3/4)
And here's why you should care about them.
---
The Standout Winemaker: Barmès-Buecher
The wines I sampled from Barmès-Buecher were each like a Cracker Jack box: there was a little prize hidden within. It began with a stunner, the 2015 Lieu-Dit Clos Sand Riesling (★★★★ 3/4) , which was decked in earthy aromas as well as apricot and flint. Things got even more interesting. The 2015 Grand Cru Steingrübler Riesling (★★★★★) was subtle and meaty on the palate, and triggered an out-of-nowhere aroma memory of willows along a river bank back home in Colorado. Their two offerings from the Grand Cru Hengst — a 2015 Riesling (★★★★★) and a 2015 Gewurztraminer (★★★★★) — were sensationally strange and mysterious. I have had paté maybe twice in my life, yet the Riesling made me suddenly crave it. The Gewurztraminer smelled like roses mixed with seashells and slightly sour (yet appealing) tropical fruit.
During the entire tasting, the brother-and-sister team of Maxime and Sophie Barmès stood behind their table pouring for a swirling storm of curious tasters, but smiling confidently. They know how good their wines are.
Why Should You Care? Riesling can be one of the most surprising wines in the world, but it rarely is. Every one of the Riesling I sampled from Barmès-Buecher's was flat-out astonishing.
---
A Winemaker to Admire: Léon Beyer
If Barmés-Buecher represents the New School of Alsace Wines — fresh, crisp, full of terroir-driven surprises, biodynamic — than Léon Beyer represents the Old School. But not one-generation-removed in terms of style: two.
During my time with Marc Beyer, he grumbled about how Alsace's winemakers had gotten carried away with sweetness levels in their wines over the last decade. In that sense, the next generation is restoring order by following their grandparent's generation, which these wines nicely represent in style. (Léon Beyer has also long resisted the practice of designating Grand Cru sites — something the new generation embraces).
How Léon Beyer does this is by aging the domaine's wines for ridiculously long periods before release. Their Riesling typically doesn't see the marketplace for seven years. Their Gewurztraminer may be held back for up to 10 years.
The wines are an invigorating mix of fruity, minty and earthy tones. Each sip of the 2013 Comtes d'Eguisheim Pferzigberg Riesling (★★★★★) comes in waves, recalling pear, marigold, candy and oranges, with a noticeably rounder texture because of extended aging on the lees. The 2011 vintage seemed more concentrated and longer on the finish, and then Marc's eyes twinkled a bit and he reached under the table. "I can tell you like it, so here, try some of this." It was a bottle of the same wine from 1988. It was like seeing a landscape in springtime glory, then immediately fast-forwarding to its autumn colors. The vivid fruit and flowers were now like black truffles and blue flowers on the nose, the roundness shifting into something oddly buttery and smooth.
Every now and then, you come upon a crazy producer like this. It takes fearlessness and quite a bit of stubbornness to embrace such a risky approach to selling your wine. But when you see the story arch so clearly — as I did at Léon Beyer's table — you can't help but tip your cap to what they're doing.
Why Should You Care? Because white wine can improve with age as long as the right elements — acidity, structure, and yes, tannin and some residual sugar — are all in balance.
---
The Justifiably Hyped
Trimbach and Hugel are the two biggest names in Alsace, but nipping on their heels — and probably surpassing them in the eyes of many — is Domaine Zind Humbrecht. Overseen by France's first Master of Wine, Olivier Humbrecht, the domaine has long been a regional leader in biodynamic viticulture, as well as informing consumers about sweetness in their wines by creating a 1-to-5 scale and publishing it on the label (whether anyone knows about this is another matter). Earlier this year, I was introduced to Domaine Zind Humbrecht via their bottle of Grand Cru Brand Riesling, and that bottle alone convinced me to stop by and see Olivier first before the crowds showed up.
He is a highly engaging man to talk to, especially about his process. On chilling the must: "It is like the vikings dipping a new baby in the cold water. You want to see which ones (yeast cells) are strong enough to survive because they will contribute the most." And on Alsace's climate and soil: "Alsace can produce anything, and that can be a problem."
His flight of Riesling was impeccable. I may prefer the adventurous spirit of Barmès-Buecher a little more, but Zind Humbrecht's precision is impressive, particularly on two wines: the 2016″Clos Ste Urbain" Grand Cru Rangen de Thain Riesling (★★★★★) and the 2016 Grand Cru Brand Riesling (★★★★★). Part of what makes them so impressive — beyond the vineyard sites and careful, meticulous work done to nurture the vines — is the small amount of malolactic fermentation that the wines undergo, which is uncommon among Riesling (from my experience). The process encourages bacteria in the grape must to convert tart-tasting malic acid into creamy-tasting lactic acid. The result is a white wine with a sublime texture.
Why Should You Care? Zind-Humbrecht is one of Alsace's best distributed winemakers in the United States, but they are also among the region's most expensive producers. However, the demand for their wines is justified. If you love Riesling, you need to have a Zind Humbrecht sometime.
---
The Shape-Shifter
Invariably in such a setting, a few winemakers would slip through my grasp. I tasted the wines of Albert Boxler and Ostertag — two of the most highly regarded domaines in Alsace — and while I could appreciate their delicacy and craft, I missed the fireworks. I'm sure a second tasting would produce wholly different impressions.
But if there was a winemaker I'd like to return to and better grasp, it was Josmeyer, which is run by sisters Céline and Isabelle Meyer. Something was going on with each sip of their wine, but I wasn't able to fully interpret it. That's because their wines are simultaneously friendly yet complex, which makes them a bit elusive. I found myself torn between analyzing them and just saying "to hell with it" and savoring them. But you know what? That's the sign of a wine you can keep coming back to.
Both the 2014 and 2008 Grand Cru Hengst "Samain" Riesling (★★★★★) shifted from one sensation to the next. I wrote down "moves in mysterious ways" (and then promptly had that song in my head for the rest of the day). The aromas did not want to be pinned down. They were limey and waxy one moment, creamy and apply the next. The 2008 even brought to mind a faint bit of butterscotch. But on the palate, their lusciousness was so amiable and kind, I gave up on the aroma wheel in my head.
The lights-out winner of the tasting was the 2014 Grand Cru Brand Pinot Gris (★★★★★). (Can I just say: "holy smokes, this vineyard! It keeps doing this.") For a grape that is so often maligned in public these days for its predictability, this Pinot Gris was complex and a welcome surprise. Instead of the usual lemons and lunchbox apples, it presented sumptuous and concentrated aromas reminiscent of fresh apricots, orange blossom and honeycomb. In my notes, I failed to find words for the texture, so I wrote "texture, texture, texture." It was a wine that rendered me into a complete doofus.
Why Should You Care? I've long maintained that the best Riesling wines play sleight-of-hand magical tricks with the palate. They conjure sweet things without sticking to the sides of your mouth with excess sugar. Winemaker Isabelle Josmeyer underscores this notion nicely with her Riesling, then she seems to say "watch me do the same thing with Pinot Gris."
---
Three Other Standouts to Know
2015 Domaine Marcel Deiss Burlenberg
This winemaker resides on their own street in Alsace. That's because the winery focuses on field blends as their way to express each individual vineyard. Think of it this way: whatever grows within a designated plot ends up in the wine. They are picked together, fermented together, bottled together. If you have red and white grapes in that plot, so be it. Throw them in there. It's the hunter's stew of wines.
Marcel Deiss does a superb job handling these grapes: the acidity and sugar levels and the textures are all pretty spot on. And while a field blend is an intriguing notion, it does produce some oddball aromas and flavors that I struggled to embrace (e.g. "why am I getting honey, sap, button mushrooms and hickory smoke on this?").
However, the Burlenberg (★★★★ 3/4) — a Pinot Noir-focused wine with its white cousins Pinot Gris and Pinot Blanc blended in — popped with its incredible spiciness and smokiness, as well as a cherry-watermelon fruit tone that felt very appropriate for a summer picnic.
Why Should You Care? If anything, the 2015 Burlenberg reminded me of the wines from Etna in Sicily, which perhaps isn't a surprise since both the Burlenberg vineyard and Etna share the same kind of volcanic soils. So there's that headscratcher …
---
2011 Muré Clos Saint-Landelin Pinot Noir
Pinot Noir will claim more and more of Alsace's wine future. Many winemakers have noted that the warming climate in the area has allowed them to do things with Pinot Noir that — a generation ago — would have been inconceivable. The 2011 Muré Clos Saint-Landelin Pinot Noir (★★★★★) embodies this future well. The comparisons to Burgundy are unavoidable. It's a lean, elegant, precise Pinot Noir with all the scales balanced between fruitiness, acidity and tannin. Shades of black tea and black pepper came through over a beautiful layer of red stone fruit.
Why Should You Care? Have you seen how much the latest vintage of Burgundy costs?
---
2011 Gustav Lorentz Altenberg de Bergheim Gewurztraminer 
Last but not least, we have one of my least favorite grapes. Oh, Gewurztraminer. You are the pop song on Spotify that makes me scramble for the "next" button.
Unless, perhaps, you have some residual sugar. And here is where Alsace had me twisted in knots, both at the trade show, and later winery visits. I just don't know what to think about Gewurztraminer anymore, but I certainly can't hate it anymore. Not when it is as delicious as this Grand Cru wine from Gustav Lorentz (★★★★ 3/4), which was akin to sinking your teeth into a juicy peach while standing in a rose garden. The grapes in the Altenberg de Bergheim vineyard regularly develop botrytis late in the season, which intensifies the sweetness of the fruit and lends a unique character of beeswax to the flavor profile.
Other samples of Gewurztraminer from the trip seemed to align with the notion that I prefer this grape sweet, which runs counter to my personal tastes in Riesling and Pinot Gris (and other things such as chocolate, coffee and barbecue sauce … you know: important things).
Georges Lorentz has a theory on why Gewurztraminer works better when its sweet: "The nose of Gewurztraminer is naturally sweet. You can't change that. So when it is dry, something is confusing."
Sounds like a delicious debate.
Why Should You Care? Don't fear the sweetness (at least not in Gewurz).
---
Note: This article was made possible because of a media trip organized by CIVA and Wines of Alsace USA which brought me to Colmar with all expenses paid. The editorial direction and opinions expressed in this piece are solely at my own discretion.