10
min read
There is a brisk chill in the air at night where I live, and as much as I hate what follows fall, I sure do enjoy this time of year. Autumn is my favorite season to spend in the kitchen, which naturally means it is my favorite time of year to drink wine. My priorities for selecting a bottle shift from "crisp and refreshing" to "depth and intrigue." And by that measure, there are plenty of perfect wines for fall.
If you are looking to build a mixed case for fall, start here with these picks from lightest to heartiest.
---
NV Besserat de Bellefon Champagne Brut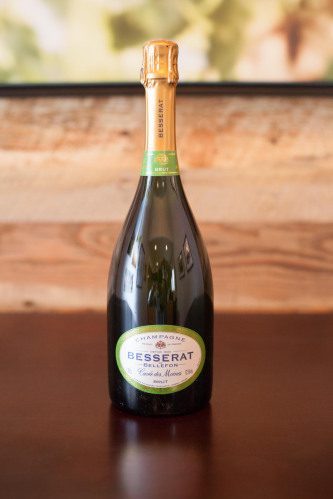 Champagne, France
Grapes: Pinot Meunier (45%), Chardonnay (35%), Pinot Noir (20%)
Alcohol: 12.5%
Ratings: ★★★★ 1/4 (out of five)
Tasting Notes: A Champagne for all seasons, but with a few distinct notes to really accentuate autumn: crisp underripe pear, green apples, hazelnuts and sunflower seeds are all present on this wonderful, rounded Champagne. Excellent value.
What I Like About It: We don't dabble in Champagne or other sparkling wines very often, mostly because we personally don't find them to be very food-friendly (though I know we are in the minority in that regard). Yet this wine may change a few opinions. With its silky texture, pleasant yet unique aromas (sunflower seeds!), and low alcohol, it worked brilliantly with a frittata brunch. Some at the table wanted to make mimosas with it. I say "to each their own." But I loved it straight up and would seek it out again.
---
2015 Senda Verde Treixadura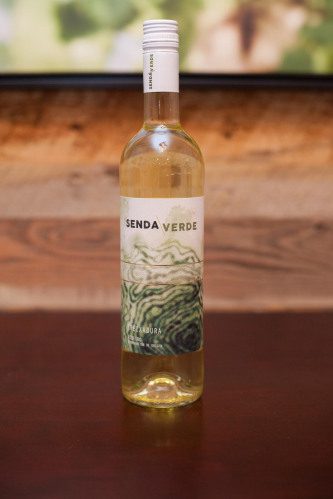 Ribeiro DO, Spain
Grapes: Treixadura (100%)
Alcohol: 11.5%
Ratings: ★★★★ (out of five)
Tasting Notes: Not particularly strong, but what it lacks in assertiveness it makes up for with distinctiveness. Mild aromas of melon, green apple, orange peel and sautéed green pepper, with a palate that conveys sweet flavors without being sweet. Very light body, and low in alcohol.
What I Like About It: I've come to adore the red and white wines of Galicia, especially this year. They tend to be aromatic with a hint of exoticism, and their cool-climate profile — a little more acidity, zippier fruits, more stoniness on the finish — makes them a great pair for a variety of foods. This varietal Treixadura is a bit rare, as it is often used as a blending grape. The obvious pairing would be seafood dishes, but we paired it with a vegetarian dish with a lot of sweet potato, one of those quintessential fall flavors. Strangely enough, it was a brilliant pairing.
---
2015 Aia Vecchia Vermentino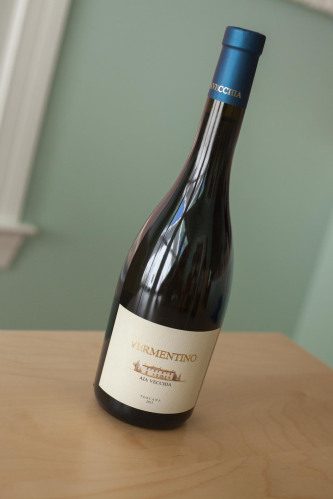 Maremma Toscana, Italy
Grapes: Vermentino (95%), Viognier (5%)
Alcohol: 13%
Ratings: ★★★★ (out of five)
Tasting Notes: Very potent tropical aromas of pineapple, bell pepper, herbs, green tea and custard. Fun, energetic and smooth on the palate with a persistent finish.
What I Like About It: Despite the complexity on the nose of this wine, I found it to be as easy-drinking as they come. I would serve it with a cheese plate, or alongside seared scallops which would bring out the wine's almost-Chardonnay-like butteriness.
---
2012 Chateau du Moulin-à-Vent Pouilly-Fuissé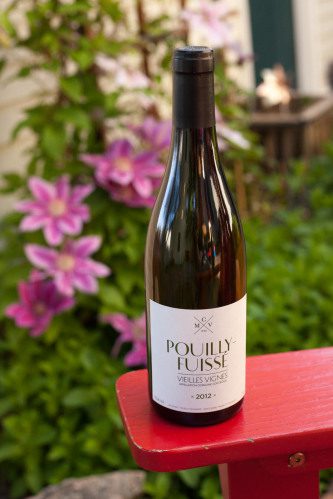 Pouilly-Fuissé AOC, France
Grapes: Chardonnay (100%)
Alcohol: 13%
Ratings: ★★★★ 1/4 (out of five)
Tasting notes: Pale-gold with green edges in appearance. The intense aromas are reminiscent of lime peel, honeycrisp apples and cream, with hints of smoke and swirls of beeswax. Silky smooth on the palate with inviting acidity and a mineral finish. Minimal oak influence.
What I Like About It: My first taste of Pouilly-Fuissé (a small appellation in southern Burgundy) would prove to be a very pleasant one. Chateau du Moulin-à-Vent is one of our Essential Winemakers for the work they've done in neighboring Beaujolais, but here they present a very different wine. If you have heard of comfort food, then this is a "comfort wine," laced with notes that feel right for the season.
---
2013 Domaine Faury Saint-Joseph Blanc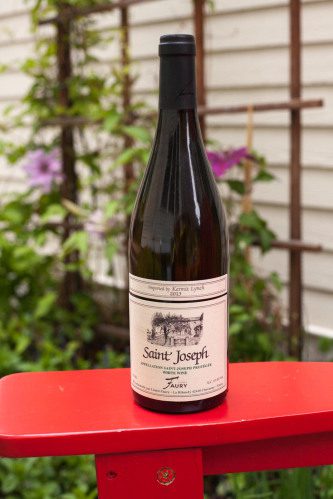 Saint-Joseph AOC, France
Grapes: Marsanne (60%), Roussanne (40%)
Alcohol: 13%
Ratings: ★★★★ 3/4 (out of five)
Tasting Notes: Beautiful golden color with glints of green on the edges. Wonderful and intense aromas of orange, grapefruit, green tea and traces of honey. Perfect mid-weight palate that is elegant and smooth, at times pleasingly tart recalling peaches and creme brûlée. Beautiful finish.
What I Like About It: If you buy a white wine from the list, make it this one. Kermit Lynch is an importer, but his company's ability to consistently snoop out excellent wines and bring them to the States (as well as demand a certain style from his winemakers) might warrant an inclusion on our Essential Winemakers list. This white Saint-Joseph — a Northern Rhône appellation better known for Syrah — is complex and beautiful through and through. We couldn't bring ourselves to recork it for another night: it was gone in an hour.
---
 2015 Priest Ranch Winery Grenache Blanc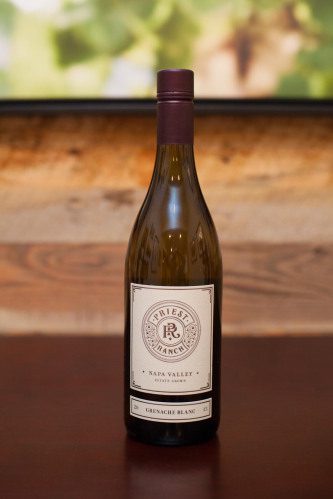 Napa Valley, California
Grapes: Grenache Blanc (100%)
Alcohol: 14.8%
Ratings: ★★★★ 1/4 (out of five)
Tasting Notes:  A very pretty, well-rounded and medium to full-bodied white with aromas that recall oranges, pear, almond extract and white flowers. Supple on the palate, cutting acidity and a zingy finish with traces of licorice. A little high in alcohol, but stretches out over a few nights just fine.
What I Like About It: If you are bored with the anonymity of California's Chardonnay and Sauvignon Blanc, give this Grenache Blanc a try. Despite its high alcohol, it expresses quite a bit of detail, offering richness and a lot of energy (which are typically antithetical in a white wine). Good for sipping on its own.
---
2013 La Kiuva Società Cooperativa Arnad Montjovet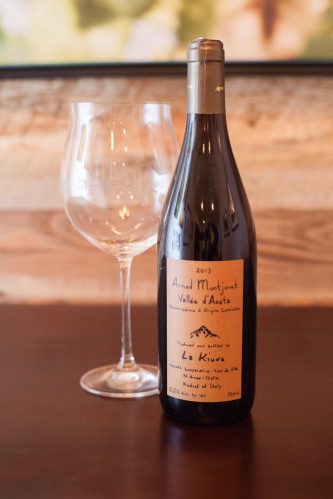 Valle d'Aosta Arnad Montjovet DOC, Italy
Grapes: Nebbiolo (100%)
Alcohol: 12.5%
Ratings: ★★★★ 3/4 (out of five)
Tasting Notes: Comes across like a tart Bourgogne at first, then mellows into a gamey Nebbiolo. Very light, almost translucent ruby color. Aromas recall a mountain meadow, with waves of dark plum and black cherry at its core, and a hint of black pepper and cured meat on the edges. Exotic. One of the lightest Nebbiolo I've ever had.
What I Like About It: If you follow Opening a Bottle, you knew a Nebbiolo would be on this list, but you probably wouldn't recognize this wine as Nebbiolo at first. As I sipped it, it kept telling me "I'm from some places else." Like something from Burgundy or the Jura, it transcended expectations with a paradoxical profile of dark berries and light body. A real shape-shifter — and along with Valtellina — proof that some of Italy's most compelling expressions of its king grape hail from the Alps. If you buy a red wine from this list, make it this one.
---
2011 Fattoria Selvapiana Chianti Rufina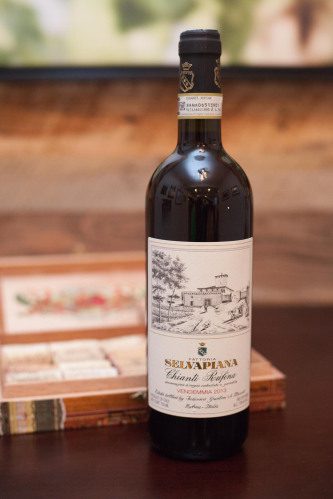 Chianti Rufina DOCG, Italy
Grapes: Sangiovese (95%), Canaiolo (5%)
Alcohol: 13%
Ratings: ★★★★ 1/4 (out of five)
Tasting Notes: Meaty, heady aromas reminiscent of salami, peppercorns and licorice. But the palate is delicate, offering fruit notes like plum, rainier cherry and vanilla.
What I Like About It: Sangiovese is one of those wines that just fits with fall. Still, many of the wines from Chianti can be searingly oaky and overbearing, depending on the style of the winemaker. This wine properly balances those elements. It comes from Chianti Rufina, which is easily overlooked because Chianti Classico is so ubiquitous. However, Chianti Rufina might be more elegant, thanks to exposure of cool maritime winds. This wine bears that out, and is a great buy.
---
2012 Feudi di San Gregorio "Rubrato" Aglianico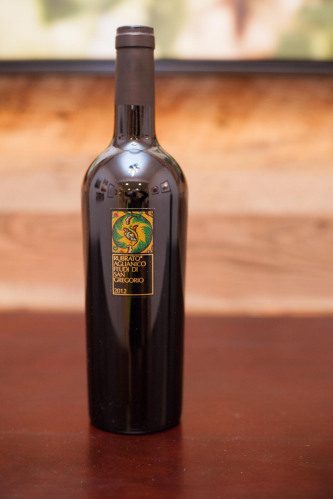 Vesuvio DOC, Italy
Grapes: Aglianico (100%)
Alcohol: 13%
Ratings: ★★★★ (out of five)
Tasting Notes: Offers precise aromas of black cherry, oak, earth and a bundle of herbs. Medium-bold on the palate with a somewhat tart yet rounded presence. Quite dry. Truffles and slate on a surprisingly long finish make it memorable.
What I Like About It: My tastes and interests in Italian wine tend to linger in the northern end of "the boot," but the wines of Feudi di San Gregorio consistently call out to head south, especially given their value. This Aglianico is a sharp and determined wine, residing somewhere between a Cabernet Sauvignon (fruit profile) and a Nebbiolo (oh, that finish). Would pair well with hearty stews and roasted meats.
---
2013 Inama Carmenérè "Più"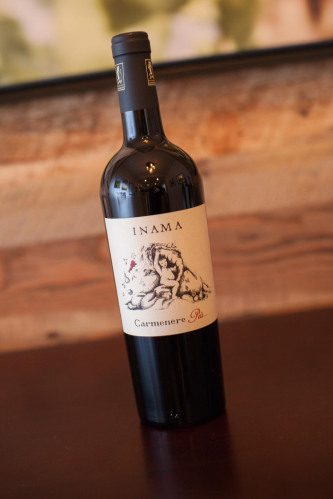 Colli Berici, Italy
Grapes: Carmenére (70%), Merlot (30%)
Alcohol: 13.5%
Ratings: ★★★★ 1/2 (out of five)
Tasting Notes: Now here is a particularly delicious wine. Deep, dark fruit on the nose recalling bing cherries, plum and raspberries, as well as wet stones that gradually, over time, transform into something akin to roasted chiles. Earthy and natural. Black pepper and baking spice on the finish.
What I Like About It: Carmenérè is one of the world's most fascinating grapes, an ex-patriot who fled Italy, put down roots in Chile, went by a nom de plume, and was thought to be dead and extinct for decades before it was genetically tested. This is the first Italian Carmenérè I've tried, which utilizes an ample amount of Merlot to add some plushness and romance to the wine's texture. Serve with a mushroom sauce of some kind and it will show you tremendous depth.
---
2010 Bodegas Cepa 21 Ribera del Duero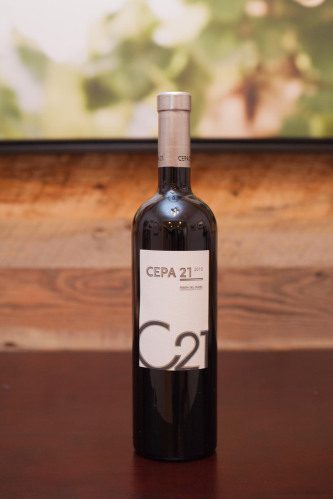 Ribera del Duero DO, Spain
Grapes: Tinto Fino (aka Tempranillo) (100%)
Alcohol: 14.5%
Ratings: ★★★★ 1/2 (out of five)
Tasting Notes: A classic Tempranillo profile on this full-bodied red. Aromas of sour cherry, rhubarb, tobacco and vanilla-sweet oak. Smooth and rich but not cloying, with a dry and mineral finish recalling rosewater at the last instant. Allow time to breathe to really appreciate it.
What I Like About It: There is something about Spanish Tempranillo that makes it suits the season: dark, almost-baked fruit flavors with an overlay of oak. I enjoyed this wine in particular because of its smoothness and compelling aftertaste. Don't be surprised if you pour an extra "what the hell, let's finish this bottle" glass.
---
2014 Day Wines TNT Tannat
Applegate Valley, Oregon
Grapes: Tannat (100%)
Alcohol: 13%
Ratings: ★★★★ (out of five)
Tasting Notes: A unique and beguiling wine with a first-taste that comes across as wild and rich. Blueberry pie and plums lead the way on the fruit profile, while vanilla, licorice and wet rocks come through on the nose. Fairly bold and heavy on the tannins (thus the name), yet with a soft finish.
What I Like About It: Oregon continues to prove that its wine is more than just Pinot. One winemaker who keeps fostering the trend toward other French varietals is Brianne Day. We paid her a visit in Dundee, Oregon back in June, and walked away from her under-construction tasting room with a bottle of this Tannat. I loved its balance of elements: soft baked blueberries yet rough licorice aromas; hit-em-hard tannins yet a soft finish. An intriguing wine that's worth seeking out.
---
2012 Polkura Malbec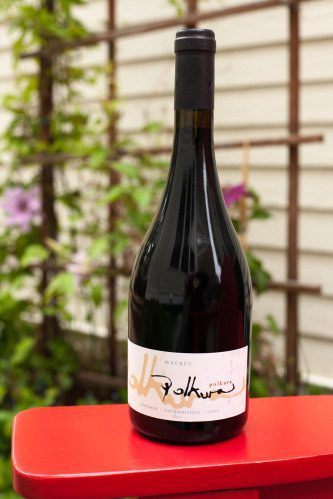 Colchagua Valley, Chile
Grapes: Malbec (100%)
Alcohol: 14.5%
Ratings: ★★★★ 1/2 (out of five)
Tasting Notes: A dark and brooding wine with surprising elegance and balance. Presents rich aromas that recall blackberry, green olives, walnut and underbrush. Smooth on the palate without the usual coarseness of Malbec. Sublimely natural.
What I Like About It: I am not a big Malbec fan. I find it to be a little too big and brash for my palate, and it can be a difficult wine to pair appropriately. Yet Polkura has such a good track record with my taste, I opted to give their Malbec a shot, and I'm glad I did. This wine felt expressive, bold yet subtle. A tough balance to pull off. Easily one of the more surprising wines I've had this year.
---
The following wines were provided as samples by importers and distributors: Besserat de Bellafon Champagne Brut (WineSellers Ltd.), Priest Ranch Grenache Blanc, Senda Verde Treixadura (WineSellers Ltd.), Aia Vecchia Vermentino (Dalla Terra Winery Direct), Chateau du Moulin-à-Vent Pouilly-Fuissé (Wilson Daniels), Inama Carmenérè "Piu" (Dalla Terra Winery Direct), and Fattoria Selvapiana Chianti Rufina (Dalla Terra Winery Direct).
Only wines worth writing about get included in such coverage. Plenty do not make the cut. Learn more about our editorial policy.