3
min read
It is a storyline that we cannot get enough of in wine media: You Should Like Riesling. It's Not Sweet. No Really. And if you disagree, You're Wrong.
Riesling is often the drink of choice for us wine professionals when we hang out in a vacuum. We seem to have a magical power (which ordinary folk lack), that deciphers fruitiness differently than sweetness. "Actually, there is no residual sugar on this," we are likely to pontificate. "It only seems sweet because of the rapturous apple- and quince-like notes." We also possess an undaunted confidence around the word "petrol," a group-think term for the presence of trimethyldihydronaphthalene in Riesling wines. To some, it smells like gasoline ("in a good way!" we claim). To others its more like petroleum jelly. There is also a camp who sees it as a fault. Perhaps rightly so.
Meanwhile, outside the vacuum, people are exchanging glances about the crazy people arguing over the taste of rapturous apples and gasoline. No wonder Riesling is omitted from many people's buying decisions.
And what a goddamn shame.
For one, the petrol note mentioned above is not as ubiquitous as the conversation surrounding it, especially in just-released Riesling, as it often emerges with age. But what is more, a top-notch Riesling has the rare ability to convey the sunshine in its radiance. Let's put the technical talk to the side, and get lyrical. In the way it shines on the palate through its joyous fruit tones and bright acidity, it is as though Riesling has absorbed the sun, saved it and preserved it through the fermentation and bottling line, and then released it once on the palate. To me, this is the "tell" of Riesling at the poker table, and its why I choose to love it.
We've featured Domaine Ostertag's "Les Jardins" entry-level line of wines on this website before. Equal parts winemaker, artist and environmentalist, André Ostertag is one of Alsace's most compelling winemakers, and his wines are always forthcoming and pure at heart. There is no petrol here, even with two-plus years of age. If anything, that fringe tertiary note that seasons the expression of Riesling here is, to me at least, more like ginger root. This wine is no shrinking violet: the acidity is substantial, the body is strong (but not muscular), and right when you think it's ready to shift into higher gear, it relents into a beautiful mineral finish. And that's where you can tell that the sweetness was an illusion all along: the way it cleanly lingers on the palate like a memory.
2020 Domaine Ostertag "Les Jardins" Alsace Riesling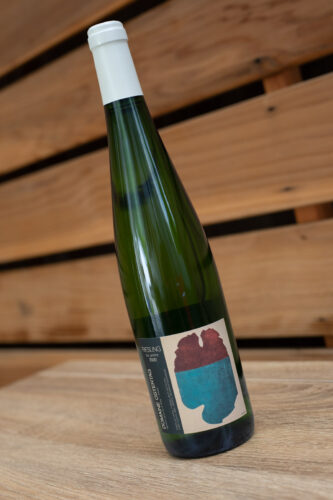 Alsace AOC (Alsace )
Grapes: Riesling (100%)
Alcohol: 13%
Opinion: ★★★★ 3/4 (out of five)
Food-friendliness: Versatile
Value: As Expected
A beginner might like … overcoming their sweetness bias by identifying the difference between fruitiness and residual sugar. This wine would be the perfect example if you were running a seminar on such a topic. There is a fleshy pear tone through the middle, which is accentuated by the wine's acidity and radiance. But when you swallow, where is that cloying feeling of sugar left over on the edges of the palate? Nowhere, because it doesn't exist.
A wine obsessive might like … to know that André Ostertag ages this wine on the lees for 12 months before bottling it, which lends a little more texture and complexity. Yes, even on the entry-level wines, he has a knack for building complexity.
Note: This wine was provided as a sample by Wines of Alsace USA upon a request by our editor for this year's online class on Alsace wines, which you can view in our archive. Learn more about our editorial policies.