13
min read
The most esteemed. The most influential. The most terroir-centric. The most expensive. The wines of Bourgogne are all of these things at once. But that poses a unique problem for ordinary wine lovers without a hedge fund to lean on: we want to know this place — in fact, we need to know this place — but any starting point to these wines often feels unobtainable due to cost. After all, the whole point of Bourgogne is the specificity of terroir over everything else; to taste the subtle differences from one place to the next. Yet we are directed by the wine media and trade to microplots so scarce and highly-sought after that the starting price is hundreds, if not thousands, of dollars per bottle. It is enough to make you wonder if chasing affordable Burgundy wines is like trying to grab the tail of a unicorn.
On a recent visit to the region, I was surprised to find several avenues to explore the affordable side to Burgundy wines.
But this isn't a problem for us, alone. Prices for Burgundy wines might seem like a boon for producers, but no one would claim this current run is sustainable. Pinched on various sides by crushing international demand, increased competition from around the world, and yet yield-reducing frosts and hail from climate change, many wineries are faced with selling less wines year-after-year. Prices may be high, but the living is not necessarily easy in Bourgogne.
Now, more than ever, the region needs to cultivate a broader audience and a new generation of consumers. After all, sustainability means to be in business well into the future.
However, there is good news. On a recent visit to the region, I was surprised to find several avenues to explore the affordable side to Burgundy wines. Yes, it is getting harder and harder to find it, but the rewards remain for those devoted to the quest.
About This Guide
In this guide, we will take a different approach than our other First-Taste Guides. We will start by answering the simplest but most-pressing question: is the hunt for Burgundy wines still worth it for those of us who can't "splash the cash?" And since you've probably guessed my answer (otherwise, why would this article keep going?), I'll lend insights on five key regional wines that serve as a great starting point. A second guide will be published at a later date exploring other avenues to find value: up-and-coming villages and alternative grapes.
Why No Producers Are Mentioned Here
Instead of singling out this producer and that producer (which is done ad nauseum around the internet, and is a process that I feel only breeds more exclusivity in Bourgogne coverage by driving up demand for already-small estates) I am providing a brief list of American importers who have a very strong, highly curated book of producers from the region.
When I see these names, I know my success rate will be a bit higher. Follow the regional advice, then match those wines to these importers and the wineries they represent, and you'll do well. And if you want my suggestion on producers I like seek out — a list that is growing month by month — visit this curated selection for paying subscribers.
You'll also note that I fluctuate between "Bourgogne" (when referring to the region and regional wines) and "Burgundy wines" as different terms. See my note at the bottom as to why.
Now, let's get to the guide.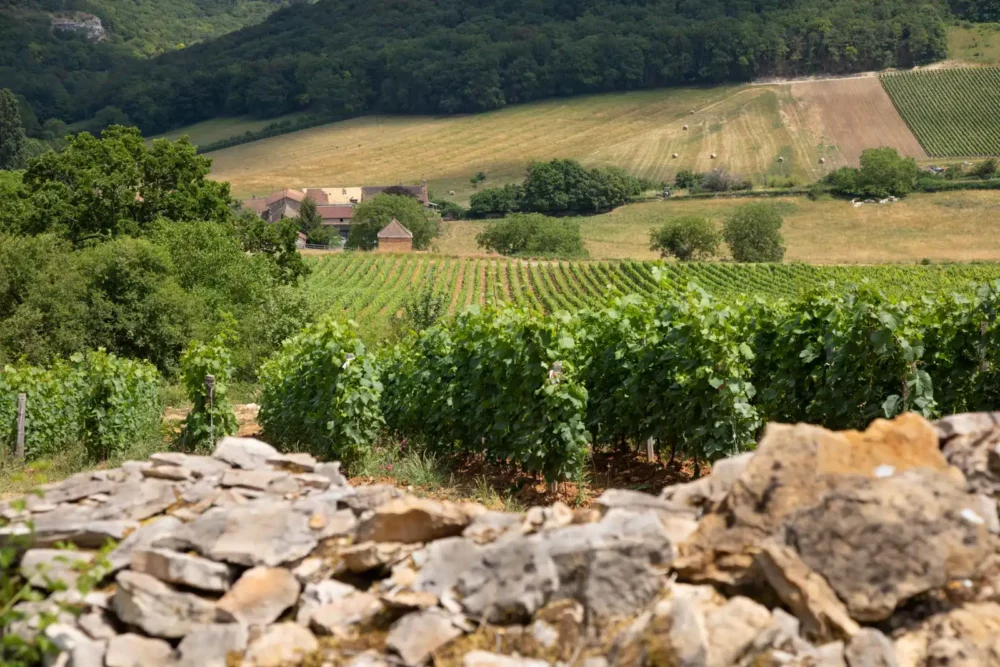 3 Reasons Why Burgundy Wines Are Still Worth the Effort
The O.G.s of Pinot and Chardonnay – If you love wine, chances are you'll end up in Bourgogne at some point, especially if you love Pinot Noir or Chardonnay. But before you get obsessed with the differences between this Premier Cru and that Premier Cru — let alone find yourself asking is $150 for this Grand Cru a good deal? — get grounded in the fundamentals at the regional level.
The Craft – This is where artisanal winemaking and terroir obsession reaches its apex; where the simplest formulas for wine generate the most complex and age-worthy results. The standards are as high as they have ever been, and that is reflected in the quality of the more affordable wines as well.
The Versatility – From the Mâcon Chardonnay's notable roundness and caressing structure, to the velvety berry fruit of a Bourgogne Côte d'Or wine, the regional renditions of this region have just the right amount of complexity to keep you on your toes, but also boast the freshness to not upstage most cuisines.
How Can We Keep It Affordable?
It is important to know the basics on how Burgundy wine is structured by law. Remember, origin is everything in Bourgogne. The broader that origin is, the less specific the wine. Put another way: regional wines tend to me more in volume, less defined in terroir, and therefore, less in demand and more affordable.
This is the first route toward finding affordable Burgundy wines, and that's what we will explore below. If you need a breakdown on Bourgogne's wine levels, consult our straightforward guide via the link below to learn more.
Below are the seven regional wines that I think offer the clearest and easiest route to affordability in Bourgogne. For now, I am leaving off the Côte Chalonnaise AOC appellation because you do not see it very often, but the villages of Bouzeron, Givry and Rully will be covered in the next guide, as they have a very high quality-to-price ratio in my opinion.
Bourgogne AOC
Bourgogne has a long tradition of celebrating all of the minute differences from one parcel of land to the next, and producing wines identified by their place of origin. You will not find wineries here deviating from that script. Almost all of the wines are AOC, or Appellation d'Origine Contrôlée.
Yet this obsession with origin and control has a consequence: it diminishes the art of blending of any kind. Not just blending of different grapes (which is really only done with the Pinot Noir-Gamay cuvée called Passetoutgrain and the sparkling wines of Crémant), but blending of any plots from two or more different origins. As climate change more frequently triggers the duel threats of late-season frost and hail — which has significantly reduced yields in recent years — producers are more and more likely to turn toward blending different village plots of Chardonnay and Pinot Noir to have enough volume for an entry-level wine. Under the rules, this kind of wine can only be labeled as a regional wine, even if the provenance of the grapes is of higher quality. More often than not, that regional AOC is the broadest of all, Bourgogne AOC. (See Bourgogne Côte d'Or below for another example).
In fact, this has been a practice for many small family domaines for years since their vineyard holdings are not often far from their home base in the first place. I spoke with several producers whose Bourgogne AOC wine hailed from a combination of Village-level vineyards and vineyards just outside the zone.
Of course, some wineries have such a sterling reputation that even their Bourgogne AOC wines can be a bit pricey, but this can also be seen as an opportunity to taste what all the fuss is about regarding individual producers.

The bottom line: The obsession for controlled origin will always keep Bourgogne AOC wines priced at the more modest level. This is also where you'll find high-quality blended wines. Lastly, this level is a superb introduction to the great domaines.
See a Map of the Bourgogne AOC
---
Petit Chablis AOC
Chablis is often referred to as one of the regions of Bourgogne, largely because it is so isolated to the northwest. Its surroundings include several tiny appellations in the Auxerrois, Tonnerrois and Vézelien, none of which you are likely to see on our shelves in the United States.
But Chablis is in fact a Village-level wine. If there is a "district" wine from these parts, it would be the lower end Petit Chablis AOC, which has often been glossed over by the wine trade for having less of Chablis' mineral-driven identity. Indeed, Petit Chablis vines often reside on Portlandian marl rather than the celebrated Kimmeridgean marl, and while that makes a big difference in the texture of the wine, it doesn't necessarily mean these wines are boring. They just need to be viewed through a difference lens.
Top Petit Chablis can convey a more golden fruit and fleshier nature, but the best ones maintain a swath of acidity that keeps the wine's feet moving on the palate. Normally priced in the $15-$25 range, they can easily check the box for "weeknight Chardonnay that won't make me feel bloated" box.

The bottom line: Completely overlooked category which can produce perfectly exciting and versatile Chardonnay that rarely gets carried away with ambition (i.e. extraction, oak, etc). Just stick to trusted producers/importers.
---
Mâcon AOC & Mâcon-Villages AOC
Bargain-hunters can do more reliably well in the Mâcon AOC. Despite several interesting Gamay and Pinot Noir wines, the Mâconnais region is mostly about Chardonnay, where greater warmth leads to slightly richer white wines. Interestingly enough, the name Chardonnay comes from here, as the village of the same name can be found
These aren't the bruising, oak-laden Chardonnay they once were. The wines I tasted in the Mâcon recently were consistently refined, expressive and — a word not often used for Chardonnay — quenching. This is a direct result of a recent quality revolution that has seen a shift in vineyard and cellar management techniques that has seized on a key opportunity: The Mâconnais as an alternative not only to the pricey white wines of the Côte de Beaune, but also the similarly priced Chardonnay wines from California, Oregon and elsewhere.
Two traits define the Mâcon in a way that is separate and distinct from the rest of Bourgogne. First, is the sunny weather, which is an oft-cited attribute for the wines' radiant, warm, citrus-like demeanor. But the other is biodiversity: while vines are an important crop to the local economy, they are not the only agricultural practice. As I traveled through the heart of the Mâconnais, I marveled as the lovely stretches of grazing pasture as well as thick stands of forest.
Where Mâcon and Chablis share a wave-length is in the realm of minerality. It may not be as intense or consistent in the Mâcon AOC, but given the bands of limestone prevalent through much of the zone, it is not surprising when it shows up.
While producers can label the wine as Mâcon-Villages if they are a blend from a class of 26 villages (or define that village if all the fruit is sourced from there, e.g. Mâcon-Lugny), I wouldn't sweat this detail too much in my buying decisions. However, single-vineyard Mâcon wines (likely to come from one of these villages), do appear to be a step up in complexity on the whole.

The bottom line: What the Mâcon AOC lacks in pedigree it more than makes up for with a distinctive, radiant quality that does not sacrifice elegance. 
---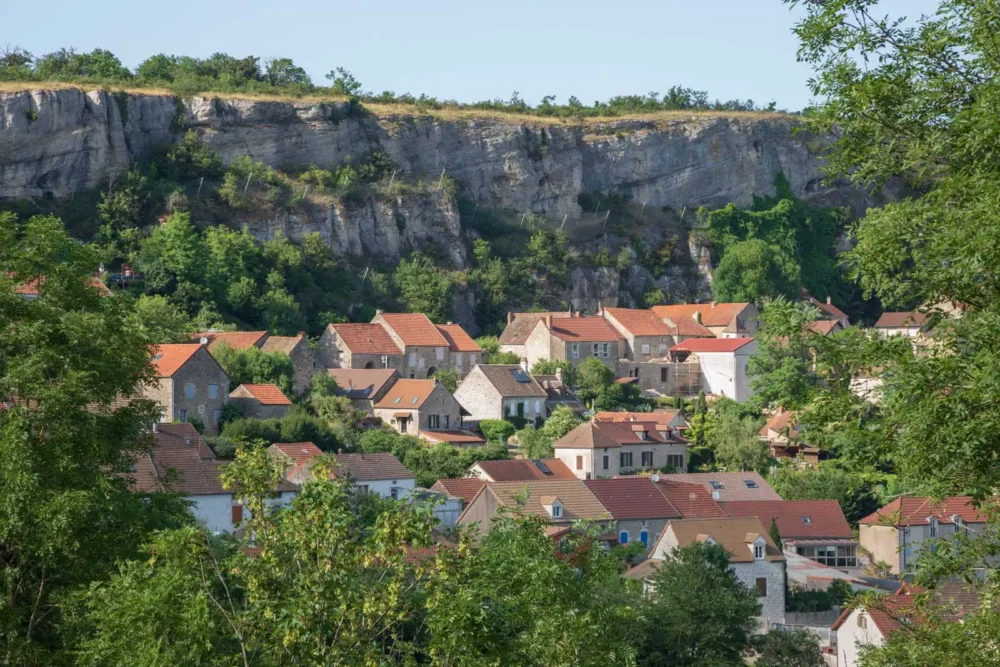 Hautes Côtes de Beaune AOC & Hautes Côtes de Nuit AOC
Few appellations in Burgundy demonstrate the need for producers to diversify their vineyard holdings more than the twin regional appellations of the Hautes Côtes de Beaune and the Hautes Côtes de Nuit. In the age of climate change, everyone is seeking solutions to reduce the temperature in their vineyards — or simply find cooler sites at higher elevation. With hail also being a major threat, spreading out one's vineyard holdings makes a great deal of sense since hail events can be highly localized.
The "hautes" in the name of these two regions speak to their elevation: essentially "above the Côte de Beaune" and "above the Côte de Nuits." They may not have the perfect soil and drainage of the celebrated vineyards below, but their cheaper land and cooler summers mean that both areas are now coveted by domaines and négociants looking to guard their business against yield-reducing threats such as hail and frost.
And the wines can be exquisite in their own way.
Last year's No. 3 wine here on Opening a Bottle was a Chardonnay from the Hautes Côtes de Beaune, and a recent barrel-tasting at a domaine in Nolay in the heart of that AOC showed me how complex and varied the Pinot Noir wines can be from the region.
The wine media hasn't quite caught up to the trend. Often lumped as peripheral wines in tasting reports on the Côte de Beaune and Côte de Nuits, these wines are often buried and not really given the stand-alone credit they are deserving.
Keep an eye on these two appellations, as I believe they'll be a great source for value in the years to come

The bottom line: Are you a fan of leaner styles? Rejoice. The consistently higher elevation sites of the Hautes Côtes de Beaune and smaller Hautes Côtes de Nuit give their wines a direct line of acidity as well as great potential in warmer vintages. 
See a Map of the Hautes Côtes de Beaune
See a Map of the Hautes Côtes de Nuit
---
Bourgogne Côte d'Or AOC
Another emerging appellation — this time because it is such a new designation, having only been christened in 2017 — the regional Bourgogne Côte d'Or AOC will take some time to be adopted by the producers of the Côte de Beaune and the Côte de Nuit, but it is a category whose presence will surely grow, especially since the Côte d'Or has significant name caché.
Enveloping all of the vineyards from Dijon's surroundings south through Beaune to Maranges, this open-ended regional designation allows producers to blend multiple plots of Pinot Noir or Chardonnay across village lines, but also to gain more distinction of place for the wines hailing from lower-level vineyards in the area, which had to be labeled as Bourgogne AOC until only very recently. The new AOC also has more stringent yield requirements, which ought to make the wines a little more substantive than the all-encompassing Bourgogne AOC.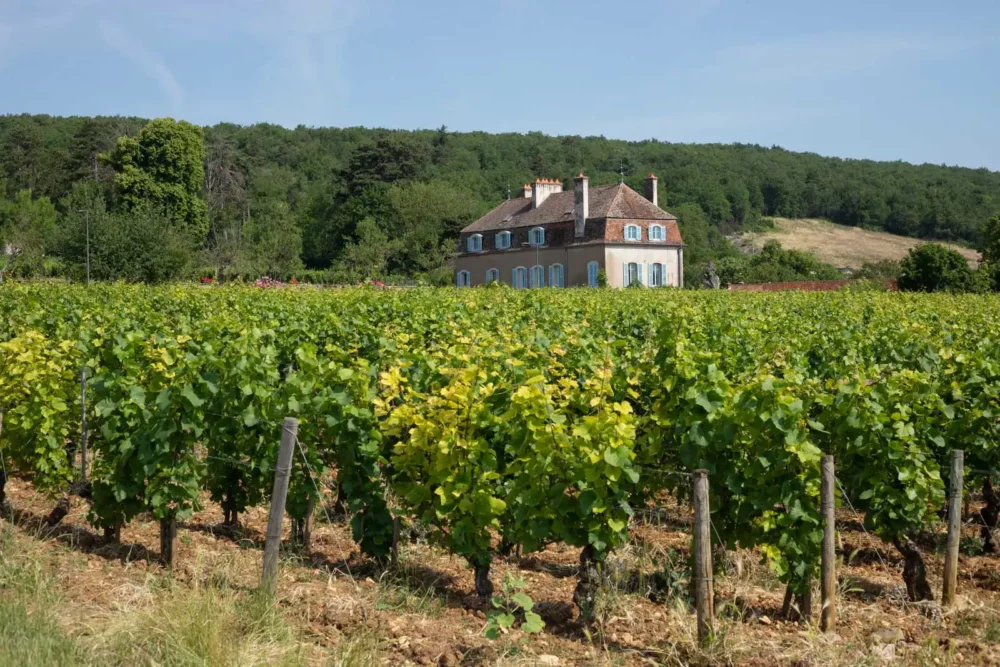 While Bourgogne is already a complex wine region to understand, this new appellation should clear things up for consumers. Until now, if you wanted an entry-level wine from a producer in this area, you'd reach for their Bourgogne (and in truth, this is still often the case). But whether all of that fruit came from "the Golden Slope," or if some of it came from a smattering of vineyards outside the zone, you would have no way of telling. Now, if it says Bourgogne Côte d'Or, you know at least a bit more about its provenance.
While costs for Bourgogne Côte d'Or have trended a bit higher than Bourgogne, I wouldn't look at this as the rug being pulled out from underneath the latter category. Some area producers in the Côte d'Or make fabulous Bourgogne Blanc and Bourgogne Rouge which rely in part on holdings within the Côte d'Or as well as in the "Hautes Côtes," Côte Chalonnais or even the Côtes du Couchois — three immediately adjacent regions that boast great potential on their own, but whose presence in the wine disqualifies them from Bourgogne Côte d'Or inclusion.

The bottom line: A new designation for entry-level wines with the Côte d'Or as its guaranteed provenance. For now, many of these wines come from négociants who tend to have a more dispersed array of vineyards. I would expect more domaines to adopt it in coming vintages.
American Importers with a Strong Bourgogne Book
The following list is by no means exclusive, but rather a solid starting point for U.S.-based wine importers with (a) an impressive, curated list of producers, and (b) decent national or regional reach. When in doubt, ask your preferred wine merchant for their opinion on importers. There may be one with a more local distribution doing a great job.

1An editor's note on nomenclature. I have chosen to use the term "Burgundy wines" when relating to the product coming from this region, and its true name, Bourgogne , when referring to the region and its landscape.
The local authorities are pushing for all of us to drop the phrase "Burgundy," which is understandable, and certainly a wish I would love to honor. However, the main reason I am keeping the phrase "Burgundy wines" is purely because that is what people search for, especially newcomers which this website is designed for.
Furthermore, despite these efforts from the Bourgogne Wine Board, several producers I met with continued to refer to their region as "Burgundy" because it is so entrenched in the English language, and they were talking to, well … an English speaker. Old habits die hard!
Disclosure: My recent travels to Bourgogne were funded by the Bourgogne Wine Board (BIVB), yet all editorial decisions continue to reside with Opening a Bottle. Learn more about our editorial policies.