12
min read
Pour yourself a glass of Cerasuolo d'Abruzzo and you might be surprised by the hue in your glass, especially if you were told that this wine from Central Italy is a rosé. "Seems dark," you might say. If you find another bottle and pour another glass, you might have an entirely different hue. Possibly lighter, possibly darker.
What's going on here? you might inquire.
The worst thing I could do in this First-Taste Guide is tell you what Cerasuolo d'Abruzzo tastes like. Variety is the name of the game, but so also is a high-degree of quality.
That's Cerasuolo d'Abruzzo for you. In preparing for this article, I tasted more than a dozen wines from the 2022 vintage and came to one startling conclusion: the worst thing I could do in this First-Taste Guide is tell you what Cerasuolo d'Abruzzo tastes like. Variety is the name of the game, but so also is a high-degree of quality. And therein lies the biggest reason to make this your go-to summer sipper: there is never a dull moment.
And that's a good thing for rosé, because few categories in wine are more hobbled by bias than pink. We expect it to be pale, but why? We insist on seeing it in clear bottle, even if it could be damaged by character-suppressing UV rays. (Again: why?) We even have a standard expectation of rosé's flavor profile, which in my opinion, as a student of wine, often makes exploring the category a total bore.
But what our friends in Abruzzo have done is forge a different lane for lightly-hued wines: fruity, floral and refreshing, sure, but also savory, herbal and nuanced. In fact, while I was there, I participated in several debates with producers and wine professionals as to whether the rosé moniker was accurate or even helpful to their sales. The problem isn't the wine. Rather, its consumer bias. Would they be better off selling this wine as a light red?
Call it what you will, but one fact is undeniable: Cerasuolo d'Abruzzo is a gastronomy wine that wants to partner up with what you're cooking and show it off. Fish? White meat? Game? No problem. Salty pistachios? Creamy goat cheese? Earthy beets? Bring it. I have yet to find a food that clashes with this wine.
So let's stop spinning our wheels on labels and get to know the exciting wines of Cerasuolo d'Abruzzo DOC.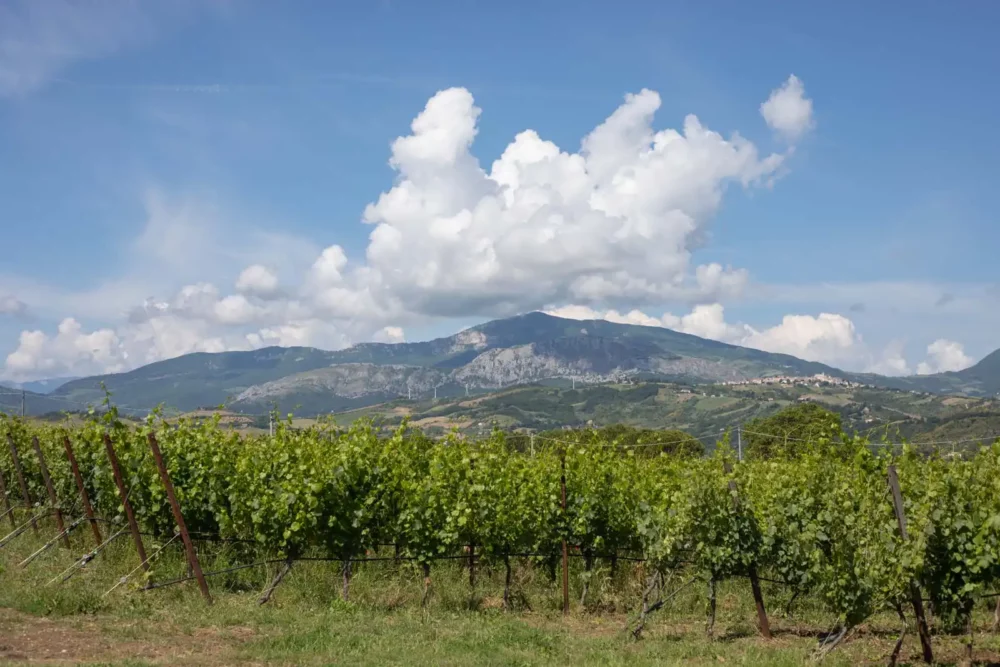 3 Reasons to Try Cerasuolo d'Abruzzo
Extreme Versatility – The spine of Cerasuolo d'Abruzzo is a pure line of acidity that makes it fantastically quenching. Surrounding this core is a milieu of berries, citrus, flowers and occasional herbaceous and even savory notes that want to play on the palate. Permission to pair, captain.
Broad Variety – It's high time we embrace lightly macerated wines as more than just pale, simple and refreshing. Throughout my rounds of tasting for this article, I pondered whether this category of wine — rather than the more prominent, inky Montepulciano d'Abruzzo DOC — is where Abruzzo's terroir can be best explored. The variety was astounding.
And Consistency – Because of its entrenched history as the region's O.G. "farmer wine," Cerasuolo d'Abruzzo has a legacy in the area. That pride has fueled quite the commitment from wineries. Even at wineries where I was unimpressed with the whites and reds, I found something to like in their Cerasuolo.
What is Cerasuolo d'Abruzzo DOC?
Cerasuolo d'Abruzzo is robust style of rosato wine made in the direct-press method using Montepulciano grapes in the Italian region of Abruzzo. The name "cerasuolo" means cherry-like, which could be a reference to the wine's color or its flavor profile — it depends on who you ask.
As a DOC , it is part of the protected appellations system within Italy, meaning it has specific regulation requirements that must be met before it can carry the name Cerasuolo d'Abruzzo. Some of the more important parameters include:
The grapes must have been grown within the regional Abruzzo winegrowing zone (which corresponds directly to the Montepulciano d'Abruzzo DOC)
Those grapes must be a minimum of 85% Montepulciano (although 100% is most common). Any blending grape must be a "non-aromatic red-berried variety" per the rules.
A release on or after January 1 following harvest.
These are reasonably priced wines typically ranging from $15-$25. Abruzzo's two most famous producers — Emidio Pepe and Valentini — offer Cerasuolo d'Abruzzo that are in a higher price range (around $50 and $250, respectively). Because of Valentini's exceedingly high cost and scarcity, they are an outlier within this category and not tasted for this guide.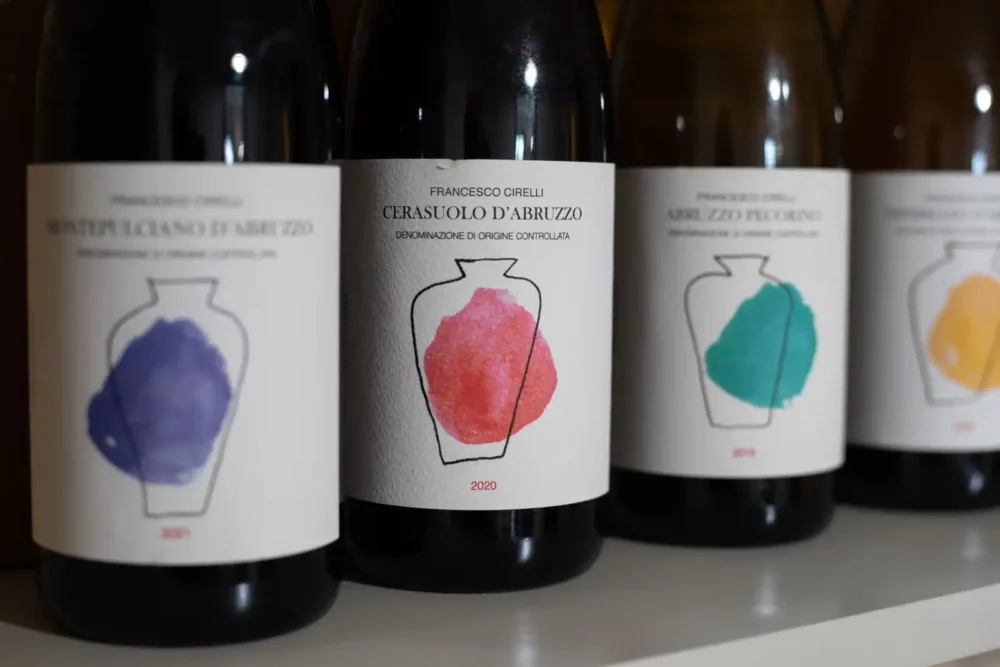 About the Wine
Cerasuolo d'Abruzzo is gaining an international following, but as I learned last month in Abruzzo, it is adored locally by those who make it, and for good reason, too.
"In the past times, it was considered to be the real farmer wine — the wine of the poor people," winemaker Francesco Cirelli told me during a recent winery visit. He explained that under the share-cropping system of the past, it was often the last pressed (effectively leftover) wine and therefore given as partial payment for the year's yields to those who worked the land for its owner. "And so it is very linked to our roots and heritage."
Of course, over time it has evolved into a wine that benefits from modern winemaking techniques. Stainless steel and concrete tanks are the preferred fermentation vessels, although Francesco Cirelli has embraced clay for his line of wines, which is not prohibited by the DOC rules.
Italian wine educator Filippo Bartolotta — who presided over a masterclass on Cerasuolo d'Abruzzo during my recent visit — noted that producers' commitment to Cerasuolo d'Abruzzo can be seen in the vineyard. "A majority of winegrowers are dedicating a single vineyard to make this wine," he noted, dispelling any preconceived ideas that the region's rosé is merely an afterthought to red wine production. Furthermore, he anticipates that there will be efforts to celebrate single-vineyard Cerasuolo d'Abruzzo in the future, something that has often not been done in the rosé category.
Rosato o Rosso?
But is Cerasuolo d'Abruzzo even a rosé?
On paper, it certainly is. Like in Provence, the wine is made via a shorter maceration of the grapes, which typically lasts only a few hours. However, Montepulciano is exceedingly generous with its color, flavor and tannins, surrendering much of its personality in a short period of time. Because of Montepulciano's magnanimity, the colors of Cerasuolo d'Abruzzo colors can veer from deep salmon to a pale purple.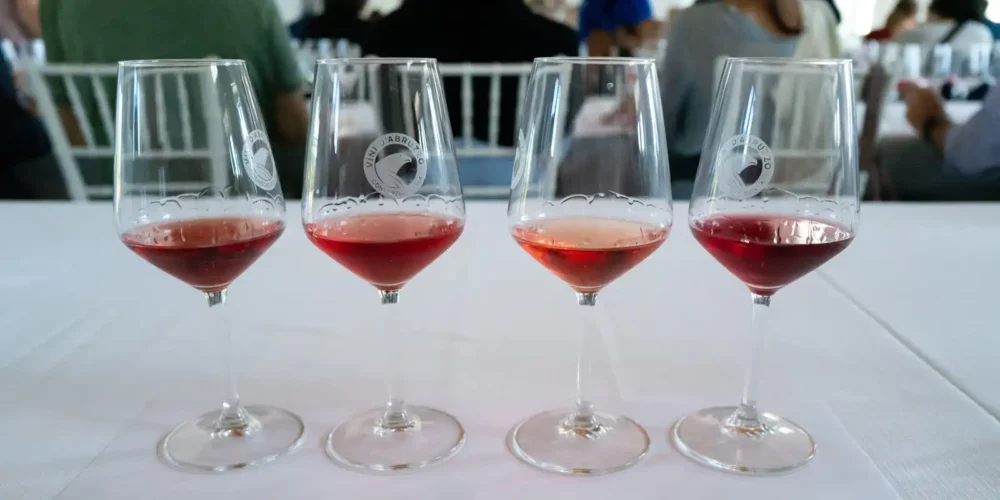 If you are in the mood for a rosé, know that Cerasuolo d'Abruzzo is on the robust end of the spectrum. If you are in the mood for a red wine, know that its on the lighter end.
Even within one winery, the color may vary from vintage to vintage. Montepulciano ripens asynchronously, meaning within a single cluster, individual berries do not ripen together. This poses a unique challenge for all growers of the grape in terms of timing harvest for both the Cerasuolo d'Abruzzo and the red Montepulciano d'Abruzzo. The asynchronicity may even out in the end (that is, some underripe berries balanced by some overripe), but given Abruzzo's undulating hills, wealth of microclimates, and open nature to the DOC rules, variety reigns supreme.
Elena Nicodemi — who co-owns the Nicodemi winery in the Teramo Hills with her brother, Alessandro — recalled how they initially needed to experiment with maceration times for their wines, just to attain a consistent color each year. Even now, it varies each year. She also noted that because of this variety in color, selling Cerasuolo d'Abruzzo can pose challenges in certain markets because it doesn't fit the usual rosé box.
"Sometimes we hear it is a rosé, but not a real rosé," she said, sharing her frustration. The issue is compounded by the fact that many producers choose to bottle their Cerasuolo d'Abruzzo in colored glass, which is a good thing in many ways, offering a modicum of protection against light strike. But it also leads some consumers — uninformed of what Cerasuolo d'Abruzzo really is — to conclude it is a red wine.
While today's consumers are less driven by category than in the past — and more driven by curiosity — it is still essential to communicate what lies ahead, for expectation often fuels perception. So if you are in the mood for a rosé, know that Cerasuolo d'Abruzzo is on the robust end of the spectrum. If you are in the mood for a red wine, know that its on the lighter end.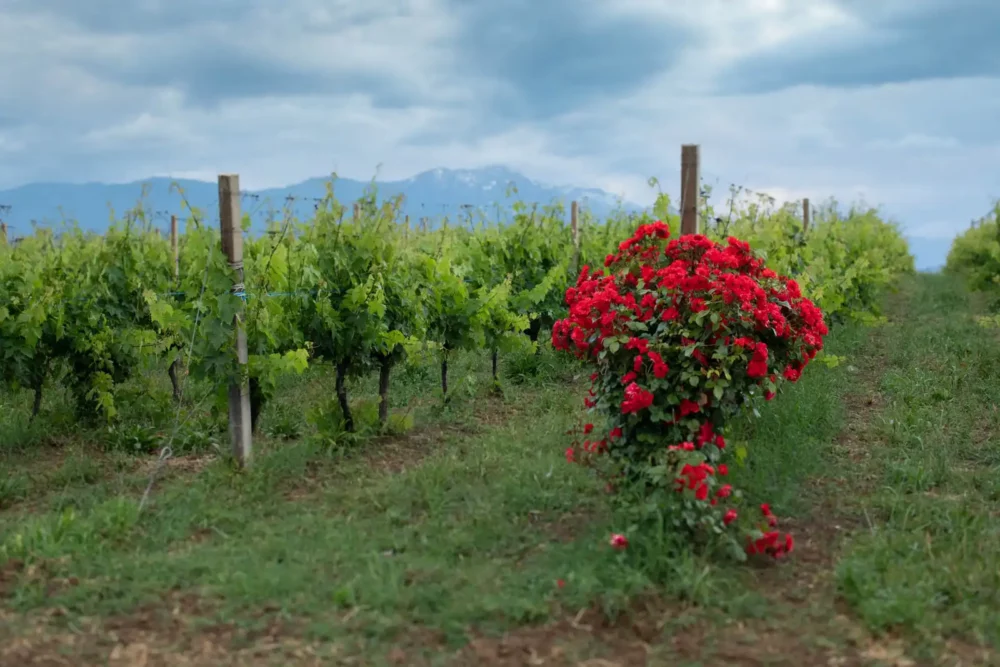 Food Pairings: A Wine of Land and Sea
"Cerasuolo is truly the most authentic wine from Abruzzo. It is the only wine that you can match with our three traditional Abruzzese cuisines: from the coast, the hills and the mountains."
Francesco Cirelli
Winemaker
"Cerasuolo is truly the most authentic wine from Abruzzo," said Francesco Cirelli, whose bucolic estate lies in a verdant valley just four miles from the Adriatic Sea. "It is the only wine that you can match with our three traditional Abruzzese cuisines: from the coast, the hills and the mountains."
Much of this culinary magic begins and ends with Cerasuolo d'Abruzzo's acidity, which develops slowly over a long growing season — something that Montepulciano grape clusters prefer. That lengthy ripening window is tempered by the natural forces of Abruzzo which also dictate its cuisine: the sea, the mountains and the hills in between.
The Adriatic Sea moderates the climate throughout the summer months via warm, balmy air currents. However, balancing this force and preventing it from becoming a muggy, climatic morass, is the cool wind coming down from the massive Apennine Mountains. This climatic tension is the secret ingredient to exceptional acidity, and I feel that it shows up more readily in the lightly-macerated wines than the region's rosso. (Although, when that pure line of acidity shows up in Montepulciano d'Abruzzo, it can result in some of the most compelling wine in all of Italy).
However, acidity alone doesn't result in a versatile wine. You need dimensions of flavor. And this is where Cerasuolo d'Abruzzo thrives most at the table as a gastronomy wine. Again, it doesn't take long during maceration for Montepulciano to donate its character to the wine. Below is a word cloud of adjectives I jotted down from just the top six Cerasuolo d'Abruzzo wines I tasted for this article. And no, I'm not telling you what Cerasuolo d'Abruzzo tastes like: I'm showing you the vast range of sensations it often conjures.

Cerasuolo d'Abruzzo Can Age
One last word of advice: Cerasuolo d'Abruzzo is a rosé wine that can age beautifully. At the end of the masterclass I attended, we tasted a 2020 Ciavolich "Fosso Cancelli" Cerasuolo d'Abruzzo (★★★★★), a wine that struck an emotional chord for me. It was pure comfort on the palate: a soft landing that conjured up allusions to strawberries, sweet orange, potting soil and rosehips. A "Pinot Noir-like personality" I noted. It was as though the wine said, hey, maybe stop being so intellectual here and just enjoy this glass, m'kay? So I listened.
What the wine presumably gained from just two-and-a-half years of aging was a relaxation of its shoulders. Younger Cerasuolo d'Abruzzo wines can seem eager and a bit tense, especially through the mid-palate. Here, everything felt opened-up and accessible.
Of course, "age" is relative. When we talk about rosato wines, we are not always talking about decades. But I wouldn't be surprised if many of the wines listed below could perform beautifully for another five to eight years. When you consider the standard advice that "rosé is only good for the first year after vintage," I'd have to say that Cerasuolo d'Abruzzo places an asterisk on that statement.
Your First Taste
To borrow a phrase from wine educator Filippo Bartolotta, Cerasuolo d'Abruzzo is all about "thoughtful lightness." We are not swinging for the fences here, but we are also not just bunting to get on base (you know who you are, rosé wines).
Because of the incredible variety within this category, I found myself in a pickle in choosing the best "first taste" for you. So consider the following two wines as Taste 1A and Taste 1B. They represent two different sides of the coin (stainless steel vs. clay-vessel), from two highly intelligent and thoughtful producers working with great care.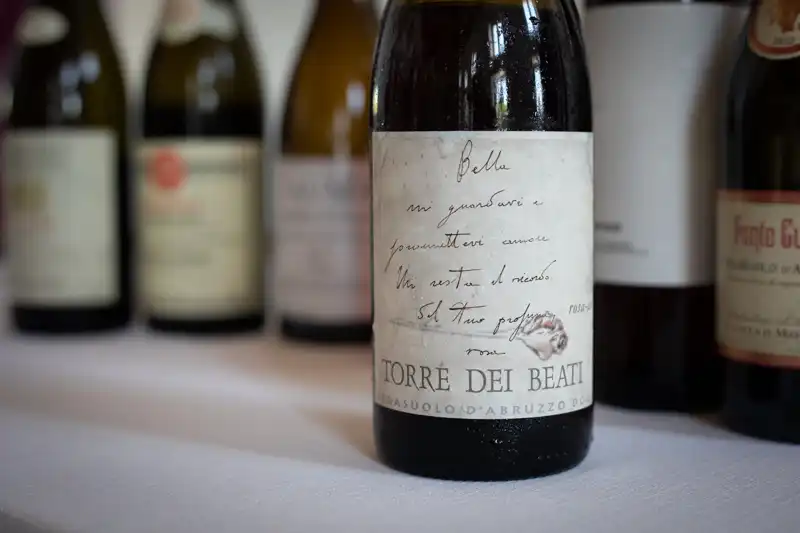 2022 Torre dei Beati "Rosa-ae" Cerasuolo d'Abruzzo
The most distinctive and compelling Cerasuolo d'Abruzzo for your first taste would be winemaker Fausto Albanesi's 2022 "Rosa-ae" (★★★★★) from his winery Torre dei Beati. Is it the most typical Cerasuolo d'Abruzzo? Not at all, but it should give you a sense for the boundaries we are pushing with this category of wine, and entice you to go further.
The fruit tones strongly suggested grapefruit and cherry, as well as an herbal cut that felt pronounced on the nose. On the palate, I found the acidity to have an electric quality to it — a jolt of energy that felt refreshing and delightful. I really love this wine's awareness, focus and personality.
Albanesi takes a half-and-half approach to the vinification of this wine: half of the grapes are destemmed, half are gently pressed whole cluster. The fermentation vessel of choice here is stainless steel tanks, but this wine has none of the reductive, wound-tight personality that we usually associate with such a choice.
2022 Francesco Cirelli Cerasuolo d'Abruzzo
Next up is Francesco Cirelli's amphora-made Cerasuolo d'Abruzzo (★★★★ 3/4), which sees only four hours of skin contact. Here, Cirelli shows us how Cerasuolo d'Abruzzo can be silky and caressing, its flavors expansive on the palate, yet not overwhelming. The fruit tones are also quite different from Torre dei Beati's "Rosa-ae," suggesting lightly cooked strawberries (what a hedonistic pleasure those are!), with a hint of dark flowers and juniper-like herbaceousness to make it memorable.
If Cirelli isn't satisfied with the vintage's ability to express what he wants in a Cerasuolo, he'll skip the vintage and devote the fruit to his entry-level wine.
Next Steps
For next steps, I'd recommend looking for the Cerasuolo d'Abruzzo wines from Amorotti, Ciavolich, Tiberio, Montori, Pettinella, La Valentina, Nicodemi and Velenosi. And when you are ready to experience the complex, age-worthy side of this wine, seek out Emidio Pepe's towering Cerasuolo d'Abruzzo. The 2022 (★★★★ 3/4) was the darkest of the "rosé" wines I encountered in Abruzzo — think: raspberry-violet in hue — and it opens with a wild swath of botanical aromas and hearty, iron-rich tones. This is a Cerasuolo d'Abruzzo that needs to be treated like a red wine, with ample patience to allow it to aerate, and perhaps even a few years in the cellar to settle down.
But start by focusing on those two Cerasuolo d'Abruzzo wines listed above. They should have you primed and ready to explore the category deeper, showing you that rosé can be complex and flavorful, and — depending on your perspective — that a lightly-macerated red wine can be just as complex and compelling as it is fun and delicious. While I loved one of Torre dei Beati a little bit more than Cirelli, I wouldn't be surprised if that flipped in future vintages. This is a good thing. These wines should compete with each other for our attention. But most of all, Cerasuolo d'Abruzzo has proven to me that it deserves our respect and admiration as a category. Here's hoping you find as much pleasure in them as I do.